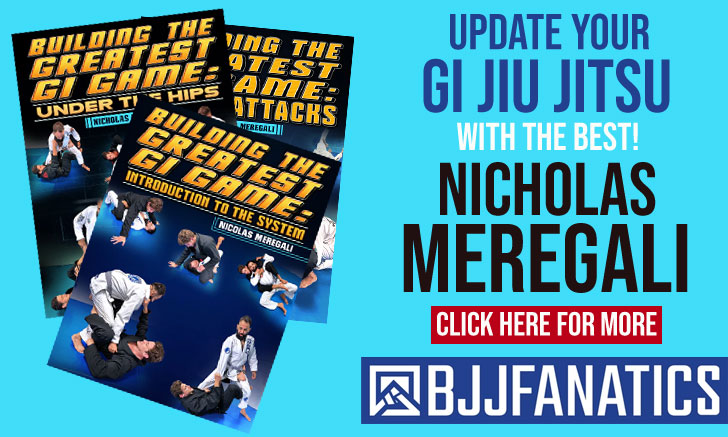 Frank Rosenthal is a Brazilian jiu-jitsu black belt under Doug Pelinkovic, who also worked extensively with John Danaher, and Carl Massaro, being a product of the Renzo Gracie team network who also spend time with ADCC veteran Ryan Hall at 50/50 Jiu-Jitsu Academy later in his career. Rosenthal made his name while competing in the no-gi, submission-only competitive circuit where he conquered well-respected events such as the RISE and Onnit Invitational tournaments.
Frank Rosenthal Jiu-Jitsu
Full Name: Frank Rosenthal
Nickname: N/A
Lineage: Mitsuyo Maeda > Carlos Gracie (Senior) > Helio Gracie > Carlos Gracie Junior > Renzo Gracie > John Danaher > Doug Pelinkovic > Frank Rosenthal
Main Achievements:
1st Place RISE Invitational 3 (2018)
1st Place RISE Invitational 4 (2018)
1st Place ONNIT Invitational 8 (2018)
Main Achievements (Colored Belts):
1st Place ADCC Nationals (2014 purple)
2nd Place IBJJF Pans NoGi (2012 purple)
2nd Place UWW Asia Open (2018 brown)
2nd Place IBJJF New York Open (2011 blue)
3rd Place IBJJF Pans NoGi (2011 blue)
Favorite Position/Technique: RNC
Weight Division: Peso Pluma (64,00 kg / 141.5 lbs)
Team/Association: N/A
Frank Rosenthal Biography
Frank Rosenthal was born on October 12, 1990, in New City, New York, United States of America.
Rosenthal's interest in grappling started during high-school, a curiosity that led Frank to enroll in the East Stroudsburg University's wrestling team when he attended the school to study Physical Education. It was also around that same time that his good friend Eric Sherman, a jiu-jitsu blue belt, showed Rosenthal an armbar, sparking the New Yorker's curiosity for BJJ.
After his graduation from ESU (2013), Frank returned to New York where he joined the jiu-jitsu class of a Renzo Gracie Academy affiliate led by coach Carl Massaro, the man who would promote Rosenthal all the way to brown belt.
While looking to grow as a professional grappling competitor, Rosenthal sought to train with a range of coaches within the RGA network, finding in Doug Pelinkovic and John Danaher, two of his mentors. His development also presented Frank with a coaching opportunity, an activity he started at the Renzo Gracie Bayside (RGA affiliate) as a brown belt.
Frank's outstanding work as an athlete and coach would facilitate his promotion to black belt on September 24, 2018. A ceremony attended by Renzo Gracie, John Danaher, and Doug Pelinkovic.
Frank Rosenthal Grappling Record
37 WINS
BY POINTS


BY ADVANTAGES




BY SUBMISSION




BY DECISION




BY PENALTIES




BY EBI/OT



19 SUBMISSIONS WINS
#214eb8
Outside heel hook
42
8
#86e620
Inside heel hook
21
4
16 LOSSES
BY POINTS


BY ADVANTAGES




BY SUBMISSION




BY DECISION




BY PENALTIES




BY EBI/OT



6 SUBMISSIONS LOSSES
#86e620
Shoulder lock
33
2
Frank Rosenthal Fight History
ID
Opponent
W/L
Method
Competition
Weight
Stage
Year
18195

Paulo Miyao

Paulo Miyao
L
Pts: 10x1
Kasai Pro 4
65KG
R1
2018
18205

Augusto Mendes

Augusto Mendes
L
Pts: 9x0
Kasai Pro 4
65KG
3RD
2018
18582

Brandon Walensky

Brandon Walensky
L
Pts: 4x2
NoGi Worlds
67KG
R1
2018
20742

J. Skinner

L
Referee Decision
GrappleFest 5
70KG
SPF
2019
21518

Joao Miyao

Joao Miyao
L
Cross face
GrappleFest 6
65KG
SPF
2019
23880

Cody Hoffstatter

L
Referee Decision
F2W 149
70KG
SPF
2020
25035

Mauricio Gomez

L
RNC
F2W 160
70KG
SPF
2021
25762

Luis Quinones

L
Shoulder lock
Emerald City
N/A
SPF
2021
26717

Damion Oranday

Damion Oranday
L
Pts: 0x0, Adv
American NGN
67KG
SF
2021
27208

Kennedy Maciel

Kennedy Maciel
L
RNC
Emerald City
65KG
4F
2021
28793

Estevan Martinez

Estevan Martinez
L
Pts: 3x0
ADCC EC Trials
66KG
R3
2021
32548

Emilio Hernandez

Emilio Hernandez
L
Pts: 2x0
Atlanta SPNGO
67KG
SF
2022
36545

Luan Gomes

L
Triangle
NHaven FNGO
67KG
4F
2022
41527

Alexandre Vieira

Alexandre Vieira
L
N/A
Austin NGO
67KG
F
2023
41757

Gianni Grippo

Gianni Grippo
L
Shoulder lock
NYC NGO
67KG
SF
2023
42262

Julian Espinosa

L
EBI/OT
FSM Bash
NA
SPF
2023
15865

Zach Maslany

W
Outside heel hook
Kasai Pro 2
70KG
SPF
2018
15883

Chad George

W
EBI/OT
Pilgrim Inv.
70KG
SPF
2018
17655

Nick Manela

W
Armbar
RISE 3
65KG
4F
2018
17656

Julien Banner

W
EBI/OT
RISE 3
65KG
SF
2018
17658

Mike Davila

W
EBI/OT
RISE 3
65KG
F
2018
17659

Christian Medina

W
Outside heel hook
RISE 4
61KG
SF
2018
17660

Rey Rey

W
Heel hook
RISE 4
61KG
F
2018
17662

Jimmy Santiago

W
Outside heel hook
RISE 5
N/A
SPF
2018
17995

Ricky Lule

W
EBI/OT
Onnit Inv. 9
61KG
SPF
2018
18201

Geo Martinez

Geo Martinez
W
Pts: 1x0
Kasai Pro 4
65KG
R3
2018
18726

Marvin Castelle

W
EBI/OT
Onnit Inv. 10
70KG
SPF
2018
18863

Jay Buttler

W
RNC
Battle Grapple
N/A
SPF
2019
20868

Carlos Rosado

W
EBI/OT
Rise Invitational
65KG
SPF
2019
23514

Brent Smith

W
Outside heel hook
SUG
68KG
SPF
2020
23917

Phill Schwartz

W
Armbar
SUG 17
ABS
SPF
2020
24528

Dylan Garafalo

W
Pts: 2x0
Egg Guard Inv
66KG
4F
2020
24529

Sean Ashley

W
Armbar
Egg Guard Inv
66KG
SF
2020
24530

Sean Ashley

W
N/A
Egg Guard Inv
66KG
F
2020
25990

Gabriel Tejada

W
EBI/OT
Finishers SO
68KG
SPF
2021
26716

Chance Anthony

W
N/A
American NGN
67KG
4F
2021
27026

Raphael Federico

W
Outside heel hook
Honor SO
66KG
SF
2021
27027

Alessio Sacchetti

W
EBI/OT
Honor SO
66KG
F
2021
27201

David Weintraub

W
Triangle
Emerald City
65KG
R1
2021
28780

Zak Elfernani

W
Pts: 2x0
ADCC EC Trials
66KG
R2
2021
29859

Dave Weintraub

W
EBI/OT
Finishers Only
65KG
SF
2022
29860

John Battle

W
Inside heel hook
Finishers Only
65KG
F
2022
30896

Ellis Karadag

W
Outside heel hook
Emerald City
70KG
SPF
2022
32546

Chris Sodbinow

W
N/A
Atlanta SPNGO
67KG
4F
2022
35309

Michael Moller

W
RNC
Tap Tournament
NA
SPF
2022
35310

Anthony Valdes

W
Outside heel hook
Finishers SO
NA
SPF
2022
35311

Kevin Dantzler

W
Inside heel hook
RISE
NA
SPF
2022
38746

Yohafte Yirdaw

W
Pts: 11x2
Grappling Ind.
70KG
RR
2023
38747

Ezra Paul

W
Inside heel hook
Grappling Ind.
70KG
RR
2023
38748

Nicholas Johnson

W
Referee Decision
Grappling Ind.
70KG
RR
2023
38749

Ben Corado

W
Outside heel hook
Grappling Ind.
70KG
RR
2023
38750

Nolan Kim

W
Inside heel hook
Grappling Ind.
70KG
RR
2023
41756

Carlos Ruiz

W
N/A
NYC NGO
67KG
4F
2023