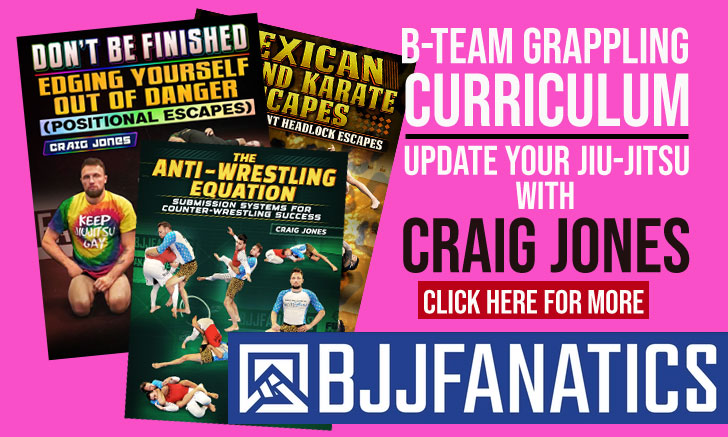 Inacio Neto is a Brazilian jiu jitsu black belt under Marcelo Castro, being also one of the top Gracie Barra representatives in the medium-heavyweight division (88,30 kg / 195.0 lbs). As a competitor Inacio Neto has wins over well respected athletes such as Matheus Diniz, Manuel Ribamar or Mike Carbullido (to name a few), being a medallist in numerous International Brazilian Jiu Jitsu Federation (IBJJF) tournaments.
Inacio Neto Jiu Jitsu
Full Name: Inacio Ferreira Gomes Neto
Nickname: N/A
Lineage: M. Maeda > C. Gracie > Helio Gracie > Carlos Gracie Jr > José Olímpio > Marcelo Castro > Inacio Neto
Main Achievements:
IBJJF Houston International Open Champion (2016/2015)
IBJJF Dallas International Open Champion (2016)
IBJJF Dallas International No-Gi Open Champion (2016**)
IBJJF Austin International Open Champion (2016)
IBJJF Atlanta Winter Open Champion (2015)
Fight 2 Win Pro Superfight Winner (2016)
IBJJF World No-Gi Championship Runner-up (2013 brown)
IBJJF Pan American Championship Runner-up (2014/2013 brown)
IBJJF Austin International No-Gi Open Championship Runner-up (2016**)
IBJJF Houston International Open Championship Runner-up (2017/2016*)
IBJJF American National Championship 3rd Place (2014 brown)
* Absolute
** Weight and absolute
Favorite Position/Technique: 50/50 Guard
Weight Division: Meio-Pesado (88,30 kg / 195.0 lbs)
Team/Association: Gracie Barra
Inacio Neto Biography
Inacio Neto was born on May 22, 1987 in Brasília, capital district of Brazil.
Being a very active child Inacio was drawn to martial arts from an early age, when he tried judo, karate and capoeira before settling in jiu jitsu when he was 13 years old – the only minor in the class at the time.
Marcelo Castro was Inácio's instructor from white to brown belt, being one of the most important figures in Inacio's development in the sport. Someone who incentivised Neto's first US experience back in 2012, a time when Inacio travelled to compete taking the opportunity to explore the country for 6 months.
In 2013 Inacio Neto returned to America once again, this time staying for a while longer. After these first two experiences in the US, Inacio decided he wanted to make a living there – which happened in 2014. His transfer to the US coincided with the promotion to black belt, which happened already in North American soil from the hands of Flávio Almeida that year, on behalf of Marcelo Castro.
Through his own hard work and perseverance Inacio Neto managed to succeed in the US, a real life American dream type story. To conquer his space in the Texas grappling scene Inacio worked an average of 30 classes per week spread through 3 different Gracie Barra gyms, took constant private (one-on-one) classes and still found time to train hard, compete and be successful both as an instructor and a competitor.
Cover photo by William Burkhardt of BJJ Pix.
Inacio Neto Grappling Record
49 WINS
BY POINTS


BY ADVANTAGES




BY SUBMISSION




BY DECISION




BY PENALTIES




BY DQ



19 SUBMISSIONS WINS
#224aba
Choke from back
5
1
30 LOSSES
BY POINTS


BY ADVANTAGES




BY SUBMISSION




BY DECISION




BY PENALTIES




BY DQ



11 SUBMISSIONS LOSSES
#5AD3D1
Triangle armbar
18
2
#f58822
Choke from back
9
1
Inacio Neto Fight History
ID
Opponent
W/L
Method
Competition
Weight
Stage
Year
5953

Eduardo Telles

Eduardo Telles
L
Armbar
American Nat.
88KG
SF
2014
6044

Murilo Santana

Murilo Santana
L
Toe hold
NoGi Worlds
88KG
4F
2014
6855

Thiago Sa

Thiago Sa
L
Pts: 11x10
Pan American
88KG
8F
2015
7757

Pedro Mello

Pedro Mello
L
Points
Austin Open
88KG
F
2015
7763

Arnaldo Maidana

Arnaldo Maidana
L
Armbar
Austin Open
ABS
F
2015
8019

Gabriel Goulart

Gabriel Goulart
L
Points
Atlanta W. Open
88KG
F
2015
8447

Lucas Barbosa

Lucas Barbosa
L
Pts: 4x4, Adv
NoGi Worlds
85KG
4F
2015
8730

Manuel Ribamar

Manuel Ribamar
L
Pts: 2x2, Adv
San Antonio Open
ABS
SF
2015
8748

Tanner Rice

Tanner Rice
L
Referee Decision
Irvine Open
94KG
F
2015
9082

Mahamed Aly

Mahamed Aly
L
Injury
Houston Open
ABS
F
2016
9318

Renato Cardoso

Renato Cardoso
L
Pts: 9x2
Pan American
88KG
8F
2016
9446

Josh Hinger

Josh Hinger
L
Monoplata
Chicago S. Open
ABS
F
2016
9451

Josh Hinger

Josh Hinger
L
Kneebar
Ch. NoGi S. Open
ABS
F
2016
9707

Gabriel Vieira

L
Choke from back
San Antonio Open
94KG
F
2016
9710

Manuel Ribamar

Manuel Ribamar
L
Pts: 6x2
San Antonio Open
ABS
4F
2016
10023

Ruan Oliveira

Ruan Oliveira
L
Triangle armbar
World Champ.
88KG
R1
2016
10335

Osvaldo Moizinho

Osvaldo Moizinho
L
Points
Austin Open
ABS
F
2016
10712

Tanner Rice

Tanner Rice
L
Triangle armbar
BJJ Pro LA
94KG
4F
2016
11856

Diego Ramalho

Diego Ramalho
L
Botinha
Houston Open
88KG
F
2017
12849

Diogo Sampaio

Diogo Sampaio
L
Adv
Dallas Open
88KG
F
2017
13172

Tarsis Humphreys

Tarsis Humphreys
L
Pts: 2x0
World Champ.
88KG
8F
2017
13486

Manuel Ribamar

Manuel Ribamar
L
Points
Austin Open
94KG
SF
2017
15060

Tex Johnson

Tex Johnson
L
Kneebar
Atlanta W. Open
94KG
F
2018
15063

Marcos Tinoco

Marcos Tinoco
L
Adv
Atlanta W. Open
ABS
4F
2018
15545

Matt Leighton

Matt Leighton
L
Referee Decision
F2W 66
94KG
SPF
2018
16579

Keenan Cornelius

Keenan Cornelius
L
Armbar
World Champ.
94KG
8F
2018
17531

Horlando Monteiro

Horlando Monteiro
L
Points
Atlanta SMO
94KG
F
2018
24399

Ruan Oliveira

Ruan Oliveira
L
Pts: 2x0
Houston Open
94KG
RR
2020
24400

Rafael Vasconcelos

Rafael Vasconcelos
L
Pts: 2x0
Houston Open
94KG
RR
2020
24581

Rodrigo Tatu

Rodrigo Tatu
L
Pts: 0x0, Adv
American Nats
94KG
SF
2020
5939

Ismael Miranda

W
Pts: 6x4
Grappling Games
88KG
SF
2014
5940

Alex Martins

Alex Martins
W
Verbal tap
Grappling Games
88KG
F
2014
5960

Jason Selva

W
Triangle
Am. Nat. NoGi
85KG
F
2014
7471

John Jordan

W
Choke from back
World Champ.
88KG
R1
2015
7756

Robert Yamashita

W
Points
Austin Open
88KG
SF
2015
7761

Lucas Pinheiro

Lucas Pinheiro
W
Pts: 12x10
Austin Open
ABS
SF
2015
8018

Jonathan Swift

W
N/A
Atlanta W. Open
88KG
SF
2015
8020

Carlos Farias

Carlos Farias
W
Pts: 5x3
Atlanta W. Open
ABS
SF
2015
8021

Jeffery Boudreaux

W
Armbar
Atlanta W. Open
ABS
F
2015
8443

Matt Jubera

W
Pts: 4x2
NoGi Worlds
85KG
8F
2015
8726

Leonardo Machado

W
Points
San Antonio Open
94KG
F
2015
8746

Jason Ackerman

W
Pts: 9x0
Irvine Open
94KG
SF
2015
8750

Takahito Yoshioka

W
Katagatame
Irvine Open
ABS
4F
2015
8752

Thiago Macedo

Thiago Macedo
W
Armbar
Irvine Open
ABS
SF
2015
8899

Robert Yamashita

D
---
F2W 2
ABS
SPF
2016
9072

John Jordan

W
N/A
Houston Open
88KG
SF
2016
9080

Ed Ramos

W
Pts: 5x2
Houston Open
ABS
SF
2016
9311

Steven Patterson

W
Pts: 9x4
Pan American
88KG
R1
2016
9442

Ezra Lenon

W
N/A
Chicago S. Open
88KG
SF
2016
9443

Josh Bowlin

W
Pts: 8x8, Adv
Chicago S. Open
88KG
F
2016
9690

Gilvan Costa

W
Kimura
SA Open NoGi
91KG
F
2016
9705

Thiago Ximenes

W
Triangle
San Antonio Open
94KG
SF
2016
10330

Joshua Bowlin

W
N/A
Austin Open
88KG
F
2016
10334

Manuel Ribamar

Manuel Ribamar
W
Kneebar
Austin Open
ABS
SF
2016
10553

Jose Portillo

W
Botinha
Dallas Open
88KG
F
2016
10555

Robson G. Jr

W
Katagatame
Dallas NoGi Open
91KG
F
2016
10556

Marcus Wilson

W
Triangle
Dallas NoGi Open
ABS
F
2016
11430

Joseph Carroll

W
Armbar
F2W 21
ABS
SPF
2017
11854

Vinicius Canabarro

W
N/A
Houston Open
88KG
SF
2017
12848

Robert Yamashita

W
N/A
Dallas Open
88KG
SF
2017
13157

Giacomo Raupp

W
Pts: 4x0
World Champ.
88KG
R1
2017
13494

Igor Paiva

Igor Paiva
W
Points
Austin NG Open
83KG
F
2017
14220

Igor Paiva

Igor Paiva
D
---
Fury Fighting
ABS
SPF
2017
15057

Charles Mcguire

W
Submission
Atlanta W. Open
94KG
4F
2018
15058

Roberto Torralbas

W
Adv
Atlanta W. Open
94KG
SF
2018
15062

Douglas Elliot

W
Points
Atlanta W. Open
ABS
4F
2018
15152

Diego Gamonal

W
Adv
Houston Open
94KG
SF
2018
15153

Mathew Wilson

W
Kimura
Houston Open
94KG
F
2018
15156

yes

W
50/50 armbar
Houston Open
ABS
4F
2018
15157

Alexandre Ceconi

Alexandre Ceconi
W
Pts: 2x0
Houston Open
ABS
SF
2018
16316

Kauan Barboza

Kauan Barboza
W
Adv
Dallas SPO
ABS
4F
2018
16319

Dante Leon

Dante Leon
W
Pts: 4x2
Dallas SPO
ABS
SF
2018
16574

Rafael Vasconcelos

Rafael Vasconcelos
W
Triangle
World Champ.
94KG
R1
2018
17530

Victor Cervantes

W
N/A
Atlanta SMO
94KG
SF
2018
17533

John Jordan

W
N/A
Atlanta SMO
ABS
SF
2018
17535

Leo Nogueira

Leo Nogueira
W
Adv
Atlanta SMO
ABS
F
2018
18474

Tyrone Gonsalves

W
N/A
San Antonio Open
94KG
SF
2018
18475

Ben Zachary

W
N/A
San Antonio Open
94KG
F
2018
19401

Roger Narvaez

W
Triangle
F2W 103
92KG
SPF
2019
20857

Vinicius Trator

Vinicius Trator
W
Referee Decision
Third Coast
94KG
SPF
2019
23738

Jean Petrik

W
Armbar
F2W 142
94KG
SPF
2020
Inacio Neto x Jeffery Boudreaux