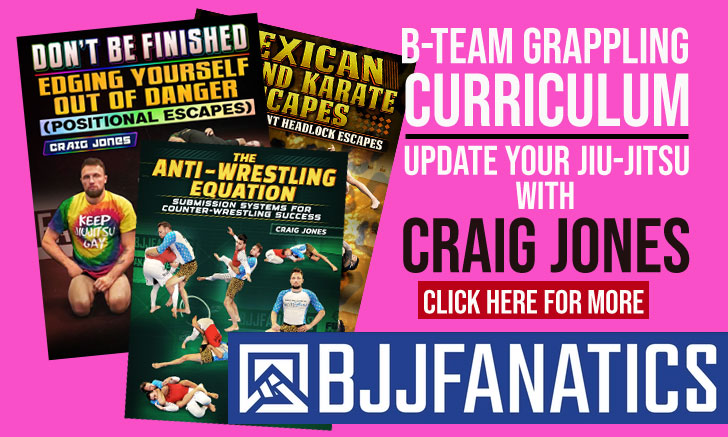 Matheus Spirandeli is a Brazilian jiu-jitsu black belt under Leandro Lo, who is also one of the top heavyweights of his generation, with wins in important International Brazilian Jiu-Jitsu Federation (IBJJF) tournaments such as the South American, Rio Fall, and Curitiba Open to name a few. Spirandeli gained recognition in this sport/martial art while representing the New School Brotherhood, though he spent his formative years competing for Lótus Clube, under Fábio Negão. In December 2018 Matheus switched to the Alliance team, training out of the academy's headquarters in São Paulo.
Matheus Spirandeli Jiu Jitsu
Full Name: Matheus Spirandeli Souza
Nickname: n/a
Lineage: Carlos Gracie > Helio Gracie > Rickson Gracie > Marcelo Behring > Waldomiro Perez> Roberto Godoi > Marco Barbosa > Cicero Costha > Leandro Lo > Matheus Spirandeli
Main Achievements:
1st Place Big Deal Pro Grand Prix (2021)
1st Place IBJJF Brazilian Nationals (2022)
1st Place IBJJF South American (2017)
1st Place IBJJF Rio Fall Open (2017)
1st Place AJP Grand Slam RJ (2016)
2nd Place CBJJ Brazilian Nationals (2023)
2nd Place IBJJF São Paulo Open (2016)
2nd Place AJP Grand Slam AD (2017)
3rd Place IBJJF European Open (2016/2017)
3rd Place AJP Grand Slam RJ (2018)
3rd Place CBJJ Brazilian National (2018)
3rd Place IBJJF European Open (2022)
Main Achievements (Coloured Belts):
1st Place AJPBrazil National Pro (2015 brown)
1st Place IBJJF Curitiba Open (2015* brown)
1st Place IBJJF Floripa Open (2015 brown)
2nd Place AJP Abu Dhabi Pro (2016 brown)
2nd Place IBJJF South American (2015 brown)
3rd Place IBJJF European International Open (2016 brown)
* Absolute
** Weight and absolute
Favorite Position/Technique: Open-Guard
Weight Division: Meio Pesado (88kg/194lbs)
Team/Association: Alliance JJ
Matheus Spirandeli Biography
Matheus Spirandeli was born on September 28, 1993, in São Paulo – Brazil, where he lived until his 13th birthday, a time when he moved to the neighboring state of Minas Gerais.
Growing up Matheus was curious about martial arts, starting judo at the age of 6, a sport he practiced for 2 years. Like most children Spirandeli hopped sports for a while, taking karate classes for a year by the time he was 10.
As a 13-year-old Matheus started lifting weights at a gym in Minas Gerais. The gym's jiu-jitsu coach (Wesley) became friends with Spirandeli, and found of his interest in martial arts, shortly after Wesley opened the doors of his mat to Matheus, who immediately took a shine for grappling.
Coach Wesley was a full-time police officer, who (6 months into Matheus' training) was transferred to an out-of-state precinct. Spirandelli was left without a coach for a few months, later finding Andrews Cleto, also known as "Nino". Cleto was the first instructor to spot the potential of Matheus, pushing him to compete, though, after 1 year of coaching, struggling to monetize the gym, Nino closed down the academy.
Already hooked on jiu-jitsu, and seeing the limited resources available nearby, Matheus decided to return to his home state and try his luck in a bigger academy. Back in São Paulo Matheus signed on to Lótus Club, one of the historic teams in the region, where he met instructor Fernando Camocardi, also known as "Dove". Fernando was an extremely competent coach, who awarded Spirandeli his blue and purple belts.
Seeing the talent Matheus had, coach Camocardi recommended Spirandeli to start training at the team's headquarters, where the level of training partners was higher. At Lótus' HQ Spirandeli met the illustrious Fábio Negão who took charge of Matheus' training. One of the most talented competitors ever produced by Lótus, Fábio helped grow his brand new student's game heaps and bounds, grading him with his brown belt in less than one year.
During his many travels competing across the country, and also abroad, Matheus made friends with Yago de Souza and Wellington Alemão, two of New School Brotherhood's (NSB) biggest names – NSB being one of the most important teams in the world. Having a successful international career on his sights, Spirandeli saw NSB as the best way to progress, given that they had a more competitive team, and so, with the consent of coach Fabio Negão, Matheus switched to Yago and Wellington's camp in February 2016.
Within 6 months of training with Ns Brotherhood Matheus Spirandeli convinced head coach Leandro Lo he was ready for the next step – the black belt, being promoted on July 1, 2016. He would later, around 2020, switch camps once again, to the Alliance Academy.
Matheus Spirandeli Grappling Record
79 WINS
BY POINTS


BY ADVANTAGES




BY SUBMISSION




BY DECISION




BY PENALTIES




BY DQ



33 SUBMISSIONS WINS
#214eb8
Choke from back
36
12
#fad11b
Bow and arrow
3
1
#224aba
Shoulder lock
3
1
30 LOSSES
BY POINTS


BY ADVANTAGES




BY SUBMISSION




BY DECISION




BY PENALTIES




BY DQ



6 SUBMISSIONS LOSSES
#214eb8
Choke from back
33
2
#d1212a
50/50 armbar
17
1
#fad11b
Bow and arrow
17
1
Matheus Spirandeli Fight History
ID
Opponent
W/L
Method
Competition
Weight
Stage
Year
10419

Patrick Gaudio

Patrick Gaudio
L
Referee Decision
Curitiba W. Open
88KG
F
2016
10430

Dimitrius Souza

Dimitrius Souza
L
Pts: 2x0
Curitiba W. Open
ABS
F
2016
10581

Patrick Gaudio

Patrick Gaudio
L
Adv
Sao Paulo Open
88KG
F
2016
10995

Guilherme Augusto

Guilherme Augusto
L
Points
BJJ Rio Pro
94KG
4F
2016
11466

Gabriel Arges

Gabriel Arges
L
RNC
Grand Slam AD
85KG
F
2017
11609

Horlando Monteiro

Horlando Monteiro
L
Pts: 2x2, Adv
European Open
88KG
SF
2017
12796

Patrick Gaudio

Patrick Gaudio
L
Points
Brasileiro
88KG
4F
2017
13151

Marcos Tinoco

Marcos Tinoco
L
Pts: 4x2
World Champ.
82KG
4F
2017
13746

Victor Bomfim

L
Points
Sao Paulo Open
88KG
SF
2017
14355

Isaque Bahiense

Isaque Bahiense
L
Pts: 2x0
Grand Slam RJ
85KG
R2
2017
14941

Patrick Gaudio

Patrick Gaudio
L
Pts: 0x0, Adv
European Open
88KG
4F
2018
16268

Horlando Monteiro

Horlando Monteiro
L
Triangle
Brasileiro
88KG
SF
2018
16569

Rudson Mateus

Rudson Mateus
L
50/50 armbar
World Champ.
88KG
4F
2018
17671

Rudson Mateus

Rudson Mateus
L
Pts: 0x0, Adv
Gracie Pro
ABS
4F
2018
18303

Isaque Bahiense

Isaque Bahiense
L
Pts: 2x0
Grand Slam RJ
85KG
SF
2018
19643

Rudson Mateus

Rudson Mateus
L
Pts: 2x0
Pan American
88KG
4F
2019
20313

Carlos Eduardo

L
Pts: 6x4
Brasileiro
88KG
4F
2019
20673

Gustavo Batista

Gustavo Batista
L
Pts: 2x0
World Champ.
88KG
4F
2019
22028

Marcos Martins

Marcos Martins
L
Adv
BJJ Stars
88KG
SPF
2019
22327

C. Negromonte

C. Negromonte
L
Pts: 2x0
Grand Slam RJ
85KG
4F
2019
24746

Wellington Luis

Wellington Luis
L
Pts: 1x0
Grand Slam RJ
85KG
F
2020
28071

Marcos Martins

Marcos Martins
L
Pts: 0x0, Adv
Brasileiro
88KG
SF
2021
29544

Andre Porfirio

Andre Porfirio
L
Pts: 2x2, Adv
World Champ.
88KG
8F
2021
30595

Bruno Lima

Bruno Lima
L
Pts: 0x0, Adv
European Open
88KG
SF
2022
32971

Isaque Bahiense

Isaque Bahiense
L
Referee Decision
World Champ.
88KG
4F
2022
37224

Jansen Gomes

Jansen Gomes
L
Pts: 2x0
European Open
88KG
4F
2023
38418

Uanderson Ferreira

Uanderson Ferreira
L
Pts: 2x0
Pan American
88KG
R1
2023
39531

Gustavo Batista

Gustavo Batista
L
Bow and arrow
Brasileiro
88KG
F
2023
40337

Andy Murasaki

Andy Murasaki
L
Choke from back
World Champ.
88KG
4F
2023
42515

Isaque Bahiense

Isaque Bahiense
L
Choke from back
BJJ Stars
88KG
SPF
2023
10425

Romes Ramos

W
Pts: 4x0
Curitiba W. Open
ABS
R1
2016
10427

Caio Almeida

Caio Almeida
W
Choke from back
Curitiba W. Open
ABS
4F
2016
10428

Admilson Gobi

Admilson Gobi
W
Choke
Curitiba W. Open
ABS
SF
2016
10580

Bruno Aquino

W
Kneebar
Sao Paulo Open
88KG
SF
2016
11071

Marcelo Cortelassi

W
Points
Grand Slam RJ
85KG
8F
2016
11078

Faisal AlKitbe

Faisal AlKitbe
W
Pts: 6x0
Grand Slam RJ
85KG
4F
2016
11459

Vinicius Almeida

W
Armbar
Grand Slam AD
85KG
R1
2017
11463

Faisal AlKitbe

Faisal AlKitbe
W
Pts: 0x0, Adv
Grand Slam AD
85KG
4F
2017
11465

Rafael Carvalho

W
Choke from back
Grand Slam AD
85KG
SF
2017
11601

Arturo Espies

W
Pts: 4x4, Pen
European Open
88KG
8F
2017
11607

Vinicius Ferreira

W
Submission
European Open
88KG
4F
2017
12277

Matheus Souza

W
Pts: 12x2
Rio Fall Open
88KG
4F
2017
12278

Romeu Patrick

W
Kneebar
Rio Fall Open
88KG
SF
2017
12279

Diogo Almeida

Diogo Almeida
W
Pts: 12x0
Rio Fall Open
88KG
F
2017
12789

Luiz Nogueira

W
Kneebar
Brasileiro
88KG
R1
2017
12795

Pedro Conti

W
Points
Brasileiro
88KG
R2
2017
13131

Nathan Mendelsohn

Nathan Mendelsohn
W
Pts: 12x0
World Champ.
82KG
R1
2017
13142

Victor Silverio

Victor Silverio
W
Pts: 2x2, Adv
World Champ.
82KG
8F
2017
14478

Felipe Nilo

W
Pts: 7x2
South American
88KG
4F
2017
14480

Thiago Sa

Thiago Sa
W
Armbar
South American
88KG
SF
2017
14481

Renato Cardoso

Renato Cardoso
W
Pts: 4x4, Adv
South American
88KG
F
2017
14938

Martin Aedma

W
Pts: 11x0
European Open
88KG
R1
2018
16257

Anaue Pavanello

W
Armbar
Brasileiro
88KG
R1
2018
16260

Romulo Azevedo

Romulo Azevedo
W
Choke from back
Brasileiro
88KG
8F
2018
16266

Filipe Pinheiro

W
Points
Brasileiro
88KG
4F
2018
16560

Diogo Sampaio

Diogo Sampaio
W
Pts: 4x0
World Champ.
88KG
8F
2018
16776

Brenno Novaes

W
Pts: 2x2, Adv
Mundial CBJJE
94KG
4F
2018
16777

Dilson Souza

W
Choke from back
Mundial CBJJE
94KG
SF
2018
16778

Ramon Rost

W
Armbar
Mundial CBJJE
94KG
F
2018
16786

Robson Sa

W
Choke from back
Mundial CBJJE
ABS
4F
2018
16789

Eros Danilo

W
Pts: 14x0
Mundial CBJJE
ABS
SF
2018
16791

Erberth Santos

Erberth Santos
W
Verbal tap
Mundial CBJJE
ABS
F
2018
17172

Henrique R.

W
Pts: 23x0
Floripa W. Open
88KG
4F
2018
17174

Flavio Junqueira

Flavio Junqueira
W
Pts: 2x2, Adv
Floripa W. Open
88KG
SF
2018
17175

Manoel Porto

W
Pts: 5x0
Floripa W. Open
88KG
F
2018
18295

Claudevan Oliveira

W
Pts: 2x2, Adv
Grand Slam RJ
85KG
R1
2018
18297

Ruan Oliveira

Ruan Oliveira
W
Pts: 6x0
Grand Slam RJ
85KG
R2
2018
18300

Manoel Junior

W
Pts: 0x0, Adv
Grand Slam RJ
85KG
4F
2018
18304

Edjonson Andrade

W
Armlock
Grand Slam RJ
85KG
RPC
2018
18305

Manoel Junior

W
Pts: 4x0
Grand Slam RJ
85KG
3RD
2018
19635

Matt Leighton

Matt Leighton
W
Pts: 6x2
Pan American
88KG
8F
2019
20311

Leandro Caetano

W
Choke from back
Brasileiro
88KG
R2
2019
20434

Pedro Agrizzi

Pedro Agrizzi
W
Adv
Copa Podio Trials
85KG
SPF
2019
20671

Esdras Mendes

W
50/50 armbar
World Champ.
88KG
R2
2019
21016

Henrique Riedlinger

W
Points
SP BJJ Pro
94KG
4F
2019
21201

William Lima

W
Points
Mundial CBJJE
88KG
4F
2019
21203

Anaue Pavanelli

W
N/A
Mundial CBJJE
88KG
SF
2019
21205

Marcos Martins

Marcos Martins
W
Pts: 6x4
Mundial CBJJE
88KG
F
2019
22088

Wesley Silva

W
Points
BH SPO
88KG
SF
2019
22320

Emerson Melo

W
Pts: 2x0
Grand Slam RJ
85KG
R1
2019
22332

Luiz Neves

W
Pts: 2x0
Grand Slam RJ
85KG
RPC
2019
22462

Carlos Andrade

W
Armbar
Rio BJJ Pro
94KG
F
2019
22584

Luis Facchini

W
Kimura
South American
88KG
R1
2019
22586

Felipe Pinheiro

W
Choke from back
South American
88KG
4F
2019
22587

Yan Lucas

Yan Lucas
W
Referee Decision
South American
88KG
SF
2019
24730

Fausto Godoy

W
Pts: 4x2
Grand Slam RJ
85KG
R1
2020
24736

Pedro Pimenta

W
Pts: 3x0
Grand Slam RJ
85KG
8F
2020
24743

Lionel Bareiro

W
Bow and arrow
Grand Slam RJ
85KG
4F
2020
24745

Jaime Canuto

Jaime Canuto
W
Pts: 4x3
Grand Slam RJ
85KG
SF
2020
25158

Eduardo Andrade

W
Choke from back
Big Deal Pro 2
85KG
4F
2021
25161

Leonardo Lara

Leonardo Lara
W
Pts: 5x0
Big Deal Pro 2
85KG
SF
2021
25164

Marcos Martins

Marcos Martins
W
Pts: 2x0
Big Deal Pro 2
85KG
F
2021
26759

Henrique Cardoso

Henrique Cardoso
W
Pts: 6x2
BJJ Stars
88KG
SPF
2021
28068

Alex Munis

Alex Munis
W
Pts: 4x2
Brasileiro
88KG
4F
2021
28984

Rafael Dutra

W
Armbar
BJJ Stars
88KG
SPF
2021
29537

Bruno Matias

Bruno Matias
W
Pts: 13x0
World Champ.
88KG
R1
2021
30589

Taylor Pearman

W
Pts: 7x0
European Open
88KG
R2
2022
30590

Jamie Paxman

W
Armbar
European Open
88KG
4F
2022
32180

Felipe Silva

W
Katagatame
Brasileiro
88KG
4F
2022
32184

Wellington Luis

Wellington Luis
W
Choke from back
Brasileiro
88KG
SF
2022
32185

Rafael Paganini

Rafael Paganini
W
Triangle
Brasileiro
88KG
F
2022
32952

Thiago Andrade

W
Choke from back
World Champ.
88KG
R1
2022
32961

Sean Coates

W
Triangle
World Champ.
88KG
8F
2022
37220

Karol Kania

W
Choke from back
European Open
88KG
R2
2023
39521

Lucas Alves

Lucas Alves
W
Choke from back
Brasileiro
88KG
R1
2023
39525

Reyson Neves

W
Pts: 2x0
Brasileiro
88KG
4F
2023
39529

Wellington Luis

Wellington Luis
W
Shoulder lock
Brasileiro
88KG
SF
2023
40314

Elder Cruz

Elder Cruz
W
Pts: 21x2
World Champ.
88KG
R1
2023
40332

Enderson Dias

Enderson Dias
W
Pts: 2x2, Adv
World Champ.
88KG
8F
2023
Matheus Spirandeli vs Horlando Monteiro

Matheus Spirandeli vs Luis Shaeder

Matheus Spirandeli vs Cleidison Ramos