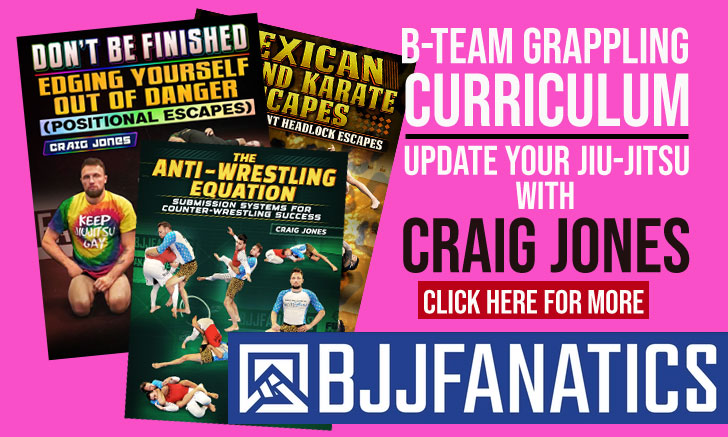 Ivan Gomes was one of the most dominant jiu jitsu and vale-tudo (no-holds-bared) fighters of the past century, Gomes ruled Brazil's combat scene during the 1960's and 1970's decades, fighting legends such as Waldemar Santana, Carlson Gracie and Euclides Pereira holding 86 confirmed NHB fights on his record and no losses. Gomes  was also invited by Antonio Inoki to fight in Japan where he lived for two years, competing and learning different fighting styles such as sumo wrestling. The importance of Ivan Gomes goes beyond his victories as he is also mentioned by many (including Carlson Gracie) as the first Brazilian to be knowledgeable in heel hooks (submissions).
Ivan Gomes Jiu Jitsu
Full Name: Ivan Simão da Cunha
Nickname: The name "Gomes" was Ivan's mother's maiden name, he adopted that name as homage to his mother. Some also called Ivan Gomes "The Samurai" after his expedition through Japan.
Lineage: Takeo Yano > Osmar Mouzinho > Agatangelo Braga > Ivan Gomes
Main Achievements:
Defeated Waldemar Santana in Vale Tudo (1972)
Defeated Euclides Pereira in Vale Tudo (1973)
Draw against Carlson Gracie (1963)*
South American Greco Roman Champion (unconfirmed)
*Mentioned by the late Carlson Gracie as the toughest fight of his career.
Favourite Technique: Kata-Guruma (Fireman's carry)
Weight Division: N/A (open weight only at the time)
Team/Association: Jiu Jitsu Tradicional Estilo Ivan Gomes
Ivan Gomes Biography
Ivan Gomes was born on the 25th of December, 1939 in Fazenda das Lajes, a ranch close to the town of Campina Grande, state of Paraíba – Brazil. Ivan Gomes' father was a cowboy at the ranch, and it was expected of Ivan that he followed his dad's footsteps; however, in 1954 Gomes met a martial arts coach nicknamed "Tatá" who introduced him to fighting.
Coach "Tatá" taught boxing in Rio de Janeiro, prior to his arrival in the Northeast of Brazil. As he coached Ivan and his brothers, "Tatá" saw great potential in the young Ivan Gomes, and added weight training, boxing and a few notions of jiu jitsu to the young kids training regime.
Ivan Gomes started evolving fast and he intended to test his skills in fighting, this will to fight in vale-tudo (No Holds Barred) led him to coach Zé Maria first, and later Agatangelo Braga a student of Osmar Mouzinho "Builson" (1958). Braga had trained under Biuce and Takeo Yano being the first to push Ivan Gomes' game.
During the two year period Ivan Gomes stayed with Agatangelo, it is said that he fought over 40 times, in boxing and jiu jitsu. Ivan Gomes also trained under another coach named José Maria Freire (Zé Maria), former student of Nilo Veloso – who was himself a student of George Gracie.
Gomes was a true martial artis, being known for his striking (particularly his kicking game) but mainly for his grappling ability from the top (ground and pound).  His throwing ability was also owed to his training with high caliber judokas such as Hayashi Kawamura in Recife and Massaioshi Saito in Belem do Pará.
During the late 1950's and early 1960's period Ivan Gomes signed up with a famous local vale tudo promotion named "Ringues Torres" which was sponsored by a shirt company named "Torres" and was televised by the local TV Company (Jornal do Comércio) every Monday. Ivan Gomes mauled through "Ringues Torres" fighter roster dominating the event.
This domination brought him some recognition and soon a chance to fight Brazil's number 1 fighter of the time, Carlson Gracie, emerged. Ivan Gomes was a hungry 23 year old kid at the time and immediately accepted the fight. The fight with Carlson Gracie occurred on the 28th of December, 1963 at the Sesc pavilion in Recife and it ended in a draw. Many years after their encounter, Carlson Gracie would describe the bout as the toughest of his career. The fight didn't have a point system, so either someone gave up (by tapout/TKO) or there would be a draw. Those who witnessed the fight at the time claim Ivan dominated the Gracie throughout the fight.
In 1965 Ivan Gomes came to Rio de Janeiro where he trained with the Gracie family, becoming part of their team (for which he had to sign a document stating he would never fight Carlson Gracie again). He also formed a partnership with Carlson, opening the very first Carlson Gracie academy. This partnership wouldn't last more then one year, being dissolved in 1965 with Ivan taking full control of the work group. Gomes stayed in Rio de Janeiro until 1968, handing the gym over to his younger brother before he returned to the Northeast.
On the 6th of November 1965, while the IV world judo championship was taking place in Rio de Janeiro, Helio Gracie launched a challenge to the judokas. He claimed, in one of the top sporting magazines of the time, that the jiu jitsu style was superior to judo and invited any judoka to fight the two jiu jitsu champions, Carlson Gracie and Ivan Gomes. He asked for anyone to step up, including the Dutchman powerhouse Anton Geesink, but no one accepted the challenge.
Ivan Gomes decided to return to Campina Grande in 1968, he was now a famous man in the region. Ivan continued fighting and winning against some of the toughest men in the land, including the aforementioned Euclides Pereira and Waldemar Santana.
In 1972, Ivan fought against judo Olympic gold medalist Willen Ruska, the fight didn't go without controversy. According to José Gomes (Ivan's younger brother), the rule was that when a submission was locked, if the athlete defending the submission touched the ring ropes, the aggressor would have to let go of the submission. José mentioned that Ivan locked an RNC on Ruska, and it had been unclear if the Dutch grappler had touched the ropes before going out from the submission, either way in the end, Ivan's hand was raised (this according to an interview to BJJ Heroes on 13/03/2016).
It is said that Ivan Gomes entered Japan after he issued a challenge to Antonio Inoki, a famous Japanese catch wrestler; Inoki didn't fight and instead tried to promote a fight between another famous wrestler, the German: Karl Gotch. Gotch was a very important figure at the time, and the fact that the "German suplex" is named after Gotch is a testament to his importance in the sport at the time. The fight never happened, but Inoki did invite Ivan Gomes to come and train at his academy in Japan. Gomes accepted and moved to Japan, living there for two years (1975-1977) fighting and teaching as well as learning new martial arts styles such as sumo.
When Ivan Gomes returned to Brazil it was time to hang up the old no holds barred shorts, maintaining his undefeated record at the time of his retirement. Even though Ivan Gomes kept his gym in Campina Grande he decided to live the life of a "vaqueiro" (cowboy), staying in his farm for the most part. He passed away on the 2nd of March, 1990 at the age of 50 due to renal failure. His style of jiu jitsu is still taught in the region.
Ivan Gomes Video Slideshow