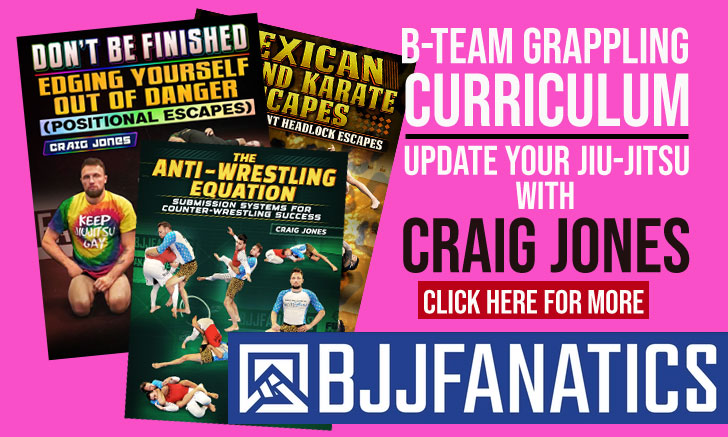 Jorge Patino, also known as "Macaco", is a Brazilian jiu jitsu black belt under Waldomiro Perez Junior, being an important figure for jiu jitsu during the 2000's decade, particularly in the Sao Paulo area. Jorge Patino was also one of the most controversial competitors of the sport, a reputation earned from his bitter rivalries with Roberto Godoi, Eduardo Pamplona and Ryan Gracie. Jorge Macaco was also one of the first grapplers from Sao Paulo to successfully transition from jiu jitsu to mixed martial arts (MMA) where he has defeated big names such as Ronaldo Souza, Gabriel Vella and Gustavo "Ximu".
Jorge Patino Macaco Jiu Jitsu
Full Name: Jorge Luis Patino
Nickname: The nickname "Macaco" means monkey, the name was given by a friend of his when he was still a young child because he was always climbing up trees and jumping around.
Lineage: Mitsuyo Maeda > Carlos Gracie > Helio Gracie > Rickson Gracie > Marcelo Behring > Waldomiro Perez > Jorge Patino
Main Achievements (BJJ):
1st Place IBJJF Pans Championship (2000 closed the brackets with his teammate Roberto Godoi, 2001)
2nd Place IBJJF Pans Championship (1997 brown belt)
3rd Place CBJJ Brazilian Nationals (2000)
Weight Division (BJJ): Meio-Pesado (194.5lbs-88kg)
Association/Team: Macaco Gold Team
Jorge Patino Biography
Jorge Patino was born on the 8th of May, 1973 in Sao Paulo – Brazil.
Growing up Jorge was extremely active, and sporty. His sports of choice when growing up were judo and rugby, which he started before joining jiu jitsu in 1992. At the time Macaco decided to begin his jiu jitsu training due to the influence of his neighbour and good friend Roberto Godoi, who already trained with Waldomiro Perez (the founder of Cia Paulista).
Patino Macaco was very athletic, a quick learner and very dedicated, and by 1994 Godoi, Perez and himself joined forces to open an academy which worked as an affiliate of Cia Paulista. The partnership lasted only one year after which Godoi and Macaco split their bond with Perez to form their own gym. In that same year (1995) Patino debuted in MMA, fighting for 5 times during that year, winning the Circuito de Lutas belt. In fact, Macaco's drive to compete really elevated this new team and placed their name on the map, making for the best possible advertising.
In 2001 Jorge Patino broke his bond with Godoi to form the Macaco Gold Team. The two had a serious argument apparently over the accounts of their shared academy which ended in serious bitterness. After both parts exchanged harsh words, they ended up meating in BJJ events with Macaco winning one of the fights by one advantage and Godoi winning the other by one sweep. It was later that they met in an MMA bout, a fight Macaco won by TKO (read more about this argument on the Roberto Godoi BJJ Heroes page).
Jorge understood by this time that he needed to sharpen his stand up skills in order to make it in the MMA world, so he joined the Muai Thai prowess team Chute-Boxe, a banner he defended while pursuing his teaching role at the Macaco Gold Team for several years.
Another one of Macaco's most famous quarrels was the one he had for several years against the now deceased Ryan Gracie. The two had exchanged words in the past, but what really made the waters boil was when Ryan Gracie (allegedly) assaulted Patino in the back at a fighting event.
What Macaco had to say about the affair:
"Meu aluno venceu a penúltima luta da noite, enquanto eu o levei ao vestiário e o deixei dando entrevista pra televisão, tinha que passar por uma parte da platéia onde estavam alunos da Gibi Thai e da Gracie São Paulo. Simplesmente disseram que eu não passaria, e eu disse "o que?"… Nisso me agrediram pelas costas, quando eu virei e ví que era o Ryan, não pensei duas vezes, soltei um direto e um gancho, ele veio todo grogue pra cima de mim, levou mais um cruzado e outro direto nas fuças!" (source – Fight2Live)
Translation: My student won his fight, when I was taking him to the dressing room, he was approached by the media, so I left him and progressed to the room. I had to pass through the crowd where there were students from the Gibi-Thai (academy) and from Gracie Sao Paulo (Ryan's team), they told me I couldn't get through, and as soon as I asked "Why?" someone hit me from my back, when I turned it was Ryan and I didn't think twice, I hit him with a jab and a hook which left him dizzy. He still came forward so I hit him again.
Macaco challenged Ryan several times, and even fought one of Ryan's protégés, Gabriel Vella in the hope that he would accept the challenge after he defeated him, unfortunately for MMA and BJJ fans, Ryan Gracie never did take on the challenge.
Though Jorge Macaco Patino is highly regarded for his MMA wars, he has also managed to produce some of the biggest talent in MMA, fighters like Charles "do Bronx" Oliveira and Thiago Silva.
Jorge Patino Grappling Record
7 WINS
BY POINTS


BY ADVANTAGES




BY SUBMISSION




BY DECISION




BY PENALTIES




BY DQ



2 SUBMISSIONS WINS
7 LOSSES
BY POINTS


BY ADVANTAGES




BY SUBMISSION




BY DECISION




BY PENALTIES




BY DQ



2 SUBMISSIONS LOSSES
Jorge Patino Fight History
ID
Opponent
W/L
Method
Competition
Weight
Stage
Year
67

Nino Schembri

Nino Schembri
L
Triangle
Brasileiro
82KG
F
1995
392

Roberto Roleta

Roberto Roleta
L
Pts: 6x0
World Champ.
88KG
4F
2000
438

Ricardo Liborio

Ricardo Liborio
L
Injury
ADCC
88KG
SF
2000
467

Nino Schembri

Nino Schembri
L
kneebar
Rickson Cup
ABS
GP
2000
1189

Saulo Ribeiro

Saulo Ribeiro
L
Pts: 10x0
ADCC
88KG
4F
2005
1548

Roberto Godoi

Roberto Godoi
L
Pts: 4x0
Paulista FPJJ
100KG
F
2007
11362

Thiago Gaia

Thiago Gaia
L
Pts: 3x0
Gold Team Open
ABS
F
2016
431

Karl Webber

W
Pts: 15x0
ADCC
88KG
R1
2000
435

Egan Inoe

W
Pts: 6x0
ADCC
88KG
4F
2000
471

Eduardo Jamelao

Eduardo Jamelao
W
Pts: 9x2
Rickson Cup
ABS
GP
2000
970

Roberto Godoi

Roberto Godoi
W
Referee Decision
BB Challenge 3
88KG
SPF
2004
1116

Craig Kohl

W
Armbar
Copa Pacifica
ABS
SPF
2004
1186

Take Hanai

W
Pts: 14x0
ADCC
88KG
R1
2005
3419

Edwin Lipsey

W
Triangle
UFC Expo
ABS
SPF
2011
Jorge Patino vs. Joseph Aviles

Jorge Patino vs Ronaldo Souza (MMA)

Jorge "Macaco" Patino vs. Danilo Goltsman