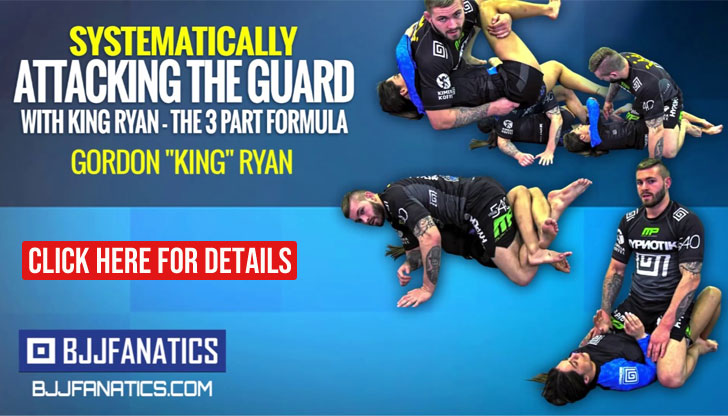 Jose Carlos Sousa is a Brazilian jiu jitsu black belt under Julio César Pereira, as well as a former student of Juarez Soares and a member of the GF Team. At the turn of the 2010 decade Jose Carlos was regarded as one of the top grappling prospects in the world, a career that came to a halt due to Sousa' inability to earn a living from the sport. Sousa returned to jiu jitsu's international spotlight in 2017, in time to reestablish himself as a key player in the lightweight division.
Jose Carlos Jiu Jitsu
Full Name: José Carlos Sousa da Silva
Nickname: N/A
Lineage: Mitsuyo Maeda > Luis França > Oswaldo Fadda > Monir Salomão > Julio Cesar > Jose Carlos Sousa
Main Achievements:
IBJJF Pan American Champion (2008 purple)
CBJJ Brazilian National Champion (2008 purple, 2006/2005 juv. blue)
IBJJF Rio International Open Champion (2009/2008 purple)
IBJJF Rio Fall International Open Champion (2017)
IBJJF World Championship Runner-up (2011* brown)
IBJJF Pan American Championship Runner-up (2008* purple)
CBJJ Brazilian National Championship Runner-up (2010 brown)
CBJJ Brazilian National Team Tournament Runner-up (2009 purple)
IBJJF World Championship 3rd Place (2011 brown)
CBJJ Brazilian National Championship 3rd Place (2017)
IBJJF Rio International Open Championship 3rd Place (2010 brown)
* Absolute
** Weight and absolute
Favorite Position/Technique: Pressure Passing
Weight Division: Peso Leve (76,00 kg / 168.0 lbs)
Team/Association: GF Team
Jose Carlos Biography
Jose Carlos Sousa da Silva was born on April 29, 1990 in Araruama – a well known municipality in the state of Rio de Janeiro, Brazil.
Like many Brazilian children of his generation, one of Jose Carlos' first sporting activities was capoeira, which he started at the age of 8 – a native martial art with strong emphasis in acrobatic kicks. As a 10 year old Sousa witnessed a public jiu jitsu demonstration in his city and was drawn to the sport. Seeking for instruction Jose found it in coach Juarez Soares' DDR academy.
Under coach Juarez, Jose Carlos became one of the most respected young grappling talents in the country, a reputation earned with his wins at numerous state, and national titles, which earned him his brown belt.
In 2009 Jose Carlos was invited to take part in the GF Team (then called Universidade Gama Filho – UGF) squad at the Brazilian Team Nationals.This happened thanks to the friendships he shared with many inside the team. In preparation for the event, Carlos realised the level of professionalism with which GFT handled competition. This realisation led him to join the team, and represent the Meyer based academy during the forthcoming years.
In 2011, after medalling in the middle and the open weight divisions, Jose Carlos was promoted to black belt by Master Júlio César. Although highly successful on the mats, outside Jose Carlos struggled to meet the bare minimum income required to pursue his jiu jitsu ambitions. Struggling to earn a living he decided to enlist in the military police force and, with a heavy heart, quit his jiu jitsu life. The decision was so painful he severed ties completely with anything related to the sport/martial art, including training and news.
In 2016 two good friends of Jose Carlos reached out to him. They were opening an academy and, being lower ranked (brown and blue belts), they needed the guidance of a black belt. Given that they were friends, Jose Carlos agreed to the deal, and started coaching on April 2016 on a regular basis.
It didn't take long for Jose to try and set foot on the competitive arena again. He tested the waters at a police force internal tournament, which he won and felt his drive returning. He continued competing in smaller events, while maintaining his career with the police, also venturing to bigger tournaments such as the Brazilian Nationals and Rio Fall International Open where he conquered fantastic results, beating some of the tougher athletes in the sport.
Photo by Marcos Aurélio Ferreira (Arena JJ).
Jose Carlos Grappling Record
12 WINS
BY POINTS


BY ADVANTAGES




BY SUBMISSION




BY DECISION




BY PENALTIES




BY DQ



9 SUBMISSIONS WINS
#86e620
Mounted X choke
33
3
#d1212a
Mounted triangle
11
1
2 LOSSES
BY POINTS


BY ADVANTAGES




BY SUBMISSION




BY DECISION




BY PENALTIES




BY DQ



2 SUBMISSIONS LOSSES
Jose Carlos Fight History
ID
Opponent
W/L
Method
Competition
Weight
Stage
Year
3397

Claudio Calasans

Claudio Calasans
L
Armbar
Pan Am CBJJE
ABS
NA
2011
12767

Gabriel Rollo

Gabriel Rollo
L
Ezekiel
Brasileiro
76KG
SF
2017
11424

Rael A.

W
Pts: 2x0
Desafio Verao
82KG
SF
2017
11425

Abner Soares

W
Mounted X choke
Desafio Verao
82KG
F
2017
12273

Unknown

W
Submission
Rio Fall Open
76KG
R1
2017
12274

Unknown

W
Submission
Rio Fall Open
76KG
4F
2017
12275

Eduardo Freitas

W
Choke
Rio Fall Open
76KG
SF
2017
12276

Ary Gomes

W
Mounted triangle
Rio Fall Open
76KG
F
2017
12760

AJ Agazarm

AJ Agazarm
W
Pts: 22x2
Brasileiro
76KG
R2
2017
12766

Juan Kamezawa

Juan Kamezawa
W
Pts: 4x0
Brasileiro
76KG
4F
2017
14303

Khaled Anbar

W
Submission
World Police Games
77KG
R1
2017
14304

William Santiago

W
Mounted X choke
World Police Games
77KG
4F
2017
14305

Lumomir Sotular

W
Mounted X choke
World Police Games
77KG
SF
2017
14306

Hamdan Saleh

W
Submission
World Police Games
77KG
F
2017
Jose Carlos vs Ary Gomes

Jose Carlos vs Oliver Geddes