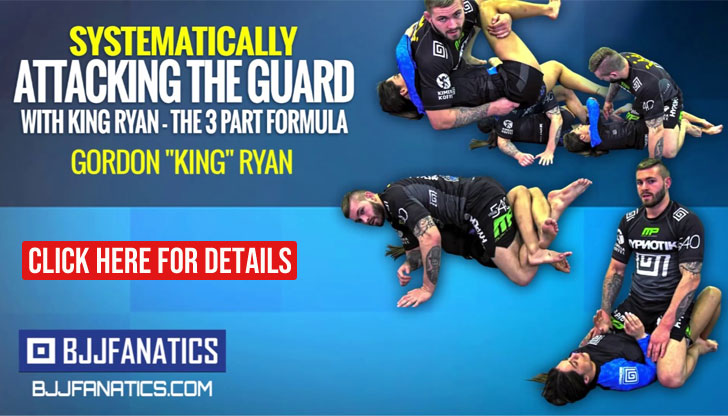 Josh Hinger is an American born Brazilian Jiu-Jitsu black belt, a rank earned from André Galvao at the Atos Jiu-Jitsu academy in San Diego, California. A specialist in both the Gi and No-Gi aspects of jiu-jitsu, Hinger won many important trophies as a middleweight (82kg/181lbs) competitor in the sport's international circuit, including titles in the American No-Gi Nationals, Chicago International Open (Spring and Summer), Seattle International Open, Gracie Worlds as well as a 2nd place in EBI's welterweight tournament.
Josh Hinger Jiu-Jitsu
Full Name: Joshua Roy Hinger
Nickname: n/a
Lineage: Carlos Gracie > Reyson Gracie > Osvaldo Alves > L. Dagmar > André Galvão > Josh Hinger
Main Achievements:
1st Place IBJJF World Championship NoGi (2018/2017/2016)
1st Place IBJJF American Nationals NoGi (2017**/2014**)
1st Place ACBJJ 7 MW Grand Prix NoGi (2017)
1st Place ADCC West Coast Trials (2019)
1st Place IBJJF Seattle Open (2017/2015)
1st Place IBJJF Austin Open (2017)
1st Place IBJJF Chicago Spring Open (2017**/2016**)
1st Place IBJJF Chicago Spring Open NoGi (2017*)
1st Place IBJJF Chicago Summer Open (2016)
1st Place IBJJF Chicago Summer Open NoGi (2016**)
2nd Place IBJJF World Masters Championship (2017 Master 1)
2nd Place EBI Invitational (2015)
2nd Place IBJJF San Francisco Open (2015)
2nd Place IBJJF Seattle Open (2017*)
3rd Place ADCC World Championship (2019)
3rd Place IBJJF American Nationals (2014)
3rd Place IBJJF Seattle Open (2015*)
3rd Place ADCC US West Coast Trials (2017)
* Absolute
** Weight and absolute
Favorite Position/Technique: Guillotine, Gogoplata
Weight Division: Peso Médio (82kg/181lbs)
Team/Association: Atos
Josh Hinger Biography
Josh Hinger was born on May 28, 1982, in Whittier, CA – USA, being raised in La Habra where he gave a start to his grappling lifestyle, by wrestling for Sonora High School, in Brea.
At the age of 15, Josh moved to Temecula, CA. continuing to wrestle, this time for Chaparral High School for whom he won the CIF 145lbs division during his senior year (2000).
Three years after finishing his high school wrestling career, Josh ran into an old wrestling teammate who asked him if he wanted to tag along and check out a jiu-jitsu academy. Hinger agreed to the trip – mainly because he wanted some mats to wrestle in with his buddy, though that first jiu-jitsu class would completely sway Hinger to learn the Brazilian way of grappling. Hinger recollects this moment well: "I remember it was on July 2, 2003, because I loved jiu-jitsu so much that I showed up for evening class on the 4th of July and no one was there. I called the instructor and asked if there was a class. He said: 'man, go to a BBQ and watch some fireworks'."
In November 2003, with four months of jiu-jitsu training under his belt, Hinger made his professional mixed martial arts (MMA) debut. A career that extended to a 4-1-0 record by 2005.
Chris Brennan was Josh's first jiu-jitsu and MMA coach, raising him from white to purple belt. Hinger was part of Chris Brennan's fight team in Lake Forest, CA. until 2006, a time when the group became disconnected due to personal issues inside the training room, as well as disagreements among team leaders. The combination of which, ultimately led to the academy's demise.
After Brennan's academy closed down, Josh worked with Baret Yoshida and Jason Bukich, earning his brown belt from the pair before joining Atos' in San Diego. Working under André Galvao at Atos' HQ, Hinger quickly earned the respect of the prestigious team reaching the rank of black belt on December 7, 2013.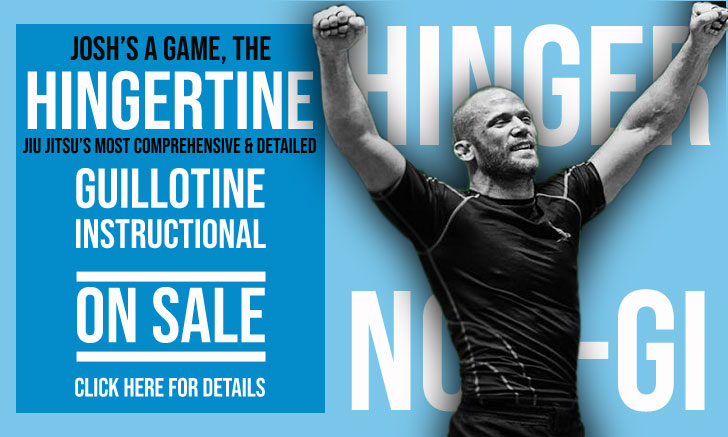 [fighter_status id=652]
Josh Hinger Grappling Record
118 WINS
BY POINTS


BY ADVANTAGES




BY SUBMISSION




BY DECISION




BY PENALTIES




BY EBI/OT



79 SUBMISSIONS WINS
#224aba
Arm in Guillotine
6
5
#22c9a5
North south choke
4
3
#fad223
Reverse triangle
4
3
#03861f
Anaconda choke
3
2
#03b41f
Kimura f/ triangle
1
1
#a4ff5f
Triangle armbar
1
1
#dbff5f
Bow and Arrow
1
1
38 LOSSES
BY POINTS


BY ADVANTAGES




BY SUBMISSION




BY DECISION




BY PENALTIES




BY EBI/OT



17 SUBMISSIONS LOSSES
#214eb8
Choke from back
18
3
#d1212a
Arm in guillotine
6
1
#bf1f6c
Baseball choke
6
1
#03861f
Mounted X choke
6
1
Josh Hinger Fight History
ID
Opponent
W/L
Method
Competition
Weight
Stage
Year
5478

Eduardo Telles

Eduardo Telles
L
Pts: 2x0
FIVE NoGi C. 2
ABS
4F
2014
5948

Francisco Iturralde

Francisco Iturralde
L
Adv
American Nat.
82KG
SF
2014
6010

Bernardo Faria

Bernardo Faria
L
Armbar
NoGi Worlds
ABS
4F
2014
6038

Thiago Abreu

Thiago Abreu
L
Footlock
NoGi Worlds
79KG
4F
2014
6737

Magid Hage

L
Baseball choke
SF Open
82KG
F
2015
6836

Felipe Cesar

Felipe Cesar
L
Pts: 7x2
Pan American
82KG
R3
2015
6958

Mike Fowler

Mike Fowler
L
Pts: 15x0
Marianas Open
ABS
4F
2015
7371

Garry Tonon

Garry Tonon
L
EBI/OT
EBI 3
77KG
F
2015
7554

Stephen Martinez

L
Adv
RevGear
ABS
F
2015
7805

Stephen Martinez

L
Guillotine
Metamoris UG
ABS
SPF
2015
8347

Fernando Moya

L
Armbar
Seattle Open
ABS
SF
2015
8445

Thiago Sa

Thiago Sa
L
Toe hold
NoGi Worlds
85KG
4F
2015
8484

Adam Wheeler

L
Pts: 5x0
NoGi Worlds
ABS
R1
2015
8741

Procopio Fonseca

L
Pts: 9x6
Irvine Open
82KG
SF
2015
8962

Romulo Barral

Romulo Barral
L
Mounted X choke
European Open
88KG
4F
2016
8980

Felipe Pena

Felipe Pena
L
Choke from back
European Open
ABS
R1
2016
9285

Dillon Danis

Dillon Danis
L
Triangle
Pan American
82KG
R1
2016
10384

Carlos Farias

Carlos Farias
L
Collar choke
Ch. Summer Open
ABS
SF
2016
10961

Murilo Santana

Murilo Santana
L
Arm in guillotine
NoGi Worlds
ABS
4F
2016
11958

Gabriel Arges

Gabriel Arges
L
Points
ACBJJ 4
85KG
4F
2017
12200

Romulo Barral

Romulo Barral
L
Cross choke
Pan American
82KG
4F
2017
12544

John Salter

John Salter
L
Pts: 2x0
ADCC WC Trials
88KG
SF
2017
13364

Keenan Cornelius

Keenan Cornelius
L
Choke from back
American Nats
94KG
F
2017
13379

Keenan Cornelius

Keenan Cornelius
L
Choke from back
American Nats
ABS
F
2017
13598

Keenan Cornelius

Keenan Cornelius
L
Pts: 5x2
Seattle Open
ABS
F
2017
13634

Gutemberg Pereira

Gutemberg Pereira
L
Triangle
Chicago SMO
100KG
F
2017
13640

Gutemberg Pereira

Gutemberg Pereira
L
Wristlock
Chicago SMO
ABS
SF
2017
14964

Thiago Sa

Thiago Sa
L
Points
ACB 10
85KG
SPF
2018
15855

Arnaldo Maidana

Arnaldo Maidana
L
Points
ACBJJ 12
85KG
SPF
2018
16541

Yago Souza

Yago Souza
L
Pts: 4x2
World Champ.
82KG
8F
2018
17314

Joshua Bacallao

L
Adv
LV NG Open
ABS
F
2018
18445

Rafael Lovato

Rafael Lovato
L
Referee Decision
F2W 95
88KG
SPF
2018
21388

Matheus Diniz

Matheus Diniz
L
RNC
Kasai Pro 6
86KG
SPF
2019
21892

Matheus Diniz

Matheus Diniz
L
Pts: 3x0
ADCC
88KG
SF
2019
26299

Vagner Rocha

Vagner Rocha
L
Referee Decision
WNO 9
83KG
SPF
2021
29292

Patrick Gaudio

Patrick Gaudio
L
Referee Decision
Raw GC
94KG
SF
2021
35041

Lucas Barbosa

Lucas Barbosa
L
Pts: 7x0
ADCC
88KG
4F
2022
35110

Owen Livesey

L
Referee Decision
Polaris
ABS
SPF
2022
5463

Unknown

W
Referee Decision
FIVE Cali. 2
82KG
4F
2014
5464

Kyle Swanson

W
Triangle
FIVE Cali. 2
82KG
SF
2014
5465

Stephen Martinez

W
Points
FIVE Cali. 2
82KG
F
2014
5947

Nathan Mendelson

W
Guillotine
American Nat.
82KG
4F
2014
5958

Stephen Martinez

W
Arm Triangle
Am. Nat. NoGi
82KG
4F
2014
5959

Francisco Iturralde

Francisco Iturralde
W
DQ
Am. Nat. NoGi
82KG
SF
2014
5961

Francisco Iturralde

Francisco Iturralde
W
Pts: 11x0
Am. Nat. NoGi
ABS
4F
2014
5962

AJ Agazarm

AJ Agazarm
W
Points
Am. Nat. NoGi
ABS
SF
2014
6735

Darragh OConaill

Darragh OConaill
W
Triangle
SF Open
82KG
4F
2015
6736

Vitor Oliveira

Vitor Oliveira
W
Guillotine
SF Open
82KG
SF
2015
7358

Mike Padilla

W
Triangle
EBI 3
77KG
R1
2015
7365

Nathan Orchard

W
EBI/OT
EBI 3
77KG
4F
2015
7370

Darragh OConaill

Darragh OConaill
W
EBI/OT
EBI 3
77KG
SF
2015
7552

Joseph Gonzalez

W
Points
RevGear
ABS
4F
2015
7553

Lance Glynn

W
Guillotine
RevGear
ABS
SF
2015
7558

Jaret Macintosh

W
Monoplata
Sub Series Pro
82KG
SPF
2015
8341

Vinicius Agudo

W
Monoplata
Seattle Open
82KG
4F
2015
8342

Pedro Henrique

W
Monoplata
Seattle Open
82KG
SF
2015
8345

Alessandro Ferreira

W
Guillotine
Seattle Open
ABS
4F
2015
8439

Gotterell King

W
Pts: 0x0, Adv
NoGi Worlds
85KG
8F
2015
8795

Albert Aguirre

W
Triangle
Gracie Worlds
ABS
N/A
2015
8796

Issa Able

W
Triangle armbar
Gracie Worlds
ABS
N/A
2015
8797

Travis Newaza

W
Armbar
Gracie NoGi Worlds
ABS
F
2015
8798

Brent Alvarez

W
Reverse triangle
Gracie NoGi Worlds
ABS
SF
2015
8799

Baret Yoshida

Baret Yoshida
D
---
Gracie NoGi Worlds
ABS
F
2015
8800

Shannon Gugerty

W
Arm in Guillotine
SRO
ABS
SPF
2015
8953

Bruno Cuppari

W
Pts: 2x0
European Open
88KG
R1
2016
9440

Javier Yamuni

W
Bow and Arrow
Chicago S. Open
82KG
SF
2016
9441

Sean Fisher

W
Points
Chicago S. Open
82KG
F
2016
9444

Aiazbek Mustakov

W
Arm Triangle
Chicago S. Open
ABS
4F
2016
9445

Josh Bowling

W
Guillotine
Chicago S. Open
ABS
SF
2016
9446

Inacio Neto

Inacio Neto
W
Monoplata
Chicago S. Open
ABS
F
2016
9448

Steven Patterson

W
RNC
Ch. NoGi S. Open
83KG
SF
2016
9449

Javier Yamuni

W
Pts: 14x0
Ch. NoGi S. Open
83KG
F
2016
9450

Steven Patterson

W
Kneebar
Ch. NoGi S. Open
ABS
SF
2016
9451

Inacio Neto

Inacio Neto
W
Kneebar
Ch. NoGi S. Open
ABS
F
2016
10373

John Combs

John Combs
W
Armbar
Ch. Summer Open
82KG
SF
2016
10374

Lucas Valle

W
RNC
Ch. Summer Open
82KG
F
2016
10382

John Combs

John Combs
W
Armbar
Ch. Summer Open
ABS
4F
2016
10390

Ben Shaeffer

W
Reverse Triangle
Chicago NoGi SO
83KG
SF
2016
10393

Mayko Borges

W
Guillotine
Chicago NoGi SO
ABS
SF
2016
10926

Matt Jubera

W
Reverse triangle
NoGi Worlds
85KG
4F
2016
10929

Matheus Diniz

Matheus Diniz
W
Pts: 4x0
NoGi Worlds
85KG
SF
2016
10930

C. Negromonte

C. Negromonte
W
Pts: 11x0
NoGi Worlds
85KG
F
2016
10950

Diogo Sampaio

Diogo Sampaio
W
Referee Decision
NoGi Worlds
ABS
R1
2016
10956

Mahamed Aly

Mahamed Aly
W
Pts: 16x8
NoGi Worlds
ABS
8F
2016
12180

Frederico Almeida

W
Kimura f/ triangle
Pan American
82KG
R1
2017
12193

Jonathan Satava

Jonathan Satava
W
Gogoplata
Pan American
82KG
8F
2017
12321

Douglas Kallin

W
Gogoplata
Chicago Sp. Open
82KG
4F
2017
12322

Ross Keeping

W
Guillotine
Chicago Sp. Open
82KG
SF
2017
12323

Abmar Barbosa

Abmar Barbosa
W
Injury
Chicago Sp. Open
82KG
F
2017
12329

Greg Walker

W
Guillotine
Chicago Sp. Open
ABS
4F
2017
12333

Yan Lucas

Yan Lucas
W
RNC
Chicago Sp. Open
ABS
F
2017
12339

Yan Lucas

Yan Lucas
W
Guillotine
Chicago Sp. NoGi
ABS
SF
2017
12341

John Gutta

W
Gogoplata
Chicago Sp. NoGi
ABS
F
2017
12536

Quentin Rosenzweig

W
Katagatame
ADCC WC Trials
88KG
8F
2017
12542

David Mitchell

W
Pts: 10x0
ADCC WC Trials
88KG
4F
2017
12547

Antonio Zuazo

W
Guillotine
ADCC WC Trials
88KG
3RD
2017
12911

Koffi Adzitso

W
Arm in guillotine
Grappling N.G.O.
84KG
4F
2017
12912

Obie Simpson

W
Arm in guillotine
Grappling N.G.O.
84KG
SF
2017
12913

George Ganssle

W
RNC
Grappling N.G.O.
84KG
F
2017
12914

Jacob Hockenbury

W
Arm in guillotine
Grappling Open
84KG
RR
2017
12915

Jacob Hockenbury

W
Pts: 5x0
Grappling Open
84KG
F
2017
13318

Wellington Peroto

W
Katagatame
American NG Nats
91KG
SF
2017
13319

Keenan Cornelius

Keenan Cornelius
W
Pts: 3x0
American NG Nats
91KG
F
2017
13326

Piter Silva

W
RNC
American NG Nats
ABS
4F
2017
13329

Dante Leon

Dante Leon
W
RNC
American NG Nats
ABS
SF
2017
13331

Diego Ramalho

Diego Ramalho
W
Guillotine
American NG Nats
ABS
F
2017
13359

Charles Mcguire

W
Brabo choke
American Nats
94KG
4F
2017
13362

Tanner Rice

Tanner Rice
W
Guillotine
American Nats
94KG
SF
2017
13373

Marcos Campos

W
Gogoplata
American Nats
ABS
R1
2017
13377

Scott Thometz

W
Guillotine
American Nats
ABS
4F
2017
13378

Jaime Canuto

Jaime Canuto
W
Pts: 4x2
American Nats
ABS
SF
2017
13487

Jose Portillo

W
Gogoplata
Austin Open
94KG
SF
2017
13488

Manuel Ribamar

Manuel Ribamar
W
Armbar
Austin Open
94KG
F
2017
13592

Horlando Monteiro

Horlando Monteiro
W
Pts: 2x2, Adv
Seattle Open
88KG
F
2017
13597

Scott Thometz

W
RNC
Seattle Open
ABS
SF
2017
13633

Steven Patterson

W
RNC
Chicago SMO
100KG
RR
2017
13638

Joseph Hooker

W
Points
Chicago SMO
ABS
4F
2017
13673

Isaque Bahiense

Isaque Bahiense
W
Darce choke
ACBJJ 7
85KG
4F
2017
13678

Hugo Marques

Hugo Marques
W
Guillotine
ACBJJ 7
85KG
SF
2017
13679

Arnaldo Maidana

Arnaldo Maidana
W
Gogoplata
ACBJJ 7
85KG
F
2017
14287

Wellington Dias

Wellington Dias
W
Kneebar
Long Beach Open
88KG
F
2017
14686

Sergio Ardila

Sergio Ardila
W
Pts: 8x0
NoGi Worlds
79KG
R2
2017
14690

Victor Silverio

Victor Silverio
W
RNC
NoGi Worlds
79KG
4F
2017
14694

Dante Leon

Dante Leon
W
Referee Decision
NoGi Worlds
79KG
SF
2017
14695

Felipe Cesar

Felipe Cesar
W
Pts: 0x0, Adv
NoGi Worlds
79KG
F
2017
16530

Alec Baulding

Alec Baulding
W
Pts: 6x6, Pen
World Champ.
82KG
R2
2018
17282

Moris Ayala

W
RNC
Las Vegas Open
94KG
SF
2018
17289

Charles McGuire

W
Kimura
Las Vegas Open
ABS
4F
2018
17291

Klidson Abreu

W
Armbar
Las Vegas Open
ABS
SF
2018
17309

Victor Cervantes

W
Guillotine
LV NG Open
91KG
SF
2018
17313

Cole Franson

Cole Franson
W
Anaconda choke
LV NG Open
ABS
SF
2018
18182

Mateo Tenzera

W
Monoplata
Long Beach Open
88KG
SF
2018
18184

Gabriel Almeida

Gabriel Almeida
W
Katagatame
Long Beach Open
88KG
F
2018
18190

Gabriel Almeida

Gabriel Almeida
W
Guillotine
Long Beach Open
ABS
SF
2018
18192

Ben Leynard

W
Armbar
Long Beach Open
ABS
F
2018
18659

Ashur Darmo

W
North south choke
NoGi Worlds
85KG
R2
2018
18661

Kit Dale

Kit Dale
W
Pts: 0x0, Adv
NoGi Worlds
85KG
4F
2018
18664

Matheus Diniz

Matheus Diniz
W
Pts: 8x5
NoGi Worlds
85KG
SF
2018
18666

Marcos Tinoco

Marcos Tinoco
W
North south choke
NoGi Worlds
85KG
F
2018
19107

George Hernandez

W
Triangle
ADCC WC Trials
88KG
R1
2019
19109

K. Boehm

W
Guillotine
ADCC WC Trials
88KG
R2
2019
19111

Hunter Colvin

W
Pts: 8x0
ADCC WC Trials
88KG
4F
2019
19113

Jon Blank

Jon Blank
W
Pts: 4x0
ADCC WC Trials
88KG
SF
2019
19114

Stan Rosa

W
Anaconda choke
ADCC WC Trials
88KG
F
2019
21514

Arnaldo Maidana

Arnaldo Maidana
W
Referee Decision
F2W 124
88KG
SPF
2019
21843

Gabriel Almeida

Gabriel Almeida
W
Short choke
ADCC
88KG
R1
2019
21850

Adam Wardzinski

Adam Wardzinski
W
Arm in guillotine
ADCC
88KG
4F
2019
21893

Jon Blank

Jon Blank
W
Pts: 3x0
ADCC
88KG
3RD
2019
22415

Murilo Santana

Murilo Santana
W
Referee Decision
F2W 131
84KG
SPF
2019
25856

Rafael Barbosa

Rafael Barbosa
W
Referee Decision
F2W 170
83KG
SPF
2021
27693

Corey Guitard

W
Referee Decision
F2W 183
83KG
SPF
2021
28993

Luis Marques

W
Pts: 4x2
BJJ Stars
88KG
SPF
2021
29288

Bradley Hill

W
Referee Decision
Raw GC
94KG
4F
2021
29295

Taylor Pearman

W
Guillotine
Raw GC
94KG
3RD
2021
34801

Dannesh Bastani

W
Guillotine
JJ Con NG
85KG
4F
2022
34804

Hayden Buckner

W
North south choke
JJ Con NG
85KG
SF
2022
35039

Tye Ruotolo

Tye Ruotolo
W
Pts: 3x2
ADCC
88KG
R1
2022
Joshua Hinger vs Javier Yamuni

Josh Hinger vs Albert Aguirre

Josh Hinger vs Inácio Neto