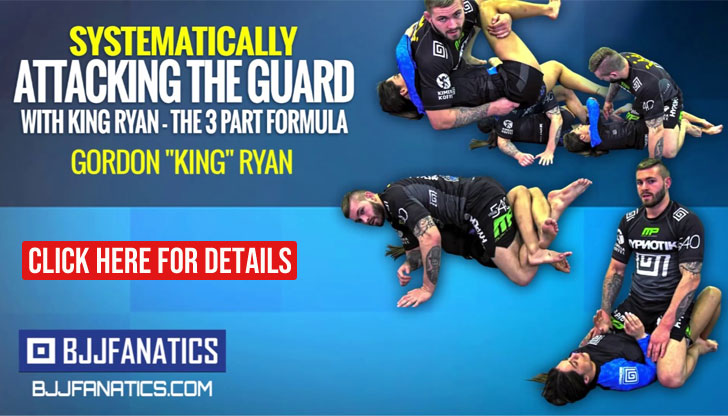 Kieran Kichuk is a Canadian grappler and a jiu-jitsu black belt under Fernando Zulick (Gringo), who also worked extensively with Steve Lin and Lloyd Irvin. Kieran Kichuk made waves in the sport due to his submission-oriented jiu-jitsu style and for his success in important tournaments such as the International Brazilian Jiu-Jitsu Federation (IBJJF) Pan American No-Gi Championships.
Kieran Kichuk Jiu-Jitsu
Full Name: Kieran Robert Kichuk
Nickname: N/A
Lineage : Carlos Gracie > Helio Gracie >  Helio Gracie > Flávio Behring > Sylvio Behring > Fernando Zulick > Kieran Kichuk
Main Achievements:
1st Place IBJJF New Orleans Open (2021)
1st Place IBJJF New Orleans Open NOGI (2021)
3rd Place IBJJF Pan Championship NOGI (2021)
4th Place AJP Abu Dhabi World Pro (2021)
Main Achievements (Colored Belts):
1st Place AJP Canadian National Pro (2020 brown)
3rd Place AJP Grand Slam, LDN (2020 brown)
3rd Place AJP Grand Slam, LA (2020 brown)
3rd Place IBJJF American Nationals (2017 brown)
Favorite Position/Technique: Triangle
Weight Division: Peso Leve (76,00 kg / 168.0 lbs)
Team/Association: Team Lloyd Irvin / Gringo JJ
Kieran Kichuk Biography
Kieran Kichuk was born on November 19, 1995, in Hamilton, Ontario, Canada. He did not, however, grow up at this location as the Kichuk Family moved to San Diego, California, USA, when Kieran was only a baby and there remained for 5 years. From Cali the Kichuk's moved back to Canada, settling in Markham, Ontario, where they settled.
Sports were a big part of Kieran's upbringing, much thanks to his father, a former national-level track athlete and NCAA division 1 level runner during college, who was the driving force behind the family's physical activities.
Although neither of the Kichuk's kids (4 altogether) was forced to compete, daily running was a big part of the family tradition while growing up. This passion for running led Kichuk to compete in track and field for a number of years, specializing in 1500 meter as well as cross country, competing at a regional and provincial level.
In 2009, inspired by George Saint Pierre's deeds in the Ultimate Fighting Championship (UFC), 13-year-old Kieran decided to start training in martial arts, picking up muay that and jiu-jitsu. After 6 months of practice, Kichuck opted to quit the striking art and allocate all his resources to grappling, a decision that led him to also give up on the high school track team to join its wrestling program. The young Canadian would later reach the Provincial level in wrestling as well.
Kieran's first jiu-jitsu instructor was a black belt by the name of Steve Lin. Lin was instrumental in the young athlete's development, taking Kichuk from white to brown belt. In 2010 Steve Lin's gym became affiliated with Team Lloyd Irvin and it was through this relationship that the young Canadian connected with Lloyd Irvin and the well-known coach's competition squad (Medal Chasers) over a few years.
In late 2017 Kieran started training with Fernando Zulick, an instructor also known as Gringo. It was Zulick who promoted Kieran to black belt on December 20, 2020.
Kieran Kichuk Grappling Record
69 WINS
BY POINTS


BY ADVANTAGES




BY SUBMISSION




BY DECISION




BY PENALTIES




BY EBI/OT



53 SUBMISSIONS WINS
#214eb8
Inside heel hook
32
17
#fad11b
Choke from back
6
3
#ff9124
Bow and arrow
2
1
#fad223
Straight ankle lock
2
1
#03861f
NG Baseball choke
2
1
17 LOSSES
BY POINTS


BY ADVANTAGES




BY SUBMISSION




BY DECISION




BY PENALTIES




BY DQ



5 SUBMISSIONS LOSSES
#214eb8
outside heel hook
20
1
#5AD3D1
Inside heel hook
20
1
#fad11b
Straight ankle lock
20
1
Kieran Kichuk Fight History
ID
Opponent
W/L
Method
Competition
Weight
Stage
Year
25021

Justin Fabac

L
outside heel hook
Sub Spectrum
77KG
F
2021
25665

Adriano Araujo

L
Pts: 4x0
World Pro
77KG
4F
2021
25671

Adriano Araujo

L
Pts: 4x2
World Pro
77KG
3RD
2021
25723

J. Couch

L
Pts: 6x0
Sub May Day
ABS
N/A
2021
25734

Austin Baker

Austin Baker
L
Injury
SS May Day GI
ABS
F
2021
26119

Johnny Tama

Johnny Tama
L
Pts: 0x0, Adv
NoGi Pan Am.
73KG
SF
2021
26940

Igor Feliz

Igor Feliz
L
Pts: 2x0
Austin Open
76KG
F
2021
28256

Rodrigo Francioni

Rodrigo Francioni
L
Referee Decision
NoGi Worlds
73KG
4F
2021
28702

Liam Hill

L
Referee Decision
EUG NoGi
70KG
4F
2021
28858

Kade Ruotolo

Kade Ruotolo
L
Arm in RNC
ADCC EC Trials
77KG
R5
2021
29663

Keith Krikorian

Keith Krikorian
L
Inside heel hook
High Rollerz 10K
77KG
F
2021
31460

Chris Wojcik

L
Pts: 0x0, Pen
ADCC WC Trials
77KG
4F
2022
35533

Deandre Corbe

Deandre Corbe
L
Pts: 2x0
NoGi Pan
73KG
F
2022
36829

Ellis Younger

L
Pts: 9x4
NoGi Worlds
73KG
4F
2022
37776

Rene Sousa

L
N/A
WNO
77KG
SPF
2023
39149

Martin Demers

L
Submission
ADCC CAN
76KG
F
2023
41678

Pierre Leclerc

L
Straight ankle lock
Oshawa OP
77KG
RR
2023
25014

S. Oberbroeckling

W
Armbar
Sub Spectrum
ABS
R1
2021
25015

Mahmoud Jabr

W
Inside heel hook
Sub Spectrum
ABS
4F
2021
25016

Vikenty Mikheev

W
Triangle
Sub Spectrum
ABS
SF
2021
25017

Johnathan Gutta

W
Triangle
Sub Spectrum
ABS
F
2021
25018

Brady Rude

W
Triangle
Sub Spectrum
77KG
R1
2021
25019

Joe Connor

W
Triangle
Sub Spectrum
77KG
4F
2021
25020

Victor Borja

W
Inside heel hook
Sub Spectrum
77KG
SF
2021
25022

Hayden Bucner

W
Pts: 5x0
Sub S. GI
77KG
N/A
2021
25662

Alberto Serrano

W
Choke from back
World Pro
77KG
R1
2021
25669

Bruno Borges

W
Pts: 3x0
World Pro
77KG
RPC
2021
25670

Andre Cantanhede

W
Triangle
World Pro
77KG
RPC
2021
25720

Josh Hamilton

W
Triangle
Sub May Day
ABS
N/A
2021
25725

Justin Fabac

W
RNC
Sub May Day
ABS
N/A
2021
25726

Justin Fabac

W
RNC
Sub May Day
77KG
N/A
2021
25727

Marc Hummel

W
Guillotine
Sub May Day
77KG
N/A
2021
25728

Matthew Marsh

W
Triangle
Sub May Day
77KG
N/A
2021
25729

David Clothe

W
Inside heel hook
Sub May Day
77KG
N/A
2021
25731

Josh Hamilton

W
Bow and arrow
SS May Day GI
ABS
4F
2021
25733

Zach Snyder

W
Choke from back
SS May Day GI
ABS
SF
2021
26000

Alexandre Molinaro

Alexandre Molinaro
W
Choke from back
N.Orleans Open
76KG
SF
2021
26001

Peygan Lafont

W
Armbar
N.Orleans Open
76KG
F
2021
26026

Peygan Lafont

W
Inside heel hook
N.Orleans NGO
73KG
4F
2021
26027

Francisco Cuneo

Francisco Cuneo
W
Triangle
N.Orleans NGO
73KG
F
2021
26101

Romulo Caiado

W
Brabo choke
NoGi Pan Am.
73KG
R1
2021
26110

Paulo Gabriel

Paulo Gabriel
W
Inside heel hook
NoGi Pan Am.
73KG
8F
2021
26114

Joao Mendes

Joao Mendes
W
Inside heel hook
NoGi Pan Am.
73KG
4F
2021
26937

Gino Ferrazzano

W
Triangle
Austin Open
76KG
4F
2021
26939

Leo Silva

Leo Silva
W
Pts: 2x2, Adv
Austin Open
76KG
SF
2021
26962

Michael Esquivel

W
Kneebar
Austin NGO
79KG
SF
2021
26964

Alan Sanchez

Alan Sanchez
W
Pts: 4x2
Austin NGO
79KG
F
2021
26989

Julien Moreno

W
Inside heel hook
White Lion
ABS
4F
2021
26991

Felipe Porto

W
EBI/OT
White Lion
ABS
SF
2021
26993

Rodrigo Gortari

W
EBI/OT
White Lion
ABS
F
2021
27010

Leonidis Villagran

W
RNC
Orlando NGO
73KG
SF
2021
27011

Ricky Semiglia

W
Inside heel hook
Orlando NGO
73KG
F
2021
28239

Minoru Takeuchi

W
Pts: 4x0
NoGi Worlds
73KG
R2
2021
28247

Matheus Galvao

W
Inside heel hook
NoGi Worlds
73KG
8F
2021
28813

Nico Demillio

W
Inside heel hook
ADCC EC Trials
77KG
R1
2021
28817

Colon Santana

W
RNC
ADCC EC Trials
77KG
R2
2021
28830

Andrew Solano

W
Inside heel hook
ADCC EC Trials
77KG
R3
2021
28846

Brandon Bergeron

W
Inside heel hook
ADCC EC Trials
77KG
R4
2021
29655

Rafael Domingos

W
EBI/OT
High Rollerz 10K
77KG
R1
2021
29659

Javier Garcia

W
Triangle
High Rollerz 10K
77KG
4F
2021
29661

Cris Lencioni

W
Inside heel hook
High Rollerz 10K
77KG
SF
2021
30735

Quinn Puryear

W
RNC
Finishers SO
70KG
R1
2022
30739

Alex Schaffer

W
Inside heel hook
Finishers SO
70KG
4F
2022
30740

Deandre Corbe

Deandre Corbe
W
EBI/OT
Finishers SO
70KG
4F
2022
30742

John Lyon

W
EBI/OT
Finishers SO
70KG
SF
2022
30743

Jordan Holy

W
Triangle
Finishers SO
70KG
F
2022
30892

Josh Cisneros

Josh Cisneros
W
EBI/OT
Emerald City
70KG
4F
2022
30894

Gianni Grippo

Gianni Grippo
W
EBI/OT
Emerald City
70KG
SF
2022
30895

Adam Benayoun

Adam Benayoun
W
EBI/OT
Emerald City
70KG
F
2022
31400

Archie Almario

W
Inside heel hook
ADCC WC Trials
77KG
R1
2022
31417

Benjamin Schultz

W
RNC
ADCC WC Trials
77KG
R2
2022
31443

Anthony Robinson

W
Pts: 3x0
ADCC WC Trials
77KG
R4
2022
31454

Daniel Smith

W
RNC
ADCC WC Trials
77KG
8F
2022
33526

Fabian Ramirez

W
Straight ankle lock
M. Finishers 7
70KG
R1
2022
33530

John Lyons

W
NG Baseball choke
M. Finishers 7
70KG
4F
2022
35523

Jordan Holy

W
Aoki lock
NoGi Pan
73KG
8F
2022
35529

Damion Oranday

Damion Oranday
W
Inside heel hook
NoGi Pan
73KG
4F
2022
35531

Jonata Gomes

Jonata Gomes
W
Inside heel hook
NoGi Pan
73KG
SF
2022
36612

Matt Hnatejko

W
Triangle
Ace Pro Cup
70KG
SPF
2022
36822

Joshua Murdock

W
Leaf clover
NoGi Worlds
73KG
8F
2022
39140

Mathieu Dubois

W
Submission
ADCC CAN
76KG
R1
2023
39142

Adam Bruno

W
Submission
ADCC CAN
76KG
8F
2023
39146

Vadim Kozlov

W
Submission
ADCC CAN
76KG
4F
2023
39147

Paul Grant

W
Submission
ADCC CAN
76KG
SF
2023
41676

Luca Martel

W
N/A
Oshawa OP
77KG
RR
2023
41677

Lucas Wilhan

W
Pts: 2x0
Oshawa OP
77KG
RR
2023