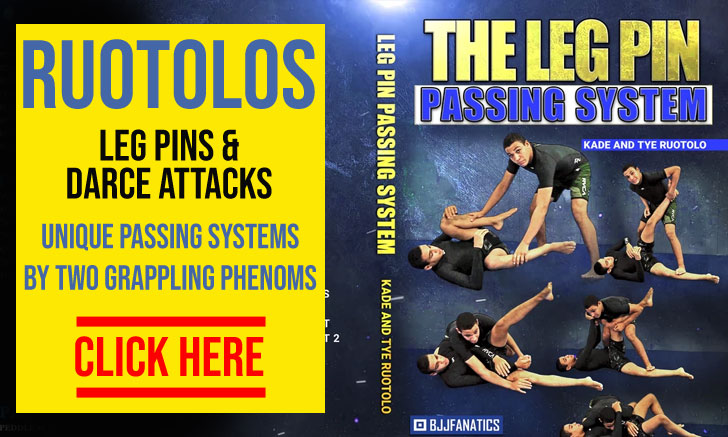 Kristian Woodmansee is a Brazilian jiu jitsu black belt under André Galvão, being also one of the top rooster-weight competitors of his generation. A reputation built in the lower belt divisions of the sport, while competing in a wide variety of grappling rules, including IBJJF, EBI, ADCC, etc – for academies such as Team Lloyd Irvin, Drysdale Jiu Jitsu and Atos Jiu Jitsu.
Kristian Woodmansee Jiu Jitsu
Full Name: Kristian R Woodmansee
Nickname: Often referenced as the "Dream Killer" which is not a traditional jiu jitsu style epithet, and more of a promotional nickname in line with boxing/mixed martial arts.
Lineage: M. Maeda > C. Gracie > R. Gracie > O. Alves > Luis Dagmar > André Galvão > Kristian Woodmansee
Main Achievements:
1st Place IBJJF Pan No-Gi Championship (2018)
3rd Place IBJJF World No-Gi Championship (2018)
Main Achievements (Colored Belts):
1st Place IBJJF World No-Gi Championship (2013 brown)
1st Place IBJJF European No-Gi Open (2015 brown)
1st Place IBJJF Pans No-Gi Championship (2012 brown)
1st Place IBJJF Rome Open (2015 brown)
1st Place IBJJF Las Vegas Open (2012 purple)
3rd Place IBJJF Pans Championship (2015 brown, 2012 purple)
3rd Place IBJJF Pans No-Gi Championship 3rd Place (2014 brown)
3rd Place IBJJF Rome International Open (2014 brown)
3rd Place JJWL Irvine (2015 brown)
3rd Place IBJJF Las Vegas Open (2013 brown)
Favorite Position/Technique: Well Rounded
Weight Division: Peso Galo (57,50 kg/127.0 lbs)
Team/Association: Atos Jiu Jitsu
Kristian Woodmansee
Kristian Woodmansee was born on November 3, 1987 in Marlton – New Jersey, USA.
At the age of 20 Kristian randomly decided to give jiu jitsu a try, choosing Shaun Smith's Balance Studios academy in Philadelphia, PA for his trial class. He immediately felt at home on the mats, quickly embedding jiu jitsu onto his day-to-day life.
After Kristian earned his blue belt he decided to switch camps in search of a more competitive training environment. He found it at Team Lloyd Irvin, which was at the time arguably the strongest team in the East Coast of the United States. At TLI Woodmansee trained mainly at affiliates, namely with Jared Weiner, Wilson Reis, and JT Torres.
Searching for warmer plains Woodmansee (a purple belt by then) parted ways with Philadelphia, and team Lloyd Irvin, moving first to Miami – where he trained with Cyborg Abreu for 10 months, and later Las Vegas, Nevada.
Once in Vegas Kristian became affiliated with Robert Drysdale, going on to be one of the head instructors at Drysdale Jiu Jitsu headquarters. The brown belt promotion came in 2012 from the hands of Robert, after Woodmansee hit the podiums of a few high level IBJJF tournaments – including the Las Vegas Open and the Pan American Championships.
As a brown belt Kristian started travelling to San Diego ahead of major tournaments, in order to train at Atos Jiu Jitsu where a few of his old TLI team mates were stationed. As the bond between Woodansee and Atos continued to grow, Kristian decided to switch camps – a move made in 2014.
While training and competing regularly, in 2016 Kristian also started working as a grappling coach in Michigan, while also preparing for his professional MMA debut. During this busy year for Woodmansee, he was promoted to black belt (December) by Atos team leader, André Galvão.
Cover photo by Lisa Lisa Pics.
Kristian Woodmansee Grappling Record
8 WINS
BY POINTS


BY ADVANTAGES




BY SUBMISSION




BY DECISION




BY PENALTIES




BY DQ



5 SUBMISSIONS WINS
14 LOSSES
BY POINTS


BY ADVANTAGES




BY SUBMISSION




BY DECISION




BY PENALTIES




BY DQ



8 SUBMISSIONS LOSSES
#86e620
Choke from back
25
2
#d1212a
Japanese necktie
13
1
#fad11b
Anaconda choke
13
1
Kristian Woodmansee Fight History
ID
Opponent
W/L
Method
Competition
Weight
Stage
Year
12112

Eduardo Barboza

Eduardo Barboza
L
Pts: 2x0
Pan American
58KG
4F
2017
13284

Caio Terra

Caio Terra
L
Armbar
F2W 38
57KG
SPF
2017
14644

Jimmy Santiago

L
Japanese necktie
NoGi Worlds
55KG
4F
2017
15766

Eduardo Barboza

Eduardo Barboza
L
Referee Decision
Washington SPO
57KG
F
2018
15781

Gregory Scott

L
Points
Washington SPO
ABS
R1
2018
15958

Eduardo Barboza

Eduardo Barboza
L
Injury
NY Spring Open
57KG
F
2018
17989

Baret Yoshida

Baret Yoshida
L
Anaconda choke
F2W 90
60KG
SPF
2018
18383

Andres Poveda

L
Choke
NY Fall Open
57KG
F
2018
18525

Luca Anacoreta

Luca Anacoreta
L
Choke from back
Dublin Open
ABS
SF
2018
18567

Livio Ribeiro

Livio Ribeiro
L
Pts: 0x0, Adv
NoGi Worlds
55KG
SF
2018
19550

Livio Ribeiro

Livio Ribeiro
L
Choke
Pan American
57KG
8F
2019
22828

Marko Tapani

L
DQ
NoGi Worlds
55KG
4F
2019
23057

Thalison Soares

Thalison Soares
L
Choke from back
European Open
57KG
R1
2020
23420

Ron Henderson

L
Referee Decision
F2W 136
57KG
SPF
2020
13401

Joshua Peters

W
Armbar
F2W 40
57KG
SPF
2017
13551

Chris Noon

W
Toe hold
F2W 43
N/A
SPF
2017
15957

Christopher Michael

W
Toe hold
NY Spring Open
57KG
SF
2018
17407

Chris Noonan

W
Short choke
No Gi Pan Am.
55KG
F
2018
18382

Lee Rosenfeld

W
Triangle
NY Fall Open
57KG
SF
2018
18524

Gabriel Rosenberg

W
Adv
Dublin Open
ABS
4F
2018
19166

Dustin Ordinario

W
Pts: 9x2
Atlanta WO
57KG
F
2019
22027

Dustin Ordinario

W
Referee Decision
F2W 128
57KG
SPF
2019
Kristian Woodmansee – ADCC US Trials 2015

Kristian Woodmansee vs Alex Enlund