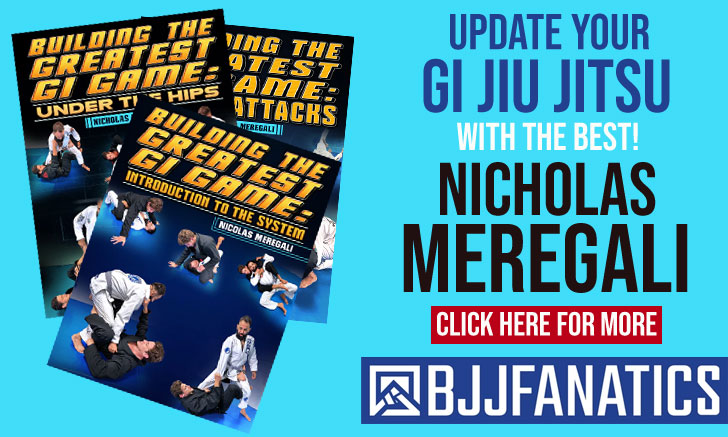 Adam Benayoun is a Brazilian jiu-jitsu black belt under Ryan Hall and a representative of the Fifty/50 Martial Arts Academy in the sport's international circuit, having also worked extensively with Marcelo Garcia, Fábio Clemente, Lucas Lepri, and Babs Olusanmokun. Benayoun became known by BJJ mainstream media and fans while competing in the lower belt divisions where he conquered IBJJF Pan American and European titles.
Adam Benayoun Jiu-Jitsu
Full Name: Adam Benayoun
Nickname: N/A
Lineage: Carlos Gracie > Helio Gracie > Rolls Gracie > Romero Cavalcanti > Rodrigo "Comprido" Medeiros > Felipe Costa > Ryan Hall > Adam Benayoun
Main Achievements:
1st Place IBJJF New York Spring Open (2018)
1st Place IBJJF Oklahoma Open (2020)
1st Place UAEJJF Canada Pro (2018/2019)
3rd Place IBJJF Pan No-Gi Championship (2018)
Main Achievements (Colored Belts):
1st Place IBJJF Pan Championship (2016 brown, 2014 purple)
1st Place IBJJF European Open (2016 brown)
2nd Place UAEJJF Abu Dhabi World Pro (2015 brown)
Favorite Position/Technique: Triangle Choke
Weight Division: Peso Pena (70,00 kg / 154.5 lbs)
Team/Association: Fifty/50 Martial Arts Academy
Adam Benayoun Biography
Adam Benayoun was born on July 19, 1990, in New York City, state of New York – United States of America.
Although he was introduced to martial arts at the age of 7, this was at an after school karate kids class and the activity kept Adam's attention to a minimum. He would later become invested in track and field during middle school, becoming a regional level athlete before finding his true calling in 2008 – jiu jitsu.
At the time (2008) Adam Benayoun was a big mixed martial arts (MMA) fan, with the grappling aspect of the sport raising his curiosity in particular. As the interest grew Benayoun decided to join a jiu-jitsu academy and learn the trade, choosing Fábio Clemente's Alliance NYC for that effect.
Benayoun's first instructors were big names of the sport such as Fábio Clemente and Lucas Lepri, as well as Clemente's team associate Babs Olusanmokun. It was with this group that Adam progressed up to purple belt, a time when he joined the neighboring Alliance Academy of Marcelo Garcia – who had also spent time coaching at Clemente's. It was Marcelinho who promoted Adam Benayoung to brown belt, and it was also at MGA that the young New Yorker started making his mark in the sport through his wins at the IBJJF European Open and Pans.
Adam's relationship with Ryan Hall started back at Clemente's academy when Benayoun was a blue belt. Much of the young competitor's guard was based on Hall's well-known style – a submission oriented open guard with strong elements of inverted guard. As a brown belt, Adam visited Ryan's academy (50/50 Jiu-Jitsu) and thoroughly enjoyed the experience, revisiting the gym many times from then on. He was eventually invited to become part of the team staff as a coach, an offer accepted by Benayoun.
On December 20, 2017 Ryan Hall promoted Adam Benayoun to black belt, a ceremony that took place in Virginia, USA.
Adam Benayoun Grappling Record
54 WINS
BY POINTS


BY ADVANTAGES




BY SUBMISSION




BY DECISION




BY PENALTIES




BY EBI/OT



19 SUBMISSIONS WINS
#d1212a
Inside heel hook
11
2
#fad11b
Anaconda choke
11
2
#fad223
Bow and arrow
5
1
24 LOSSES
BY POINTS


BY ADVANTAGES




BY SUBMISSION




BY DECISION




BY PENALTIES




BY EBI/OT



4 SUBMISSIONS LOSSES
#214eb8
Arm in Ezekiel
25
1
#5AD3D1
Choke from back
25
1
#d1212a
50/50 armbar
25
1
Adam Benayoun Fight History
ID
Opponent
W/L
Method
Competition
Weight
Stage
Year
15042

Chris Kriebel

L
Referee Decision
Atlanta W. Open
70KG
4F
2018
15585

Thiago Macedo

Thiago Macedo
L
Points
Chicago Sp. Open
70KG
SF
2018
15768

Frederico Alves

L
Pts: 2x2, Adv
Washington SPO
70KG
4F
2018
15885

Silvio Duran

Silvio Duran
L
Pts: 8x6
Atlanta Sp. Open
70KG
F
2018
15891

Thomas Keenan

L
Arm in Ezekiel
Atlanta Sp. Open
ABS
SF
2018
17053

Matheus Gonzaga

Matheus Gonzaga
L
Points
Boston SMO
70KG
F
2018
17412

Pablo Mantovani

Pablo Mantovani
L
Kneebar
No Gi Pan Am.
67KG
SF
2018
17852

Paulo Miyao

Paulo Miyao
L
Pts: 9x4
Miami FO
70KG
F
2018
18085

Felipe Linhares

Felipe Linhares
L
Choke from back
Charlotte Open
70KG
F
2018
18117

T. Ruotolo

L
Referee Decision
ADCC EC Trials
66KG
4F
2018
18590

Thiago Macedo

Thiago Macedo
L
Referee Decision
NoGi Worlds
67KG
R2
2018
19177

Matheus Gonzaga

Matheus Gonzaga
L
Adv
Atlanta WO
70KG
SF
2019
19254

Gabriel Sousa

Gabriel Sousa
L
Points
US Continental
69KG
F
2019
19354

Igor Mocaiber

L
Referee Decision
Canada Pro
ABS
SF
2019
23230

Yuta Shimada

Yuta Shimada
L
Referee Decision
Atlanta WO
70KG
F
2020
23545

Silvio Duran

Silvio Duran
L
N/A
Kansas Open
70KG
SF
2020
24140

Thiago Macedo

Thiago Macedo
L
50/50 armbar
Pan American
70KG
8F
2020
24463

Francisco Cuneo

Francisco Cuneo
L
Referee Decision
No Gi Pan Am.
73KG
4F
2020
28230

Diego Oliveira

Diego Oliveira
L
Pts: 0x0, Adv
NoGi Worlds
67KG
4F
2021
28803

Junny Ocasio

Junny Ocasio
L
Referee Decision
ADCC EC Trials
66KG
R4
2021
30895

Kieran Kichuk

Kieran Kichuk
L
EBI/OT
Emerald City
70KG
F
2022
31512

Josh Cisneros

Josh Cisneros
L
Referee Decision
ADCC WC Trials
66KG
8F
2022
35513

Gavin Corbe

L
Pts: 0x0, Adv
NoGi Pan
67KG
F
2022
36816

Gavin Corbe

L
Referee Decision
NoGi Worlds
67KG
4F
2022
15547

Reuben Sagman

W
Triangle
Canada Nat. Pro
69KG
SF
2018
15548

Thiago Barbosa

W
Pts: 0x0, Adv
Canada Nat. Pro
69KG
F
2018
15552

Chris Bumgardner

W
Triangle
Copa Virginia
76KG
SF
2018
15553

Scott Dance

W
Omoplata
Copa Virginia
76KG
F
2018
15884

Fred Alves

W
Pts: 2x2, Adv
Atlanta Sp. Open
70KG
SF
2018
15890

Christopher Carmo

W
Pts: 12x8
Atlanta Sp. Open
ABS
4F
2018
15962

Silvio Duran

Silvio Duran
W
Adv
NY Spring Open
70KG
4F
2018
15964

Tiago Ribeiro

W
Triangle
NY Spring Open
70KG
SF
2018
15965

Matheus Gonzaga

Matheus Gonzaga
W
Adv
NY Spring Open
70KG
F
2018
17052

Joshua Presley

W
N/A
Boston SMO
70KG
SF
2018
17851

Daniel Paulino

W
Katagatame
Miami FO
70KG
SF
2018
18083

Charles Murdock

W
N/A
Charlotte Open
70KG
SF
2018
18101

M. Zindler

W
Anaconda choke
ADCC EC Trials
66KG
R1
2018
18113

Cole Franson

Cole Franson
W
Referee Decision
ADCC EC Trials
66KG
8F
2018
18452

Spencer Nogawa

W
N/A
Denver Open
70KG
SF
2018
18454

Brandon Walensky

Brandon Walensky
W
Points
Denver Open
70KG
F
2018
18583

Tomoshige Sera

W
Pts: 8x4
NoGi Worlds
67KG
R1
2018
19174

Orlando Andaviza

W
Points
Atlanta WO
70KG
4F
2019
19253

Luan da Silva

W
N/A
US Continental
69KG
RR
2019
19352

Jon Lau

W
Pts: 2x0
Canada Pro
70KG
SF
2019
19353

Reuben Sagman

W
Bow and arrow
Canada Pro
70KG
F
2019
19355

Reuben Sagman

W
Submission
Canada Pro
ABS
3RD
2019
23227

Giovani Marcelo

W
Pts: 2x2, Adv
Atlanta WO
70KG
4F
2020
23229

Emilio Hernandez

Emilio Hernandez
W
Armbar
Atlanta WO
70KG
SF
2020
23542

Victor Paschoal

W
Points
Kansas Open
70KG
4F
2020
23989

Edward Hohl

W
Points
Oklahoma Open
70KG
SF
2020
23991

Samuel Nagai

Samuel Nagai
W
Pts: 6x2
Oklahoma Open
70KG
F
2020
24137

Edward Hohl

W
Pts: 4x2
Pan American
70KG
R1
2020
24461

Mauricio Gomez

W
Pts: 2x0
No Gi Pan Am.
73KG
R1
2020
25448

Marcus Beddor

Marcus Beddor
W
Points
Orlando NGO
67KG
4F
2021
25450

Suraj Budhram

W
Points
Orlando NGO
67KG
SF
2021
25451

Orlando Castillo

W
Verbal tap
Orlando NGO
67KG
F
2021
26621

Jordan Holy

W
Points
3CG MW GP
73KG
SPF
2021
27168

Kieran Davern

D
---
Polaris Squads
ABS
RR
2021
27181

Bradley Hill

D
---
Polaris Squads
ABS
RR
2021
27190

Jed Hue

D
---
Polaris Squads
ABS
RR
2021
28225

Elijah Tagalog

W
Pts: 10x0
NoGi Worlds
67KG
8F
2021
28689

Felipe Makoto

W
Estima lock
Nashville NGO
67KG
4F
2021
28690

Huthayfah Penney

W
RNC
Nashville NGO
67KG
SF
2021
28692

Emilio Hernandez

Emilio Hernandez
W
RNC
Nashville NGO
67KG
F
2021
28769

Kaleb Wats

W
Darce choke
ADCC EC Trials
66KG
R1
2021
28782

Joey Diehl

W
Pts: 2x0
ADCC EC Trials
66KG
R2
2021
28794

Samson Sausser

W
Referee Decision
ADCC EC Trials
66KG
R3
2021
29995

Miha Perhavec

W
Pts: 4x2
Austin WNGO
ABS
SF
2022
29996

Austin Oranday

W
Referee Decision
Austin WNGO
ABS
F
2022
30526

Dany Vega

W
Darce choke
N. Orleans NGO
73KG
RR
2022
30527

Damion Oranday

Damion Oranday
W
Inside heel hook
N. Orleans NGO
73KG
F
2022
30890

Gabriel Sousa

Gabriel Sousa
W
EBI/OT
Emerald City
70KG
4F
2022
30893

Jon Calestine

Jon Calestine
W
EBI/OT
Emerald City
70KG
SF
2022
31475

Easton Farr

W
Anaconda choke
ADCC WC Trials
66KG
R1
2022
31490

Riley Golden

W
Inside heel hook
ADCC WC Trials
66KG
R2
2022
31506

Kristofer Arrey

W
Armbar
ADCC WC Trials
66KG
R3
2022
31511

Cameron Mellott

W
Pts: 3x0
ADCC WC Trials
66KG
R4
2022
35502

Emilio Hernandez

Emilio Hernandez
W
Pts: 8x6
NoGi Pan
67KG
R1
2022
35507

Lukete Silva

Lukete Silva
W
Referee Decision
NoGi Pan
67KG
4F
2022
35511

Gianni Grippo

Gianni Grippo
W
Pts: 8x8, Adv
NoGi Pan
67KG
SF
2022
36811

Richard Alarcon

Richard Alarcon
W
Pts: 4x2
NoGi Worlds
67KG
R1
2022
Adam Benayoun Loop Chokes Highlight