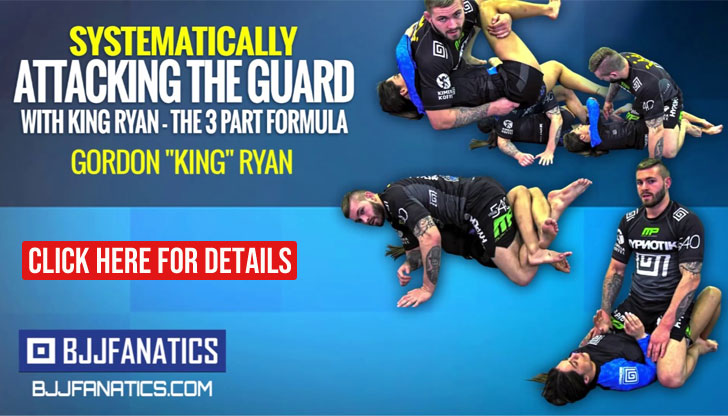 Leandro Lima de Souza, mostly known simply as Leandro Lima or by the nickname Leandro "Rounaud" is a jiu-jitsu athlete from Manaus, Brazil, who worked extensively with internationally renowned coaches such as Master Pina (Faustino Neto) & Cicero Costha. Rounaud made his name in the sport while competing on the Brazilian circuit where he conquered numerous important medals and became known for his aggressive competing style.
Leandro "Rounaud" Lima Jiu-Jitsu
Full Name: Leandro Lima de Souza
Nickname: The label "Rounaud" is a reference to Ronaldo "O Fenômeno" ('The Phenomenon') a football (soccer) player who famously represented Brazil's national squad & Barcelona FC during the mid-1990s & early 2000s. Lima started being called Ronaldo as a kid due to his haircut which mimicked the style of the soccer player at the time. Years later, when he decided to open an Instagram account to advertise his jiu-jitsu career, there were many accounts sharing his name (Leandro Lima) and even more using his nickname, Ronaldo. For that reason, in an attempt to be unique, Leandro decided to spell his account Rounaud a phonetic spelling of the name, which, with time, became the spelling that is associated with his brand.
Lineage: Carlos Gracie > Helio Gracie > Osvaldo Alves > Master Pina >
Main Achievements:
1st Place IBJJF Rio Open (2023)
1st Place IBJJF Betim Open (2023)
1st Place IBJJF Sao Paulo Open (2019)
1st Place IBJJF Floripa Fall Open (2022)
2nd Place AJP Grand Slam, RJN (2023)
2nd Place CBJJ South Brazil Championship (2022)
Main Achievements (Colored Belts):
1st Place IBJJF South American Championship (2014 purple)
2nd Place CBJJ Brazilian Nationals (2014 purple)
Favorite Position/Technique: Loop Choke
Weight Division: Peso Leve (76,00 kg / 168.0 lbs)
Team/Association: Fratres
Leandro "Rounaud" Lima Biography
Leandro Lima was born on November 21, 1995, in Manaus, state of Amazonas, Brazil, where he grew up.
An active child in martial arts from an early age, Leandro joined a jiu-jitsu academy at the age of 7, influenced by his father who was also a practitioner at the time.
Guilherme Neto was Lima's first instructor at Orley Lobato's gym. His instruction would later be taken over by Master Lobato himself, who led the young talent up until his green belt. As a teenager, Leandro Lima started being more serious about his competitive career and opted to switch gyms and move to a more competitive environment.
As a green belt Leandro joined Master Pina's gym (Faustino Neto), a historic Manaus academy from which many international stars were developed. Rounaud remained in that gym throughout all remaining belts, earning his black belt on September 1, 2017.
During his development as an athlete, Leandro worked extensively with coach Cicero Costha in Sao Paulo, a relationship that started through Manuel Ribamar – another Manaus competitor who worked with Master Pina & Cicero Costha – and eventually led Leandro to move to the state of Sao Paulo on a permanent basis.
In 2023 a new professional team was built with a headquarters in Sao Paulo, a squad forged by athletes from different local gyms such as Dream Art, New School Brotherhood, Barbosa, Cicero Costha, & more. When this workgroup was assembled, Leandro Lima was invited to join the team, which he agreed to.
Leandro Rounaud Grappling Record
52 WINS
BY POINTS


BY ADVANTAGES




BY SUBMISSION




BY DECISION




BY PENALTIES




BY DQ



31 SUBMISSIONS WINS
#fad11b
Choke from back
10
3
18 LOSSES
BY POINTS


BY ADVANTAGES




BY SUBMISSION




BY DECISION




BY PENALTIES




BY DQ



1 SUBMISSION LOSSES
#214eb8
50/50 armbar
100
1
Leandro Rounaud Fight History
ID
Opponent
W/L
Method
Competition
Weight
Stage
Year
18289

Hugo Marques

Hugo Marques
L
Referee Decision
Grand Slam RJ
77KG
SF
2018
18292

Jaime Canuto

Jaime Canuto
L
Referee Decision
Grand Slam RJ
77KG
3RD
2018
22570

Alef Brito

Alef Brito
L
50/50 armbar
South American
76KG
4F
2019
24700

Yan Lucas

Yan Lucas
L
Referee Decision
Grand Slam RJ
77KG
R1
2020
26414

Pedro Maia

Pedro Maia
L
Pts: 4x0
SA Cont. Pro
77KG
SF
2021
27112

Ygor Rodrigues

Ygor Rodrigues
L
Pts: 3x0
AJP RJ Pro
77KG
F
2021
28528

Lucas Protasio

Lucas Protasio
L
Pts: 4x4
Grand Slam RJ
77KG
8F
2021
29876

Victor Nithael

Victor Nithael
L
Pts: 5x4
Rio SMO
76KG
SF
2022
29930

Rani Yahya

L
Pts: 4x4, Adv
Rio SMNGO
73KG
F
2022
31012

Alex Sodre

Alex Sodre
L
Referee Decision
Curitiba Open
76KG
SF
2022
31064

Rider Zuchi

Rider Zuchi
L
Pts: 8x2
Curitiba Open
ABS
SF
2022
32155

Pablo Lavaselli

Pablo Lavaselli
L
Pts: 2x2, Adv
Brasileiro
76KG
R1
2022
33982

Gui Fernandes

L
Pts: 3x2
Grand Slam RJ
77KG
8F
2022
36582

Lucas Protasio

Lucas Protasio
L
Pts: 3x0
Balneario Open
82KG
SF
2022
38038

Jhonathan Marques

L
Referee Decision
Curitiba SMO
82KG
4F
2023
39484

Luiz Paulo

Luiz Paulo
L
Pts: 4x2
Brasileiro
76KG
8F
2023
40614

Luiz Paulo

Luiz Paulo
L
Pts: 3x0
Grand Slam RJ
77KG
F
2023
41276

Elder Junior

L
Pts: 4x2
SP BJJ Pro
82KG
4F
2023
17984

Moises Souza

W
Loop choke
Manaus Open
76KG
4F
2018
17985

Chairo Olimpio

W
Choke from back
Manaus Open
76KG
SF
2018
17986

Pedro Asevedo

W
Loop choke
Manaus Open
76KG
F
2018
18291

Marlus Salgado

W
Pts: 5x0
Grand Slam RJ
77KG
RPC
2018
21718

Matheus Linhares

W
Points
Sao Paulo Open
76KG
R1
2019
21719

Caio Wolga

W
Points
Sao Paulo Open
76KG
4F
2019
21721

Ricardo Rocha

W
Pts: 6x4
Sao Paulo Open
76KG
SF
2019
21722

Alexandre Cavaliere

Alexandre Cavaliere
W
Pts: 12x0
Sao Paulo Open
76KG
F
2019
22563

Gabriel Figueiro

Gabriel Figueiro
W
Loop choke
South American
76KG
R1
2019
26395

Gustavo Fonseca

W
Pts: 14x0
SA Cont. Pro
77KG
R2
2021
26405

Yago Espindola

W
Verbal tap
SA Cont. Pro
77KG
8F
2021
26411

Luan Carvalho

Luan Carvalho
W
Loop choke
SA Cont. Pro
77KG
4F
2021
27106

Gustavo Oliveira

W
Armbar
AJP RJ Pro
77KG
4F
2021
27109

Lucas Brito

W
Pts: 3x2
AJP RJ Pro
77KG
4F
2021
27111

Marlon Ferreira

W
Pts: 4x0
AJP RJ Pro
77KG
SF
2021
28520

Leonardo Cruz

W
Pts: 2x0
Grand Slam RJ
77KG
R1
2021
29322

Marcelo Fausto

Marcelo Fausto
W
Loop choke
Balneario Open
76KG
4F
2021
29323

Leo Domingos

W
Toe hold
Balneario Open
76KG
SF
2021
29325

Raul Basilio

Raul Basilio
W
Loop choke
Balneario Open
76KG
F
2021
29873

Luiz Santos

W
Botinha
Rio SMO
76KG
4F
2022
29927

Thierry Reis

W
Armbar
Rio SMNGO
73KG
4F
2022
29929

Leo Domingos

W
Toe hold
Rio SMNGO
73KG
SF
2022
30129

Eduardo Jesus

W
Toe hold
Sul Brasileiro
76KG
4F
2022
30132

Wesley Possamai

W
Pts: 7x4
Sul Brasileiro
76KG
SF
2022
30133

Jadson Araujo

W
Botinha
Sul Brasileiro
76KG
F
2022
31008

Iranslav Neoral

W
Botinha
Curitiba Open
76KG
R1
2022
31010

Fernando Mano

W
Botinha
Curitiba Open
76KG
4F
2022
31051

Cleiton Santos

W
Kneebar
Curitiba Open
ABS
R1
2022
31057

Raimon Rosa

W
Toe hold
Curitiba Open
ABS
R2
2022
31062

Gustavo Borges

W
Loop choke
Curitiba Open
ABS
4F
2022
36581

Matheus Oliveira

W
Loop choke
Balneario Open
82KG
4F
2022
38030

Vinicius Wolff

W
Choke from back
Curitiba SMO
82KG
8F
2023
40116

Luis Eduhardo

W
Armbar
Floripa FO
76KG
4F
2023
40117

Iranslav Neoral

W
Botinha
Floripa FO
76KG
SF
2023
40119

Ademir Barreto

Ademir Barreto
W
Pts: 14x0
Floripa FO
76KG
F
2023
40595

G. Souza

W
Botinha
Grand Slam RJ
77KG
R1
2023
40604

JP Sousa

W
Pts: 10x4
Grand Slam RJ
77KG
8F
2023
40610

Wallisson Oliveira

W
Loop choke
Grand Slam RJ
77KG
4F
2023
40612

Andre Cantanhede

W
Pts: 5x3
Grand Slam RJ
77KG
SF
2023
40739

Brendo Babilonia

W
Botinha
Rio Open
76KG
4F
2023
40742

Thiago Furtado

W
Loop choke
Rio Open
76KG
SF
2023
40743

Gabriel Aromatis

W
Botinha
Rio Open
76KG
F
2023
41050

Miguel Bitencourt

W
Pts: 3x2
Betim Open
76KG
4F
2023
41054

Julio Arantes

W
Pts: 6x2
Betim Open
76KG
SF
2023
41055

Vinicius Pereira

Vinicius Pereira
W
Loop choke
Betim Open
76KG
F
2023
42521

Yan Garcia

W
Pts: 4x2
Desafio HG
77KG
4F
2023
42522

Manoel Junior

W
Pts: 2x2, Adv
Desafio HG
77KG
4F
2023
42524

Guilherme Dal Pra

W
Pts: 4x0
Desafio HG
77KG
SF
2023
42707

Anderson Batista

W
Choke from back
Sul Americano
76KG
8F
2023
42712

Marlus Salgado

W
Pts: 0x0, Adv
Sul Americano
76KG
4F
2023
42715

Julio Arantes

W
Pts: 2x2, Adv
Sul Americano
76KG
SF
2023
42717

Victor Nithael

Victor Nithael
W
Pts: 6x6, Adv
Sul Americano
76KG
F
2023