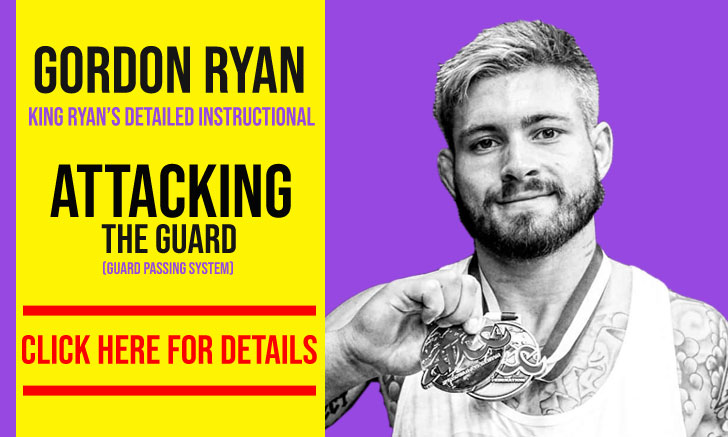 Leonardo Lara, often referenced as Leo Lara, is a Brazilian jiu jitsu black belt under Caio Almeida being also one of the top representatives of the JFC Almeida JJ São Paulo academy, one of the main affiliates of the Atos Jiu Jitsu team in Brazil. Lara made a name for himself while competing in the lower belt divisions of the sport by conquering important tournaments such as the IBJJF World, Pan American and South American titles. He would cement his status as an elite grappler immediately after earning the black belt rank, by conquering the ACBJJ world title (2018).
Leonardo Lara Jiu Jitsu
Full Name: Leonardo Teixeira Lara
Nickname: N/A
Lineage: M. Maeda > C. Gracie > H. Gracie > C. Gracie Jr > R. Gracie > Gabriel Vella > Caio Almeida > Leo Lara
Main Achievements:
IBJJF São Paulo Open Champion (2018)
ACBJJ World Champion (2018)
UAEJJF Grand Slam LA 3rd Place (2018)
Main Achievements (Colored Belts):
IBJJF World Champion (2018 brown)
IBJJF Pans Champion (2018 brown)
UAEJJF Abu Dhabi Pro Champion (2018 brown)
IBJJF South American Champion (2018 brown)
UAEJJF Grand Slam – RJ Champion (2017 brown)
IBJJF São Paulo Open Champion (2017 brown)
IBJJF São Paulo BJJ Pro Champion (2017 brown)
IBJJF Brazilian Nat. Championship 2nd Place (2018**)
IBJJF Juvenile World Championship 2nd Place (2014)
IBJJF Juvenile Pans Championship 2nd Place (2014)
IBJJF Juvenile Brazilian Nat. Championship 2nd Place (2014)
IBJJF São Paulo BJJ Pro Championship 2nd Place (2017* brown)
IBJJF World Championship 3rd Place (2017 brown)
IBJJF European Open Championship 3rd Place (2018 brown)
IBJJF Juvenile Brazilian Nat. Championship 3rd Place (2013/2014*)
Favorite Position/Technique: Well Rounded
Weight Division: Peso Médio (82,30 kg / 181.5 lbs)
Team/Association: JFC Almeida JJ / Atos
Leonardo Lara Biography
Leonardo Lara was born on January 24, 1997 in Porecatu – state of Paraná, Brazil, though due to his parents's occupations Lara did not settle there and relocated regularly. The family would eventually grow roots in São Paulo, in 2006.
At the age of 10 Leonardo Lara became curious about jiu jitsu as most of his friends practiced this martial art. Near his home was a social project led by the Almeida brothers, which facilitated free jiu jitsu classes for local children, and it was there that Leo decided to make his first attempt at a grappling class.
Diogo Almeida was Leo Lara's first instructor at the aforementioned social project, where the youngster started his training on a 3 classes per week regimen. Lara practiced BJJ for most of the year but eventually started skipping classes, gradually leading his abandonment.
In 2011 Lara bumped into his old BJJ coach (Diogo) on the street, who questioned Leonardo on his absence from the mats. Leo did not have a valid reason for his long non attendance, which helped Almeida convince him to return. This comeback would be settled at Caio Almeida's (Diogo's brother) academy, who – given that Leonardo's talent was already evident, allowed the young man to train gratuitously under a scholarship.
A BJJ scholarship meant that Lara would have to work extra hard and compete, a challenge that fuelled Leonardo's fire. The hardship of the competitor lifestyle was often grueling, but necessary, as described by Lara to BJJ Heroes on an interview in 2018:
"I remember once, I was exhausted after a long week of training and asked my coach to rest on the Saturday. Caio told me I couldn't because students on a scholarship had to train harder than the rest and could not miss practice. It was terrible at the time, I was shattered. It was also very important because he sat me down to talk and his words really resonated. After this I never asked for a break again and fully embraced the toughness of the routine, and even started enjoying it. I grew from it."
When Lara's parents relocated to a different part of the city, far from Almeida's gym, coach Caio opened the doors of his family's home to Leo, who started living there to keep the training intensity. A decision fully supported by his parents. Leonardo's dedication to the sport made him one of the hottest prospects in the sport during the colored belts competitive seasons, and on June 2018 Lara was finally awarded his black belt rank by coach Caio Almeida.
Leonardo Lara Grappling Record
16 WINS
BY POINTS


BY ADVANTAGES




BY SUBMISSION




BY DECISION




BY PENALTIES




BY DQ



7 SUBMISSIONS WINS
#5AD3D1
Choke from back
14
1
#d1212a
10 finger guillotine
14
1
13 LOSSES
BY POINTS


BY ADVANTAGES




BY SUBMISSION




BY DECISION




BY PENALTIES




BY DQ



5 SUBMISSIONS LOSSES
#214eb8
Choke from back
60
3
Leonardo Lara Fight History
ID
Opponent
W/L
Method
Competition
Weight
Stage
Year
16396

Kaynan Duarte

Kaynan Duarte
L
Toe hold
Copa Podio
O94KG
RR
2018
16404

Jared Dopp

Jared Dopp
L
Choke from back
Copa Podio
O94KG
RR
2018
17201

Vinicius Trator

Vinicius Trator
L
Pts: 2x0
Sao Paulo Open
ABS
SF
2018
17273

Caio Caetano

Caio Caetano
L
Pts: 2x2, Adv
Grand Slam LA
77KG
4F
2018
17488

Manuel Ribamar

Manuel Ribamar
L
Referee Decision
WSOG 2
81KG
8F
2018
18518

Tommy Langaker

Tommy Langaker
L
Choke from back
European Open
82KG
4F
2019
18561

Gustavo Batista

Gustavo Batista
L
Pts: 2x0
European Open
ABS
4F
2019
18810

Manoel Miguel

L
Pts: 0x0, Adv
Brazil Nat. Pro
77KG
R1
2019
18987

Pedro Ramalho

Pedro Ramalho
L
Choke from back
Grand Slam LDN
77KG
R1
2019
19160

Isaque Bahiense

Isaque Bahiense
L
Short choke
Pan American
82KG
4F
2019
19555

Julio Anjos

Julio Anjos
L
Referee Decision
WP BR Qualifier
77KG
4F
2019
19769

Yan Lucas

Yan Lucas
L
Referee Decision
Brasileiro
76KG
R2
2019
20099

Jhonny Loureiro

Jhonny Loureiro
L
Pts: 10x6
World Champ.
76KG
R1
2019
16408

B. Lima

W
Pts: 0x0, Adv
Copa Podio
O94KG
RR
2018
16554

Diego Ramalho

Diego Ramalho
W
Pts: 2x0
ACBJJ World
75KG
4F
2018
16557

Hugo Marques

Hugo Marques
W
Referee Decision
ACBJJ World
75KG
SF
2018
16558

Sergio Rios

Sergio Rios
W
Referee Decision
ACBJJ World
75KG
F
2018
17176

Rodrigo Fonseca

W
Choke
Sao Paulo Open
82KG
R1
2018
17180

Chaise Olimpio

W
Kimura
Sao Paulo Open
82KG
4F
2018
17184

Andre Astolfo

W
Choke
Sao Paulo Open
82KG
SF
2018
17200

Renan Vieira

W
Choke from back
Sao Paulo Open
ABS
4F
2018
17268

Jaime Canuto

Jaime Canuto
W
Pts: 7x2
Grand Slam LA
77KG
R1
2018
17278

Gustav Apee

W
Pts: 4x4, Adv
Grand Slam LA
77KG
RR
2018
17280

Kaunan Barboza

W
Pts: 2x0
Grand Slam LA
77KG
RR
2018
17281

Bruno Tosto

W
Pts: 2x0
Grand Slam LA
77KG
3RD
2018
18513

Fabricio Barbarotti

W
Choke
European Open
82KG
R1
2019
19143

Kenji Sette

W
10 finger guillotine
Pan American
82KG
R1
2019
19152

Felipe Cesar

Felipe Cesar
W
Pts: 4x2
Pan American
82KG
8F
2019
19763

Bernardo Dib

W
Armbar
Brasileiro
76KG
R1
2019
Leonardo Lara vs Rider Zuchi