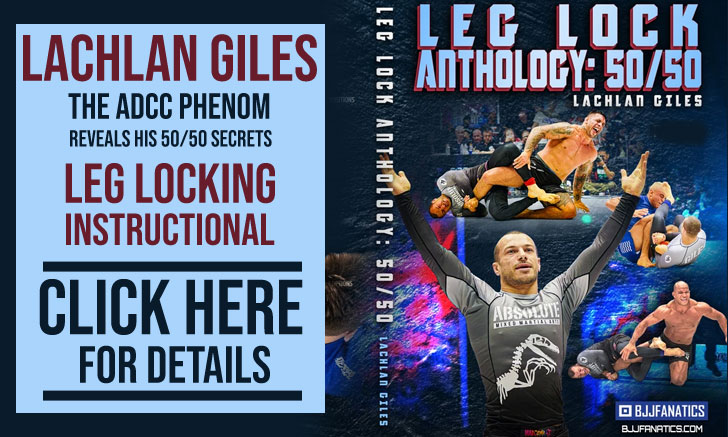 Max Gimenis is a Brazilian jiu jitsu black belt under Master Júlio César Pereira, being also one of GF Team's top representatives in the super heavyweight division of the sport's international circuit. A product of GFT's incredible grappling program, Gimenis embodied the famous academy's curriculum to perfection, by making pressure passing his strongest weapon. A style which he used to win important titles including at the World, Pan American and Brazilian National championships.
Max Gimenis Jiu Jitsu
Full Name: Max dos Santos Gimenis
Nickname: n/a
Lineage: Mitsuyo Maeda > Luis França > Oswaldo Fadda > Monir Salomão > Julio Cesar Pereira > Max Gimenis
Main Achievements:
IBJJF Chicago Summer Open Champion (2018**)
IBJJF Vitória International Open Champion (2017)
UAEJJF Petropolis Pro Champion (2016)
IBJJF Pans No-Gi 2nd Place (2018)
CBJJ Brazilian No-Gi Nationals 2nd Place (2016)
ACB World 2nd Place (2017)
IBJJF Pans No-Gi 3rd Place (2018*)
IBJJF Miami Fall International Open 2nd Place (2017**)
Main Achievements (Coloured Belts):
IBJJF World Champion (2016 brown)
UAEJJF Abu Dhabi World Pro Champion (2016 brown)
IBJJF World No-Gi Champion (2013 purple)
IBJJF Pan American Champion (2013 purple)
CBJJ Brazilian National Champion (2014 purple, 2015/2016 brown)
IBJJF Rio BJJ Pro Champion (2015 brown)
IBJJF Rio Summer Open Champion (2016 brown)
IBJJF World Championship 2nd Place (2015 brown)
IBJJF World Championship 3rd Place (2014 purple)
IBJJF World No-Gi Championship 3rd Place (2012 purple)
IBJJF European Open Championship 3rd Place (2016 brown)
* Absolute
** Weight and absolute
Favorite Position/Technique: Knee Slide/Leg Drag Guard Pass
Weight Division: Super Pesado (100kg/221lbs)
Team/Association: GF Team
Max Gimenis Biography
Max Gimenis was born on April 14, 1993 in Rio de Janeiro – Brazil, growing up in Cascadura, a borough in that same city.
Gimenis' interest in martial arts sparked at the age of 10, when he started learning judo. On that same social club where he trained judo, jiu jitsu was also on offer and it didn't take long for Max to sign up to that as well.
The jiu jitsu classes at the aforementioned social club, were led by Herman Santos, a black belt affiliated with GF Team (then UGF). It would be Santos who instilled in Gimenis the desire to pursue a grappling career from very early on.
When Gimenis was 14 to 15 years old, his family moved to Guarapari, a coastal town in the state of Espírito Santo (ES). Arriving to ES as a blue belt, Max continued his jiu jitsu training under the tutelage of Thiago Oliveira at the famous Strike academy, home to the legendary female competitor, Fernanda Mazzelli.
After two years in Guarapari Max Gimenis decided to return to Rio de Janeiro to follow his dream of becoming a professional jiu jitsu competitor. For that effect he re-joined GF Team, finding at the academy's headquarters his home – literally, as Max lived inside the gym.
Guided by Master Júlio César Pereira, Max Giemenis' career truly blossomed. His rampant campaigns earned him many important medals and deserving belt promotions by GFT's leader, who graded Max with his purple, brown and black belts, the latter while on the podium of the IBJJF World Championship, on June 2, 2016.
Max Gimenis Grappling Record
63 WINS
BY POINTS


BY ADVANTAGES




BY SUBMISSION




BY DECISION




BY PENALTIES




BY DQ



20 SUBMISSIONS WINS
#214eb8
Choke from back
30
6
#f58822
Bow and arrow
5
1
#bf1f6c
Baseball choke
5
1
#22c9a5
Arm in Ezekiel
5
1
32 LOSSES
BY POINTS


BY ADVANTAGES




BY SUBMISSION




BY DECISION




BY PENALTIES




BY DQ



20 SUBMISSIONS LOSSES
#214eb8
Choke from back
20
4
#224aba
North south choke
5
1
Max Gimenis Fight History
ID
Opponent
W/L
Method
Competition
Weight
Stage
Year
10140

Leandro Lo

Leandro Lo
L
Pts: 2x0
Copa Podio
86KG
GP
2016
10144

N. Meregali

L
Armbar
Copa Podio
86KG
GP
2016
10557

Guilherme Augusto

Guilherme Augusto
L
Armbar
Sao Paulo Open
100KG
SF
2016
10561

Alex Aparecido

L
Referee Decision
Sao Paulo Open
ABS
4F
2016
10829

Dimitrius Souza

Dimitrius Souza
L
Points
Brasileiro NoGi
ABS
F
2016
11049

Alexandre Ribeiro

Alexandre Ribeiro
L
Choke from back
Grand Slam RJ
94KG
R1
2016
11775

Jose Junior

Jose Junior
L
Submission
Manaus Nat. Pro
110KG
F
2017
12193

Carlos Farias

Carlos Farias
L
Pts: 0x0, Adv
Pan American
O100
8F
2017
12560

Erberth Santos

Erberth Santos
L
RNC
WP BR Qualifier
110KG
4F
2017
12657

Renato Cardoso

Renato Cardoso
L
Clock choke
Brasileiro
ABS
4F
2017
13510

Admilson Gobi

Admilson Gobi
L
Toe hold
Vitoria Open
ABS
SF
2017
14043

Lucas Barbosa

Lucas Barbosa
L
North south choke
Charlotte Open
ABS
SF
2017
14137

Roberto Abreu

Roberto Abreu
L
Pts: 2x2, Adv
Miami Fall Open
O100KG
F
2017
14145

Roberto Abreu

Roberto Abreu
L
Choke from back
Miami Fall Open
ABS
F
2017
14347

Joao Rocha

Joao Rocha
L
N/A
BJJ NY Pro
94KG
SF
2017
14555

Helton Jose

Helton Jose
L
Referee Decision
ACB JJ Worlds
ABS
F
2017
15254

Matheus Diniz

Matheus Diniz
L
Choke from back
Pan American
ABS
R1
2018
15360

Joao Rocha

Joao Rocha
L
Pts: 0x0, Adv
Pan American
O100KG
4F
2018
16505

Marcus Almeida

Marcus Almeida
L
Choke
World Champ.
O100KG
8F
2018
17291

Gordon Ryan

Gordon Ryan
L
RNC
No Gi Pan Am.
ABS
SF
2018
17346

Gordon Ryan

Gordon Ryan
L
RNC
No Gi Pan Am.
O97KG
F
2018
17490

Erberth Santos

Erberth Santos
L
Toe hold
Grand Slam LA
110KG
F
2018
17700

Mahamed Aly

Mahamed Aly
L
Toe hold
WSOG 2
O81KG
4F
2018
18188

Fernando Reis

Fernando Reis
L
Referee Decision
Grand Slam RJ
110KG
R1
2018
18544

Roberto Abreu

Roberto Abreu
L
Pts: 2x0
NoGi Worlds
O97KG
SF
2018
18565

Thiago Sa

Thiago Sa
L
Toe hook
NoGi Worlds
ABS
4F
2018
19060

Mahamed Aly

Mahamed Aly
L
Cross choke
F2W Pro 102
124KG
SPF
2019
19487

Rudson Mateus

Rudson Mateus
L
Pts: 0x0, Adv
Pan American
ABS
R2
2019
20502

Marcus Almeida

Marcus Almeida
L
Brabo choke
World Champ.
O100KG
SF
2019
21166

Arnaldo Maidana

Arnaldo Maidana
L
Choke from back
Twin Cities Inv.
ABS
F
2019
21563

John Hansen

L
Referee Decision
ADCC
O99KG
R1
2019
23385

Victor Hugo

Victor Hugo
L
Short choke
F2W 148
124KG
SPF
2020
10130

Victor Estima

Victor Estima
D
---
Copa Podio
86KG
GP
2016
10137

Dillon Danis

Dillon Danis
W
Pts: 2x0
Copa Podio
86KG
GP
2016
10554

Romes Ramos

W
Pts: 4x0
Sao Paulo Open
100KG
4F
2016
10819

Fabio Queiroz

W
Points
Brasileiro NoGi
97KG
4F
2016
10820

Christofer Feijó

W
Points
Brasileiro NoGi
97KG
SF
2016
10823

Fabio Queiroz

W
Points
Brasileiro NoGi
ABS
4F
2016
10827

Fabio Caloi

Fabio Caloi
W
Points
Brasileiro NoGi
ABS
SF
2016
11308

Alex de Goulart

W
N/A
Petropolis Pro
94KG
SF
2016
11309

Marcos Junior

W
N/A
Petropolis Pro
94KG
F
2016
11774

Francisco Santoro

W
Points
Manaus Nat. Pro
110KG
SF
2017
12652

Unknown

W
Armbar
Brasileiro
ABS
RDS
2017
13500

Alisson Oliveira

W
Choke from back
Vitoria Open
100KG
SF
2017
13501

Vitor Toledo

Vitor Toledo
W
Pts: 4x2
Vitoria Open
100KG
F
2017
13508

Unknown

W
Cross choke
Vitoria Open
ABS
8F
2017
13509

Unknown

W
Pts: 3x0
Vitoria Open
ABS
4F
2017
13774

Dany Gerard

Dany Gerard
W
Pts: 0x0, Adv
Grand Slam LA
110KG
SF
2017
14041

Johnny Tama

Johnny Tama
W
Pts: 6x0
Charlotte Open
ABS
4F
2017
14136

Thomas MacMahon

W
Pts: 4x0
Miami Fall Open
O100KG
SF
2017
14139

Piter Frank

W
Choke from back
Miami Fall Open
ABS
4F
2017
14144

Victor Doria

W
Pts: 9x6
Miami Fall Open
ABS
SF
2017
14345

James Puopolo

James Puopolo
W
Pts: 4x0
BJJ NY Pro
94KG
4F
2017
14551

Gabriel Lucas

Gabriel Lucas
W
Referee Decision
ACB JJ Worlds
O95KG
F
2017
14553

Gabriel Rollo

Gabriel Rollo
W
Heel hook
ACB JJ Worlds
ABS
SF
2017
15357

Dany Gerard

Dany Gerard
W
Pts: 8x2
Pan American
O100KG
8F
2018
15511

Myung Park

W
Pts: 15x0
Chicago Sp. Open
O100KG
SF
2018
15512

Oscar Hipp

W
Pts: 30x0
Chicago Sp. Open
O100KG
F
2018
15798

Bruno Valdivino

W
Points
Atlanta Sp. Open
O100KG
F
2018
15801

Roberto Torralbas

W
Points
Atlanta Sp. Open
ABS
SF
2018
15802

Thomas Keenan

W
Points
Atlanta Sp. Open
ABS
F
2018
16768

James Puopolo

James Puopolo
W
Points
NY BJJ Pro
O94KG
SF
2018
16770

Mahamed Aly

Mahamed Aly
W
Points
NY BJJ Pro
O94KG
F
2018
17099

Charles McGuire

W
Points
Chicago SM Open
O100KG
F
2018
17101

Helton Jose

Helton Jose
W
Points
Chicago SM Open
ABS
SF
2018
17288

Michael Perez

Michael Perez
W
Pts: 7x0
No Gi Pan Am.
ABS
4F
2018
17345

Kaynan Duarte

Kaynan Duarte
W
Referee Decision
No Gi Pan Am.
O97KG
SF
2018
17487

Tanner Rice

Tanner Rice
W
Pts: 0x0, Adv
Grand Slam LA
110KG
4F
2018
17695

Cassey Hellenberg

W
Referee Decision
WSOG 2
O81KG
8F
2018
18539

Marcus Geddes

W
RNC
NoGi Worlds
O97KG
R1
2018
18541

Aaron Johnson

Aaron Johnson
W
Pts: 6x0
NoGi Worlds
O97KG
4F
2018
18547

Nicolas Penzer

W
Pts: 9x0
NoGi Worlds
ABS
R1
2018
18549

Satoshi Ishii

W
Pts: 20x0
NoGi Worlds
ABS
R1
2018
19478

Dany Gerard

Dany Gerard
W
Choke from back
Pan American
O100KG
4F
2019
19481

Guilherme Augusto

Guilherme Augusto
W
Bow and arrow
Pan American
O100KG
SF
2019
19988

Alex Huddleston

W
Referee Decision
F2W Pro 110
125KG
SPF
2019
20500

Renan Vieira

W
Wristlock
World Champ.
O100KG
4F
2019
20856

Thomas McMahon

W
Points
NY BJJ Pro
O94KG
SF
2019
20857

Vinicius Trator

Vinicius Trator
W
Referee Decision
NY BJJ Pro
O94KG
F
2019
21161

Zig Evamois

W
Submission
Twin Cities Inv.
ABS
R1
2019
21163

Nate Howe

W
Cross choke
Twin Cities Inv.
ABS
4F
2019
21165

Brandon Bergeron

W
Choke from back
Twin Cities Inv.
ABS
SF
2019
21251

Ricardo Ribeiro

W
Cross choke
Boston SMO
O100KG
F
2019
21252

Luis Marinho

W
Baseball choke
Boston SMO
ABS
4F
2019
21254

Ricardo Ribeiro

W
Cross choke
Boston SMO
ABS
SF
2019
21256

Felipe Cesar

Felipe Cesar
W
Pts: 2x0
Boston SMO
ABS
F
2019
21259

Felipe Bezerra

Felipe Bezerra
W
Referee Decision
F2W Pro 123
124KG
SPF
2019
21364

Ryan Roach

W
Armbar
No Gi Pan Am.
O97KG
SF
2019
21365

Aaron Johnson

Aaron Johnson
W
Pts: 11x0
No Gi Pan Am.
O97KG
F
2019
22348

Jeferson Guaresi

Jeferson Guaresi
W
Referee Decision
NYC Fall Open
ABS
4F
2019
22349

Devhonte Johnson

Devhonte Johnson
W
Pts: 2x0
NYC Fall Open
ABS
SF
2019
22350

Kaniela Kahuanui

W
Pts: 3x0
NYC Fall Open
ABS
F
2019
22866

Josh Littleton

W
Choke from back
Atlanta WO
ABS
R1
2020
22870

Jeff Cummings

W
Choke from back
Atlanta WO
ABS
4F
2020
22871

Alexander Yablong

W
Cross choke
Atlanta WO
ABS
SF
2020
22873

Gianni Grippo

Gianni Grippo
W
Arm in Ezekiel
Atlanta WO
ABS
F
2020
Max Gimenis Final of World Pro Trials

Max Gimenis x Daniel Esperança