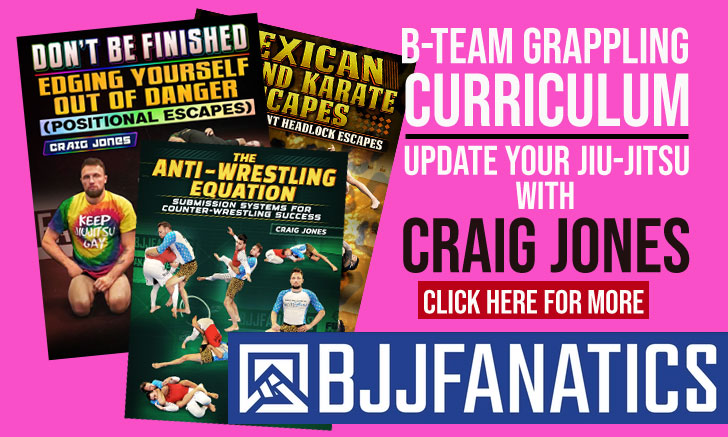 One of the most exciting grapplers to have ever stepped on a mat, Antonio Schembri also known as 'Nino' Schembri is a jiu jitsu black belt under Carlos Gracie Junior, who blasted into the BJJ scene in the mid 1990's competing for the Gracie Barra academy. Nino Schembri quickly made a name for himself as the king of the omoplata, a game he developed making better use of his highly flexible and offensive guard game, being also one of the first grapplers recorded using the 'lasso guard' and the 'rubber guard'. He is considered by many (BJJ Heroes included) as one of the best guard players to have ever competed in the sport.
Nino Schembri Jiu Jitsu
Full Name: António Schembri
Nickname: Nino is short for Antonio in Portuguese (Schembri's first name), as for Elvis, it comes from Schembri's love for Elvis Presley, the King of Rock n' Roll, and the fact that he used to mimic some of the King's dance moves in celebrating his victories.
Lineage: Mitsuyo Maeda > Carlos Gracie Sr. > Carlos Gracie Junior > Nino Schembri.
Main Achievements:
World champion (1997 and 1998)*
Brazilian National Champion (1996 absolute)
* Closed final with team mate
Favorite Technique: Open Guard, Omoplata.
Weight Division: Peso Medio 82kg-181lbs.
Association/Team: Nino Schembri BJJ (formerly with Gracie-Barra)
Nino Schembri Biography
Nino Schembri,was born on the 1st of June 1974 in Rio de Janeiro, Brazil. Nino's image is the complete opposite of the traditional Jiu Jitsu playboy troublemaker of the 1990s. An image that terrorized jiu jitsu sponsors for years due to the wrong doing of many Rio de Janeiro gangs who used the gentle art to cause trouble on the streets. Antonio Schembri was one of the many good names in the sport who fought against this bad image of the jiujiteiro (jiu jitsu practitioner).
Coming from a traditional Italian family (his father was born in the European country), Nino Schembri worked on the street market helping his father with the duvet selling business, and always found it hard to get through life in the sport of Jiu Jitsu without the resources of some of the more upper class competitors who worked on their game full time.
Known for his creativity and amazing flexibility, Nino was a true revolutionary of the sport, famous for the use of the guard as an offensive tool, being the 'Omoplata' (shoulder blade lock) and the 'Gogoplata' (choke) or even an early approach to the now called rubber guard some of his more famous moves.
Antonio Schembri took his first stab at a Mixed Martial Arts (MMA) career in 2001, a fight he won against the veteran Luta Livre fighter Johil de Oliveira in the biggest fighting organization in the world at the time, Pride FC. It was at around this same time that 'Elvis' Schembri stepped away from his Gracie Barra family to join the famous Chute-Boxe MMA Academy. He trained with the Thai Boxing specialists for many years being their Grappling coach while learning striking from Rafael Cordeiro. In his time at Chute Boxe Academy he awarded Mauricio "Shogun" Rua his black belt, after Rua's win at the Pride FC middleweight Gran Prix Final.
In 2004 Schembri's father took his own life in Brazil, leaving Antonio devastated. For the following 6 years Nino dwelled with this terrible ordeal, though still competing in MMA to pay his bills. During this period Schembri's focus was totally off and he could not train consistently in preparation for the fights, this caused him to lose some fights he could/should have won, settling an unflattering record of 5-5-0 by the end of 2008.
In 2010 Schembri returned to the Jiu Jitsu mats winning the Fabio Santos open stating in an interview to the Fightworks Podcast that he was finally recovered mentally from his fathers tragic ending.
Nino Schembri Grappling Record
19 WINS
BY POINTS


BY ADVANTAGES




BY SUBMISSION




BY DECISION




BY PENALTIES




BY DQ



12 SUBMISSIONS WINS
7 LOSSES
BY POINTS


BY ADVANTAGES




BY SUBMISSION




BY DECISION




BY PENALTIES




BY DQ



2 SUBMISSIONS LOSSES
Nino Schembri Fight History
ID
Opponent
W/L
Method
Competition
Weight
Stage
Year
119

Saulo Ribeiro

Saulo Ribeiro
L
Adv
World Champ.
82KG
F
1997
380

Rodrigo Comprido

Rodrigo Comprido
L
Kimura
World Champ.
ABS
4F
2000
391

Fernando Terere

Fernando Terere
L
Pts: 2x0
World Champ.
82KG
F
2000
475

Fernando Margarida

Fernando Margarida
L
Injury
Rickson Cup
ABS
F
2000
530

Saulo Ribeiro

Saulo Ribeiro
L
Pen
ADCC
88KG
SF
2001
1435

Andre Galvao

Andre Galvao
L
Clock choke
World Champ.
82KG
SF
2006
6073

Vitor Shaolin

Vitor Shaolin
L
Pts: 8x0
World Expo
ABS
SPF
2014
67

Jorge Patino

Jorge Patino
W
Triangle
Brasileiro
82KG
F
1995
117

Alexandre Paiva

Alexandre Paiva
W
Pts: 2x0
World Champ.
82KG
SF
1997
209

Mario Pierro

W
Choke
Estadual RJ
82KG
F
1998
225

Unknown

W
Submission
World Champ.
88KG
4F
1998
226

Rinaldo Santos

W
Footlock
World Champ.
88KG
SF
1998
248

Pedro Duarte

Pedro Duarte
W
Armbar
Oscar de JJ
ABS
SPF
1998
273

Magrao

W
Pts: 11x0
Pan American
ABS
4F
1999
275

Mario Esfiha

Mario Esfiha
W
Armbar
Pan American
ABS
SF
1999
276

Claudio Moreno

W
Armbar
Pan American
88KG
4F
1999
277

Nilson Niboni

W
Armbar
Pan American
88KG
SF
1999
467

Jorge Patino

Jorge Patino
W
kneebar
Rickson Cup
ABS
GP
2000
470

Marcus Silva

W
Adv
Rickson Cup
ABS
GP
2000
480

Fernando Margarida

Fernando Margarida
W
Pts: 5x0
Rio x Sao Paulo
ABS
SPF
2000
491

A. Cacareco

W
Points
ADCC Trials
87KG
F
2001
520

Akihiro Gono

W
RNC
ADCC
88KG
R1
2001
526

Alexander Savko

W
Omoplata
ADCC
88KG
4F
2001
533

Egan Inoue

Egan Inoue
W
Points
ADCC
88KG
3PLC
2001
953

Rodrigo Teixeira

W
Armbar
FFA (IGJJF)
82KG
SPF
2003
1432

Eduardo Rios

Eduardo Rios
W
Pts: 8x4
World Champ.
82KG
4F
2006
Nino Schembri vs Fernando Pontes "Margarida"

Nino Schembro vs Steve Rosenberg

Antonio Schembri highlight

Banner picture taken by Callum Medcraft of Jiu Jitsu Style Magazine.