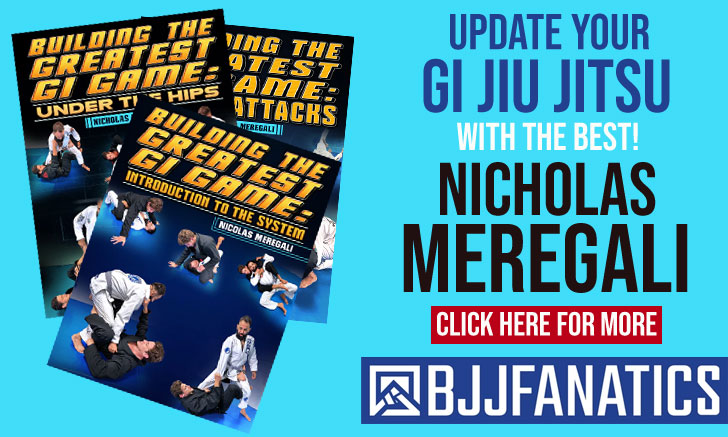 Marcio Cruz, also known by his nickname "Pe de Pano" is a Brazilian Jiu-Jitsu black belt under Carlos Gracie Junior who is regarded by many as one of the best ultra-heavyweight competitors in the history of the sport. During his heyday, in the early 2000s, Mario Cruz was one of the biggest stars of the Gracie Barra Academy, conquering numerous titles on the International Brazilian Jiu-Jitsu Federation (IBJJF) circuit, including world titles in 2002 and 2003. Pe de Pano fought also in mixed martial arts, reaching the pinnacle of cage fighting by competing in the UFC.
Marcio Cruz Jiu Jitsu
Full Name: Márcio Ribeiro da Cruz
Nickname: The name Pé de Pano is the name for "Sugarfoot", the character from the 80´s cartoon show "Woody the Woodpecker" in the Portuguese-translated version of the show. Márcio Cruz was called this due to his lanky and somewhat clumsy nature, particularly as a teenager.
Lineage: Carlos Gracie > Helio Gracie > Carlos Gracie Junior > Marcio Cruz
Main Achievements (Colored Belts):
1st Place ADCC World Championship (2003)
1st Place IBJJF World Championship (2002**, 2003*)
1st Place IBJJF Pan Championship (2003**, 2005**)
1st Place IBJJF Brazilian Nationals (2000**, 2001)
2nd Place IBJJF Brazilian Nationals (2001*)
3rd Place IBJJF World Championship (2001**, 2012)
Main Achievements (Colored Belts):
1st Place IBJJF World Championship (1999 purple)
1st Place IBJJF Pan Championship (1999** blue)
1st Place IBJJF Brazilian Nationals (1998 blue)
2nd Place IBJJF Brazilian Nationals (1999 brown)
3rd Place IBJJF World Championship (1998 blue)
* Absolute
** Weight and Absolute
Favorite Technique: Triangle Choke
Weight Division: Super-heavy Weight
Team/Association: Gracie Elite Team (Formerly Gracie Barra)
Marcio Cruz "Pe de Pano" Biography
Marcio Cruz was born on the 24th of April, 1978 in Rio de Janeiro, Brazil.
Martial arts became a part of Cruz' life when he was 12, during a short-lived experience with karate. Later in his life, while living at his grandfathers' house as a teenager, Márcio was introduced to Jiu-Jitsu. Although he loved the sport from the get-go, once he left his grandparents' home, he could not find another BJJ gym close by, as such he joined a Judo class.
It was in 1996 that 17-year-old Marcio managed to return to jiu-jitsu. Although often seen as an older age to make it at a professional level in this sport, Cruz placed all his efforts on his training and he reaped the rewards of his labor.
All that work combined with the raw talent running through Marcio's veins, helped him achieve success very fast winning his first major title, the Pan American Championship in 1999 as a blue belt, followed by a World Championship in the same year this time in the Purple Belt Division. His incredible colored belt career did not stop here as the Team GB athlete went on to win the Brazilian National Championship as a brown belt at the end of that year, making this path to black belt one of the fastest recorded at the time (Marcio Cruz received his black belt in 2001).
In 2001 Marcio Cruz won the World Championships at his weight and the absolute divisions, submitting everyone on his path, being given his black belt there and then by "Carlinhos" Gracie.
Marcio Cruz has never been known to be a man that keeps his thoughts to himself. Cocky and somewhat arrogant he is one of those fighters you either love or hate and his antics against Jeff Monson, Terere and many others are well documented and have been the subject of heated forum discussions throughout the internet. Although his attitude might have been questioned by some, no one can deny he is one of the most gifted fighters the BJJ world has ever produced. Even though he may not look like the stereotypical fighter with the cauliflower ears, broad back, and tattoos, his deceiving physique and his guard is game have made him a true master of the art and a delight to watch by any BJJ lover.
Marcio Cruz Grappling Record
48 WINS
BY POINTS


BY ADVANTAGES




BY SUBMISSION




BY DECISION




BY PENALTIES




BY DQ



24 SUBMISSIONS WINS
#224aba
Triangle armbar
4
1
#bf1f6c
Knee on belly
4
1
18 LOSSES
BY POINTS


BY ADVANTAGES




BY SUBMISSION




BY DECISION




BY PENALTIES




BY DQ



6 SUBMISSIONS LOSSES
#86e620
Flying armbar
17
1
Marcio Cruz Fight History
ID
Opponent
W/L
Method
Competition
Weight
Stage
Year
550

Sean Alvarez

L
Pen
ADCC
O99KG
4F
2001
564

JJ Machado

JJ Machado
L
Footlock
ADCC
ABS
4F
2001
574

Fernando Terere

Fernando Terere
L
Pts: 6x5
Brasileiro
ABS
F
2001
603

Marcio Corleta

Marcio Corleta
L
Pts: 2x2, Adv
World Champ.
O100KG
SF
2001
826

Dean Lister

Dean Lister
L
Pts: 3x0
ADCC
ABS
SF
2003
828

Fabricio Werdum

Fabricio Werdum
L
Pts: 6x0
ADCC
ABS
3PLC
2003
1216

Gabriel Napao

L
Calf slicer
ADCC
O99KG
SF
2005
1329

Fernando Margarida

Fernando Margarida
L
Armbar
Yamasaki Cup
ABS
SPF
2005
1479

Gabriel Gonzaga

Gabriel Gonzaga
L
Points
World Cup
O100KG
F
2006
1521

Andre Galvao

Andre Galvao
L
Adv
Team Nationals
O88KG
F
2006
1721

Rolles Gracie

Rolles Gracie
L
Points
ADCC
O99KG
SF
2007
2277

Vinny Magalhaes

Vinny Magalhaes
L
Flying armbar
ADCC
99KG
4F
2009
2730

Rodrigo Cavaca

Rodrigo Cavaca
L
Triangle
World Champ.
O100KG
4F
2010
3147

Rodrigo Cavaca

Rodrigo Cavaca
L
Submission
World Champ.
O100KG
SF
2011
3903

Roberto Abreu

Roberto Abreu
L
Pts: 12x4
World Champ.
ABS
R2
2012
4145

Marcus Almeida

Marcus Almeida
L
Pts: 4x2
World Champ.
O100KG
SF
2012
7598

Alexandre Ribeiro

Alexandre Ribeiro
L
Referee Decision
UFC Expo
ABS
SPF
2015
13757

Joao Rocha

Joao Rocha
L
Pts: 0x0, Adv
IBJJF Pro GP
ABS
4F
2017
548

Van Arsdale

W
Kneebar
ADCC
O99KG
R1
2001
556

Ricco Rodriguez

Ricco Rodriguez
W
Armbar
ADCC
O99KG
3RD
2001
560

Roberto Traven

Roberto Traven
W
Points
ADCC
ABS
R1
2001
573

Carlos Alberto

W
N/A
Brasileiro
O100KG
F
2001
580

Marcio Corleta

Marcio Corleta
W
Triangle
World Champ.
ABS
4F
2001
623

Fernando Terere

Fernando Terere
W
Pts: 2x0
Manaus Challenge
ABS
SPF
2002
687

Unknown

W
Points
World Champ.
O100KG
4F
2002
689

Felipe Pederneiras

W
Choke
World Champ.
O100KG
SF
2002
690

Luiz Guilherme

Luiz Guilherme
W
Knee ride
World Champ.
O100KG
F
2002
693

Marcus Valle

W
Armbar
World Champ.
ABS
R1
2002
701

Roger Coelho

Roger Coelho
W
Triangle armbar
World Champ.
ABS
4F
2002
704

Alexandre Ribeiro

Alexandre Ribeiro
W
Pts: 2x0
World Champ.
ABS
SF
2002
705

Saulo Ribeiro

Saulo Ribeiro
W
Pts: 2x0
World Champ.
ABS
F
2002
721

Eduardo Telles

Eduardo Telles
W
Pts: 10x2
Team Nationals
O88KG
F
2002
743

Alex Monsalve

W
Kneebar
Team Nationals
O88KG
4F
2003
758

Rodrigo Artilheiro

W
RNC
ADCC Trials
O99KG
SF
2003
759

Fabiano Scherner

Fabiano Scherner
W
N/A
ADCC Trials
O99KG
F
2003
809

Mike Whitehead

W
Points
ADCC
O99KG
R1
2003
811

Jeff Monson

W
Points
ADCC
O99KG
4F
2003
813

Alex Negao

W
Guillotine
ADCC
O99KG
SF
2003
815

Fabricio Werdum

Fabricio Werdum
W
Points
ADCC
O99KG
F
2003
816

Ilir Lafiti

W
Points
ADCC
ABS
R1
2003
822

Marcelo Garcia

Marcelo Garcia
W
Pts: 6x0
ADCC
ABS
4F
2003
838

Beto Ferreira

W
Armbar
World Champ.
ABS
R1
2003
840

Leo. Montenegro

W
Triangle
World Champ.
ABS
R2
2003
844

Fabricio Werdum

Fabricio Werdum
W
Pts: 7x0
World Champ.
ABS
SF
2003
845

Roger Gracie

Roger Gracie
W
Pts: 3x0
World Champ.
ABS
F
2003
902

Robert Handley

W
Pts: 15x0
Brazil vs USA
O100KG
SPF
2003
917

Thiago Cruz

W
Armbar
Pan American
O100KG
SF
2003
919

Todd Margolis

W
Knee on belly
Pan American
ABS
4F
2003
922

Joao Silva

W
Armbar
Pan American
ABS
SF
2003
924

Fabricio Werdum

Fabricio Werdum
W
Armbar
Pan American
ABS
F
2003
1018

Alexandre Ribeiro

Alexandre Ribeiro
W
Referee Decision
Best Fighters
ABS
SPF
2004
1147

Alexandre Ribeiro

Alexandre Ribeiro
W
Pts: 2x0
Pan American
ABS
F
2005
1207

Miodrag Petkovic

W
RNC
ADCC
O99KG
R1
2005
1213

Daniel Simoes

Daniel Simoes
W
Pts: 2x0
ADCC
O99KG
4F
2005
1518

Unknown

W
Choke
Team Nationals
O88KG
4F
2006
1718

J. Pietlainen

W
Armbar
ADCC
O99KG
R1
2007
1719

Marcos Oliveira

Marcos Oliveira
W
Points
ADCC
O99KG
4F
2007
1722

Darren Andy

W
Points
ADCC
O99KG
3PLC
2007
2272

Anthony Perosh

Anthony Perosh
W
Points
ADCC
99KG
R1
2009
3096

Tom Florence

W
Triangle
World Champ.
O100KG
RDS
2011
3130

Pega Leve

W
Choke
World Champ.
O100KG
4F
2011
3893

Daniel Richards

W
Triangle
World Champ.
ABS
R2
2012
4136

Stephen Hall

W
N/A
World Champ.
O100KG
R2
2012
4142

Antonio Peinado

Antonio Peinado
W
Triangle
World Champ.
O100KG
4F
2012
5138

R. Evangelista

R. Evangelista
W
Pen
IBJJF Pro League
O94KG
SF
2013
5140

Gustavo Pires

Gustavo Pires
W
Armbar
IBJJF Pro League
O94KG
F
2013