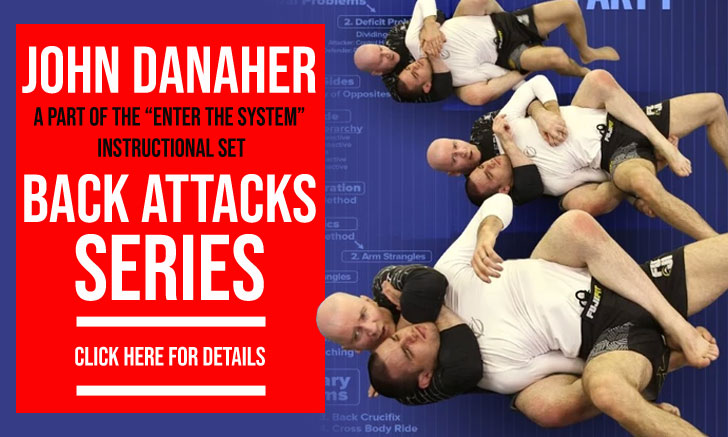 Marcio Cruz, also known by his nickname "Pe de Pano" is a Brazilian Jiu Jitsu black belt under Carlos Gracie Junior, being unanimously considered one of the best to have ever competed in the sport. Mario Cruz was one of the biggest stars of the Gracie Barra Academy in the early 2000's, having conquered numerous titles being his biggest achievements the two open weight black belt world championships in 2002 and 2003. Pe de Pano fought also in MMA (Mixed Martial Arts) having reached the pinnacle of the sport by competing in the UFC. Originally from Brazil, Marcio Cruz moved to the United States where made a career as a jiu jitsu instructor.
Marcio Cruz Jiu Jitsu
Full Name: Márcio Ribeiro da Cruz
Nickname: The name Pé de Pano is what Sugarfoot, the character from the 80´s cartoon show "Woody the Woodpecker", is called in Brazil. Márcio Cruz was called this due to his lanky and somewhat clumsy nature, specially as a teenager.
Lineage: Mitsuyo Maeda > Carlos Gracie Sr. > Carlos Gracie Junior > Marcio Cruz
Main Achievements (BJJ/Grappling):
ADCC Champion (2003)
World Champion (1999 purple, 2000 weight & absolute brown, 2002 weight & absolute, 2003 absolute)
Pan American Champion (1999 weigh & absolute blue, 2003 weight & absolute, 2005 weight & absolute)
Brazilian Champion (1998 blue, 2000 weight & absolute, 2001)
Brazilian National Silver Medallist (1999 brown, 2001 absolute)
World Bronze Medallist (1998 blue, 2001 weight & absolute, 2012)
Favorite Technique: Triangle Choke
Weight Division: Super-heavy Weight
Team/Association: Gracie Elite Team (Formerly Gracie Barra)
Marcio Cruz "Pe de Pano" Biography
Marcio Cruz was born on the 24th of April, 1978 in Rio de Janeiro, Brazil. He started training Martial Arts at the age of 12, with a short run at Karate in a dojo close to were he lived. Pe de Pano lived part of his early teenage years at his grandfathers house, a time when he was introduced to Jiu Jitsu by a friend. Although he loved the sport straight away, there was no jiu jitsu academy were he lived, as such he joined a Judo club while he couldn't find a BJJ academy nearby.
It was in 1996, when Marcio was 17, that jiu jitsu became a part of Marcio Cruz'  life. In Brazil if you want to become a professional jiu jitsu competitor (which Pe de Pano wanted with all his heart) 17 is an old age to start off your career as a white belt, however, Marcio had his goals set and he trained harder then anyone else at the gym, putting all his spare time on the mats.
All that work combined with the raw talent running through Marcio's veins, helped him achieve success very fast winning his first major title, the Pan American Championship in 1999 as a blue belt, followed by a World Championship in the same year this time in the Purple Belt Division. His amazing run didn't stop here, and Pe de Pano went on to win the Brazilian National Championship as a Brown Belt in the end of that year, making this path to black belt one of the fastest ever recorded (Marcio Cruz received his black belt in 2001).
In 2001 Marcio Cruz won the World Championships at his weight and the absolute divisions, submitting everyone on his path, being given his black belt there and then by "Carlinhos" Gracie. On that same year Marcio won the  Brazilian Nationals again in his weight and absolute divisions, this time as a black belt.
Marcio Cruz has never been known to be a man that keeps his thoughts to himself. Cocky and somewhat arrogant he is one of those fighters you either love or hate and his antics against Jeff Monson, Terere and many others are well documented and have been the subject of heated forum discussions throughout the internet. Although his attitude might have been questioned by some, no one can deny he is one of the most gifted fighters the BJJ world has ever produced. Even though he may not look like the stereotypical fighter with the cauliflower ears, broad back and tattoos, his deceiving physique and his guard is game have made him a true master of the art and a delight to watch by any BJJ lover.
Marcio Cruz Grappling Record
48 WINS
BY POINTS


BY ADVANTAGES




BY SUBMISSION




BY DECISION




BY PENALTIES




BY DQ



24 SUBMISSIONS WINS
#f58822
Knee on belly
4
1
#ff9124
Triangle armbar
4
1
18 LOSSES
BY POINTS


BY ADVANTAGES




BY SUBMISSION




BY DECISION




BY PENALTIES




BY DQ



6 SUBMISSIONS LOSSES
#d1212a
Flying armbar
17
1
Marcio Cruz Fight History
ID
Opponent
W/L
Method
Competition
Weight
Stage
Year
549

Sean Alvarez

L
Pen
ADCC
O99KG
4F
2001
563

JJ Machado

JJ Machado
L
Footlock
ADCC
ABS
4F
2001
573

Fernando Terere

Fernando Terere
L
Pts: 6x5
Brasileiro
ABS
F
2001
602

Marcio Corleta

Marcio Corleta
L
Pts: 2x2, Adv
World Champ.
O100KG
SF
2001
825

Dean Lister

Dean Lister
L
Pts: 3x0
ADCC
ABS
SF
2003
827

Fabricio Werdum

Fabricio Werdum
L
Pts: 6x0
ADCC
ABS
3PLC
2003
1215

Gabriel Napao

L
Calf slicer
ADCC
O99KG
SF
2005
1328

Fernando Margarida

Fernando Margarida
L
Armbar
Yamasaki Cup
ABS
SPF
2005
1478

Gabriel Gonzaga

Gabriel Gonzaga
L
Points
World Cup
O100KG
F
2006
1520

Andre Galvao

Andre Galvao
L
Adv
Team Nationals
O88KG
F
2006
1718

Rolles Gracie

Rolles Gracie
L
Points
ADCC
O99KG
SF
2007
2272

Vinny Magalhaes

Vinny Magalhaes
L
Flying armbar
ADCC
99KG
4F
2009
2726

Rodrigo Cavaca

Rodrigo Cavaca
L
Triangle
World Champ.
O100KG
4F
2010
3143

Rodrigo Cavaca

Rodrigo Cavaca
L
Submission
World Champ.
O100KG
SF
2011
3898

Roberto Abreu

Roberto Abreu
L
Pts: 12x4
World Champ.
ABS
R2
2012
4140

Marcus Almeida

Marcus Almeida
L
Pts: 4x2
World Champ.
O100KG
SF
2012
7580

Alexandre Ribeiro

Alexandre Ribeiro
L
Referee Decision
UFC Expo
ABS
SPF
2015
13730

Joao Rocha

Joao Rocha
L
Pts: 0x0, Adv
IBJJF Pro GP
ABS
4F
2017
547

Van Arsdale

W
Kneebar
ADCC
O99KG
R1
2001
555

Ricco Rodriguez

Ricco Rodriguez
W
Armbar
ADCC
O99KG
3RD
2001
559

Roberto Traven

Roberto Traven
W
Points
ADCC
ABS
R1
2001
572

Carlos Alberto

W
N/A
Brasileiro
O100KG
F
2001
579

Marcio Corleta

Marcio Corleta
W
Triangle
World Champ.
ABS
4F
2001
622

Fernando Terere

Fernando Terere
W
Pts: 2x0
Manaus Challenge
ABS
SPF
2002
686

Unknown

W
Points
World Champ.
O100KG
4F
2002
688

Felipe Pederneiras

W
Choke
World Champ.
O100KG
SF
2002
689

Luiz Guilherme

Luiz Guilherme
W
Knee ride
World Champ.
O100KG
F
2002
692

Marcus Valle

W
Armbar
World Champ.
ABS
R1
2002
700

Roger Coelho

Roger Coelho
W
Triangle armbar
World Champ.
ABS
4F
2002
703

Alexandre Ribeiro

Alexandre Ribeiro
W
Pts: 2x0
World Champ.
ABS
SF
2002
704

Saulo Ribeiro

Saulo Ribeiro
W
Pts: 2x0
World Champ.
ABS
F
2002
720

Eduardo Telles

Eduardo Telles
W
Pts: 10x2
Team Nationals
O88KG
F
2002
742

Alex Monsalve

W
Kneebar
Team Nationals
O88KG
4F
2003
757

Rodrigo Artilheiro

W
RNC
ADCC Trials
O99KG
SF
2003
758

Fabiano Scherner

Fabiano Scherner
W
N/A
ADCC Trials
O99KG
F
2003
808

Mike Whitehead

W
Points
ADCC
O99KG
R1
2003
810

Jeff Monson

W
Points
ADCC
O99KG
4F
2003
812

Alex Negao

W
Guillotine
ADCC
O99KG
SF
2003
814

Fabricio Werdum

Fabricio Werdum
W
Points
ADCC
O99KG
F
2003
815

Ilir Lafiti

W
Points
ADCC
ABS
R1
2003
821

Marcelo Garcia

Marcelo Garcia
W
Pts: 6x0
ADCC
ABS
4F
2003
837

Beto Ferreira

W
Armbar
World Champ.
ABS
R1
2003
839

Leo. Montenegro

W
Triangle
World Champ.
ABS
R2
2003
843

Fabricio Werdum

Fabricio Werdum
W
Pts: 7x0
World Champ.
ABS
SF
2003
844

Roger Gracie

Roger Gracie
W
Pts: 3x0
World Champ.
ABS
F
2003
901

Robert Handley

W
Pts: 15x0
Brazil vs USA
O100KG
SPF
2003
916

Thiago Cruz

W
Armbar
Pan American
O100KG
SF
2003
918

Todd Margolis

W
Knee on belly
Pan American
ABS
4F
2003
921

Joao Silva

W
Armbar
Pan American
ABS
SF
2003
923

Fabricio Werdum

Fabricio Werdum
W
Armbar
Pan American
ABS
F
2003
1017

Alexandre Ribeiro

Alexandre Ribeiro
W
Referee Decision
Best Fighters
ABS
SPF
2004
1146

Alexandre Ribeiro

Alexandre Ribeiro
W
Pts: 2x0
Pan American
ABS
F
2005
1206

Miodrag Petkovic

W
RNC
ADCC
O99KG
R1
2005
1212

Daniel Simoes

Daniel Simoes
W
Pts: 2x0
ADCC
O99KG
4F
2005
1517

Unknown

W
Choke
Team Nationals
O88KG
4F
2006
1715

J. Pietlainen

W
Armbar
ADCC
O99KG
R1
2007
1716

Marcos Oliveira

Marcos Oliveira
W
Points
ADCC
O99KG
4F
2007
1719

Darren Andy

W
Points
ADCC
O99KG
3PLC
2007
2267

Anthony Perosh

Anthony Perosh
W
Points
ADCC
99KG
R1
2009
3092

Tom Florence

W
Triangle
World Champ.
O100KG
RDS
2011
3126

Pega Leve

W
Choke
World Champ.
O100KG
4F
2011
3888

Daniel Richards

W
Triangle
World Champ.
ABS
R2
2012
4131

Stephen Hall

W
N/A
World Champ.
O100KG
R2
2012
4137

Antonio Peinado

Antonio Peinado
W
Triangle
World Champ.
O100KG
4F
2012
5130

R. Evangelista

R. Evangelista
W
Pen
IBJJF Pro League
O94KG
SF
2013
5132

Gustavo Pires

Gustavo Pires
W
Armbar
IBJJF Pro League
O94KG
F
2013
Pe de Pano vs Terere (Brazilian Nationals 2001)
Pe de Pano vs Jerre Norton (Mayhem Submision Fighting 2009)