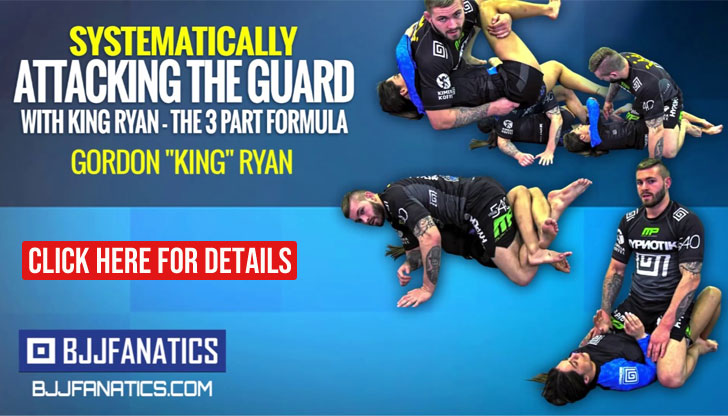 Gordon Ryan is a New Jersey (USA) born grappler and member of the well-known group – Danaher Death Squad (DDS), known particularly in jiu-jitsu's no-gi and submission-only circuit where he beat big names of the sport such as Alexandre Ribeiro, Romulo Barral, and Gabriel Arges. A submission-orientated competitor and one of the leading jiu-jitsu figures of his generation, Gordon cemented his name as one of the top brown belts on the planet in 2015 by winning the Newaza Challenge and No-Gi World Championship, which led to his black belt promotion under Garry Tonon – this way becoming Tonon's first-ever student to achieve the rank, a belt responsibility shared with another one of Gordon's mentors, John Danaher. Gordon went on to become one of the most successful no-gi grapplers of all time by winning back-to-back ADCC World Championships and other unprecedented achievements in the promotion (see below).
Gordon Ryan Jiu-Jitsu
Full Name: Gordon F. Ryan III
Nickname: During his time as EBI champion, Gordon Ryan was announced on stage as "The Iron Dragon", which was less of a jiu-jitsu/Brazilian culture style nickname with a goofy backstory, and more of a marketing fight-name as seen in boxing and MMA fighters. More recently, after his undoubted success against some of the best grapplers in the world, Ryan started calling himself "The King". The nickname had the double gratification of boosting Gordon's credibility among mainstream fans and upsetting his critics.
Lineage 1: Carlos Gracie > Helio Gracie > Carlos Gracie Jr > Renzo Gracie > Ricardo Almeida > Tom deBlass > Garry Tonon > Gordon Ryan
Lineage 2: Carlos Gracie > Helio Gracie > Carlos Gracie Jr > Renzo Gracie > John Danaher > Gordon Ryan
Main Achievements:
ADCC Open Weight Superfight World Title (2022)
WNO Heavyweight Champion (2022)
1st Place ADCC World Tournament (2017 / 2019** / 2022)
1st Place IBJJF World No-Gi Championship (2018**)
1st Place IBJJF Pans No-Gi Championship (2018***)
1st Place Quintet 3 (2018*)
1st Place EBI 6 (2016*)
1st Place EBI 8 (2016)
1st Place EBI 11 (2017)
1st Place EBI 14 (2017*)
1st Place Kinektic 1 (2019)
1st Place Grappling Industries (2017***/2016***)
2nd Place ADCC World Championship (2017*)
Main Achievements (Colored Belts):
1st Place IBJJF World No-Gi Championship (2015 brown)
1st Place Newaza Challenge (2015)
3rd Place IBJJF Pans No-Gi Championship (2014 purple)
* Absolute
** Weight and absolute
*** Double gold, all submissions
Favorite Position/Technique: Triangle/Heel-hook
Weight Division: Super-Heavy (100,50 kg / 222.0 lbs)
Team/Association: New Wave
Gordon Ryan Biography
Gordon Ryan was born on the 8th of July, 1995 in Monroe, New Jersey – United States of America.
Ryan's introduction to jiu-jitsu was made by Miguel Benitez at the age of 15. His tuition would be taken over shortly after by the legendary Tom deBlass – one of New Jersey's most prominent grapplers.
Months after taking his first steps in the sport, as a four-stripe white belt, Gordon met Garry Tonon. Tonon had just received his brown belt at the time but was already regarded as one of the rising talents in the sport, and deBlass' most accomplished student to date. The two grapplers became good friends and as Garry started coaching at the Brunswick BJJ academy, Gordon joined his classes, developing his technical abilities also under Tonon's guidance.
With Garry Tonon's growing influence in Gordon's grappling lifestyle, as a purple belt, Ryan started traveling to New York regularly to train with another one of Garry's mentors – John Danaher. The Renzo Gracie Academy head coach and his methodology were also a big part of Ryan's success, particularly in the submission-only jiu-jitsu circuit where Ryan's potential star status was first noticed.
After a stellar 6-month brown belt run, where Ryan won important tournaments such as the Newaza Challenge and the World Championship, Gordon was awarded his black belt by Garry Tonon (February 2016) in a ceremony supported by the presence of Tom deBlass, Ricardo Almeida. and Danaher – who shared the responsibility of the new belt rank.
ADCC HISTORY
On September 2022 Gordon Ryan competed at the ADCC World Championship, where he was set to challenge the promotion's open weight (absolute) belt in a superfight against the belt holder, André Galvão. Unhappy with just competing in one match, Gordon requested to compete also in the +99 kilogram division, an unprecedented request given the prestige and cash prize on the title on the line in the super fight. The request was granted by the ADCC top promoter, Mo Jassim and Gordon Ryan went on to make history by being the first athlete to ever win the +99 kg gold medal and the open weight super fight belt of the ADCC in the same year.
GORDON RYAN STOMACH CONDITION
According to Ryan's social media account (Instagram), after repeated use of antibiotics for a persistent staphylococcus infection (staph) in 2018, the athlete started suffering from stomach issues, which were first diagnosed as Gastroparesis, a condition that affects the stomach muscles and prevents proper stomach emptying.
After suffering from this debilitating condition for nearly 4 years, in May 2021, Gordon officially retired from competition until further notice, explaining to his fans he could not maintain a high standard of training/performance due to his health, as reported by Bloody Elbow (here).
In a later statement, in August 2021, Gordon Ryan posted on his IG account (@gordonlovesjiujitsu) that he had finally been correctly diagnosed by a gastroenterologist (unnamed) with "yeast and bacterial overgrowth" in his stomach. A condition that had started to affect his kidneys as well. In his post's closing arguments, Ryan added:
"Once we can rebalance the microbiome in my stomach and replenish the bacteria needed to fight the yeast infection, I should be good to go. Fingers crossed we get it in order, which we should."
DANAHER DEATH SQUAD BREAK-UP
On July 2021, coach John Danaher announced the end of the Danaher Death Squad as a unified training and competition team, alluding to "the physical location of a future school, personality conflicts, conflicting values and an inevitable tension between the team brand and the growing individual brands of members" as the main factors for the split (original statement here).
Later in that month, Gordon Ryan and John Danaher announced the name of their new team: New Wave Jiu-Jitsu. Although the squad lost a few key players at the time, such as Gordon's brother, Nicky Ryan, Craig Jones, Ethan Crelinsten, and Nicky Rodriguez (all of which went on to form the "B-Team" workgroup), New Wave kept Garry Tonon and Oliver Taza from the remaining Danaher Death Squad.
Cover photo by Nathalia Santoro.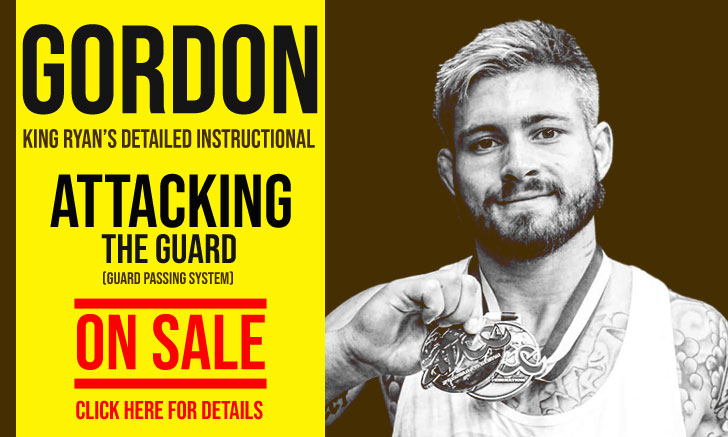 Gordon Ryan Grappling Record
98 WINS
BY POINTS


BY ADVANTAGES




BY SUBMISSION




BY DECISION




BY PENALTIES




BY EBI/OT



80 SUBMISSIONS WINS
#86e620
Inside heel hook
13
10
#5AD3D1
Reverse triangle
9
7
#d1212a
Outside heel hook
6
5
#03861f
Arm in guillotine
3
2
#03f61f
Triangle armbar
1
1
#82ff5f
Mounted guillotine
1
1
5 LOSSES
BY POINTS


BY ADVANTAGES




BY SUBMISSION




BY DECISION




BY PENALTIES




BY DQ



1 SUBMISSION LOSSES
Gordon Ryan Fight History