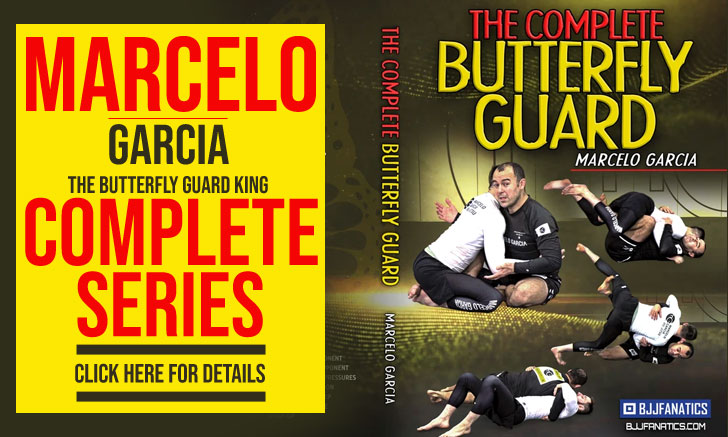 Gordon Ryan is a New Jersey (USA) born grappler and member of the well-known group – Danaher Death Squad (DDS), known particularly in jiu-jitsu's no-gi and submission only circuit where he beat big names of the sport such as Alexandre Ribeiro, Romulo Barral, and Gabriel Arges. A submission orientated competitor and one of the leading jiu-jitsu figures of his generation, Gordon cemented his name as one of the top brown belts on the planet in 2015 by winning the Newaza Challenge and No-Gi World Championship, which led to his black belt promotion under Garry Tonon – this way becoming Tonon's first ever student to achieve the rank, a belt responsibility shared with another one of Gordon's coaches, John Danaher.
Gordon Ryan Jiu-Jitsu
Full Name: Gordon F. Ryan III
Nickname: During his time as EBI champion, Gordon Ryan was announced on stage as "The Iron Dragon", which was less of a jiu-jitsu/Brazilian culture style nickname with a goofy backstory, and more of a marketing fight-name as seen in boxing and MMA fighters. More recently, after his undoubted success against some of the best grapplers in the world, Ryan started calling himself "The King". The nickname had the double gratification of boosting Gordon's credibility among mainstream fans and upset his critics.
Lineage 1: Carlos Gracie > Helio Gracie > Carlos Gracie Jr > Renzo Gracie > Ricardo Almeida > Tom deBlass > Garry Tonon > Gordon Ryan
Lineage 2: Carlos Gracie > Helio Gracie > Carlos Gracie Jr > Renzo Gracie > John Danaher > Gordon Ryan
Main Achievements:
1st Place ADCC World Championship (2017 / 2019**)
1st Place IBJJF World No-Gi Championship (2018**)
1st Place IBJJF Pans No-Gi Championship (2018**)
1st Place Quintet 3 (2018*)
1st Place EBI 6 (2016*)
1st Place EBI 8 (2016)
1st Place EBI 11 (2017)
1st Place EBI 14 (2017*)
1st Place Kinektic 1 (2019)
1st Place Grappling Industries (2017*/2016*)
2nd Place ADCC World Championship (2017*)
Main Achievements (Colored Belts):
1st Place IBJJF World No-Gi Championship (2015 brown)
1st Place Newaza Challenge (2015)
3rd Place IBJJF Pans No-Gi Championship (2014 purple)
* Absolute
** Weight and absolute
Favorite Position/Technique: Triangle/Heel-hook
Weight Division: Super-Heavy (100,50 kg / 222.0 lbs)
Team/Association: Renzo Gracie Association/Brunswick BJJ
Gordon Ryan Biography
Gordon Ryan was born on the 8th of July, 1995 in Monroe, New Jersey – United States of America.
Ryan's introduction to jiu-jitsu was made by Miguel Benitez at the age of 15. His tuition would be taken over shortly after by the legendary Tom deBlass – one of New Jersey's most prominent grapplers.
Months after taking his first steps in the sport, as a four stripe white belt, Gordon met Garry Tonon. Tonon had just received his brown belt at the time but was already regarded as one of the rising talents in the sport, and deBlass' most accomplished student to date. The two grapplers became good friends and as Garry started coaching at the Brunswick BJJ academy, Gordon joined his classes, developing his technical abilities also under Tonon's guidance.
With Garry Tonon's growing influence in Gordon's grappling lifestyle, as a purple belt, Ryan started traveling to New York regularly to train with another one of Garry's mentors – John Danaher. The Renzo Gracie Academy head coach and his methodology were also a big part of Ryan's success, particularly in the submission-only jiu-jitsu circuit where Ryan's potential star status was first noticed.
After a stellar 6-month brown belt run, where Ryan won important tournaments such as the Newaza Challenge and the World Championship, Gordon was awarded his black belt by Garry Tonon (February 2016) in a ceremony supported by the presence of Tom deBlass, Ricardo Almeida. and Danaher – who shared the responsibility of the new belt rank.
Cover photo by Nathalia Santoro.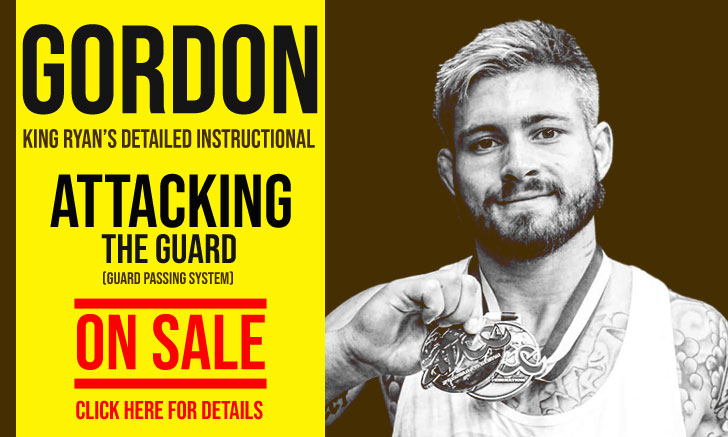 Gordon Ryan MATCH STATS
Overall Positions
CONQUERED MOVES AVERAGE 2.09
Gordon Ryan Grappling Record
89 WINS
BY POINTS


BY ADVANTAGES




BY SUBMISSION




BY DECISION




BY PENALTIES




BY EBI/OT



73 SUBMISSIONS WINS
#86e620
Inside heel hook
14
10
#5AD3D1
Reverse triangle
10
7
#bf1f6c
Outside heel hook
4
3
#fad223
Arm in guillotine
3
2
#03d61f
Triangle armbar
1
1
#03f61f
Mounted guillotine
1
1
5 LOSSES
BY POINTS


BY ADVANTAGES




BY SUBMISSION




BY DECISION




BY PENALTIES




BY DQ



1 SUBMISSION LOSSES
Gordon Ryan Fight History
ID
Opponent
W/L
Method
Competition
Weight
Stage
Year
8833

Tex Johnson

Tex Johnson
L
Points
Grappling Ind.
ABS
F
2016
11315

Felipe Pena

Felipe Pena
L
RNC
Studio 540 SPF
ABS
SPF
2016
12539

Leandro Lo

Leandro Lo
L
Pts: 4x0
ADCC WC Trials
ABS
SPF
2017
13905

Felipe Pena

Felipe Pena
L
Pts: 6x0
ADCC
ABS
F
2017
16291

Vinny Magalhaes

Vinny Magalhaes
L
Points
ACBJJ 13
O95KG
SPF
2018
9099

Ian Murray

W
Inside heel hook
Sapateiro Inv.
ABS
R1
2016
9103

Elliott Hill

W
Armlock
Sapateiro Inv.
ABS
4F
2016
9105

PJ Barch

PJ Barch
W
Kneebar
Sapateiro Inv.
ABS
SF
2016
9106

Enrico Cocco

Enrico Cocco
W
Inside heel hook
Sapateiro Inv.
ABS
F
2016
9427

Pat Sabatini

W
Inside heel hook
Goodfight Pro
77KG
SF
2016
9428

Kevin Berbrich

W
Choke
Goodfight Pro
77KG
F
2016
9429

Joshua Bacallao

W
Inside heel hook
PTL Sunday Open
ABS
SF
2016
9431

Nathan Orchard

W
Reverse triangle
PTL Sunday Open
ABS
SPF
2016
9462

James Partridge

W
Inside heel hook
Onnit Inv. 2
ABS
SPF
2016
9646

Jacen Flynn

W
RNC
EBI 6
ABS
R1
2016
9653

Marcello Salazar

W
Kneebar
EBI 6
ABS
4F
2016
9656

Yuri Simoes

Yuri Simoes
W
EBI/OT
EBI 6
ABS
SF
2016
9658

Rustam Chsiev

W
EBI/OT
EBI 6
ABS
F
2016
10330

Keenan Cornelius

Keenan Cornelius
W
Inside heel hook
Grappling Ind.
ABS
SPF
2016
10463

Matt Arroyo

W
Inside heel hook
EBI 8
84KG
R1
2016
10471

Mike Hillebrand

W
RNC
EBI 8
84KG
4F
2016
10475

Josh Hayden

W
EBI/OT
EBI 8
84KG
SF
2016
10477

Kyle Griffin

W
Inside heel hook
EBI 8
84KG
F
2016
10737

Todd Mueckemheim

W
Kimura
Sapateiro Inv.
ABS
SPF
2016
10738

Vagner Rocha

Vagner Rocha
D
---
Sapateiro 2
ABS
SPF
2016
11444

Bryan Brown

W
RNC
Sapateiro 6
ABS
R1
2017
11451

Antonio Carlos

Antonio Carlos
W
Reverse triangle
Sapateiro 6
ABS
4F
2017
11455

Jesseray Childrey

W
RNC
Sapateiro 6
ABS
SF
2017
11457

Matthew Tesla

W
Reverse triangle
Sapateiro 6
ABS
F
2017
11645

Joe Baize

W
Reverse triangle
SUG 3
ABS
SPF
2017
11975

JP Lebosnoyani

W
RNC
EBI 11
77KG
R1
2017
11983

C. MacKarski

W
Arm in guillotine
EBI 11
77KG
4F
2017
11988

Marcel Goncalves

Marcel Goncalves
W
Short choke
EBI 11
77KG
SF
2017
11989

Vagner Rocha

Vagner Rocha
W
RNC
EBI 11
77KG
F
2017
12344

Lucas Barbosa

Lucas Barbosa
W
Referee Decision
F2W 30
92KG
SPF
2017
12886

Eliot Kelly

Eliot Kelly
W
Triangle armbar
F2W 34
ABS
SPF
2017
13613

M. Jokmanovic

W
Kimura
Grappling Ind.
ABS
4F
2017
13614

Tex Johnson

Tex Johnson
W
Reverse triangle
Grappling Ind.
ABS
SF
2017
13615

D. Johnson

W
RNC
Grappling Ind.
ABS
F
2017
13849

Dillon Danis

Dillon Danis
W
Referee Decision
ADCC
88KG
E1
2017
13853

Romulo Barral

Romulo Barral
W
RNC
ADCC
88KG
4F
2017
13855

Alexandre Ribeiro

Alexandre Ribeiro
W
Referee Decision
ADCC
88KG
SF
2017
13857

Keenan Cornelius

Keenan Cornelius
W
Mounted guillotine
ADCC
88KG
F
2017
13897

Roberto Abreu

Roberto Abreu
W
Inside heel hook
ADCC
ABS
E1
2017
13901

Craig Jones

Craig Jones
W
Katagatame
ADCC
ABS
4F
2017
13902

Mahamed Aly

Mahamed Aly
W
Heel hook
ADCC
ABS
SF
2017
14464

Ralek Gracie

W
Reverse triangle
Metamoris
ABS
SPF
2017
14500

D. Borovic

W
Outside heel hook
EBI 14
ABS
R1
2017
14508

P. Donabedian

W
Armbar
EBI 14
ABS
4F
2017
14512

C. Hellenberg

W
EBI/OT
EBI 14
ABS
SF
2017
14514

Craig Jones

Craig Jones
W
EBI/OT
EBI 14
ABS
F
2017
14535

Yuri Simoes

Yuri Simoes
W
RNC
Kasai Pro
ABS
SPF
2017
17334

Max Gimenis

Max Gimenis
W
RNC
No Gi Pan Am.
ABS
SF
2018
17336

Kaynan Duarte

Kaynan Duarte
W
RNC
No Gi Pan Am.
ABS
F
2018
17387

Charles McGuire

W
Tarikoplata
No Gi Pan Am.
O97KG
SF
2018
17389

Max Gimenis

Max Gimenis
W
RNC
No Gi Pan Am.
O97KG
F
2018
17662

Josh Barnett

W
Triangle
Quintet 3
ABS
SF
2018
17663

Marcos Souza

Marcos Souza
W
RNC
Quintet 3
ABS
SF
2018
17664

Roberto Satoshi

Roberto Satoshi
D
---
Quintet 3
ABS
SF
2018
17676

Craig Jones

Craig Jones
W
Short choke
Quintet 3
ABS
F
2018
17677

Vitor Shaolin

Vitor Shaolin
W
Armbar
Quintet 3
ABS
F
2018
17678

Gregor Gracie

Gregor Gracie
D
---
Quintet 3
ABS
F
2018
18595

Evangelous Moumtzis

W
Armbar
NoGi Worlds
O97KG
R1
2018
18604

Yuri Simoes

Yuri Simoes
W
Pts: 11x0
NoGi Worlds
O97KG
SF
2018
18605

Roberto Abreu

Roberto Abreu
W
DQ
NoGi Worlds
O97KG
F
2018
18614

Kalil Fadlallah

W
Choke
NoGi Worlds
ABS
R1
2018
18620

Vegard Randeberg

W
RNC
NoGi Worlds
ABS
R2
2018
18625

Patrick Gaudio

Patrick Gaudio
W
Pts: 4x4, Adv
NoGi Worlds
ABS
4F
2018
18628

Jackson Sousa

Jackson Sousa
W
RNC
NoGi Worlds
ABS
SF
2018
18629

Yuri Simoes

Yuri Simoes
W
Pts: 0x0, Adv
NoGi Worlds
ABS
F
2018
18925

Joao Rocha

Joao Rocha
W
Pts: 1x0
Kasai Dallas
120KG
SPF
2019
21235

Gabriel Checco

W
Kimura
Kinektic 1
ABS
R3
2019
21236

Rafael Domingos

W
RNC
Kinektic 1
ABS
R4
2019
21237

G. Vasconcelos

W
Arm in guillotine
Kinektic 1
ABS
R5
2019
21689

Ben Hodgkinson

W
RNC
ADCC
99KG
R1
2019
21697

Tim Spriggs

Tim Spriggs
W
RNC
ADCC
99KG
4F
2019
21748

Lucas Barbosa

Lucas Barbosa
W
Pts: 3x0
ADCC
99KG
SF
2019
21750

Vinicius Trator

Vinicius Trator
W
Choke
ADCC
99KG
F
2019
21766

Pedro Marinho

Pedro Marinho
W
Outside heel hook
ADCC
ABS
R1
2019
21773

Garry Tonon

Garry Tonon
W
Choke
ADCC
ABS
4F
2019
21776

Lachlan Giles

Lachlan Giles
W
RNC
ADCC
ABS
SF
2019
21778

Marcus Almeida

Marcus Almeida
W
Pts: 0x0, Pen
ADCC
ABS
F
2019
21823

Rousimar Palhares

Rousimar Palhares
W
Referee Decision
World Festival
ABS
SPF
2019
22632

Bo Nickal

W
Triangle
Third Coast III
94KG
SPF
2019
22641

Aleksei Oleinik

W
Kneebar
Quintet Ultra
ABS
SPF
2019
22750

Gabriel Gonzaga

Gabriel Gonzaga
W
Outside heel hook
SUG 10
ABS
SPF
2019
23259

Tex Johnson

Tex Johnson
W
Katagatame
Sub Stars
N/A
SPF
2020
23329

Pat Downey

W
Verbal tap
BJJ Fanatics GP
ABS
SPF
2020
23541

David Newton

W
RNC
Grappling Ind.
ABS
SPF
2020
23542

Abraham Hall

W
Triangle
Grappling Ind.
ABS
SPF
2020
23543

Benjamin Dixon

W
RNC
Grappling Ind.
ABS
SPF
2020
23544

Chad Allen

W
RNC
Grappling Ind.
ABS
SPF
2020
23545

Austin Tracy

W
RNC
Grappling Ind.
ABS
SPF
2020
23550

Kyle Boehm

Kyle Boehm
W
Armlock
WNO
ABS
SPF
2020
23866

Matheus Diniz

Matheus Diniz
W
Inside heel hook
WNO 4
ABS
SPF
2020
24922

Roberto Jimenez

Roberto Jimenez
W
Armbar
WNO 6
ABS
SPF
2021
25140

Vagner Rocha

Vagner Rocha
W
Reverse triangle
WNO 7
93KG
SPF
2021