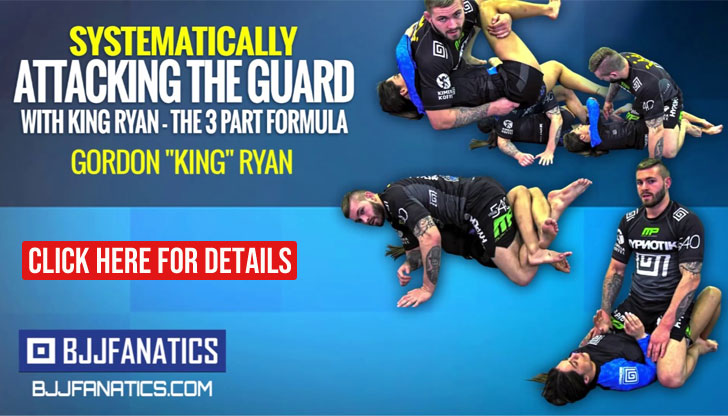 Ricco Rodriguez is a Brazilian jiu jitsu black belt under Jean Jacques Machado, and an important figure in the history of the sport, being the first U.S. national to earn an ADCC gold medal (1998), and the 2nd American to earn a world title in Jiu Jitsu (1997). Rodriguez was also an important figure in the world of mixed martial arts (MMA) where he became the Ultimate Fighting Championship (UFC) Heavyweight Champion, though his career is also a controversial one, being the first MMA fighter ever to be suspended by the athletic commission for the use of cocaine.
Ricco Rodriguez Jiu Jitsu
Full Name: Ricco Rodriguez
Nickname: "Suave", meaning smooth in both Portuguese and Spanish.
Lineage: Mitsuyo Maeda > Carlos Gracie Sr. > Carlos Gracie Jr. > Jean Jacques Machado > Ricco Rodriguez
Main Achievements:
ADCC Champion (1998)
World Champion (1997 blue absolute)
Pan American Champion (1998 purple absolute)
ADCC Runner-up (2000)
World Championship 3rd Place (1998 purple weight + absolute, 1999 purple)
ADCC 3rd Place (1999 absolute)
Favorite Position/Technique: Kneebar from half-guard (top)
Weight Division: Pesadíssimo (+100kg/221lbs)
Team/Association: n/a
Ricco Rodriguez Biography
Ricco Rodriguez was born on August 19, 1977 in San Jose, California – USA. His family soon relocated to Jersey City Heights where he spent his elementary years, after which he moved to the projects in Paterson, New Jersey.
,Being half Puerto Rican/half Mexican in a primarily Italian neighbourhood, Rodriguez was often abused and forced into physical altercations. He was also sexually molested when he was 9-10 years old, as mentioned on a reality TV show named "Celebrity Rehab with Dr. Drew" in 2008.
The hardship of his life in Paterson led him to enrol in wrestling, competing first for Toms River Intermediate East, and later at the Toms River North High School wrestling under Coach Curtis' guidance, with whom he stayed up to his freshman year. When the family relocated to Staten Island – New York, Rodriguez carried on wrestling, this time for Tottenville High School.
After graduating, Ricco's family could not afford for him to attend college. Believing he had the talent to succeed in the fighting world, Rodriguez decided to move to the West Coast. Shortly after arriving in California, Rodriguez secured a job at Gold's gym, in Redondo Beach. It was there that he met and befriended the legendary Erik Paulson, who led Ricco to jiu jitsu with the Machado brothers.
In 1997 Ricco Rodriguez started raising some heads in the jiu jitsu community, by becoming the second American to to win a CBJJ (now IBJJF) World Championship in the blue belt division (open weight category). Ricco returned to the competition the following year, losing the semi final of his weight class and the open weight, this time as a purple belt. But 1998 had bigger plans for the ultra-heavyweight as he would win the ADCC, becoming the first +99kg champion of the Abu Dhabi based organization.
His ADCC success brought the attention of mixed martial arts (MMA) promoters, and in 1999 Rodriguez began his MMA career with two wins in the same night, at the Extreme Cage tournament. The attention by the jiu jitsu and MMA media led Ricco to become one of the main sparring partners for Mark Kerr, who was already a big star in no-holds-barred. Kerr would later assist Rodriguez in signing his first MMA contract with PRIDE Fighting Championship.
In 2000, Rodriguez moved to Japan where he trained with Takada Dojo for Takada-San. With his new training partner, Kazushi Sakuraba, Ricco beat big names like Gary Goodridge at PRIDE FC.
After 3 straight wins in Japan, Rodriguez moved back to the U.S., continuing his training at Team Punishment, with Tito Ortiz, "Razor" Rob McCullough, "Rampage" Jackson and a few others. His affiliation with Team Punishment led him to the Ultimate Fighting Championship (UFC). Rodriguez's first UFC match was at UFC 32 against former UFC Heavyweight Champion, and formerly #1 ranked pound for pound fighter in the world Andrei Arlovski. Rodriguez went on to win his début by TKO.
In 2002 Rodriguez earned the UFC Heavyweight belt. With his fame at an all time high, Ricco made partying his lifestyle. Unfortunately this self-indulging way of life that led him to drug addiction, which ultimately cost him his title the following year as well as his UFC contract.
Rodriguez kept very active in the MMA world throughout the following years, even while battling with his condition and in 2006, Ricco received his black belt in jiu-jitsu from the hands of Jean Jacques Machado. That year also marked Rodriguez' professional boxing debut (October, 2006) when he beat Brandon Baker by KO. Later that year, following a win in MMA over Imani Lee on November 17, 2006, Rodriguez was put under a 6 month suspension by the California State Athletic Commission for testing positive for both marijuana and cocaine.
The descent from stardom continued and drug related episodes started piling up. One of the oddest ones was reported by the website "Cage Potato". According to the MMA site:
"Ricco was driving with his girlfriend, high, when he slammed into an 18-wheeler then smashed into a wall. With his license already suspended for a DUI, he dragged the body of his girlfriend – who he thought was dead – and put her in the driver's seat. The cops came and fell for the switcheroo; the girlfriend, however, turned out to be alive." Rodriguez's drug problems also resulted in a six-month CSAC suspension in 2006, an arrest for a domestic squabble with the aforementioned girlfriend, and their son being taken away by child protective services."
This incident combined with a few others led Rodriguez to appear on season one of the VH1 reality television show Celebrity Rehab with Dr. Drew. A show that documented his struggle with substance abuse, one he agreed to in an attempt to have his son returned to his custody.
Although Rodriguez had a few more run-ins with the law, he continued active in the MMA circuit.
About Ricco Rodriguez Grappling Record
The grappling records displayed on BJJ Heroes relate to the individual's careers in the adult black belt division. In Ricco's case, and although he was not yet a black belt when he entered the ADCC, he competed (successfully) at the highest level of the sport. For this reason we decided to include the results in his sheet.
Ricco Rodriguez Grappling Record
15 WINS
BY POINTS


BY ADVANTAGES




BY SUBMISSION




BY DECISION




BY PENALTIES




BY DQ



7 SUBMISSIONS WINS
#d1212a
Flying armbar
14
1
12 LOSSES
BY POINTS


BY ADVANTAGES




BY SUBMISSION




BY DECISION




BY PENALTIES




BY EBI/OT



5 SUBMISSIONS LOSSES
#5AD3D1
Inside heel hook
20
1
Ricco Rodriguez Fight History
ID
Opponent
W/L
Method
Competition
Weight
Stage
Year
352

Sean Alvarez

L
Points
ADCC
O99KG
4F
1999
368

Hayato Sakurai

L
Heel hook
ADCC
ABS
SF
1999
458

Mark Kerr

L
Points
ADCC
O99KG
F
2000
554

Mark Robinson

L
Pen
ADCC
O99KG
SF
2001
556

Marcio Cruz

Marcio Cruz
L
Armbar
ADCC
O99KG
3RD
2001
566

Vitor Belfort

L
Pts: 2x0
ADCC
ABS
4F
2001
1214

Gabriel Napao

L
Pts: 2x0
ADCC
O99KG
4F
2005
1222

Marcelo Garcia

Marcelo Garcia
L
Heel Hook
ADCC
ABS
R1
2005
2297

Alexandre Ribeiro

Alexandre Ribeiro
L
Armbar
ADCC
ABS
R1
2009
10598

Fabiano Scherner

Fabiano Scherner
L
EBI/OT
SUG 3
ABS
SPF
2016
12373

Tom deBlass

Tom deBlass
L
Referee Decision
F2W 30
O100KG
SPF
2017
21364

Lachlan Giles

Lachlan Giles
L
Inside heel hook
Kinektic 1
ABS
R5
2019
178

Yousef Elzien

W
Headlock
ADCC
O99KG
R1
1998
182

Ricardo Moraes

W
Pts: 5x0
ADCC
O99KG
4F
1998
183

Firas Nakdali

W
Armbar
ADCC
O99KG
SF
1998
185

Sean Alvarez

W
Pts: 3x0
ADCC
O99KG
F
1998
345

Rocky Batastini

W
Armbar
ADCC
O99KG
R1
1999
362

Kim Mason

W
Points
ADCC
ABS
R1
1999
367

Murilo Bustamante

Murilo Bustamante
W
Pts: 3x0
ADCC
ABS
4F
1999
371

Garth Taylor

Garth Taylor
W
Points
ADCC
ABS
3RD
1999
451

Carlos Barreto

W
Referee Decision
ADCC
O99KG
R1
2000
453

Rodrigo Minotauro

W
Kneebar
ADCC
O99KG
4F
2000
457

Ricardo Moraes

W
Referee Decision
ADCC
O99KG
SF
2000
547

Y. Yatso

W
Flying armbar
ADCC
O99KG
R1
2001
551

Roger Neff

W
Kneebar
ADCC
O99KG
4F
2001
559

A. Cacareco

W
Pts: 2x0
ADCC
ABS
R1
2001
1209

Halm Gocalli

W
Headlock
ADCC
O99KG
R1
2005