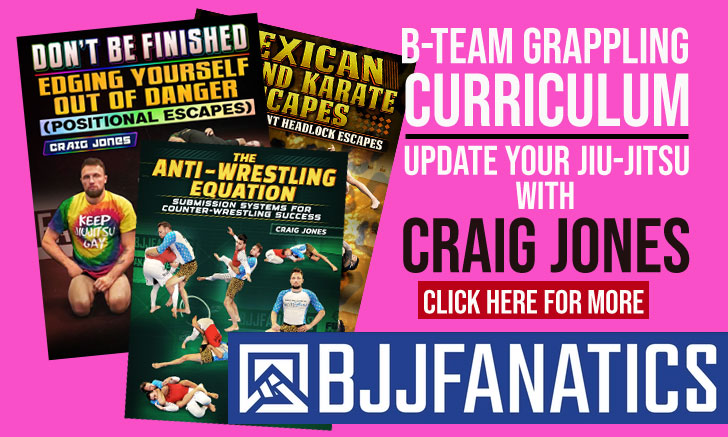 Rômulo Azevedo, commonly known as Romulo "Caju" is a Brazilian jiu jitsu black belt under Welton Ribeiro. One of the top medium-heavyweight grappling competitors of his generation – a reputation earned through his many medals in some of the sport's top tournaments (Brazilian Nationals [gi and no-gi], Pan American and South American Championships, etc), Rômulo is also known as the cousin of jiu jitsu legend Victor "Shaolin" Ribeiro.
Rômulo Azevedo Jiu Jitsu
Full Name: Rômulo de Souza Azevedo
Nickname: Rômulo is known as Caju, which stands for "cashew nut" in Portuguese. The name started as a joke between Azevedo's friends when he was around 14 to 15 years old during carnival season. Rômulo tried to dress up and dye his hair, but the look when completely wrong and he ended up shaving his hair last minute without the aid of a mirror. His head was lumpy and odd shaped so his friends made a reference to a cashew nut. The name picked up from there.
Lineage: Mitsuyo Maeda > Carlos Gracie > Helio Gracie > Amélio Arruda > Welton Ribeiro > Rômulo Azevedo
Main Achievements:
IBJJF Pan No-Gi Champion (2018)
IBJJF Boston International Open Champion (2016/2015)
IBJJF Belo Horizonte International Open No Gi Champion (2016)
IBJJF New York Open International Champion (2016)
IBJJF Chicago International Open Champion (2015)
FJJ-Rio Rio de Janeiro State Champion (2015/2013)
IBJJF New York International Open No-Gi Champion (2015)
IBJJF Long Beach International Open Champion (2014)
CBJJO South American Champion (2013)
IBJJF World Championship 2nd Place (2005 blue)
CBJJ Brazilian National Championship 2nd Place (2012)
IBJJF Pan American No-Gi Championship 2nd Place (2016)
UAEJJF NYC International Pro 2nd Place (2016)
IBJJF Rio Winter Open 2nd Place (2015)
IBJJF São Paulo Open 2nd Place (2013)
CBJJ Brazilian No-Gi Championship 2nd Place (2015*)
IBJJF Floripa International No-Gi Open 2nd Place (2015*)
UAEJJF World Pro Trials 3rd Place (2011)
CBJJ Brazilian Championship 3rd Place (2010)
IBJJF South American Championship 3rd Place (2016)
IBJJF Pan American No-Gi Championship 3rd Place (2014)
Main Achievements (Colored Belts):
CBJJ Brazilian No-Gi Champion (2009 brown)
IBJJF World Championship 2nd Place (2005 blue)
* Absolute
** Weight and absolute
Favorite Position/Technique: n/a
Weight Division: Peso Meio-Pesado (88,30 kg / 195.0 lbs)
Team/Association: Welton Ribeiro
Rômulo "Caju" Azevedo Biography
Rômulo Azevedo was born on June 11, 1987 in Niterói, a municipality of the state of Rio de Janeiro – Brazil.
Although Rômulo was drawn to fighting from early in his life, he didn't show any particular interest in training combat sports as a child – exception made to a brief spell in judo at the age of 8. His curiosity for this sporting avenue only grew during his mid teens (14) by influence of his cousin Vitor "Shaolin" Ribeiro, who's huge success in jiu jitsu opened Caju's eyes to grappling.
It was his brother who introduced Caju to jiu jitsu by bringing him to Welton Ribeiro's academy in Niterói. Ribeiro would stand by Rômulo's side throughout his career – from white to black belt, a promotion that took place in 2009 when Azevedo was 22 years old.
While climbing the ranks of jiu jitsu's sporting circuit, Rômulo started gaining an interest in mixed martial arts (MMA), making his pro debut in 2011. Although he had a promising start in MMA, Azevedo decided to put his 4 ounce gloves to rest by the end of 2012, choosing to focus on improving his jiu jitsu.
Understanding the need to be close to the most competitive jiu jitsu circuit in order to progress in the sport, in 2013 Caju started spending more time in the United States of America at his cousin "Shaolin" academy in New York.
Cover photo by FlashSport.
Romulo Azevedo Grappling Record
23 WINS
BY POINTS


BY ADVANTAGES




BY SUBMISSION




BY DECISION




BY PENALTIES




BY DQ



7 SUBMISSIONS WINS
#fad11b
North south choke
14
1
18 LOSSES
BY POINTS


BY ADVANTAGES




BY SUBMISSION




BY DECISION




BY PENALTIES




BY DQ



5 SUBMISSIONS LOSSES
#214eb8
Choke from back
60
3
Romulo Azevedo Fight History
ID
Opponent
W/L
Method
Competition
Weight
Stage
Year
7022

Murilo Santana

Murilo Santana
L
Points
NY Spring Open
88KG
SF
2015
7653

Jaime Canuto

Jaime Canuto
L
Adv
Brazil Nat. Pro RJ
82KG
4F
2015
8238

Felipe Cesar

Felipe Cesar
L
Pts: 4x2
Floripa NoGi Open
82KG
F
2015
8322

Ronys Torres

L
Pts: 6x0
Brasileiro NoGi
85KG
SF
2015
8336

Dimitrius Souza

Dimitrius Souza
L
Pts: 6x0
Brasileiro NoGi
ABS
F
2015
9112

Gregor Gracie

Gregor Gracie
L
N/A
UAEJJF NYC Pro
94KG
F
2016
9117

Mahamed Aly

Mahamed Aly
L
Wristlock
UAEJJF NYC Pro
HWABS
SF
2016
9617

Gustavo Campos

Gustavo Campos
L
Pts: 4x2
World Pro
85KG
R1
2016
10141

Erberth Santos

Erberth Santos
L
RNC
BH No-Gi Open
ABS
F
2016
10676

Todd Mueckenheim

L
Pts: 2x0
NoGi Pan Ams
91KG
F
2016
11246

Guilherme Augusto

Guilherme Augusto
L
Points
South American
94KG
SF
2016
12398

Matheus Diniz

Matheus Diniz
L
Choke from back
NY Spring Open
94KG
F
2017
12611

Felipe Brobrick

L
Pts: 0x0, Adv
WP BR Qualifier
94KG
R1
2017
13162

Diogo Sampaio

Diogo Sampaio
L
Pts: 0x0, Adv
World Champ.
88KG
R1
2017
15817

Ruan Oliveira

Ruan Oliveira
L
Choke from back
Rio Open
88KG
SF
2018
16260

Matheus Spirandeli

Matheus Spirandeli
L
Choke from back
Brasileiro
88KG
8F
2018
17715

Thiago Sa

Thiago Sa
L
Points
Brasileiro NoGi
91KG
F
2018
19219

Ruan Oliveira

Ruan Oliveira
L
Adv
C. Podio Trials
85KG
SF
2019
7008

Daniel Moraes

Daniel Moraes
W
Points
Aberto de verão
88KG
F
2015
7246

Andre Bastos

W
Pts: 7x2
Brasileiro
88KG
R1
2015
7823

Steven Patterson

W
Triangle
Chicago S. Open
88KG
F
2015
8320

Ruan Oliveira

Ruan Oliveira
W
RNC
Brasileiro NoGi
85KG
4F
2015
8330

Cassio Francis

Cassio Francis
W
Pts: 2x0
Brasileiro NoGi
ABS
R1
2015
8331

Tiago Barros

Tiago Barros
W
Pts: 2x0
Brasileiro NoGi
ABS
4F
2015
8334

Patrick Gaudio

Patrick Gaudio
W
RNC
Brasileiro NoGi
ABS
SF
2015
9110

Tex Johnson

Tex Johnson
W
N/A
UAEJJF NYC Pro
94KG
SF
2016
9119

Abraham Marte

Abraham Marte
W
Pts: 5x2
UAEJJF NYC Pro
HWABS
3RD
2016
9475

Diego Bispo

Diego Bispo
W
Choke
NY Spring Open
94KG
F
2016
10142

Gabriel Alves

W
Katagatame
BH No-Gi Open
85KG
F
2016
10406

Nathan Mendelsohn

Nathan Mendelsohn
W
Pts: 2x0
Boston SIO
88KG
SF
2016
10407

Vinicius Agudo

W
Pts: 3x0
Boston SIO
88KG
F
2016
10672

Roberto Torralbas

W
Pts: 2x0
NoGi Pan Ams
91KG
4F
2016
10675

Robson G. Jr

W
Armbar
NoGi Pan Ams
91KG
SF
2016
12280

Marcus Vinícius

W
Pts: 2x0
Rio Fall Open
94KG
SF
2017
12281

Vinicius Gimenes

W
North south choke
Rio Fall Open
94KG
F
2017
12396

Todd Mueckenheim

W
Points
NY Spring Open
94KG
SF
2017
13561

Christofer Feijo

W
N/A
Vitoria Open
88KG
SF
2017
13562

Marcos Aurélio

W
N/A
Vitoria Open
88KG
F
2017
15815

Christopher Biude

W
N/A
Rio Open
88KG
4F
2018
17451

Thiago Sa

Thiago Sa
W
Pts: 0x0, Adv
No Gi Pan Am.
91KG
F
2018
21801

Lucas Alves

Lucas Alves
W
Pts: 2x0
Brasileiro NoGi
91KG
F
2019
Rômulo Azevedo vs Steven Patterson

Rômulo Azevedo vs Daniel Moraes