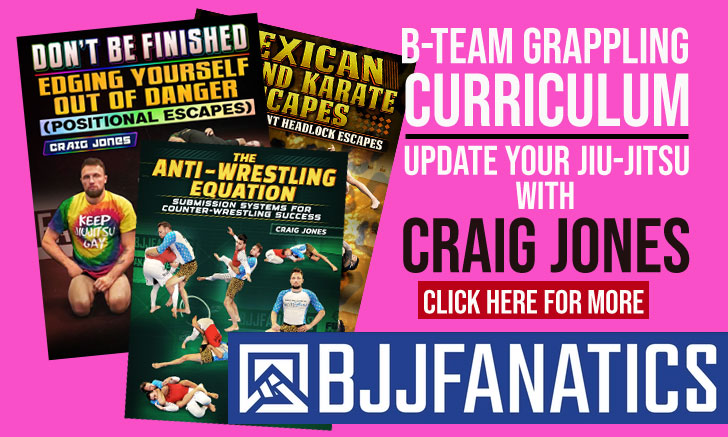 Thiago Gaia is a mixed martial arts (MMA) fighter and Brazilian jiu-jitsu black belt under Marco Barbosa, having spent most of his lower belt career under the tutelage of Leonardo Vieira. Regarded as one of the hottest prospects in the sport since his purple belt campaign (2009/10), Gaia confirmed his talent as a black belt medalling in some of Brazil's top tournaments, particularly in Sao Paulo's No-Gi grappling scene.
Thiago Gaia Jiu Jitsu
Full Name: Thiago Cardial Gaia
Nickname: n/a
Lineage: Mitsuyo Maeda > Carlos Gracie > Helio Gracie > Rickson Gracie > Marcelo Behring > Waldomiro Perez >Roberto Godoi > Marco Barbosa > Thiago Gaia
Main Achievements:
1st Place CBJJ Brazilian Nationals No-Gi (2015)
1st Place FPJJ Circuito Paulista No-Gi (2015 / 2013)
2nd Place ADCC Brazilian Trials (2015)
3rd Place IBJJF World No-Gi Championship (2015)
Main Achievements (Colored Belts):
1st Place IBJJF World Champion (2007 junior blue)
1st Place CBJJ Brazilian National Champion (2010 purple)
2nd Place IBJJF World Championship (2009 purple)
2nd Place IBJJF Pan American Championship (2011 brown)
Favorite Position/Technique: RNC
Weight Division: Peso Leve (76kg/167lbs)
Team/Association: Checkmat JJ
Thiago Gaia Biography
Thiago Gaia was born on the 25th of March,1990. Although his family is historically from Ilhabela, an island located just off the coast of São Paulo, Thiago was born in the state capital. This was so his mother could receive adequate care during the birth of Thiago due to his being a risk pregnancy. The Gaia family returned to Ilhabela shortly after the birth of Thiago.
At the age of 8, Thiago's mother enrolled him in a judo club in an attempt to ease off her son's hyperactivity. The success of this experiment meant that from there on Gaia had a busy sporting life, playing football (soccer), swimming, sailing and at the age of 10 jiu-jitsu, with coach Rezende.
In the very beginning, Thiago's motivation to start training jiu-jitsu was Price FC, particularly the performances of Antonio Rodrigo Nogueira in the ring of the famous Japanese MMA promotion.
At first, BJJ was just a game, something followed half-heartedly, but as Thiago turned 15 he started focussing more in his training and developing a taste for competition.
At the age of 16, Thiago was promoted to blue belt by coach Nelson who ran an affiliate gym of the TT academy in São Sebastião. Gaia's desire to improve and be the best grappler he could be led him to move to the capital – São Paulo, in order to train at the TT headquarters where names such as Cobrinha, Eduardo Telles, André Galvão, Tererê, and Marcelo Mafra trained.
TT ended up falling due to the demise of its leader. Thiago then found Leonardo Vieira (Brasa and later Checkmat) who was Gaia's coach throughout his formation years, grading him with his purple and brown belts.
With most of Checkmat's competitive team moving across to the US at the turn of 2010, Gaia was left with no choice but to seek a more viable option for his career. Seeking also to expand to MMA, Thiago moved to B9 of Marco Barbosa, while preparing for MMA at Chute Boxe Diego Lima.
It would be Barbosa who awarded Thiago his black belt on the 7th of December, 2012.
Thiago Gaia Grappling Record
16 WINS
BY POINTS


BY ADVANTAGES




BY SUBMISSION




BY DECISION




BY PENALTIES




BY DQ



6 SUBMISSIONS WINS
7 LOSSES
BY POINTS


BY ADVANTAGES




BY SUBMISSION




BY DECISION




BY PENALTIES




BY DQ



3 SUBMISSIONS LOSSES
Thiago Gaia Fight History
ID
Opponent
W/L
Method
Competition
Weight
Stage
Year
6980

Claudio Mattos

Claudio Mattos
L
Calf slicer
ADCC RJ
77KG
R1
2015
7064

Gabriel Rollo

Gabriel Rollo
L
Armbar
ADCC SP
77KG
4F
2015
8421

Mansher Khera

Mansher Khera
L
RNC
NoGi Worlds
73KG
SF
2015
17690

Ary Farias

Ary Farias
L
Pts: 0x0, Pen
Brasileiro NoGi
73KG
4F
2018
19987

Alef Brito

Alef Brito
L
Points
San Jose Open
76KG
4F
2019
20017

Paulo Gabriel

Paulo Gabriel
L
Adv
San Jose NGO
73KG
F
2019
26111

Gianni Grippo

Gianni Grippo
L
Injury
NoGi Pan Am.
73KG
8F
2021
5937

Mario Andre

W
Pts: 1x0
Rematch G.
77KG
SPF
2014
6389

Eduardo Inojosa

W
RNC
Submission Open
ABS
F
2015
7060

Unknown

W
Short choke
ADCC SP
77KG
R1
2015
7062

Thiago Abreu

Thiago Abreu
W
Referee Decision
ADCC SP
77KG
4F
2015
7082

J. Gracie

W
RNC
Mandala
77KG
SPF
2015
8306

Eduardo Marinho

W
Points
Brasileiro NoGi
73KG
4F
2015
8308

Fabio Caloi

Fabio Caloi
W
Points
Brasileiro NoGi
73KG
4F
2015
8311

Rafael Mansur

Rafael Mansur
W
Pts: 4x0
Brasileiro NoGi
73KG
F
2015
8414

Andreas Perales

W
Triangle
NoGi Worlds
73KG
8F
2015
8419

Francisco Iturralde

Francisco Iturralde
W
Referee Decision
NoGi Worlds
73KG
4F
2015
11362

Jorge Patino

Jorge Patino
W
Pts: 3x0
Gold Team Open
ABS
F
2016
13755

Juliano Rocha

W
N/A
SP NoGi Open
73KG
SF
2017
17682

Elvis Gomes

W
RNC
Brasileiro NoGi
73KG
8F
2018
20016

Joe Histaka

W
N/A
San Jose NGO
73KG
SF
2019
20429

Shane Torres

W
Adv
American Cup
70KG
F
2019
20903

Andrew Fonseca

W
Short choke
F2W 116
77KG
SPF
2019
Thiago Gaia vs Rafael Mansur

Thiago Gaia vs Jonatas Gracie