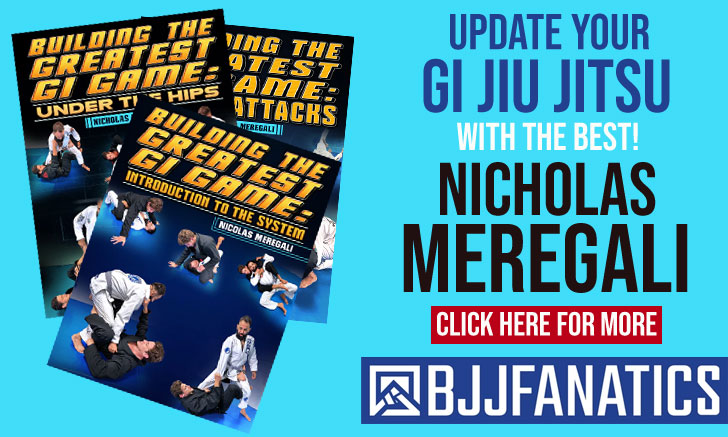 Thiago Borges, better known as "Monstro" is a Brazilian jiu jitsu black belt under the illustrious Carlos "Portugues" Vieira, being one of the first black belts to establish himself in London, England. Always willing to test his skills, Thiago "Monstro" competed in many different systems such as jiu jitsu, luta livre esportiva, judo and mixed martial arts (MMA).
Thiago Monstro Jiu Jitsu
Full name: Thiago Jorge Borges
Nickname: Monstro is how Thiago is most commonly called. The name was given because of his size (Monstro walks around at 275lbs). Monstro means Monster in portuguese.
Lineage: Mitsuyo Maeda > Carlos Gracie > Helio Gracie > Rickson Gracie > Marcelo Behring > Waldomiro Perez > Maximiliano Trombini > Carlos Vieira > Thiago Borges
Main Achievements in Grappling:
BJJ Pro Cup Champion (2011)
4x Rio de Janeiro State Champion (1999, 2000, 2001, 2002)
3x Sao Paulo State Champion (2003, 2004, 2005)
2x Brasilia State Champion
London Winter Open Champion (2015)
3x Sao Paulo International Champion (2004, 2005, 2006)
Open Weight European Champion (2009 – CBJJE)
Silver Medallist at the ADCC Brazilian Trials (2005)
Submission Wrestling de Campos Champion
2x Luta Livre State Champion
Favourite Technique/Position: Guard Pass
Weight Division: Pesadissimo (over 100kg)
Team/Association: GFTeam, formerly with – Brasa, Checkmat, Cia Paulista
Thiago Monstro Borges Biography
Thiago Borges was born on the 29th of April 1982 in Vitória, State of Espirito Santo, though he moved to Rio de Janeiro still young. He decided to start training training Jiu Jitsu after watching the very first UFC's when Royce Gracie was winning against everyone. There was a gym close to his house where some of his friends trained, and as he felt he was no good at football BJJ seemed like the right sport to practice. He joined that same gym which his friends attended, there he met his first instructor and a man who would become a very close friend, Huanderson Pavao from Gama Filho's team (now GTF – Grappling Fight Team).
He stayed with Pavao for many years going through the ranks from white to brown belt, competing every chance he could in jiu jitsu, Judo and luta livre, a style of submission wrestling common in Brazil as well as submission wrestling. This partnership with Mr Huanderson would come to an end as Thiago moved to Brazilia in 2002. There he began training with Carlos Eduardo Vieira (also known as "Portugues") an instructor from the Cia Paulista. "Monstro" and "Portugues" already knew each other from before, Thiago often travelled to the Brazilian capital to visit his girlfriend (today his wife) and he would always bring his Gi with him to train at Vieira's gym.
After 2 years in Brazilia Monstro received his black belt (December 2004). Shortly after, in 2005, Thiago moved to Europe to seek out different challenges, there he met Rodrigo Cabral and Eduardo Azevedo, two black belts from the Brasa Jiu Jitsu team who were forming their own team in London, England. The two invited him to be part of their team to which Thiago accepted. A few years later the Brasa team would come to a split in it's management, as Eduardo, Rodrigo and Monstro were loyal to Leonardo Vieira who had also split from Brasa to form Checkmat, the trio decided to form alliance with Vieira.
In 2011 Thiago decided to split from Checkmat and rejoined Cia Paulista.
Banner picture by Joshua Halvatzis.
Thiago Monstro Borges UK Grappling Nationals Highlight
Thiago Monstro vs Lucio Lagarto