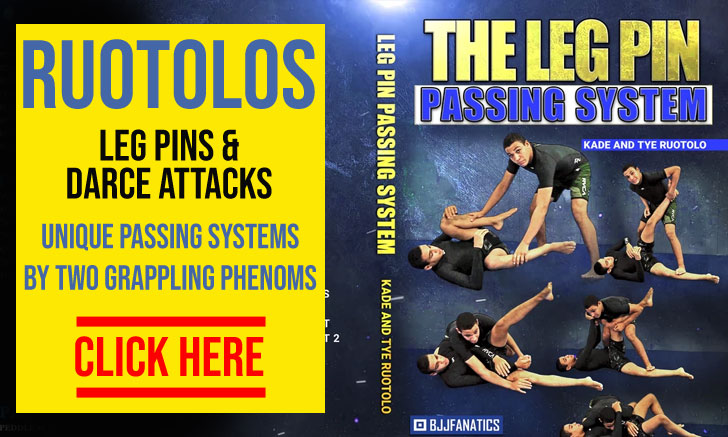 Yatan Bueno is a jiu-jitsu black belt under Fernando "Boi" Marques and Ubiratam dos Santos (Jacaré), who represents the Dream Art Project in the sport's international circuit. Bueno's reputation as one of the top ultra-heavyweight (+100,50 kg / +222.0 lbs) athletes of his generation was earned during his colored belt career, particularly after his wins over Victor Hugo as a purple belt at the CBJJE World Championships and AJP Goiania Pro (Hugo was one of the stars of the division at the time), a stock that continued to rise as Yatan advanced through the rank system.
Yatan Bueno Jiu-Jitsu
Full Name: Yatan Martins Bueno
Nickname: N/A
Lineage: Carlos Gracie > Carlson Gracie >André Pederneiras > Fernando Marques > Paulo Henrique Lima Cintra > Ubiratam dos Santos > Yatan Bueno
Main Achievements:
1st Place AJP Abu Dhabi World Pro (2022)
1st Place AJP Grand Slam, LDN (2023)
1st Place AJP Grand Slam, RJN (2022)
2nd Place IBJJF Pan Championship (2023)
2nd Place IBJJF European Open (2022*)
3rd Place IBJJF European Open (2022)
Main Achievements (Colored Belts):
1st Place CBJJ Brazilian Nationals Juvenile (2014)
1st Place IBJJF São Paulo BJJ Pro (2016 purple)
1st Place CBJJE World Championship (2016 purple)
3rd Place IBJJF São Paulo Open (2016 purple)
3rd Place CBJJ Brazilian Nationals (2016 purple)
* Absolute
** Weight and Absolute
Favorite Position/Technique: Scissor-Choke (Quebra Nozes)
Weight Division: Pesadíssimo (over 100,50 kg / 222.0 lbs)
Team/Association: Dream Art / Academia Fernando Boi
Yatan Bueno Biography
Yatan Bueno was born on August 5, 1997, in Goiânia, the capital of Goiás state in central Brazil, where he grew up.
Martial arts were part of Bueno's lifestyle from a very early age. His father, Mr. Ubiratam dos Santos, was a capoeira Master, a combat style that played a big role in Yatan's upbringing which he officially picked up at the age of 4.
When Yatan was 8 years old, his father started training jiu-jitsu. Being very closely connected with his son, Ubiratam took what he learned home and to his own gym, teaching Yatan from then on. Bueno earned his belts from his father, up to his blue belt, but – in trying to pursue jiu-jitsu as a career – opted to move to a more competitive environment soon after, then joining the Fernando "Boi" Academy, the most successful BJJ gym in Goiânia and a gym linked to his father's own instructor.
During his time with Fernando Boi, Yatan also practiced judo, a sport he maintained up to purple belt. In attempting to become a pro-jiu-jitsu athlete, Bueno started making regular trips to São Paulo – the most competitive circuit in Brazil – where he represented a few different teams, including Almeida JJ and NS Brotherhood. Although training in São Paulo for extended periods of time, Bueno maintained regular trips to his father's gym (who had since become a black belt) and Fernando Boi's, receiving his promotion updates from the latter.
After a lengthy career in both the São Paulo and Goiânia circuits as a colored belt, Yatan Bueno was promoted to black belt by his father and Fernando Boi, in a ceremony that took place in late November 2017.
Being a big fan of the Dream Art Project, in 2021 – shortly after his victory at the CBJJE World Championship – Yatan messaged the workgroup, trying to find a placement in the squad. Bueno went through a triage process and was accepted, then joining one of the most successful grappling programs in the world.
Yatan Bueno Grappling Record
55 WINS
BY POINTS


BY ADVANTAGES




BY SUBMISSION




BY DECISION




BY PENALTIES




BY DQ



24 SUBMISSIONS WINS
#214eb8
Scissor choke
29
7
#86e620
Choke from back
21
5
#fad11b
Bow and arrow
4
1
#03861f
Cachecol choke
4
1
14 LOSSES
BY POINTS


BY ADVANTAGES




BY SUBMISSION




BY DECISION




BY PENALTIES




BY DQ



6 SUBMISSIONS LOSSES
#86e620
Crucifix choke
17
1
#5AD3D1
Choke from back
17
1
Yatan Bueno Fight History
ID
Opponent
W/L
Method
Competition
Weight
Stage
Year
18763

Raul Fernandes

L
Pts: 5x0
Trofeu Brasil
O100KG
SF
2018
22948

Hugo Silva

L
Submission
Goiania Pro
120KG
SF
2019
23391

Jurandir Conceicao

Jurandir Conceicao
L
Omoplata
Curitiba SO
O100KG
F
2020
24849

Wallace Costa

Wallace Costa
L
Verbal tap
Mundial CBJJE
ABS
F
2020
25347

Erberth Santos

Erberth Santos
L
Pts: 2x0
Rio Open
O100KG
SF
2021
28587

Pedro Alex

Pedro Alex
L
Pts: 4x3
Grand Slam RJ
120KG
R1
2021
30620

Rafael Lovato

Rafael Lovato
L
Crucifix choke
European Open
O100KG
SF
2022
30647

Fellipe Andrew

Fellipe Andrew
L
Pts: 2x2, Adv
European Open
ABS
F
2022
31153

Igor Silva

Igor Silva
L
Submission
Grand Slam LDN
120KG
4F
2022
32384

Guilherme Bacha

Guilherme Bacha
L
Referee Decision
Grand Slam AD
120KG
4F
2022
32390

Felipe Bezerra

Felipe Bezerra
L
Pts: 6x3
Grand Slam AD
120KG
3RD
2022
34853

Daniel Conceicao

L
Pts: 1x1
UAE Nat Pro
120KG
SF
2022
38286

Javier Barter

L
Pts: 2x0
Pan American
ABS
8F
2023
38443

Nicholas Meregali

Nicholas Meregali
L
Choke from back
Pan American
O100KG
F
2023
22944

Dione Melo

W
Toe hold
No-NP Fight
ABS
SPF
2019
22945

Maick Carrilho

W
Cross choke
Copa Brasil
ABS
N/A
2019
22946

Renato Reis

W
Cachecol choke
Copa Brasil
ABS
N/A
2019
22947

Fabio Vasconcelos

W
Submission
Goiania Pro
120KG
4F
2019
23388

N/A

W
Points
Curitiba SO
O100KG
4F
2020
23390

Pedro Agrizzi

Pedro Agrizzi
W
Points
Curitiba SO
O100KG
SF
2020
24832

Helton Jose

Helton Jose
W
Injury
Mundial CBJJE
O100KG
4F
2020
24833

Wallace Costa

Wallace Costa
W
Pts: 12x2
Mundial CBJJE
O100KG
SF
2020
24834

Manolito Chagas

W
Scissor choke
Mundial CBJJE
O100KG
F
2020
24843

N/A

W
Scissor choke
Mundial CBJJE
ABS
R1
2020
24846

N/A

W
Scissor choke
Mundial CBJJE
ABS
4F
2020
24848

Lucas Laet

W
Pts: 4x0
Mundial CBJJE
ABS
SF
2020
25341

Fernando Camoles

W
Toe hold
Rio Open
O100KG
R1
2021
25345

Antonio Assef

W
Scissor choke
Rio Open
O100KG
4F
2021
25351

Mychel Carmo

W
Bow and arrow
Rio Open
ABS
8F
2021
25354

Lucas Laet

W
Scissor choke
Rio Open
ABS
4F
2021
25358

Gabriel Ventura

W
Boston crab
Rio Open
ABS
SF
2021
26454

Andre Rudolfo

W
Scissor choke
SA Cont. Pro
120KG
R1
2021
26458

Andrey Cerqueira

W
Estima lock
SA Cont. Pro
120KG
4F
2021
26462

Wallace Costa

Wallace Costa
W
Pts: 2x0
SA Cont. Pro
120KG
SF
2021
26464

Felipe Bezerra

Felipe Bezerra
W
Pts: 5x5
SA Cont. Pro
120KG
F
2021
26515

Matheus Godoy

Matheus Godoy
W
Pts: 2x0
SA Cont. Pro
HWA
4F
2021
26520

Gabriel Costa

Gabriel Costa
W
Pts: 1x0
SA Cont. Pro
HWA
3RD
2021
28090

Antonio Asseff

W
Pts: 2x0
Brasileiro
O100KG
4F
2021
28093

Pedro Alex

Pedro Alex
W
Pts: 5x0
Brasileiro
O100KG
SF
2021
28094

Wallace Costa

Wallace Costa
W
Pts: 3x0
Brasileiro
O100KG
F
2021
30618

Matheus Felipe

Matheus Felipe
W
Pts: 2x0
European Open
O100KG
4F
2022
30627

Benjamin Robson

W
Choke from back
European Open
ABS
R1
2022
30636

Jaakko Hukkonen

W
Pts: 0x0, Adv
European Open
ABS
8F
2022
30642

Sean Coates

W
Pts: 5x0
European Open
ABS
4F
2022
30645

Adam Wardzinski

Adam Wardzinski
W
Pts: 9x0
European Open
ABS
SF
2022
31148

Arya Esfandmaz

Arya Esfandmaz
W
Pts: 9x0
Grand Slam LDN
120KG
R1
2022
31815

Hussain Amiri

W
Verbal tap
President Cup
NA
NA
2022
31827

Maher Taher

W
Submission
President Cup
NA
NA
2022
31834

Faisal AlKitbe

Faisal AlKitbe
W
Pts: 0x0, Adv
President Cup
NA
F
2022
32389

Rodrigo Ribeiro

Rodrigo Ribeiro
W
Pts: 2x0
Grand Slam AD
120KG
RPC
2022
34055

Victor Martins

W
Scissor choke
Grand Slam RJ
120KG
8F
2022
34059

Dayvid Remedio

W
Dogbar
Grand Slam RJ
120KG
4F
2022
34060

Pedro Alex

Pedro Alex
W
Referee Decision
Grand Slam RJ
120KG
SF
2022
34062

Marcus Ribeiro

Marcus Ribeiro
W
Pts: 5x0
Grand Slam RJ
120KG
F
2022
34896

Ahmed Aljahoori

W
Kimura
VP Cup
120KG
4F
2022
34897

Faisal AlKitbe

Faisal AlKitbe
W
Choke from back
VP Cup
120KG
SF
2022
34898

Caio Mendonca

W
Pts: 5x0
VP Cup
120KG
F
2022
36379

Justin Primrose

W
Pts: 3x0
World Pro
120KG
RR
2022
36380

Wallace Costa

Wallace Costa
W
Pts: 4x0
World Pro
120KG
RR
2022
36384

Anton Seleznev

W
Pts: 7x0
World Pro
120KG
SF
2022
36386

Justin Primrose

W
Pts: 9x0
World Pro
120KG
F
2022
38231

Omar Frederick

W
Choke from back
AJPGD LDN
120KG
SF
2023
38233

Helton Jose

Helton Jose
W
Pts: 9x0
AJPGD LDN
120KG
F
2023
38438

Gabriel Oliveira

Gabriel Oliveira
W
Pts: 0x0, Adv
Pan American
O100KG
4F
2023
38442

Guilherme Augusto

Guilherme Augusto
W
Pts: 0x0, Adv
Pan American
O100KG
SF
2023
38740

Khaled Shamsi

W
Injury
Presidents Cup
120KG
RR
2023
39600

Vandre Barbosa

W
Choke from back
ADGS ABD
120KG
4F
2023
39605

Dmitrii Vostrikov

W
Choke from back
ADGS ABD
120KG
SF
2023
39606

Ithalo Lopes

W
Pts: 2x0
ADGS ABD
120KG
F
2023