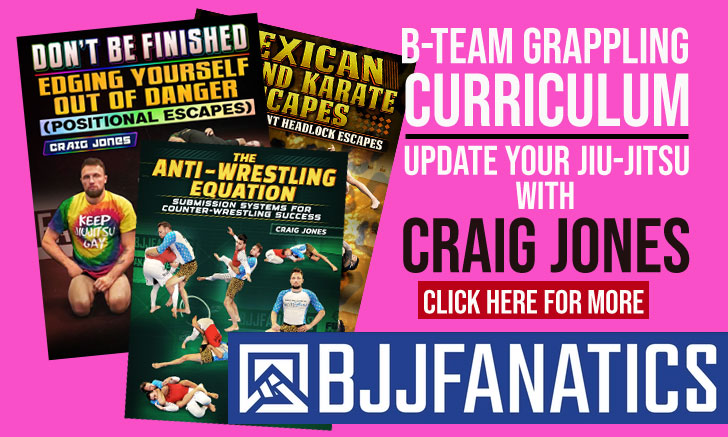 APRIL 28, 2017 The CBJJ/IBJJF Brazilian Nationals tournament, also known as the Brasileiro is one of the most traditional competitions on the jiu jitsu calendar. Held in Sao Paulo's famous José Correa venue (Barueri), this year's 24th edition of the event has broken its previous record by reaching the 6,000 competitors mark.
Aside from the many future stars of this sport, lower belt competitors who have been battling since early this week for their spot on the tournament's podium, the Brasileiro has also gathered the interest of many well established BJJ legends. This is the case of athletes such as Rubens Charles, Otávio Sousa, Gabriel Arges, Michael Langhi, Leandro Lo to name a few.
One of the most noticeable faces competing this weekend is that of AJ Agazarm. The American Gracie Barra athlete will be the only US representative at black belt, staying true to a tradition he started during his coloured belt career.
One of the most talked about match-ups in the Brazilian Nationals this year is that of Leandro Lo and Erberth Santos. Both are well positioned in the IBJJF ranking, and likely for that reason Lo chose to come up to super-heavy and challenge Santos' chances of climbing higher in the federation's listing (and out of Leandro's reach). Make no mistake, these two will be competing not only for the bragging rights that come with the Brazilian title, but also for the increased chances of earning the hefty cash prize of #1 ranked athlete in the IBJJF league.
Below is an assessment of each black belt division – a category that will start tomorrow (saturday).
ROOSTER (11 competitors)
Within the eleven athletes that make the rooster-weight division, last year's champion Rodnei Barbosa remains the man to beat and the heavy favorite to take the gold. On the other side of the bracket, last year's bronze medallist Rafael Oliveira will be another tough challenger to the Brazilian crown.
Top Contenders:
Rodnei Barbosa (Zenith)
Rafael Oliveira (Checkmat)
LIGHT-FEATHER (20 competitors)
The pluma division will likely be decided between three athletes: PSLPB's Tiago Barros and Hiago George as well as Almeida JJ newcomer Cleber 'Clandestino'. Brown belt world champion Clandestino has looked spectacular since reaching the black belt division this year, medalling in the IBJJF Pans and the Abu Dhabi Pro last week.
This trio's favouritism will be challenged by veterans such as Thomas Lisboa and Douglas Rufino as well as the always entertaining Magno Mota.
Top Contenders:
José Tiago Barros (PSLPB)
Hiago George (PSLPB)
Cleber Sousa (Almeida JJ)
FEATHER (33 competitors)
A big division stacked with talent, this year's featherweight division will see world class athletes such as Isaque Paiva, Rafael Mansur, Nielton Soares and none other than Rubens Charles, A.K.A. Cobrinha.
One of the legends of this sport, 4x IBJJF world champion Cobrinha will be gunning for the only major title still absent from his medal cabinet. Rubens' last attempt at the Brasileiro was back in 2010, when he lost the final to Rafa Mendes by two points. If he gets his wish, Charles will be one of the oldest athletes to have ever conquered the prestigious title.
Top Contenders:
Rubens Charles (Alliance LA)
Isaque Paiva (Saikoo)
Raphael Cadena (A2)
Kim Terra (CTBJJA)
Rafael Mansur (Ns Brotherhood)
Nielton Soares (PSLPB)
LIGHT (46 competitors)
Another stacked division in talent and numbers, conquering the lightweight title will be no easy task this Sunday. Leading the Alliance lightweight team is former world champion Michael Langhi, who will be partnered by the very talented Fabio Caloi and Juan Kamezawa. Ready to snatch those podium spots from the Eagles will be men such as Gracie Barra's AJ Agazarm, Checkmat's Gabriel Rollo and GFT's José Carlos – Carlos who is returning to competition in a big way this year, after some time away from the international circuit.
Top Contenders:
Michael Langhi (Alliance SP)
Fabio Caloi (Alliance SP)
Juan Caio Kamezawa (Alliance SP)
José Carlos (GFT)
AJ Agazarm (Gracie Barra)
Gabriel "Palito" (Checkmat)
MEDIUM (50 competitors)
Traditionally the biggest division in the Brasileiro, the middleweights are back with some HUGE international names. Almost too many to mention. One of the upsets of the tournament, however, will be Diego Borges: the Zenith athlete suffered a terrible motorbike accident this week and is out from competition for some time. He was set to meet Manuel Ribamar on the 3rd round of the event, which would of been an incredible match-up.
Top Contenders:
Otávio Sousa (Gracie Barra)
Gabriel Arges (Gracie Barra Northridge)
Jaime Canuto (GFT)
Manuel Ribamar (Ns Brotherhood)
Luan Carvalho (Nova Uniao)
Alexandre Cavalieri (BTT)
Felipe Cesar (B9)
Wellington Luis (Ns Brotherhood)
Sergio Benini (Gracie Barra BH)
Anderson Lira (Ns Brotherhood)
MEDIUM-HEAVY (32 competitors)
A huge mix of veteran and newcomer blood in this very even weight class. Arguably the most accomplished athlete in the division, Renato Cardoso will face a galvanised Patrick Gaudio after his win at the IBJJF Pans. If the two face in the final, this will be their 5th match at black belt, a tie-breaker since the current score is 2×2.
Talented newcomers Esdras Barbosa (Checkmat), Horlando Monteiro (NU) and Matheus Spirandeli (Ns Brotherhood) will also be pushing to reach the top of the podium, as will veteran and former champ "Pimpolho" Fajardo.
Top Contenders:
Renato Cardoso (Alliance)
Patrick Gaudio (GFT)
Matheus Spirandeli (Ns Brotherhood)
Rodrigo Fajardo (Gracie Barra)
Horlando Monteiro (Nova Uniao)
HEAVY (30 competitors)
Another division with no easy matches is the powerful 'Pesado' weight class. Standing out of from this group is ADCC open weight champ Claudio Calasans, who will be testing his skills against the big boys (himself being a natural middleweight). The former world champion should have in Guilherme Augusto and Dimitrius Souza of Alliance his toughest challenges.
Top Contenders:
Claudio Calasans (Calasans BJJ)
Guilherme Augusto (Alliance SP)
Dimitrius Souza (Alliance SP)
SUPER-HEAVY (16 competitors)
This will be arguably the most exciting division to follow, particularly the possible duel between Erberth Santos and Leandro Lo and the implications this match will have in the international ranking (explained above). Santos and Lo will not have an easy route to the semi finals, particularly thanks to powerhouse's Fernando Andrade Reis and Rodrigo Cavaca – also on the brackets.
Top Contenders:
Erberth Santos
Leandro Lo
ULTRA-HEAVY (23 competitors)
The heavier weight class will also be highly challenged from all corners of the bracket. Former world champion Gabriel Lucas has to go through beasts such as Admilson Gobi and Herico Hesley to reach the final, while on the other side Ns Brotherhood's the division's favourite Tigrao (Igor Schneider) will have in Max Gimenis and Otávio Serafim his touches challenges.
Top Contenders:
Gabriel Lucas
Igor Schneider
Max Gimenis
FEMALE DIVISIONS
Traditionally scarce, the female black belt division of the Brasileiros will have an average of 3 competitors per weight class. There are, however, very strong divisions, particularly in the lightweight class, where the favourite (and black belt newcomer) Bianca Basílio will have some serious tests ahead, particularly in Elo Soto (NU) and world champion Luiza Monteiro (Ns Brotherhood).