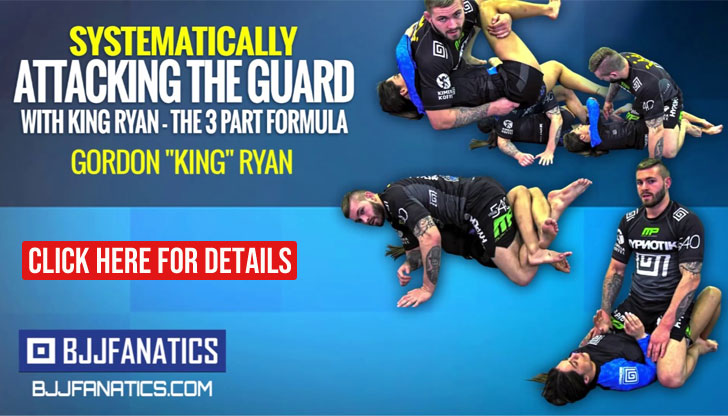 NOVEMBER 18, 2018 was the last day of the Abu Dhabi Grand Slam Tour – Rio de Janeiro (ADGSRJ), arguably the biggest event of the tour and second biggest in the United Arab Emirates Jiu-Jitsu Federation (UAEJJF). In the race with the IBJJF South American Championship, held on the same weekend – another event that is highly praised by the country's top competitors, the Grand Slam took most of the talent pool, with the majority of high-level talent currently residing in the country, opting to compete in the Carioca Arena Centre.
Arguably the biggest comeback of the event was that of the closed guard, with many matches being decided from this position, or spending large portions of time in it. Athletes such as Jaime Canuto (3rd place in 77 kg division) and Isaque Paiva (69 kg champion) were very aggressive from here, making it their weapon of choice, setting the tone for this trend to gain prevalence in the event. It is worth noting that not all used this "old school" position as a path to progress in their bouts, some used it as rather an anchor to hold the opponent down, and slow the pace of the matches.
Beautifully planned, the ADGSRJ was well placed to unveil a few new big players to jiu-jitsu's mainstream audience. Athletes such as Gabrielli Peçanha and Thamara Silva – two brown belt who won their respective female mixed divisions in style, as well as the Australian Anton Minenko, who had a few beautiful matches in the 94 kilogram division, Bruno Tosto of GFT, João "Bisnaga" Mendes, Gabriel Sousa, and of course Kaynan Duarte who won his division without conceding a point.
Although well challenged by this new (second half of) 2018 breed of black belts, the more established athletes' did prevail, for the most part, and conquered their place on the podium. A special note to Talita Alencar who bounced back at the Grand Slam to beat two of the hardest athletes in her division, who were arguably the favorites (Amal and Amanda). Talita came out on fire, super agressive and managed to rise to the top. Below are the results as well as the champion's run on their way to the prized gold medal.
ADGSRJ MALE BLACK BELT RESULTS
56 Kilogram Division
Carlos Alberto (GFT) Champion
Carlos's Title Run
F – Felippe Mello (choke from back)
SF – Levy Ferreira (10×2)
4F – David Herrera (12×0)
62 Kilogram Division
Hiago George (PSLPB) Champion
Hiago's Title Run
F – Gabriel Sousa (botinha footlock)
SF – Jonas Pereira (8×0)
4F – Franklin Silva (violin armlock)
R1 – Magno Vieira (3×0)
69 Kilogram Division
Isaque Paiva (Saikoo) Champion
Isaque's Title Run
F – João Mendes (armbar)
SF – Lucas Gomes (6×4)
4F – Mateus Garcia (2×0)
8F – Alessandro Costa (bow and arrow)
R1 – Richar Nogueira (bow and arrow)
77 Kilogram Division
Hugo Marques (Soul Fighters) Champion
Hugo's Title Run
F – Yan Lucas (decision)
SF – Leandro Souza (decision)
4F – Jaime Canuto (decision)
8F – Luan Rodrigues (5×0)
R1 – Caio Cipriano (choke from back)
85 Kilogram Division
Isaque Bahiense (Alliance) Champion
Bahiense's Title Run
F – Diego Ramalho (11×0)
SF – Matheus Spirandeli (2×0)
4F – William Martins (5×2)
8F – Ruan Silva (cross choke from mount)
R1 – Raimundo Italo (submission)
94 Kilogram Division
Kaynan Duarte (Atos) Champion
Duarte's Title Run
F – Helton Jose (2×0)
SF – Adam Wardzinski (2×0)
4F – Rudson Mateus (advantage)
R1 – Mario Netto (advantage)
110 Kilogram Division
Erberth Santos (Esquadrão JJ) Champion
Santos's Title Run
F – Fernando Reis (choke from back)
SF – Igor Schneider (advantage)
4F – Guilherme Cordiviola (2×0)
R1 – Gilmar Oliveira (submission)
ADGSRJ FEMALE BROWN + BLACK BELT RESULTS
49 Kilogram Division
Mayssa Bastos (GFT) Champion
Mayssa's Title Run
F – Rita Reis (choke from mount)
SF – Mariana Rolsz (submission)
4F – Vanessa Santos (submission)
55 Kilogram Division
Talita Alencar (Alliance) Champion
Talita's Title Run
F – Amanda Monteiro (decision)
SF – Edivaldina Silva (submission)
4F – Amal Amjahid (2×0)
62 Kilogram Division
Bianca Basilio (Almeida JJ) Champion
Bianca's Title Run
F – Michele Oliveira (decision)
SF – Ruthe Caten (submission)
4F – Renata Melo (submission)
70 Kilogram Division
Thamara Ferreira (PSLPB) Champion
Champion's Run
F – Julia Boscher (armbar)
SF – Melissa Cueto (2×0)
4F – Renata Marinho (submission)
R1 – Rafaela Bertolot (submission)
90 Kilogram Division
Gabrielli Pessanha (InFight) Champion
Pessanha's Title Run
F – Francisca Floras (arm ezekiel)
SF – Mayara Oishi (submission)
4F – Carina Santi (4×2)