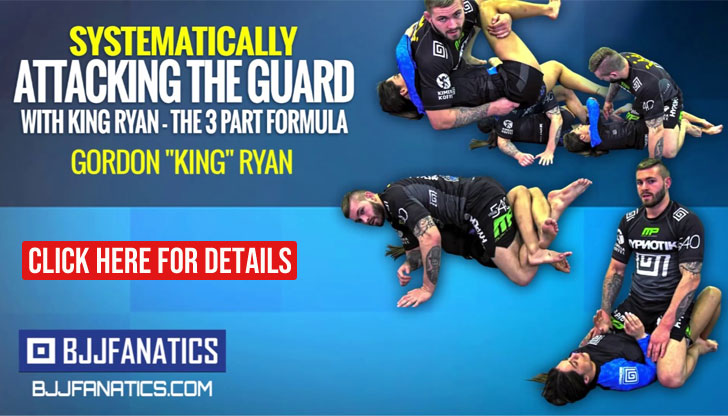 The evolution of jiu jitsu's professional circuit has been followed with great interest by BJJ Heroes. From the steady growth of the UAEJJF to rise of Polaris, F2W and EBI, as well as the birth of the barrier breaking Grappling Pro Championship and recent interest by the IBJJF in paid events, the past 3 years have come as a new dawn in the sport. One where competitors can dedicate more of their time to perfecting their trade on the mats, and less of it on side jobs.
Although this facet of jiu jitsu is still in its infancy, it is clear that some of our sport's elite competitors are now earning a living from competition. Granted they are not living grandiose lifestyles, nor are there many of them, nonetheless the numbers are growing.
This article serves the purpose of illustrating our sport's biggest earners through prize money from tournaments and superfights. Keep in mind that most high end athletes will make the majority of their income through seminars (workshops), schools, affiliation fees, etc. There are many ways to "skin this cat" and earning an IBJJF world title at black belt is still seen as the mother of all bread earners. A clear example of this is Marcus Almeida, IBJJF's most accomplished black belt, who doesn't rank in the top position of this list though rest assured he will have earned much more than the amount shown on sponsorships and workshops.
Please note that many promotions do not reveal their payouts. For that reasons we had to estimate those earnings by cross referencing with known events of the same nature/size and/or by speaking to those close to the organizations.
TOP 2016 EARNERS in BJJ
#10 EDWIN NAJMI
Earnings in competition: $23,000 approximately
One of the big revelations in the lightweight division this year was Edwin Najmi. The Romulo Barral black belt stacked up important IBJJF titles, while also collecting a few cheques from events such as FIVE Grappling, UAEJJF Grand Slam (LA) and other professional platforms.
Berkut 3 Superfight Winner
Pro Neuchatel Superfight Winner
2016 Guatemala Pro Superfight Winner
2016 FIVE WW Champion
2016 Abu Dhabi Grand Slam LA Champion
#9 LEANDRO LO
Earnings in competition: $26,000 approximately
Leandro Lo was nearly unstoppable this year, conquering the World and Pan American Championships as well the Abu Dhabi World Pro and 3 Copa Podio GP's. As Copa's payouts are not disclosed, we have used our knowledge of previous events to have an approximate figure.
2016 Abu Dhabi World Pro Champion
Copa Podio 4 LW Champion
Copa Podio 4 MW Champion
Copa Podio 4 HW Champion
#8 EDDIE CUMMINGS / AJ AGAZARM
Earnings in competition: $27,000 approximately
Cummings is an active competitor in jiu jitsu's submission only circuit, competing exclusively in events that provide a prize money or purse. He is also one of the world's most popular heel hook specialists, a submission that has raised plenty of interest over the past couple of years.
AJ is another athlete who kept very active this year in the professional circuit. The entertaining Gracie Barra black belt was in some of this year's most talked about grudge matches (against Vagner Rocha and Jake Shields) earning his place on the list.
Cummings:
EBI 7 Champion
Grappling Ind. Superfight Winner
Polaris 3 Superfight Winner
Agazarm:
Polaris 3 + 4
F2W Pro
Berkut 3
#7 MACKENZIE DERN
Earnings in competition (BJJ): $28,000 approximately
Arguably jiu jitsu's most famous female athlete today, Mackenzie transitioned to mixed martial arts this year while still keeping active with the gi. On the mats, and while she did win the Abu Dhabi World Pro, it was her #1 ranked IBJJF athlete award that earned her the most significant lump sum of money ($15,000 USD) in the sport this year.
2016 IBJJF Ranking #1
2016 Grand Slam Tokyo Champion
2016 Abu Dhabi World Pro Champion
F2W Pro Superfight Winner (2x)
#6 GABRIEL ARGES
Earnings in competition: $31,000 approximately
Another member of Gracie Barra Northridge on the ranking, and much like teammate Edwin Najmi, Gabriel Arges took the world by storm on his first year at black belt. While keeping very active throughout the year, the middleweight took chances, competing in a wide variety of rules and environments in both the professional and amateur circles.
2016 Abu Dhabi World Pro Champion
Pro Neuchatel Superfight Winner
2016 IBJJF Las Vegas BJJ Pro Champion
2016 Abu Dhabi Grand Slam LA Champion
2016 Abu Dhabi Grand Slam TKYO Champion
Berkut 3 Superfight Winner
#5 GARRY TONON
Earnings in competition: $42,000 approximately
One of the most popular no-gi specialists today is Danaher Death Squad's (DDS) team captain, Garry Tonon. The lightweight competitor is a regular appearance in professional tournaments, particularly under submission-only rules, being regarded as one of the top PPV draws in the sport. This year Tonon headlined two high profile Polaris super-fights as well as Metamoris and one EBI, which combined make the bigger chunk of his earnings.
EBI 9 Champion
Metamoris Superfight Winner
Polaris 3 Superfight Winner
F2W Pro 8 Superfight Winner
Polaris 3 Superfight Winner
#4 GORDON RYAN
Earnings in competition: $56,500 approximately
21 year old Gordon Ryan was one of the most debated grapplers on social media this year, having also remained undefeated at black belt. Promoted in February 2016 Ryan went up against some of the world's best athletes in sub-only matches while conquering 2 EBI titles.
EBI 6 Champion
EBI 8 Champion
Sapateiro Invitational Champion
Ryan x Cornelius Superfight Winner
Ryan x Mueckenheim Superfight Winner
#3 ERBERTH SANTOS
Earnings in competition: $60,000 approximately
Arguably the most active competitor in jiu jitsu during 2016, we've witnessed the 22 year old compete as much as two events in one day (and another the following day). His hard work paid dividends this year, particularly in Brazil's local circuit where he amalgamated wins at 8 paid events.
Santos was also the #1 ranked black belt in the UAEJJF and an Abu Dhabi World Pro Champion, which made up for over half Santos' income.
Abu Dhabi World Pro Champion
Abu Dhabi Grand Slam – London Champion
SP BJJ Pro Champion
UAEJJF #1 Ranked
Berkut 3 Superfight Winner
#2 MARCUS "BUCHECHA" ALMEIDA
Earnings in competition: $65,000 approximately
Almeida didn't compete much this year, but when he did he made it count. Leaving 2016 undefeated, Buchecha had a dominating and highly profitable performance at the IBJJF Grand Prix – this being a big part of his tournament based income.
2016 IBJJF GP Pro
F2W Pro + Muscle Pharm Superfight Winner
#1 FELIPE "PREGUIÇA" PENA
Earnings: $83,000 approximately
Another highly active black belt was Felipe Pena, who (like Edwin Najmi and Gabriel Arges) has in Romulo Barral his mentor. Preguiça won the open weight division at the Abu Dhabi World Pro, keeping active in UAEJJF's paid events such as the Grand Slams of Rio de Janeiro and Tokyo. Other superfight events such as Berkut 3 and Royal Rumble were also valuable contributions for the Gracie Barra standout.
2016 Abu Dhabi World Pro Absolute Champion
2016 Abu Dhabi World Pro Runner-up
2016 Abu Dhabi Grand Slam RJ Champion
2016 Abu Dhabi Grand Slam Tokyo Champion
Berkut 3 Superfight Winner
2016 Marianas Open Champion