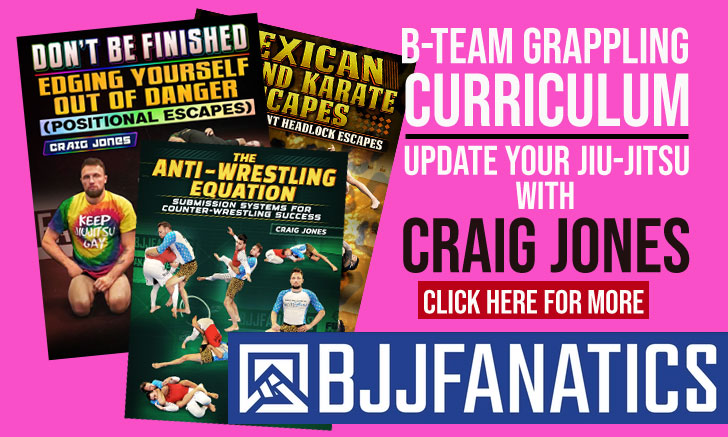 JUNE 30, 2023, saw another edition of the UFC Fight Pass Invitational (FPI) the 4th show organized by the promotion which set forth an open weight tournament with a few familiar faces of the sport, as well as a solid super fight between Nicholas Meregali of New Wave and Fight Sport's team leader, Roberto "Cyborg" Abreu with the main event set forth a battle between Australia's Craig Jones and Felipe Pena of Brazil. Check in on the action below.
TOURNAMENT
Quarter-Finals:
Match Of The Night honors for the Jimenez vs Rodriguez battle, a very high-paced clash with some fun exchanges. The quarter-finals also saw an upset in Fedor Nikolov's win over Rida Haisam despite the match being dominated by the B-Team player who lost via the dreaded overtime rule.
– Dan Manasoiu def. Gabriel Arges via outside heel hook
– Fedor Nikolov def. Haisam Rida via EBI overtime (ride time)
– Vagner Rocha def. Fellipe Andrew via inside heel hook
– Nick Rodriguez def. Roberto Jimenez via EBI overtime (ride time)
Semi-Finals:
No big upsets in the semis. New Wave's Big Dan submitted Nikolov in under 20 seconds. Vagner put on another typical performance with lots of pushing and talking to his opponent, but very conservative in terms of jiu-jitsu offense. Rodriguez had an interesting wrestle-up sweep in this clash but was somewhat conservative as well, particularly in the wrestling department, where he was seen as the favorite.
– Dan Manasoiu def. Fedor Nikolov via dog-bar (over-under kneebar)
– Nick Rodriguez def. Vagner Rocha via EBI overtime (RNC)
Final:
A fun final between two very big athletes thanks to the aggressive mentality of Nicky Rod who pressed the pedal from a passing stance throughout the match. Applying his legendary body-lock pass, Rodriguez was able to establish side control on 4 separate occasions and even dabbed with the mount once. Manasoiu never surrendered or offered any type of space for a submission to take place, as such, as per FPI rules, the match went to EBI overtime.
– Nick Rodriguez def. Dan Manasoiu via EBI overtime (RNC)
SUPERFIGHTS
The most important match of the night for jiu-jitsu fans was the clash between Nicholas Meregali and Roberto Cyborg. Nicholas is one of the best gi athletes of his era who is slowly but surely entering the no-gi world and this fight with former ADCC open weight champion Roberto Abreu was a big step up in competition. Overall, this was a well-fought match that saw Roberto playing from the top while Meregali looked for openings from the bottom using the single-leg X guard and a few Aoki lock setups, all unsuccessful. In the end, the match was decided via EBI overtime.
Arguably, the second important clash on the card was that of Felipe Pena and Craig Jones. On paper the match was very evenly matched and it would be hard to foresee a high-paced, back-and-forth event between these two and this is exactly what ended up with. A Lot of re-sets thanks to EBI/FPI's Get Down rule which forces the athletes to coin-toss who plays bottom when the match is standing for "too long" ended up making this a hard match to follow and eventually leading it to be decided via EBI/FPI overtime rounds.
Another interesting match for grappling fans was that of teenage phenom Helena Crevar versus active black belt competitor Emily Fernandez. The match saw Crevar go on full offense and Fernandez skillfully defending for most of the clash until a very smooth back take by Helena had the tables turn heavily in her favor. Crevar is deadly from the back and proved it again, this time over a seasoned competitor and a level up in competition. The sky is the limit for this young athlete.
– Helena Crevar def. Emily Fernandez via RNC
– Roman Bravo-Young drew with Alex Perex
– Glover Teixeira def. Anthony Smith via decision
– Nicholas Meregali def. Roberto Cyborg via EBI overtime (armbar)
– Craig Jones def. Felipe Pena via EBI overtime (ride time)