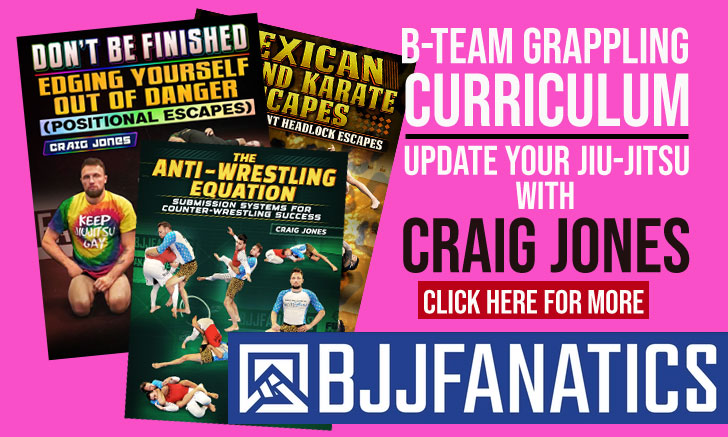 The 9th edition of the No Gi Pan American Championship took place on the 3rd of October, 2015 at the Nat Holman Gym (CCNY) in New York City, New York.
The talent pool present at this year's No Gi Pan Ams black belt division was shallow when compared to previous events. This may very well be due to the many high level tournaments available throughout the globe this weekend, including UAEJJF National Pro (Portugal), IBJJF's Floripa Open or Metamoris Challenger (Chicago), to name a few.
Even lacking the majority of top ranked athletes, the event had plenty of moments to remember. One athlete that will certainly remember the event, is Matheus Diniz. The Alliance powerhouse was on fire, defeating everyone that stood in his way, taking away double gold with wins in his weight class and absolute division, where he submitted the popular Garry Tonon in the final. Below are the full results of the adult black belt matches for the Pan American No Gi Championships.
2015 NOGI PAN AMS RESULTS
Male black belt (adult) Champions:
LIGHT FEATHERWEIGHT: Joao Miyao
FEATHERWEIGHT: Paulo Miyao
LIGHTWEIGHT: Garry Tonon
MIDDLEWEIGHT: Otávio Sousa
MEDIUM HEAVYWEIGHT: Matheus Diniz & Marcos Tinoco (Close Out)
HEAVYWEIGHT: Roberto Torralbas
SUPER HEAVYWEIGHT: Guybson Sá
ULTRA HEAVYWEIGHT: Gustavo Elias
Photo credit to D-Klein Design, taken from the IBJJF FB page.
| Winner | Loser | Method | Weight | Round |
| --- | --- | --- | --- | --- |
| Mark Ramos | Joseph Best | 16x4 | 64KG | SF |
| Joao Miyao | Joseph Best | Mata leao | 64KG | SF |
| Joao Miyao | Mark Ramos | Mata leao | 64KG | F |
| Edson Oliveira | Ataíde Marcelino | | 70KG | 1/4F |
| Gianni Grippo | Michael Wacker | 13x0 | 70KG | 1/4F |
| Mayko Araujo | Sidemar Honorio | 6x0 | 70KG | 1/4F |
| Gianni Grippo | Mayko Araujo | Choke from back | 70KG | SF |
| Paulo Miyao | Edson Oliveira | Triangle | 70KG | SF |
| Paulo Miyao | Gianni Grippo | 2x2 | 70KG | F |
| Renan Borges | Garrett Beck | 2x0 | 76KG | 1/4F |
| Garry Tonon | Joao Ferreira | | 76KG | 1/4F |
| Rodrigo Freitas | Brick Welsh | Mata leao | 76KG | SF |
| Garry Tonon | Renan Borges | Kneebar | 76KG | SF |
| Garry Tonon | Rodrigo de Freitas | 7x2 | 76KG | F |
| Jonathan Satava | Brian Beaury | 15x0 | 82KG | 1/4F |
| Mansher Khera | Sean Patrick Fisher | Kneebar | 82KG | 1/4F |
| Marcelo Mafra | Jonathan Satava | 6x0 | 82KG | SF |
| Otavio Sousa | Mansher Khera | 11x0 | 82KG | SF |
| Otavio Sousa | Marcelo Mafra | 2x2 (2x1 adv) | 82KG | F |
| Thiago Sá | Gottrell King | Toe hold | 88KG | 1/4F |
| Marcos Tinoco | David Raab | 2x0 | 88KG | 1/4F |
| Matheus Diniz | Thomas Loubersanes | 8x0 | 88KG | SF |
| Marcos Tinoco | Thiago Sá | 2x0 | 88KG | SF |
| Neiman Gracie | Aaron Johnson | Mata leao | 94KG | SF |
| Roberto Torralbas | Andrew Maulbeck | North South Choke | 94KG | SF |
| Roberto Torralbas | Neiman Gracie | 2x0 | 94KG | F |
| Paulo da Silva | Robson Gracie | Mata leao | 100KG | SF |
| Guybson Sá | Paulo da Silva | Estima lock | 100KG | F |
| Gustavo Elias | Jason Lees | Armbar | O100KG | SF |
| Abraham Marte | Jason Lees | Palm to palm choke | O100KG | SF |
| Abraham Marte | Gustavo Elias | 2x0 | O100KG | F |
| Matheus Diniz | David Raab | Mata leao | ABS | 1/4F |
| Gybson Sá | Gabriel Toribio | katagatame | ABS | 1/4F |
| Gianni Grippo | Rodrigo Freitas | 0x0 (ref dec.) | ABS | 1/4F |
| Garry Tonon | Washington Luis | Anaconda | ABS | 1/4F |
| Garry Tonon | Gianni Grippo | 6x6 (adv) | ABS | SF |
| Matheus Diniz | Gybson Sá | 4x0 | ABS | SF |
| Matheus Diniz | Garry Tonon | Wristlock | ABS | F |