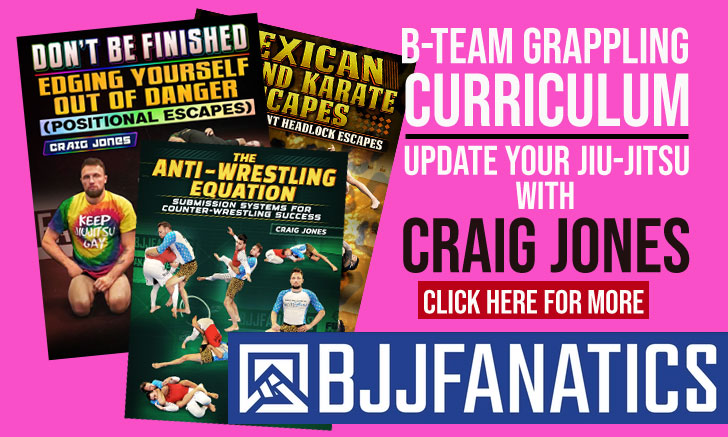 Following up on our recent news report that the UAEJJF would be cancelling the open weight division ahead of their 2016-2017 jiu jitsu calendar, the federation's spokesman has now released an official statement , confirming and explaining the decision.
SUMMARY OF STATEMENT
a) Given that the organisation had already limited the maximum weight allowed to 110 kilograms (242.5 pounds) due to safety reasons, the promoters felt as though removing the absolute division would be a natural process towards that same goal.
b) A second point that may resonate with a few more fans of the sport, is that as it stood up until this year, the heavier competitors were given a stronger chance to rank higher in the UAEJJF's overall ranking. This when considering that those heavier athletes tend to win the vast majority of absolute divisions, this way doubling their chances to score points and profit from it. An unfair advantage in the eyes of the federation, who wants to level the plain for all competitors.
c) Too much attention is attributed to the open weight champions, which takes away the prestige of the lower weight classes.
d) The statement also adds that the UAEJJF has been working closely with the International Olympic Committee (IOC), the JJAU (Ju-Jtsu Asian Union) and WADA, which allowed jiu jitsu to be represented in the Asian Beach Games (ABG) a back door to the Olympic Games.
[Editor's Note: It is worth mentioning that jiu jitsu was not truly included in the Asian Beach Games, although jiu jitsu athletes did compete in it. Instead, BJJ representatives competed in Ju Jutsu discipline, under the newaza rules – the name "Brazilian Jiu Jitsu" or "Jiu Jitsu" were not associated with the event. This may well be a strategy to influence those in the IOC, though at this stage it seems unlikely that our sport will ever be part of the Olympics, particularly when considering the strong judo lobby, one who has always heavily opposed our sport's inclusion in any Olympic related events.]

e) The statement also mentioned a new professional jiu jitsu event which will be officially launched soon. Under the name "King of the Mats" the federation hopes to promote challenges and tournaments between grand Slam champions and other big names of our sport, bringing the highest standard of professionalism to the BJJ. The King of the Mats event will likely use broader weight categories inside light, medium and heavy parameters.
OFFICIAL UAEJJF STATEMENT
As the UAEJJF had limited the weight up to 110 kilograms, it did not make sense we call open weight division, because now there is an adequate weight limit.
In the past UAEJJF was promoting the Trials giving the travel packages only for the open weight winners for each belt (blue, purple, brown and black), the reason was clear that it would not be possible to give travel packages for each category of Weight.
It was carried out by our technical committee that only the heavier fighters were taken a chance to win travel packages to Abu Dhabi World Pro, taking the prize money, doubling their ranking points, showing to be unfair to the lighter fighters. Based on that for the past two years we promoted through the National PRO the two open weight: lightweight open and heavyweight open to expand opportunities for other weight classes, which of course balance the chances of fighters groups. These events had no more the real "open weight".
It was noted by Technical Committee, but above all, the decisions were taken to EQUALISE OPPORTUNITIES FOR ALL ATHLETES IN ALL WEIGHT CLASSES.
Open Weight Debate
UAEJJF realised that on most of its events the attention goes to ONLY ONE main competitor = BLACK BELT OPEN WEIGHT CHAMPION.
The fans and media were not giving the proper attention to the others weight classes champions such 62 kgs or 69 kgs, even 77 kgs.
Statistically these lightweight fighters have no chances against heavier fighters.
Open weight winners in majority are over 90kilos (as per case study).
Heavier players have more chances of doubling their ranking points and double their money prizes.
Other important martial arts institutions such UFC, Judo, Wrestling promote all the weight categories champions at the same level = equalising their opportunities.
If for example UFC had this concept, Mc Gregor or Jose Aldo would never had chance to carry a weight belt and take the right media consideration.
A very important note: UAEJJF is pointing these topics, but we are not removing or making major changes to the sport, just to be more the statement clear, we will take light open weight champion and heavy champion as same as the last two years in our National PRO Championship and for Abu Dhabi World Professional Jiu-Jitsu Championship, instead of giving an open weight belt, UAEJJF will be promoting belt champion for each weight class:
Black Belt Men's division
Featherweight: under 62 kg
Lightweight: under 69 kg
Welterweight: under 77 kg
Middleweight: under 85 kg
Light Heavyweight: under 94 kg
Heavyweight: under 110 kg
No upper divisions above 110 kg
Black Belt Women's division
Welterweight: under 55 kg
Middleweight: under 62 kg
Light Heavyweight: under 70 kg
Heavyweight: under 90 kg
No upper divisions above 90 kg
Following the previous statement regarding the weight limit being about the athletes' safety the open weight in lower belts goes exactly against what we were referring to. UAE Jiu-Jitsu Federation has been working directly with the Olympic Committee and prestigious sporting organization, as well as with WADA (World Anti-Doping Agency) and Ju-Jtsu Asian Union (JJAU which is directly under Olympic Council of Asia).
As mentioned earlier, in 2016-2017 season, consistent weight policies, anti-doping policies and safety regulations will be adopted, some of which will affect the way the athletes cut weight before the official weigh-ins. Olympic Council of Asia has approved the Jiu-Jitsu (Pro Rules) and the divisions above to be included in the 5th Asian Indoor and Martial Arts Games in 2017, 5th Asian Beach Games for 2016 and 2017 World Martial Games, lately ANOC has introduced Ju-Jutsu in the 2017 World Beach Games as well.
check this article please.
Heavyweight Professionals Black Belts should be treated differently than the others, our sport, luckily has reached three big lines: AMATEUR, OLYMPIC and PROFESSIONAL We cannot deny that each of these line has peculiarities and specific organization rules that should be applied, but inside the mats everything remains the same.
In the last World Pro we have seen a sample of these idea with the introduction of lightweight, middleweight and heavyweight World Legends Championship.
Different events for different players, we see that to often in other sports that have already reached these 3 levels… boxing amateur and boxing professional like Pacquiao and Maywather could not compete for a Olympic medal, the excuses were their levels were to high and were not allowed to compete, Olympic boxing is one thing, professional boxing is another, also their main focus were Professional Championships, we can see the same with basketball and Tennis players, which their main targets are the professional leagues.
Our Chairman believes that we don't need to stop one line to go strong to another, we can work parallel with these professional and olympic authorities to find a balance, where the most important role is to keep the athletes safe. There are number of factors being observed by Technical Committee, but above all, the decisions were taken to PROTECT THE PHYSICAL AND MORAL INTEGRITY OF THE ATHLETES.
UAEJJF Chairman meet IOC (International Olympic Committee) president Thomas Bach to talk about Jiu-Jitsu inclusion – article here.