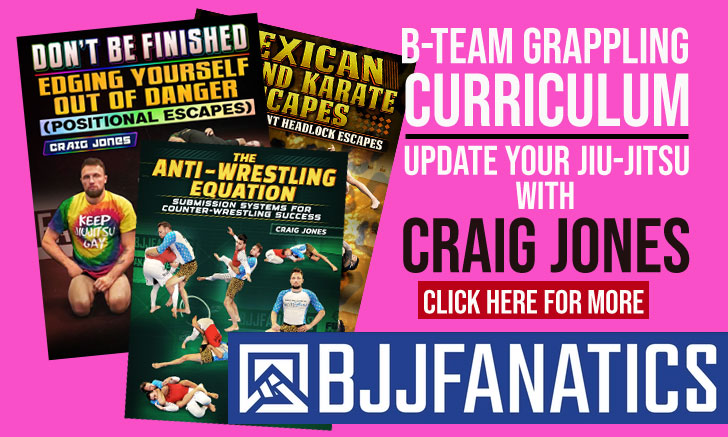 The ADCC – in our opinion, has the best rules set in all of our sport's no-gi jiu jitsu/grappling mainstream events. Its biggest contribution to our sport is that it managed to encompass and cater for all facets of submission grappling, be it the IBJJF players, the no-gi and mixed martial arts (MMA) fighters as well as the submission only specialists.
The rules are simple: 5 minutes of sub-only (no points) and 5 minutes with points, where improving position is rewarded but only when the control is convincingly imposed. All submissions are legal, so are stacking and slamming (bate-estaca). The time limits increase as one advances in the tournament.
The tournament also provides hefty prize money to the podium placers, which encourages big players to come in and test their skills against this varied crowd. A perfect think tank for those who love all forms of grappling.
It is worthy to mention that not all is perfect, the rules can cater for lengthy matches, and the organization's invitations do tend to fall on the hands of athletes who already entered the tournament – regardless of how unsuccessful they have been in recent editions. So there is not a whole lot of rotation to the athletes coming in. Be that as it may, the ADCC has rightfully gained the reputation of being the "Olympic Games of Jiu Jitsu".
Below is a run down of each competitor who made it to the tournament, a "Who's Who" of the ADCC completed by a short bio. You may also follow the links (on the name title) to their full detail pages, available for those who have been featured on our Heroes list.
ADCC FINAL COMPETITORS LIST
Date: 23-24th SEPTEMBER
Location: ESPOO METRO AREENA, FINLAND
Men -66kg
In a thriving division with so many rising stars it may have been a missed opportunity not to invite fresh competitors and less veterans of the game, particularly if those failed to reach the semi-finals in their past outings. Names such as Marcio Andre, Osvaldo Moizinho, Mikey Musumeci, Joao Miyao and Ary Farias come to mind as very worthy of being in the ADCC finals. Be that as it may, the division's heavy favourite will continue to be the current champion – Cobrinha, who will have some tough matches ahead in a well balanced division.
66KG Key Players: Rubens Charles, Paulo Miyao, Augusto Mendes
Dark Horse: Ethan Crelinsten
Current Champ: Rubens Charles 'Cobrinha'
2015 champion: RUBENS CHARLES (Brazil)
Style: BJJ
Team: Alliance
At 37 Rubens Charles is on his way to the best competitive year of his long and successful career. Currently Cobrinha holds titles in all of the IBJJF Grand Slam events (Worlds, Pans, European Open and Brasileiro), if he wins his 3rd ADCC title this year we might have to rename 2017 "The Year of the Cobra".
1st Asia & Oceania Trials Winner: URANOV ZHAKSHYLYK (Kyrgyzstan)
Style: Wrestling/Grappling
Team: Unknown
We don't know a whole lot about Uranov, as it sometimes happens with the 'Asia and Oceania' trials champions (the 'weaker' of the ADCC trials). We are told Zhakshylyk has good wrestling and is a blue belt in jiu jitsu.
1st European Trials Winner: JANUSZ ANDREJCZUK (Poland)
Style: BJJ
Team: Urban JJ
As is tradition in the ADCC European trials, the Polish army did very well and Janusz is an example of this hard fought stigma. Adrejczuk recently earned his black belt, being a representative of Urban JJ. For the ADCC camp Janusz focused on his wrestling training with Russian national squad member Kamal Malikov. Expect Janusz to have a solid understanding of the grappling basics and the warrior spirit of the Polacs.
1st North American Trials Winner, Invited: NICKY RYAN (USA) JUSTIN RADER
Style: Sub-Only
Team: Renzo Gracie/DDS
The ADCC Veteran Justin Rader was forced to pull out of the race and with 24 hours notice enters one of grappling's hottest prospects, Nicky Ryan. The youngest male competitor to enter the ADCC finals, Nicky conquered a 2nd place at the US trials this year and was a logical call in Rader's absence. Nicky is the younger brother of another ADCC finalist this year (Gordon) and, like his sibling has a definite taste for the heel-hook.
1st South American Trials Winner: PABLO MANTOVANI (Brazil)
Style: BJJ
Team: Atos
Mantovani is another impressive athlete recently produced by the Atos San Diego training facility. A former student of Guto Campos, now with Andre Galvao, Pablo is very well rounded playing from the both top and bottom positions with a modern style of BJJ. He may be one of the youngest athletes on the competition at 22 years of age, and not have the experience of some of the more established players there, but will be very tough to handle and a future player in this division.
2nd South American Trials Winner: PAULO MIYAO (Brazil)
Style: BJJ
Team: PSLPB/Unity
Certainly one of the 'Men to Beat' at the 66 kilogram tournament and a definite title contender. Miyao has been working a lot on his passing game over the past couple of years, something he needed to improve on in order to win against the upper echelon of the division. In 2017 Miyao is yet to taste defeat (his removal from the ADCC SP trials came by DQ after the match ended) and he seems well in gear to challenge for this year's title.
2nd Asia & Oceania Winner: YUTA SHIMADA (Japan)
Style: BJJ
Team: Nexusense
A crafty competitor from Japan, Shimada is well known in the gi circuit where he's proudest achievement was a gold medal at the IBJJF Asian Open last year. We don't know too much of his no-gi game, but he is very talented, fast and with a strong base.
2nd North American Trials Winner: ETHAN CRELINSTEN (Canada)
Style: No-Gi/sub only
Team: Tri-Star/DDS
A member of John Danaher's Death Squad and winner of the US trials, a team that is sweeping up the no-gi/sub-only circuit in North America. Crelinsten showed tremendous potential at the ADCC trials with great leg attacks and a very long frame for this weight class. His preferred finishing method is (surprise, surprise) the heel-hook, and his length may cause big problems even to the more experienced athletes on the show. We see the young American as a dark horse in this event and are look forward to see what damage he can do in this division.
2nd European Trials Winner: KUBA WITKOWSKI (Poland)
Style: BJJ/No-Gi
Team: Berserkers
Another Polish athlete winning the Europea trials, this time a black belt from the Berserkers Team – one of the strongest grappling teams in Poland. Kuba competes regularly with and without the gi for the IBJJF and UAEJJF, so expect him to have plenty of experience in big shows.
Invited: BRUNO FRAZATTO (Brazil)
Style: BJJ
Team: Atos
As is tradition by the ADCC promotion, last event's silver medalist is given another shot at gold, and rightfully so. Frazatto displayed fantastic jiu jitsu at the 2015 tournament, and has always been a 'game' opponent throughout his career. Bruno was one of the first 'new school' featherweights to show up in the scene 10 years ago, and his style has been mimicked by many over the years for a reason. Great guard player with lightning quick back takes are what he is known for, but expect him to come in very well rounded.
Invited: NICOLAS RENIER (France) EDDIE CUMMINGS 
Style: Luta Livre Esportiva
Team: NR Fight
The original DDS star, and ashi-garami king Eddie Cummings injured himself during his ADCC camp and was forced to forfeit his place in the event. His replacement will be 5x ADCC veteran and luta livre representative Nicolas Renier. In over 1o years of competing in this tournament, only once has the Frenchman passed the first round, having never the 1/4 finals. Nicolas brings a different grappling style to the mats but is unlikely to cause a strong challenge to the podium.
Invited: GEOVANNY MARTINEZ (USA)
Style: Sub Only
Team: 10th Planet
Geo and his brother Richie Martinez have been doing a fantastic job in building an army of grapplers at the 10th Planet Freaks academy. While working as a coach we noticed great improvements in Martinez' approach to jiu jitsu, having opened his orizon and range of games in his own. Always entertaining, we hope to see plenty of him in Finland.
Invited: AUGUSTO MENDES (Brazil)
Style: BJJ
Team: Soul Fighters/MMA Lab
One of the bigger names at 66 kilograms and the only man on the roster to hold a win over the current champion (Cobrinha). 34 year old Mendes – commonly known as Tanquinho, has been focusing on his mixed martial arts (MMA) career for the past 3 years, but is still regarded as one of the favourites.
Tanquinho's style relies on great takedown ability, distance management and an 'unsweapable' base.
Invited: AJ AGAZARM (USA)
Style: BJJ
Team: Gracie Barra
After two missed shots at ADCC gold (2013/2015) at 77 kilograms, Gracie Barra's Agazarm will drop down to a more suitable weight class for his frame. Always tough, Agazarm brings good scrambles, solid wrestling and a winning mentality.
Invited: BARET YOSHIDA (USA)
Style: NoGi
Team: Arena MMA
42 year old Baret Yoshida conquered his last silver medal at the ADCC 14 years ago. Since then Yoshida has been kept as a regular participant by the organisation while competing also in events such as the IBJJF No-Gi Worlds and EBI.
When in his heyday, Baret's trademark position was the crucifix choke. He has since become a more well rounded grappler, well versed in footlocks.
Invited: KAMIL WILK (Poland) MÁRCIO ANDRÉ / LEO VIEIRA*
Style: No-Gi
Team: Zenith
Initially set for the former king of the 66 kilogram division Leozinho Vieira, the last vacancy was handed to rising jiu jitsu star Márcio André due to Checkmat team leader's commitments in the event's super-fight. The roster of the 66 kg division has been one of the toughest to close down, as both Márcio André and Eddie Cummings had to relinquish their placements in the finals due to last minute injuries.
To fill in the vacancy the ADCC has called on Kamil Wilk, a Polish brown belt no-gi specialist and a regular appearance in the ADCC tournaments held in Europe. Kamil brings a solid butterfly guard and has a great killer instinct, particularly in leg attacks.
* Vieira has recently been nominated for a super-fight at the ADCC so he may end up being replaced from the tournament brackets.

Men -77kg
​Although deprived of the current ADCC 77KG champ, who will not defend his title (Davi Ramos is out due to MMA commitments), the division is one of the most balanced in the tournament this year. The main absentees will be the aforementioned Davi Ramos, but also Jonathan Satava, Otavio Sousa, Khabib Nurmagomedov (wishful thinking), Keita Nakamura and Ben Askren (when we dream, we dream big).
77KG Key Players: Lucas Lepri, DJ Jackson, Garry Tonon, Gilbert Durinho
Dark Horse: Felipe César
Current Champ: Davi Ramos
1st Asia & Oceania Trials Winner: LACHLAN GILES (Australia)
Style: BJJ
Team: Absolute MMA
The head coach at Absolute MMA is also a veteran of the sport with experience in a variety of grappling rules, including EBI, ADCC, UAEJJF and IBJJF.
1st European Trials Winner: TERO PYYLAMPI (Finland)
Style: BJJ
Team: TJJK
One of Europe's strongest BJJ nations in no-gi is Finland, who once again has placed athletes in the finals event. Tero is one of the country's most respected competitors and coaches, being TJJK academy's head coach with wins at the Finnish Nationals (5x) and the IBJJF Rome Open.
1st North American Trials Winner: MANSHER KHERA (USA)
Style: BJJ
Team: Unaffiliated
New York's own Mansher Khera has developed into one of America's top competitors at 77 kilograms over the past few years. He went through his opponents at the US trials without conceding one single point, but this will be his first time in the big show. Khera has decent wrestling, good passing and a very solid guard, making him one of the most dangerous athletes in the division.
1st South American Trials Winner: FELIPE CESAR (Brazil)
Style: BJJ
Team: Barbosa JJ (B9)/Unity
Felipe Cesar has the talent to steal the show in Finland, and we see him as the potential dark horse in this race. An excellent guard player, Cesar's big problem in the past had been his weaker game from the top, something Felipe has been working over the past year in New York with Unity JJ and a local wrestling team. If these new tools are working at full capacity, Cesar will be hell to deal with.
2nd South American Trials Winner: MARCELO MAFRA (Brazil)
Style: BJJ
Team: Checkmat
One of the most respected athletes in the division, Marcelo Mafra (AKA Lapela) earned his place in the event by winning the Brazilian trials in Rio de Janeiro. He has a long history in the sport, particularly in No-Gi with two IBJJF world titles and two silver medals without the kimono.
2nd Asia & Oceania Winner: OSMAN KASIMOV (Kazakstan)
Style: BJJ/Wrestling background
Team: Unknown
Nicknamed Asym, Kasimov is a jiu jitsu purple belt from Kazakhstan who also competes in MMA (currently holding a perfect professional record). Asym has a strong background in wrestling also.
2nd North American Trials Winner: VAGNER ROCHA (USA)
Style: No-Gi
Team: Fight Sports
ADCC Veteran Vagner Rocha is known for his toughness and well roundedness, though in his kimura system lies his strongest game. Rocha has competed around the world in both jiu jitsu, grappling and MMA, having fought in the UFC octagon.
2nd European Trials Winner: OLIVER TAZA (Canada)
Style: Sub only
Team: DDS/Tri-Star
A brown belt under the John Danaher, Oliver is one of the most recent names to come out of the well known New York based training camp. As expected Taza has in his leg-lock game his strongest arsenal, adding to this a good measure of athleticism and power.
Invited: GARRY TONON (USA)
Style: No-Gi/Sub Only
Team: Renzo Gracie/DDS
Together with Eddie Cummings (66 kg contender) ADCC veteran Garry Tonon was the original DDS success story. To this day Tonon has shown to have the most complete game in Danaher's army, offering good takedowns, solid passing, lightening quick back takes and great athleticism.
Last time Tonon competed in the ADCC, he showed a few holes in his guard game, something he will have likely improved upon. He is expected to be one of the strongest contenders to the podium this year.
Invited: LEONARDO SAGGIORO (Brazil) GABRIEL ARGES
Style: BJJ
Team: BTT
Originally set to compete was Arges of Gracie Barra, was forced out of the tournament due to personal reasons. To replace Romulo Barral's student is Leo Saggioro, commonly known as 'Cascao', a veteran jiu jitsu competitor who is very well known in the Brazilian national circuit, where he has conquered numerous titles. This was another surprising call by the ADCC, given that Cascao is traditionally more of a gi athlete and a natural featherweight.
Invited: LUCAS LEPRI (Brazil)
Style: BJJ
Team: Alliance
Arguably the most complete lightweight of all times, Lepri is the current IBJJF World Champion and was ADCC's runner-up at the previous event. There are no holes in Lucas' game, but his passing is what he is most known for. Lucas is coming in as one of the clear favourites to take home the gold.
Invited: JT TORRES (USA)
Style: BJJ
Team: Atos
One of the most accomplished athletes ever produced in the US, Torres has been busy setting up his own academy, something that slowed him down competitively over the past 2 years. Torres' last match against a high level opponent was over 1 year ago, making this invitation a bit of a surprise. Nonetheless, if his cardio is on point, expect Torres to be a very tough puzzle to solve for anyone on this roster.
Invited: SERGIO ARDILA-IBARRA (Colombia/USA) GILBERT BURNS
Style: BJJ/wrestling
Team: ATT
The former IBJJF world champion injured his ankle while competing in the Ultimate Fighting Championship (UFC) on the weekend prior to the ADCC and had to be replaced. The promoters went looking for Ardila who stepped up fo the job. A former 'All American' collegiate wrestler, Sergio also holds the rank of black belt in BJJ.
Invited: CELSO VENICIUS (Brazil)
Style: BJJ
Team: Ryan Gracie Academy
10-13 years ago Celso was regarded as the best lightweight around, a masterful half guard player who went on to conquer 3 IBJJF world titles. After the passing of Ryan Gracie Venicius took on the role of leading the Gracie's Sao Paulo based team, having also turned to mixed martial arts while reserving his right to compete with the gi a couple of times per year. Celsinho is very strong, has decent wrestling and a good bottom game – particularly from 1/2 guard. A tough challenger for the division.
Invited: DJ JACKSON (USA)
Style: BJJ
Team: Lloyd Irvin
A runner-up to the West Coast ADCC trials at 88 kg, we expect Jackson to be an absolute force in the 77 kilogram division. Over the past two years DJ has only lost once in his weight class (at the aforementioned 88 kg trials), in the meantime having conquered prestigious titles such as the Copa Podio, Grappling Pro Championship, an IBJJF World No-Gi title and many other smaller tournaments.
Jackson's top game and distance management is only matched by someone like Lucas Lepri in this weight class, and his takedown game is as sharp as can be. It is with great anticipation that we see Jackson's ADCC debut.
Invited: ENRICO COCCO (USA)
Style: No-Gi
Team: Fight Sports
Another veteran of the ADCC, Enrico Cocco won the event's US trials on 3 separate occasions. A product of Florida's no-gi grappling competition scene, Cocco is well rounded athlete who made a name for himself as a teenager competing against well established black belts. He has come a long way since then, being one of Fight Sports best athletes.
Men -88kg
​Even though the current champion: Yuri Simoes moved to 99kg, this 88 kilogram division has held up as one of the toughest 2017 ADCC categories. This, however, doesn't cancel the fact that (in our opinion) some of the event's invitations were slightly off, considering how many of the division's current big no-gi players will be out of the tournament. We are talking about names such as Matheus Diniz, Josh Hinger, Lucas Hulk, Adam Wardzinski, Marcos Tinoco and Patrick Gaudio.
Key Players: Leandro Lo, Xande Ribeiro, Keenan Cornelius, Rustam Chsiev
Dark Horse: Gordon Ryan
Current Champ: Yuri Simoes
1st Asia & Oceania Trials Winner: CRAIG JONES (Australia)
Style: BJJ
Team: Absolute MMA
We haven't seen the Australian compete very often as of yet. He is a recently promoted black belt who we saw taking very good care of himself at EBI earlier this year, so expect Jones to come in well adapted to the no-gi game. Craig is an ADCC veteran, having entered the last event as a purple belt.
1st European Trials Winner: JESSE URHOLIN (Finland)
Style: BJJ
Team: Alliance
A repeat offender at the event is the European ADCC trials, Finland's own Jesse Urholin who won the event on two occasions (2014/2016). Jesse have the home advantage, while bringing a very tight top game and a tough mentality to the mats, he will also be one of the very few athletes on the event who does not work full time on his grappling career, having a day job in IT.
1st North American Trials Winner: JAMES BRASCO (USA)
Style: Wrestling/NoGi
Team: Fight Sports
The veteran ADCC competitor and animal rights activist returns to the big show after he refused to compete in China (2013) due to the lack of animal rights laws in the Asian country. At 43 years of age, Brasco is showing no signs of slowing down bringing a wealth of experience in the event and being one of the hardest athletes to score on under these rules.
1st South American Trials Winner: MURILO SANTANA (Brazil)
Style: BJJ
Team: Unity
A veteran of the game, there isn't a whole lot in jiu jitsu that this 34 year old hasn't seen. The repeat ADCC challenger Santana did not compete a whole lot this year, but when he did, he made it count. Murilo is the head coach of Unity JJ in New York, having helped to place 2 athletes in this tournament, while conquering his own place. A masterful pressure passer and butterfly guard player, two games that he's adapted extremely well to his no-gi game.
2nd South American Trials Winner: KAYNAN DUARTE (Brazil)
Style: BJJ
Team: Atos
The biggest surprise in the tournament was Kaynan, the purple belt prodigy who won the Brazilian ADCC trials. At purple belt Duarte conquered double gold at the IBJJF No-Gi World and Pans Championship as well as a gold medal at the Worlds. He has since earned his brown belt and is expected to have a bright future ahead in this sport.
2nd Asia & Oceania Winner: KIT DALE (Australia)
Style: BJJ
Team: Unknown
To anyone who didn't believe the hype in the Australian a couple of years ago, Dale has been slowly shutting down the naysayers as his 2017 IBJJF World Championship quarter finals worthy performance would attest. Not one to press the accelerator often in a match, Kit Dale is a top shelf counter grappler and may surprise a few people on this event.
Dale is currently working with former ADCC medalist David Avellan, so expect him to come in with a very savvy game plan and killer kimuras.
2nd North American Trials Winner: JOHN SALTER (USA)
Style: MMA
Team: Dethrone Training Camp
We admit John Slater has not been in our radar for long. A mixed martial arts fighter for Bellator MMA, the first time we saw him compete in grappling was at the US ADCC trials. He proved to be an outstanding grappler with strong wrestling and good jiu jitsu skills. We are looking forward to seeing and analysing his game as the tournament finals develop.
2nd European Trials Winner: PIOTR FRECHOWICZ (Poland)
Style: BJJ
Team: Berserkers
Out of the 4 Polish Grapplers who qualified for the ADCC tournament finals in Finland, 3 train at the Berserkers team in Warsaw, a team that seems to hold the key to success. Piotr earned his black belt this year after a successful campaign as a brown belt where he earned a gold medal at the European No-Gi Open and bronze at European Open with the gi. Solid grappler with a bright future ahead.
Invited: ROMULO BARRAL (Brazil)
Style: BJJ
Team: Gracie Barra
One of the legends of the sport is 34 year old Romulo Barral, who has nothing left to prove in jiu jitsu. ADCC Champion (2013) IBJJF World Champion (2014/2013/2012/2009/2007), IBJJF World No-Gi Champion (2009) always expect Barral to be a title contender, even when coming off a ghastly injury as the one he suffered earlier this year (Worlds semi-final 2017).
Strong wrestling, great knee cut passing and an impassable guard are among Barral's strongest weapons.
Invited: KEENAN CORNELIUS (USA)
Style: BJJ
Team: Atos
25 years old Keenan Cornelius has gotten so very close to the gold medal on so many occasions that it would be a travesty not to see him wearing ADCC gold around his neck at some in his career. 1 silver and 2 bronze medals in the past two events, expect Cornelius to come in more focused than ever, ready to claim that which has narrowly escaped him.
Although highly reliant on his lapel when playing with the gi, Keenan has adapted very well to the no-gi game with solid takedowns and passing being a big part of his ADCC repertoire.
Invited: GORDON RYAN (USA)
Style: Sub-only
Team: Renzo Gracie/DDS
One of the youngest competitors in his division, Gordon Ryan's rise to the top has been nothing but impressive. At 22 years of age, Ryan has wins over very big names while stacking one of the best submission ratios in the sport (85%).
Ryan is part of a new breed of competitor, the new school of American jiu jitsu. No longer associated with wrestling, this movement is growing from the sub-only circuit held in the northern hemisphere, away from the buzz of the IBJJF. Gordon's ADCC debut is met with great anticipation, as this will be the first time we will see his game matched in a tournament where the outcome is predominantly measured by positional dominance – since reaching his black belt status.
Invited: PABLO POPOVITCH (Brazil/USA)
Style: No-Gi
Team: Team Popovitch
The always tough former ADCC Champion (2009) and ADCC runner-up (2011) Pablo Popovitch returns to the big stage. The 37 year old exited the event prematurely in the very first round back in 2015, with a lacklustre performance. Given the history Popovitch has had in the tournament, he has been called back to redeem himself.
Invited: ALEXANDRE RIBEIRO (Brazil)
Style: BJJ
Team: Ribeiro JJ
Another legend of the sport, the world does not have enough adjectives to quantify the importance of Xande's career in jiu jitsu. At 36 Ribeiro's highlights have been 2 ADCC titles (2009/2007) and 7 IBJJF World Championships at black belt (including 2 in the absolute division), though you can count many other important medals and titles in his curriculum.
Alexandre has one of the most complete grappling games in the sport, with and without the gi, and is coming from a draw against Roberto Cyborg earlier this month, where he looked outstanding.
Invited: LEANDRO LO (Brazil)
Style: BJJ
Team: Ns Brotherhood
The most anticipated debut of the year will be that of Leandro Lo who, even though he never competed in an ADCC tournament before, is already seen as a clear contender to the crown.
With dominant performances with the gi over the past 6 years, Leandro will be testing his skills against the top no-gi grapplers in the world, a test many would not be prepared to take. Lo is seen as one of the 'All Time Greats' (ATG) with the kimono already, if he pulls this off the 28 year old will certainly be upgraded to ATG in the sport, regardless of uniform.
Invited: DILLON DANIS (USA)
Style: BJJ
Team: Unaffiliated
The super talented 23 year old New Yorker has had a rough competitive year with only two wins (both against 66 kilogram challenger AJ Agazarm) and 5 losses. Danis should be arriving to Finland with extra motivation, and if he manages to regain his BJJ 'mojo' he will prove he's still one of the best prospects in the division.
Invited: RUSTAM CHSIEV (Russia)
Style: Wrestling/MMA
Team: K-Dojo
Very competent grappler and ADCC veteran (3rd place 2015) is the Russian, Chsiev. Although not a crowd pleaser Rustam's conservative style has earned him wins over some of the top grapplers in the world.
Rustam likes to slow down the pace of a match, plays exclusively from the top (usually anchored to the ground by the knees) and is very hard to score on. He may not be the most technical, but he knows how to win matches better than most and will be a threat to the podium.

Men -99kg
The biggest loss in this division will be its current champion Rodolfo Vieira (who is out due to his planned MMA commitments), but many other big names of the sport missed an invite to Finland. This includes: Jackson Sousa, Adam Wardzinski, Bernardo Faria, Muslim Patsarigov, Erberth Santos, Dany Gerard to name a few, who were not called in. Instead of these contenders the organizers have chosen a mixed bag of challengers which includes some unexpected calls. Check them out below.
Key Players: Yuri Simoes, Felipe Pena, Rafael Lovato
Dark Horse: Mahamed Aly
Current Champ: Rodolfo Vieira
1st Asia & Oceania Trials Winner: ROMAN DOLIDZE (Georgia)
Style: MMA
Team: RD Sport
Dolidze is a Georgian mixed martial arts fighter and a BJJ purple belt who's trained all around the world. At 29 years of age Roman holds a clean MMA record.
1st European Trials Winner: KAMIL UMIŃSKI (Poland)
Style: BJJ
Team: Berserkers
Another strong competitor from Poland, Kamil Umiński is called "the professor" by his Polish grappling peers for his analytic approach to jiu jitsu. Kamil is an instructor with students who regularly compete at the highest level in grappling and MMA but still finds time to compete and be successful in the local circuit. This will be Umiński's second attempt at ADCC gold.
1st North American Trials Winner: ELIOT KELLY (USA)
Style: BJJ/wrestling
Team: El Dorado Hills BJJ
33 year old former wrestling standout and brown belt IBJJF World No-Gi Champion (2011), Kelly is an exciting competitor who we believe will thrive under these ADCC rules. Durable, with great mobility for an super-heavyweight and a black belt under one of the world's best (Marcos Torregrosa).
1st South American Trials Winner: MAHAMED ALY (Brazil)
Style: BJJ
Team: Lloyd Irvin
The talented Mahamed Aly is one of the strongest challengers to the ADCC gold this year. With a Style: taylor made for the event, the 23 years old will be bringing a ton of athleticism, great wrestling, and a much improved guard game.
2nd South American Trials Winner: SALOMAO RIBEIRO (Brazil)
Style: BJJ
Team: Alliance
Although not a common competitor in jiu jitsu's international scene, Ribeiro comes into the ADCC with Alexandre Paiva's seal of approval. One of Gi-gi's toughest black belts, 30 YO Salomao is a classic pressure passer with a decent stand-up game.
2nd Asia & Oceania Winner: YUKIYASU OZAWA (Japan)
Style: Grappling
Team: Kaze
40 year old Ozawa has been competing in the ADCC since 2003, having never won a match (granted he's always been matched against legends of the sport). This will be Yuki's 4th shot at the ADCC podium.
2nd North American Trials Winner: PAUL ARDILA (USA)
Style: wrestling/BJJ
Team: ATT
Paul Ardila-Ibarra is a black belt under Roan Carneiro and one of the most promising super-heavyweights in the ADCC. A former wrestler of NCWA two time champion, expect Ardila-Ibarra to be a very tough challenge against anyone in his path.
2nd European Trials Winner: ABDURAKHMAN BILAROV (Russia)
Style: BJJ
Team: Berkut
Dagestan powerhouse Bilarov made waves as a brown belt, when he beat big names such as current ADCC open weight champion Claudio Calasans. He hasn't been as active as we would have hoped for, but is a regular appearance at the ACBJJ Grand Prix, where he gained world class experience.
Bilarov has great takedowns and likes to attack the feet when in passing position.
2015 Champion (88kg): YURI SIMOES (Brazil)
Style: BJJ
Team: Caio Terra
Coming off a prolonged injury is the current 88kg ADCC Champion. Yuri is an absolute power house and competent in all levels of the game. If he comes in fully recovered from his knee, expect to see him on the podium steps. We believe Simoes and Felipe Pena to be the top contenders to the 99 kilogram division on paper.
1st South American Trials Winner, Invited: JACKSON SOUZA (Brazil)  LUIZ PANZA
Style: BJJ
Team: Checkmat
The deadliest straight ankle lock finisher in the sport had to pull out of the race on the very last minute, being replaced by Jackson Souza on less than 24 hours notice. Jackson is a one of a kind grappler, very fast and athletic for a man of his size with a wealth of experience and a varied game.
Invited: DEAN LISTER (USA)
Style: No-Gi
Team: Dean Lister JJ
Former 2x ADCC champ Dean Lister is back to the event that made him one of the most popular jiu jitsu figures of the 2000 decade. Always durable, at 40 years of age Lister has lost some of his steam with only recorded 2 match wins in grappling since 2014.
Invited: RAFAEL LOVATO JR. (USA)
Style: BJJ
Team: Lovato Jr.
One of the all time greatest BJJ competitors of all time, Lovato made history twice by being the first non Brazilian to win the Brazilian National Championship as a black belt (2007), and later by by winning the same tournament for the 1st time in open weight division (2013). Lovato Jr. was also the 3rd American to win the World Championship in the black belt division.
If this wasn't enough, Rafael has been competing consistently in the ADCC for 10 years and has recently dedicated himself fully to MMA. A true student of the Ribeiro Brothers system, Lovato Jr is solid on all realms of the grappling game.
Invited: FELIPE PENA (Brazil)
Style: BJJ
Team: Gracie Barra
Felipe "Preguiça" as Pena is known, is 2015's tournament runner-up at 99 kilograms and (we believe) will be starting the ADCC race this year in the division's pole position side-by-side with Yuri Simoes. One of the strongest contenders to this year's gold medal, Felipe needs very little introduction. He is very fast for this weight class and holds strengths in the bottom and top games.
Invited: JOAO ASSIS (Brazil)
Style: BJJ
Team: Checkmat
Returning to the ADCC is former champion (2013) Assis. The 34 year old has had very strong performances since he last performed in this event (2015) when he lost in the semi finals. Since then Joao has beaten some of the world's best, performances that will have certainly boosted his confidence, and a fierce Assis is a dangerous Assis.
Invited: JAKE SHIELDS (USA)
Style: No-Gi
Team: DDS/Scrap Pack
38 year old Jake Shields has made a career out of grinding challengers into a pulp, having beaten some of the best in the world both in MMA and grappling. An invitation for the 99 kilogram division however, seems slightly off the chart for someone who is unlikely to weigh in anywhere past 90 kg. Shields will be tough to handle, no doubt, but giving up considerable amounts of both speed and strength to a few of the higher ranked guys on this division may be a very steep incline, even for such a legend of this game.
Invited: MIKE PEREZ (USA)
Style: BJJ
Team: Atos
A brown belt under Andre Galvao, Perez is already an ADCC veteran at 88kg (2013). Mike is a 2x No Gi World Champion (purple & brown belt) and an ADCC North American Trials Champion (2013) coming in with lots of hype from his coach.
Stocky, with good wrestling, fast pace guard passing and knowledgeable of leg locks, the only thing Perez lacks is size, having a frame more suited for the 88 kilogram division. We will see if his confidence and skill will be enough to overcome that obstacle.
Men +99kg
One of the most even weight classes this year is the ultra-heavyweight division. With big names such as current champ Orlando Sanchez, former open weight champion Roberto Cyborg, 10x IBJJF world champion Marcus Buchecha, Joao Gabriel Rocha, Tom deBlass as well as new blood from Brazil and the US. Fantastic event ahead here, with a strong chance the open weight champion will come out of this group as well.
Key Players: Orlando Sanchez, Roberto Cyborg, Marcus Buchecha, Joao Gabriel Rocha
Dark Horse: Tim Spriggs, Victor Honório
Current Champ: Orlando Sanchez
2015 champion: ORLANDO SANCHEZ (USA)
Style: BJJ
Team: Gracie Barra
Sanchez has been focussing on his team's growth since he conquered his ADCC title two years ago, having not competed since his last showing in 2015. Orlando is very fast for his size, strong and with a solid base. He is a definite candidate to renew his title and should have have in Buchecha, Joao Gabriel Rocha and Cyborg his toughest challenges stylewise.
2nd Place Asia & Oceania Trials: ARMAN ZHANPEISOV (Kazakhstan)
Style: Unknown
Team: Unknown
The original Asia & Oceania trials champion Sulimanov Mokhmad had to withdrawn so runner-up Arman took his place. We have no information on this athlete otherwise.
1st European Trials Winner: KHAMZAT STAMBULOV (Russia)
Style: BJJ/Grappling
Team: Berkut
This European trials position has traditionally been taken by athletes from Finland and Poland, but this year Dagestan showed it is becoming a force in Europe's no-gi circuit by stealing a few bracket placements. Stambulov will also be representing the well known Berkut academy.
1st North American Trials Winner: TOM DEBLASS (USA)
Style: BJJ
Team: Ocean County Jiu Jitsu
One of the most popular figures in jiu jitsu today, DeBlass is also a driving force behind well known grapplers such as Garry Tonon, Gordon and Nicky Ryan. As a competitor Tom is intelligent, hard to score on and has only been submitted once at black belt, having in his knee shield guard one of his strongest weapons. A tough challenge for anyone on this roster.
2nd South American Trials Winner: VICTOR HONÓRIO (Brazil)
Style: BJJ
Team: GF Team
Not usually seen competing without his gi, Honório is one of the strongest competitors in Brazil's BJJ circuit, having also a strong wrestling background. Very athletic for a man of his size, Victor combines good takedowns with acrobatic guard passing. The first time we saw Victor competing in no-gi at black belt was at the Rio de Janeiro ADCC trials this year, where he did exceptionally well, though in Finland the odds will be stacked much higher. Honório might very well be a dark horses here, so pay attention to this young man.
2nd Asia & Oceania Winner: HIDEKI SEKINE (Japan)
Style: Judo/Pro Wrestling
Team: Unknown
Commonly known as Shrek, Sekine is an ADCC veteran with a strong background in judo. Although always tough as a competitor, Hideki has lacked the athleticism to conquer the takedown against the top players in the division. This added to the fact that he doesn't like to play from the bottom has hurt his chances of medalling at this level.
2nd North American Trials Winner: CASEY HELLENBERG (USA)
Style: BJJ
Team: Ribeiro JJ
Part of the Ribeiro Jiu Jitsu family, Hellenberg is one of the rising talents being currently produced by Saulo Ribeiro – a team that is brewing some future stars of the sport, no doubt. Casey's shown tremendous potential while competing in the IBJJF circuit this year and may surprise a few at the ADCC. Tough, durable and with very solid fundamental – Ribeiro JJ style.
2nd European Trials Winner: ABDULAEV RUSLAN (Russia)
Style: Grappling
Team: Unknown
First time we saw Ruslan was at the 2014 UAEJJF World Pro, a tournament where he steamrolled everyone in the white belt division. He has come a long way since then.
Ruslan is one of the least experienced athletes on this roster and is not expected to go far in the tournament, though he may become a crowd favorite thanks to his forward moving mentality, solid wrestling and flexible guard. Most of Ruslan's submission game comes from leg locks.
Invited: VINNY MAGALHAES (Brazil/USA)
Style: BJJ/No-Gi
Team: Unknown
Although one of the most experienced competitors on this tournament brackets, and a former champion (2011), Magalhaes has has his worst competitive year since reaching the black belt rank. If he finds his jiu jitsu groove back, he has all the tools to pose a threat to anyone one the division.
Invited: ROBERTO ABREU (Brazil)
Style: BJJ
Team: Fight Sports
One of the most clear contenders to the title, 'Cyborg' needs little introduction. A technical guard player with great mobility, solid takedowns and a monster guard passer, it would come as a shock if we don't see the former ADCC open weight champion (2013) make it to the podium.
Invited: MARCUS ALMEIDA (Brasil)
Style: BJJ
Team: Checkmat
What we said about Cyborg (above) you can double down for 'Buchecha', who is returning to the event after skipping it in 2015. Almeida is the most successful gi competitor of all time and will be trying to solidify his claim to Greatest Of All Time in Finland.
Invited: JOAO GABRIEL ROCHA (Brasil)
Style: BJJ
Team: Soul Fighters
Together with Buchecha, Cyborg and Sanchez, we see Joao Gabriel Rocha as one of the most likely to succeed at this event. Rocha is a former ADCC Silver Medallist (2013) and a regular appearance in IBJJF's biggest events. Much more active in the gi scene, Joao Gabrel's style is not typically reliant on the gi, having in his scrambles and horsepower (and solid fundamentals) his strongest weapons.
Invited: JARED DOPP (USA)
Style: BJJ
Team: Lovato Jr.
After a stellar career as a brown belt, Dopp's introduction to the black belt division has been anything but smooth, having stacked more losses than wins since his debut. Although Jared has found it hard to reconcile his demanding job obligations with those of competitive jiu jitsu, Dopp tends to shine the brightest when competing under ADCC rules, so don't expect Dopp to be out of the race just yet.
Invited: JEFF MONSON (USA)
Style: MMA
Team: Unknown
Although a former ADCC champion, Monson's invitation was somewhat of a surprise considering the advanced age of the athlete (46 years old) and the poor track record since his last podium placement (bronze) almost 10 years ago. Monson should be tough to score on nonetheless, and his experience on the mats may prove to be a tough puzzle to solve.
Invited: MARIO RINALDI (USA)
Style: MMA
Team: ATT
Another unexpected invitation by the ADCC was veteran MMA fighter "Big Hurt", who made his debut at the ADCC back in 2007 – a submission loss to Fabrício Werdum. We had not seen him back since then but expect him to come in with sharp wrestling ability and a very strong base in traditional ultra-heavyweight style.
Invited: TIM SPRIGGS (USA)
Style: BJJ
Team: Lloyd Irvin
Will we say it again? Yes we will, another very unexpected call by the ADCC tournament organisers this year was Spriggs who (although super talented) has not competed for over 1 year (and almost two years have passed since his last no-gi tournament).
Sprigg's lack of a tournament tune-up leaves him as a riddle at the moment. Will Tim be able to overcome mat rust? If he does, Spriggs has all the attributes to be a big player here. He will be one of the fastest athletes on this division and, depending on how he will come in mentally, may very well be a dark horse in division.
Clarification:
​1st South American Trials Winner: Luiz Panza (Brazil) dropped to -99kg
Women -60kg
2015 champion: MACKENZIE DERN (USA)
Style: BJJ
Team: Gracie Humaita
Rank: Black Belt
South American Trials Winner: BIANCA BASÍLIO (Brazil)
Style: BJJ
Team: Almeida JJ
Rank: Black Belt
Asia & Oceania Winner: RIKAKO YUASA (Japan)
Style: BJJ
Team: Paraestra
Rank: Black Belt
North American Trials Winner: ELISABETH CLAY (USA)
Style: BJJ
Team: Legacy JJ
Rank: Blue Belt
European Trials Winner: FFION DAVIES (Wales)
Style: BJJ
Team: CF24
Rank: Purple Belt
Invited: MICHELLE NICOLINI (Brazil)
Style: BJJ
Team: Checkmat
Rank: Black Belt
Invited: BEATRIZ MESQUITA (Brazil)
Style: BJJ
Team: Gracie Humaita
Rank: Black Belt
Invited: TALITA ALENCAR TAMMI MUSUMECI 
Style: BJJ
Team: Alliance
Rank: Black Belt
Women +60kg
Current Champion: Ana Laura Cordeiro (out of the tournament)
South American Trials Winner: TALITA NOGUEIRA (Brazil)
Style: BJJ
Team: Ns Brotherhood
Rank: Black Belt
North American Trials Winner: TARA WHITE (USA)
Style: BJJ
Team: Carlson Gracie
Rank: Black Belt
European Trials Winner: SAMANTHA COOK (England)
Style: BJJ
Team: Checkmat
Rank: Black Belt
Invited: JESSICA FLOWERS (Brazil/USA)
Style: BJJ
Team: Gracie Barra
Rank: Black Belt
Invited: GABI GARCIA (Brazil)
Style: BJJ
Team: Alliance
Rank: Black Belt
Invited: AMANDA ALEQUIN (USA)
Style: BJJ
Team: ?
Rank: Black Belt
Invited: VENLA LUUKKONEN (Finland)
Style: BJJ
Team: Hilti BJJ
Rank: Black Belt
​2015 champion Ana Laura Cordeiro is OUT due to family commitments