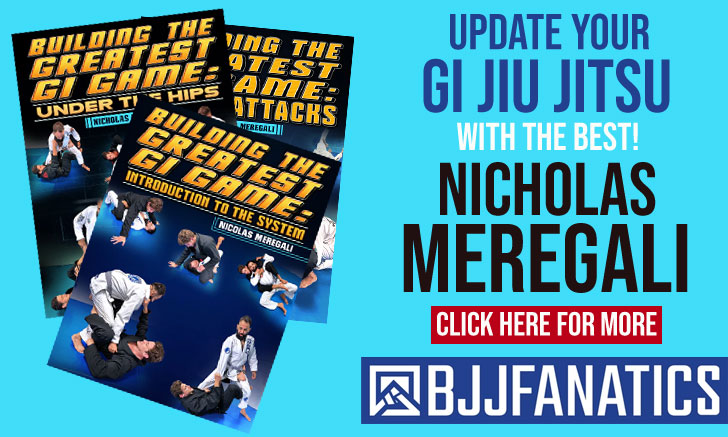 From early on in our editorial proposal BJJ Heroes has tried to push for a unified ranking system for our sport. Having played with a few ideas on how to come up the fairest results over the years, for the past 4 we have left this task to the numbers – allowing tournament wins to dictate who are the best in the business of jiu jitsu.
From 2015 onwards our stats have added a combination between tournament wins and 'head-to-head' clashes between the top ranked athletes, which we believe gave us the best results. For more on that visit the 2015 and 2016 BJJ Rankings pages.
This year we have returned to that same formula – for a more complete explanation of the BJJ Heroes ranking method, please read below:
BJJ HEROES RANKING METHOD
This list gathers data from the top competitions on the Brazilian jiu jitsu calendar and adds up all the medallists to create an unbiased list of the top BJJ competitors.
On top of the tournament wins, we also consider direct matches between top 5 ranked competitors. Meaning that if two BJJ Heroes ranked black belts meet at any mainstream tournaments, whoever wins will receive extra points. If the winner is lower ranked than the loser he will receive 3 points, if the opposite happens 1 point will be attributed.
This top 5 ranking collects points from the following tournaments:
| | | | | | | | |
| --- | --- | --- | --- | --- | --- | --- | --- |
| Points | European | Pans | Brasileiro | World Pro | Worlds | ADCC | NoGi World |
| Gold | 3 | 4 | 4 | 3 | 6 | 5 | 3 |
| Silver | 2 | 3 | 3 | 2 | 4 | 3 | 2 |
| Bronze | 1 | 1 | 1 | 1 | 1 | 1 | 1 |
ROOSTER WEIGHT [GALO] 57kg / 126lbs
The never ending race between Bruno Malfacine and Caio Terra was won this year by Alliance's 9x black belt world champion, the most dominant roosterweight in the history of the sport – Bruno Malfacine.
The story of the lightest division in BJJ, however, was not the Bruno x Caio duel. Instead it lied on the rise of the new generation of roosterweigts – Rodnei Barbosa (Qatar JJ), Lucas Pinheiro (AMBJJ) and Eduardo Barboza (GFT) who showed up in great form throughout 2017.
TOP 5 RANKED ROOSTER-WEIGHTS
#1 Bruno Malfacine 13pts
#2 Caio Terra 10pts
#3 Rodnei Barbosa 9pts
#4 Lucas Pinheiro 8pts
#5 Eduardo Barboza/Aniel Cândido 5pts
LIGHT FEATHER WEIGHT [PLUMA] 64kg / 141lbs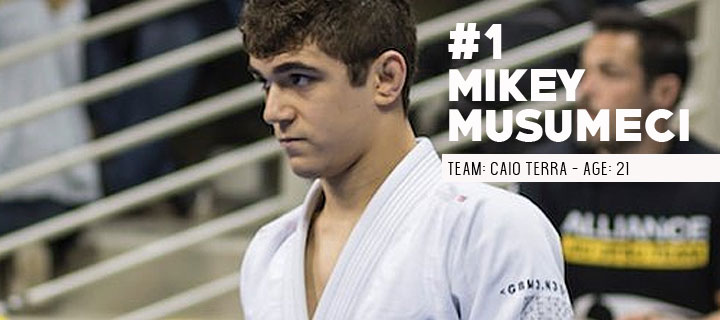 With identical points to last year's race are Musumeci and Miyao, with newcomer Cleber 'Clandestino' showing great promise on his rise to #3 position on the ranking.
For the second season straight, Mikey Musumeci is the number 1 light featherweight athlete in the world, a position he has held since arriving in the black belt division last year. At this rate, Musumeci is on the path to challenge Robson Moura for the title of most dominant 141 lb'er of all time with the gi.
TOP 5 RANKED LIGHT-FEATHERWEIGHTS
#1 Michael Musumeci 16pts
#2 João Miyao 13pts
#3 Cleber Sousa (Clandestino) 10pts
#4 Tiago Barros/Hiago George 9pts
#5 Gabriel Moraes 6pts
FEATHERWEIGHT [PENA] 70kg / 154lbs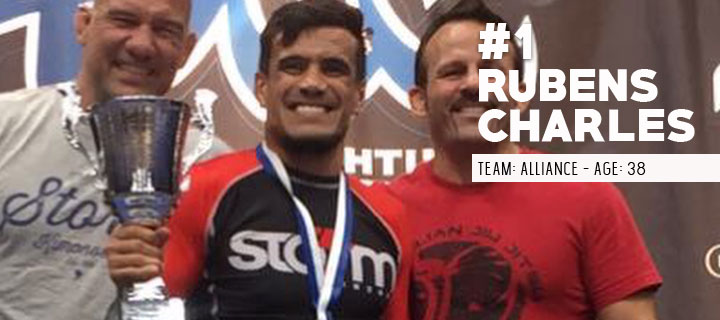 With the early retirement of Rafael Mendes, and Márcio André moving on to lightweight, there was plenty of debate early on in 2017 as to who would claim the featherweight trone. That task was outlined early by 38 year old Rubens Charles, a BJJ legend who is still running strong having finished arguably the most dominant year ever witnessed in the featherweight division. A year when Charles conquered the "Super Grand-Slam" of jiu jitsu: Gold medals in the top 4 IBJJF tournaments as well as the ADCC (the Holy Grail of the no-gi division).
Others with important performances in the division were Grippo, Leo 'Cascão', 'Queixinho', Rafael Mansur and UAE based athlete Tiago Bravo.
TOP 5 RANKED FEATHERWEIGHTS
#1 Rubens Charles (Cobrinha) 26pts
#2 Gianni Grippo 11pts
#3 Leo Saggioro 7pts
#4 Osvaldo Moizinho/Rafael Mansur 4pts
#5 Tiago Bravo 3pts
LIGHT WEIGHT [LEVE] 76kg / 168lbs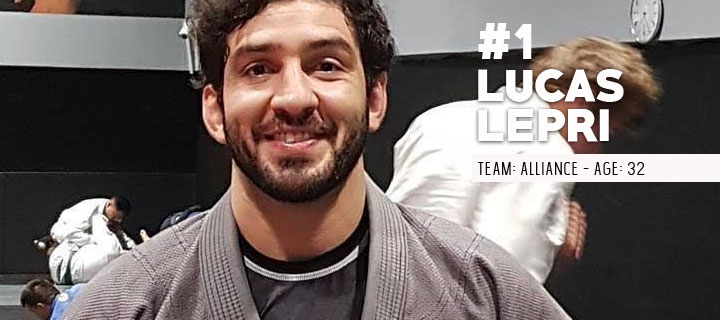 A crazy 2017 for the lightweight division, arguably the most tightly disputed weight class in jiu jitsu, where only 1 of the 2016 ranked athletes stayed on this year's top 5. That hard fought spot was achieved by Lucas Lepri, one of the most consistent competitors of the past 10 years.
Lepri pushed through the stacked lightweight brackets of the Worlds, Pans and ADCC, being stopped short only by JT Torres at tournament's final in Helsinki. Torres competed very little this year – being busy setting up his Atos academy affiliate on the East Coast, but when he did enter the mats, he made it count in a big way.
TOP RANKED 5 LIGHTWEIGHTS
#1 Lucas Lepri 15pts
#2 Márcio André/JT Torres 8pts
#3 Renato Canuto 6pts
#4 AJ Agazarm 5pts
#5 Roberto Satoshi/Luan Carvalho 5pts
MIDDLEWEIGHT [MÉDIO] 82kg/181lbs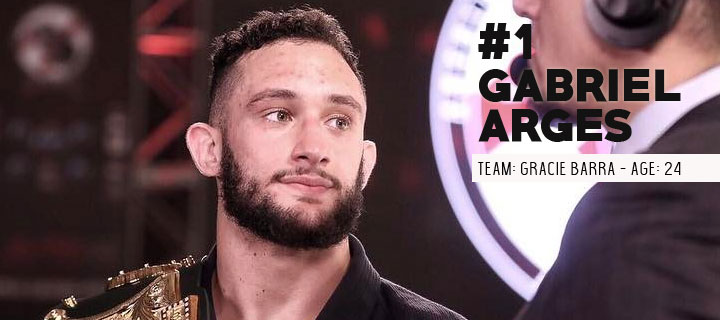 Gabriel Arges has rapidly climbed the ranks of the middleweight division on a steady pace, with one of the most eye pleasing jiu jitsu styles in the world today – particularly with the gi.
Much like the lightweight division, the middleweights often see big changes to the rankings from one year to another given the talent distribution in this weight class. One of the rising talents in at middleweight this year was #2 ranked Marcos Tinoco of Marcelo Garcia's academy, who had his best competitive year since reaching the black belt division, proving his talent is on a par the very best.
TOP 5 RANKED MIDDLEWEIGHTS
#1 Gabriel Arges 16pts
#2 Marcos Tinoco 10pts
#3 Jaime Canuto 8pts
#4 Otávio Sousa 7pts
#5 Isaque Bahiense/Alec Baulding 5pts
MEDIUM HEAVY-WEIGHT [MEIO PESADO] 88kg / 194lbs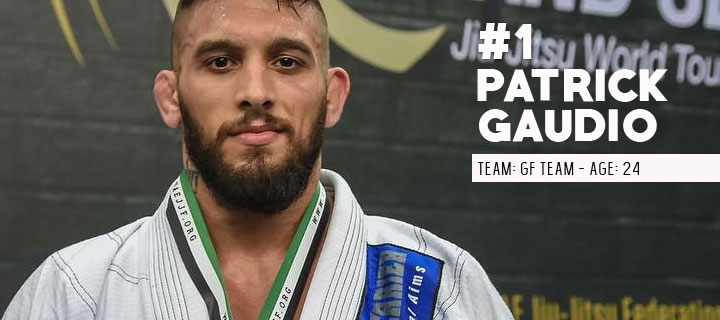 Another weight class that was a pleasure to keep track of this year was medium heavy, with all athletes on the top 5 playing nothing but forward thinking, fast paced BJJ. The race for the #1 spot was tight between the super explosive Lucas Barbosa of Atos San Diego and Patrick Gaudio GFT Recreio, two athletes who faced each other in battle on 3 occasions this year.
TOP 5 RANKED MEDIUM-HEAVYWEIGHTS
#1 Patrick Gaudio 17pts
#2 Lucas Barbosa (Hulk) 16pts
#3 André Galvão 9pts
#4 Rodrigo Fajardo/Renato Cardoso 6pts
#5 Romulo Barral 5pts
HEAVYWEIGHT [PESADO] 94kg / 207lbs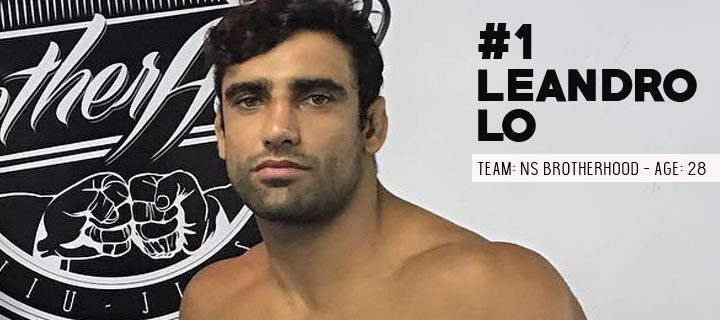 BJJ juggernaut Leandro Lo entered the heavyweight division this year after conquering world titles at light, middle and medium heavy in the past, an attempt to match Saulo Ribeiro's record of IBJJF World titles in 4 different weight classes. Although Lo's plan fell short, Lo did conquer 2 silver medals at worlds (weight + absolute) and double golds at Pans and Brasileiro. Truly impressive year for the Ns Brotherhood leader.
Another interesting addition to the division's top 5 ranking is DDS member Gordon Ryan. The first no-gi focussed athlete to reach the top of this weight class, doing so through his brilliant performances at the ADCC.
TOP 5 RANKED HEAVYWEIGHTS
#1 Leandro Lo 34pts
#2 Felipe Pena (Preguiça) 13pts
#3 Nicholas Meregali 11pts
#4 Gordon Ryan 9pts
#5 Keenan Cornelius 7pts
SUPER HEAVYWEIGHT [SUPER PESADO] 100kg / 221lbs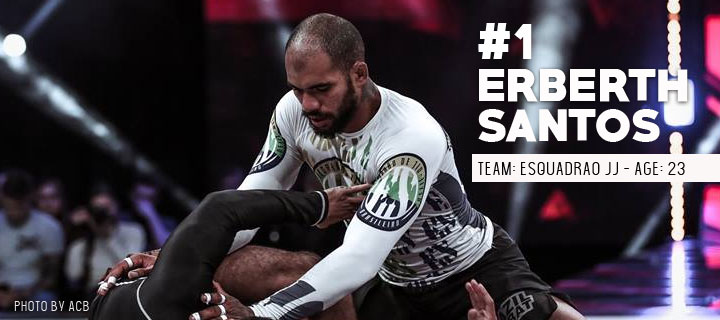 Three of the top ranked spots remained unchanged in this year's listing, but none with a bigger number disparity than at super-heavy. Erberth is not only one of the very best 221 lb'ers ever seen on the mats, he is also the most regular competitor in the division today, particularly in the Brazilian circuit where he consistently dominated the scene.
TOP 5 RANKED SUPER-HEAVYWEIGHTS
#1 Erberth Santos 24pts
#2 Mahamed Aly 8pts
#3 José Junior 6pts
#4 Yuri Simões 5pts
#5 Bernardo Faria 4pts
ULTRA HEAVYWEIGHT [PESADÍSSIMO] + 100kg / 221lbs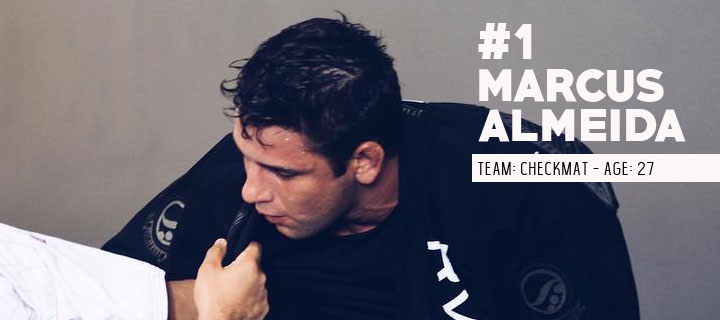 What would be regarded as an incredible year for almost any BJJ athlete was somewhat of a hot and cold period for jiu jitsu superstar Marcus 'Buchecha' Almeida. Buchecha did increase his IBJJF World Openweight title record to 5, distancing himself even further from the previous record established by Roger Gracie (3), but did not meet the expectations of double gold at ADCC nor of beating Roger in the most anticipated superfight of the decade.
Regardless of how you look at this year's performance, Almeida will be forever regarded as the best ultra-heavyweight that ever lived.
TOP 5 RANKED ULTRA-HEAVYWEIGHTS
#1 Marcus Almeida 22pts
#2 João Gabriel Rocha 13pts
#3 Gustavo Dias Elias 9pts
#4 Roberto Abreu (Cyborg) 7pts
#5 Victor Honório/Igor Schneider (Tigrão) 6pts
FEMALE TOP RANKED ATHLETES
Although the numbers of female athletes had grown in 2016 at black belt, they did stagnate this year being still off the mark to warrant a ranking.
Take into account that many athletes who medal in the top tournaments of the world, do so without winning one single match. This was the case in almost every major IBJJF event we use for the ranking, deeming this exercise fruitless for the female division. We hope to see bigger brackets next year, which would warrant the addition of a female section to this article.