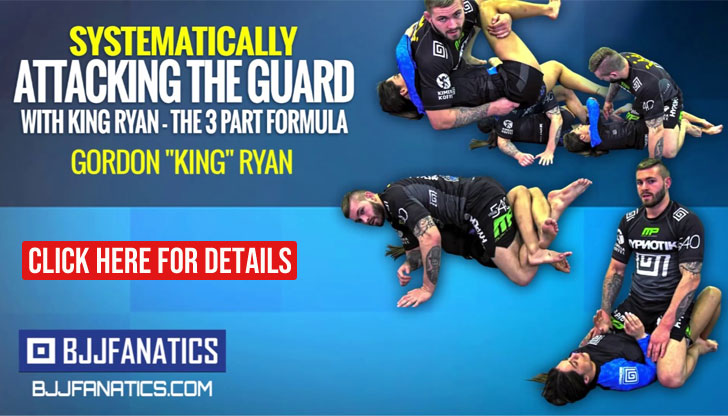 Since the very beginning of BJJ Heroes' we have maintained the tradition of working on a unified ranking system for our sport, having changed ideas on how to achieve the fairest results on several occasions over time. For the past 2 years we have left this task to the numbers – allowing tournament wins to dictate who are the best in our business.
Last year our maths were a combination of tournament wins and 'head-to-head' clashes, which we believe gave us the best (and most praised) results – for more on that visit the 2015 BJJ Rankings page. This year we have returned to that same formula – for a more complete explanation of the BJJ Heroes ranking method, please read below:
BJJ HEROES RANKING METHOD
This list gathers data from the top competitions on the Brazilian jiu jitsu calendar and adds up all the medallists to create an unbiased list of the top BJJ competitors.
On top of the tournament wins, we also consider direct matches between top 5 ranked competitors. Meaning that if two BJJ Heroes ranked black belts meet at any mainstream tournaments, who ever wins will receive an extra point. If the winner is lower ranked than the loser, he will receive 3 points.
This ranking collects information from the following tournaments
| | | | | | | | |
| --- | --- | --- | --- | --- | --- | --- | --- |
| Points | European | Pan Am. | Brasileiro | World Pro | Worlds | ADCC | NoGi World |
| Gold | 3 | 4 | 4 | 4 | 6 | 5 | 3 |
| Silver | 2 | 3 | 3 | 3 | 4 | 3 | 2 |
| Bronze | 1 | 1 | 1 | 1 | 1 | 1 | 1 |
And there it is. Now for the actual ranking…
Top Jiu Jitsu Competitors Today
GALO: 57kg / 126lbs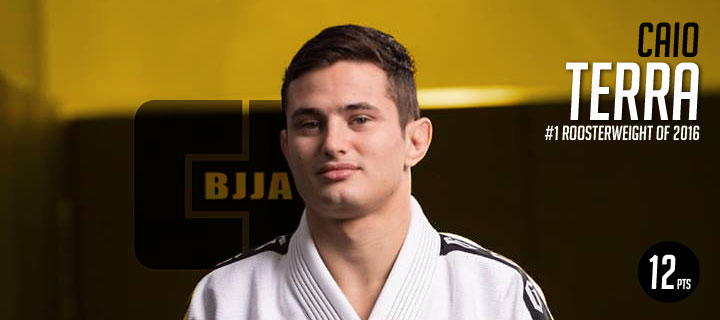 One of the most loved rooster-weights in the sport, Caio Terra has had epic wars with his nemesis (and last year's #1 ranked) Bruno Malfacine. This year was no exception, with Terra being the most active of the two during 2o16, winning major IBJJF tournaments (European Open and World No-Gi Championship) while also reaching the final of the "Mundial".
TOP 5 RANKED ROOSTERWEIGHTS
#1 Caio Terra (12pts)
#2 Bruno Malfacine (10pts)
#3 Koji Shibamoto (6pts)
#4 Rodnei Barbosa (5pts)
#5 Juan Lopes Silva (3pts)
PLUMA: 64kg / 141lbs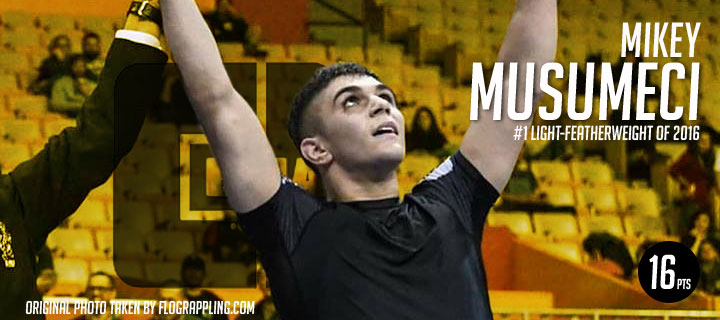 In a closely disputed weight class it was the rookie black belt Michael Musumeci who came out on top. Mikey took the world by storm, beating former #1 light featherweight grappler Joao Miyao on 3 occasions this year.
TOP 5 RANKED LIGHT-FEATHERWEIGHTS
#1 Mikey Musumeci (16pts)
#2 Joao Miyao (13pts)
#3 Hiago George (11pts)
#4 Ary Farias (7pts)
#5 Gabriel Moraes (3pts)
PENA: 70kg / 154lbs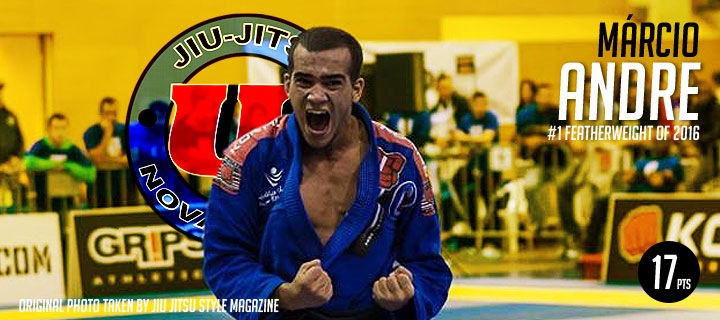 Another relative newcomer who had a tremendous campaign this year was Márcio André. The Fábio Andrade pupil was finally injury free, asserting himself as one of the top athletes in a division teeming with talent. The fact that André came out on top is an unbelievable deed considering the many legends he faced this year. We can only expect the Nova Uniao prospect to get better as he matures in this division, if so the sky is the limit for this young man from Bangú.
TOP 5 RANKED FEATHERWEIGHTS
#1 Márcio André (17pts)
#2 Rafael Mendes (12pts)
#3 Paulo Miyao (11pts)
#4 Osvaldo Moizinho (10pts)
#5 Isaque Paiva (3pts)
LEVE: 76kg / 168lbs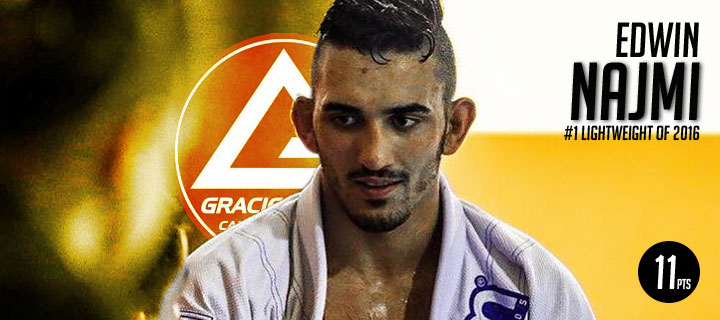 Earlier this year we wrote a piece outlining Najmi's strong start in the black belt division. That point is now reiterated through this ranking.
After a slow start Edwin slowly gained momentum, finishing 2016 on a high note by beating a number of the other members of this list, in another very closely contested weight class.
TOP RANKED 2015 LIGHTWEIGHTS
#1 Edwin Najmi (11pts)
#2 Lucas Lepri (9pts)
#3 Michael Liera Jr (6pts)
#4 Michael Langhi / Juan Kamezawa (4pts)
#5 Francisco Iturralde (3pts)
MÉDIO: 82kg/181lbs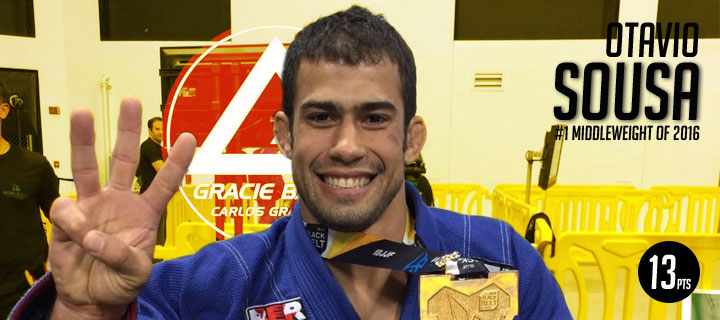 As Leandro Lo moved up a weight class during 2016 the middleweights went to war, attempting to discern who was the king of the 82 kilogram division. That crown settled on Otávio Sousa's head, though there were many worthy candidates. Sousa's number 1 spot is a testament to the veteran's tenacity, who this year achieved his third black belt world title.
TOP 5 RANKED MIDDLEWEIGHTS
#1 Otávio Sousa (13pts)
#2 Yago de Souza (9pts)
#3 Gabriel Arges (8pts)
#4 Jhonny Loureiro (5pts)
#5  Vitor Oliveira / Luan Carvalho / Marcelo Mafra (3pts)
MEIO PESADO: 88kg / 194lbs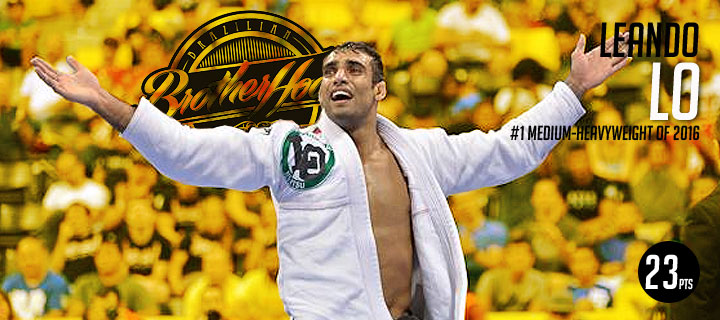 The phenom, Leandro Lo has done it again! Going up a weight class, Leandro dominated the medium-heavyweights coming out undefeated at 88kg this year. His rampant rise in the division has led Leandro to hint that he will be gunning for the heavyweights in 2017, and who can doubt that he can achieve it?
TOP 5 RANKED MEDIUM-HEAVYWEIGHTS
#1 Leandro Lo (23pts)
#2 Romulo Barral (18pts)
#3 Renato Cardoso (7pts)
#4 Patrick Gaudio (5pts)
#5 Josh Hinger (3pts)
PESADO: 94kg / 207lbs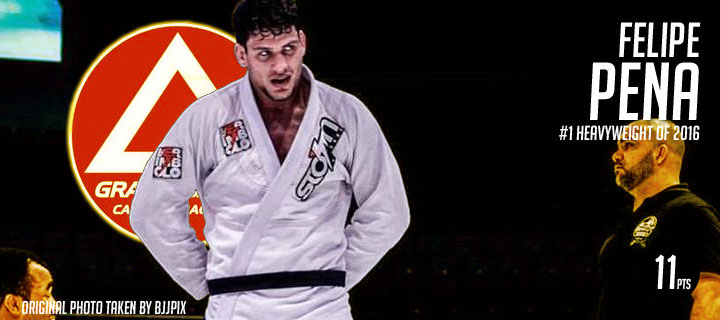 Only two men managed to maintain their status at #1 ranked in their respective division this year, Felipe Pena was one of them.  The Gracie Barra black belt had a terrific 2016, conquering not only results but also providing some of the most entertaining matches in the process. It is worth mentioning also how closely "Preguiça" was followed by his rivals Galvao, Nogueira, Jackson and Augusto who went head-to-head with Pena in this very close race.
TOP 5 RANKED HEAVYWEIGHTS
#1 Felipe Pena (11pts)
#2 André Galvao (10pts)
#3 Leo Nogueira (9pts)
#4 Jackson Sousa/Guilherme Augusto (8pts)
#5 Cássio Francis (6pts)
SUPER PESADO: 100kg / 221lbs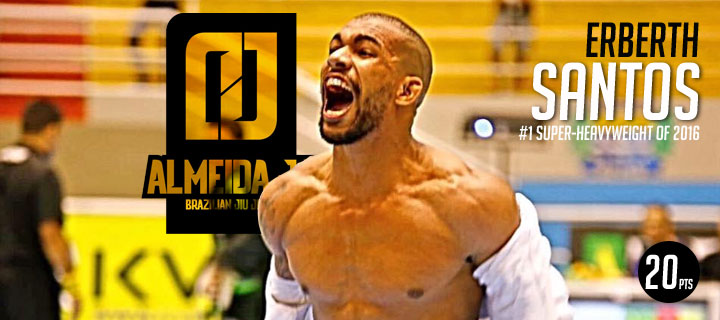 The super-heavyweight division this year was ruled with an iron fist by Santos, who left his immediate opposition well away from the top spot. Erberth was one of the most active athletes of the year, competing in a wide variety of formats. Many say "quantity does not lead to quality", but the Almeida JJ athlete has put that dogma to rest with dynamic performances and high profile wins this year on his resume.
TOP 5 RANKED SUPER-HEAVYWEIGHTS
#1 Erberth Santos (20pts)
#2 Luiz Panza (10pts)
#3 Alexandro Ceconi (8pts)
#4 Alex Aparecido (7pts)
#5 Bernardo Faria (5pts)
PESADÍSSIMO: + 100kg / 221lbs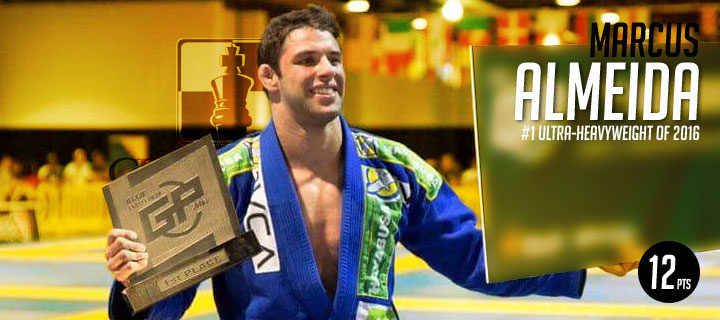 One of the most important years for the famous Buchecha who has finally beat Roger Gracie's open weight world title record. Marcus Almeida wasn't active for most of 2016 while recovering from an injury, but did more than enough to credit his 1st spot this year, an accomplishment he also conquered last year.
TOP RANKED 2015 ULTRA-HEAVYWEIGHTS
#1 Marcus Almeida (14pts)
#2 Vitor Honório (9pts)
#3 Luiz "Big Mac" (7pts)
#4 Ricardo Evangelista/Joseph Moku (6pts)
#5 Igor Schneider (5pts)
FEMALE TOP RANKED ATHLETES
Although the numbers of female athletes have been growing over the past few years, particularly through this new wave of black belts who have reached the division midway through 2016, the numbers are still too low to account for a ranking.
Take into account that many athletes who medal in the top tournaments of the world, do so without winning one single match. This was the case, for example, of the female super-heavyweight division that saw 11 podium winners from the list of tournaments accounted for this ranking. 6 of which did not win a match to earn their medals. The featherweight division follows the same numbers as do a few others. We hope to see bigger divisions next year, which will warrant the addition of a female section to this article.
Big thanks to BJJ Pix, Jiu Jitsu Style and FloGrappling for the image use