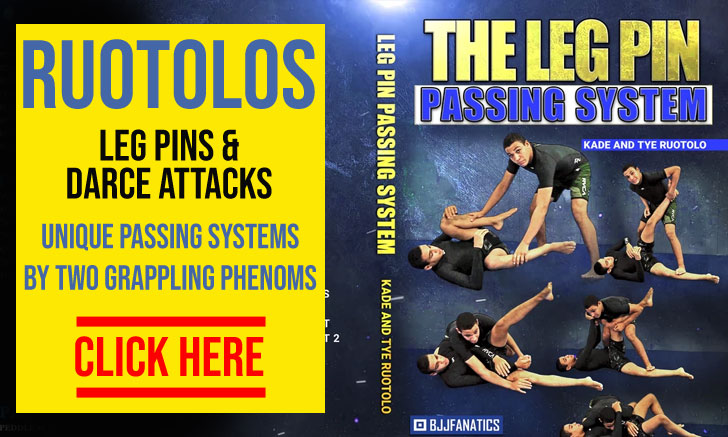 The old platitude in which jiu jitsu is portrayed as a boring sport, an idea particularly spread when discussing its gi/kimono format, may be as far from the truth as it has ever been in the history of this martial art. The modern/exciting style of BJJ is evident when watching the recent generation of grapplers, athletes who spawned from the international competition circuit over the past couple of years, in which the submission is a key ingredient.
In the past jiu jitsu has had mega stars such as Roger Gracie, Marcelo Garcia or Rodolfo Vieira who had great success in implementing a submission oriented path to victory at the highest level. The novelty as we stand in 2018, is the volume of athletes currently hunting for the tap across all weight classes and belt levels. On this here article we bring you some of the top submission hunters from this new wave of black belts, currently tearing through the adult division.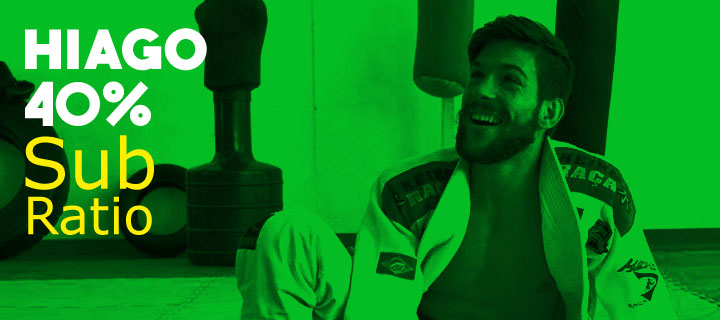 HIAGO GAMA
Rooster Weight
In a weight class with the lowest submission ratio in the sport, newly crowned IBJJF European Open Champion has quickly made his mark by imposing himself as one of the most aggressive 127lb'ers in the business.
Gama has a varied game and likes to attack from all angles, top or bottom, legs, arms and neck. His win at the Euros showed he has a huge future ahead, this being Hiago's first year at black belt. Together with Rodnei Barbosa, Eduardo Barboza, Tomoyuki Hashimoto and José Lima, Gama is bringing plenty of heat to a division in need of new blood.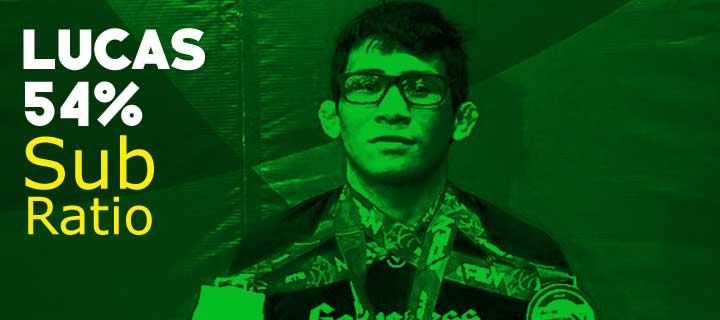 LUCAS PINHEIRO
Rooster/Light Featherweight
Another black belt who is standing out in a weight class with low submission numbers is Amazonas black belt Lucas Pinheiro, one of the most active competitors in the IBJJF circuit.
At just 24 years of age, Lucas has been competing in the top division of the sport for almost 3 full seasons, having faced the best in two weight classes. Pinheiro is widely regarded as one of the toughest athletes in the world today.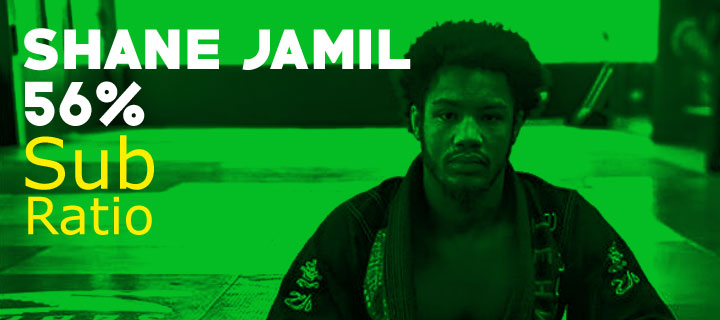 JAMIL HILL-TAYLOR
Featherweight
Team Lloyd Irvin's pride and joy at the moment is Hill-Taylor, a product of Donnie Achnick BJJ youth program at TLY.
Super creative and a pleasure to watch, Jamil Hill-Taylor's flow is almost unparalleled in the sport. He has battled with the best in his short career as a black belt, and has come out on top for the most part. Expect him to be wearing an IBJJF Worlds gold medal around his neck in the near future.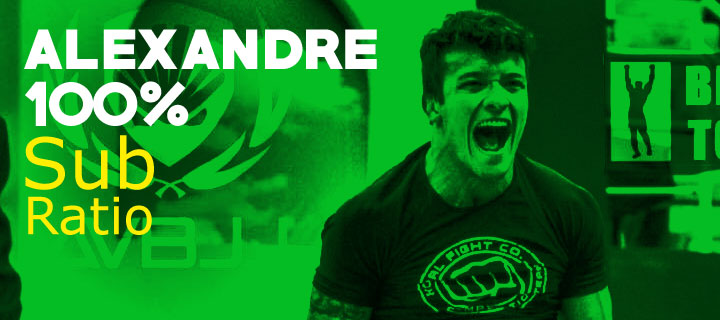 ALEXANDRE VIEIRA
Featherweight
Alexandre's loop chokes are a thing of beauty, having been covered extensively in the sport's media and even worthy of a powerful case study by the BJJ Scout. Vieira is the only athlete on this article with a flawless win record, nothing but submissions.
With still plenty of room to grow, Alexandre is a true warrior who constantly tests his skills in the absolute division – even though he weighs in at 154.5 lbs. The accurate jiu jitsu of Vieira earned him a UAEJJF Grand Slam gold medal and an IBJJF Rio Fall Int. Open 2nd Place.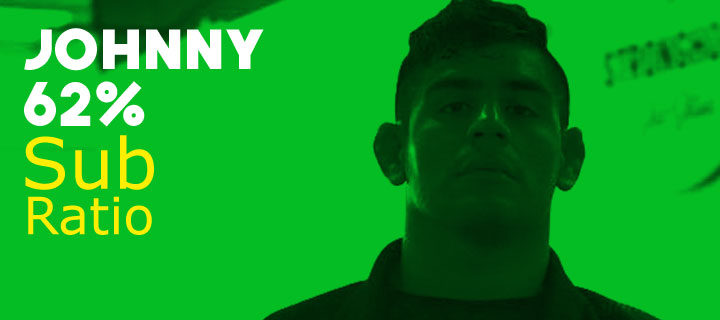 JOHNNY TAMA
Lightweight
The lightweight division has historically been one of the most exciting and even categories in the sport. After years of being dominated by tactical and points based players such as Celso Vinicius, Michael Langhi and Leandro Lo, the lightweights are seeing a range of high level athletes with unusual killer instincts.
Johnny Tama is one such talent. The Equatorian grappler has beaten big names of the sport such as João Miyao, Michael Liera Jr., Yan 'Pica-Pau', Victor Silverio and more. All this in just over 1 year competing as a black belt.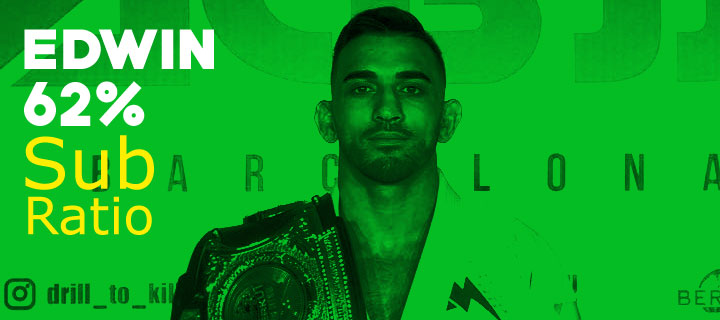 EDWIN NAJMI
Lightweight
One of the more established names on this list is Najmi, who has done a lot in a short period at the highest level of this sport. Titles such as ACBJJ LW champion, IBJJF Pan American Champion, FIVE Super League LW Champion and a silver medal at the Worlds are already part of Edwin's black belt curriculum, but even more remarkable than his wins is the way in which this Gracie Barra standout has achieved his W's.
A huge advocate for submission oriented jiu jitsu, and a leading figure in this movement Najmi has conquered those hard earned taps over big names such as Marcio Andre, Davi Ramos, Rafael Mansur, Francisco Iturralde, Rodrigo Freitas, Gabriel Rollo.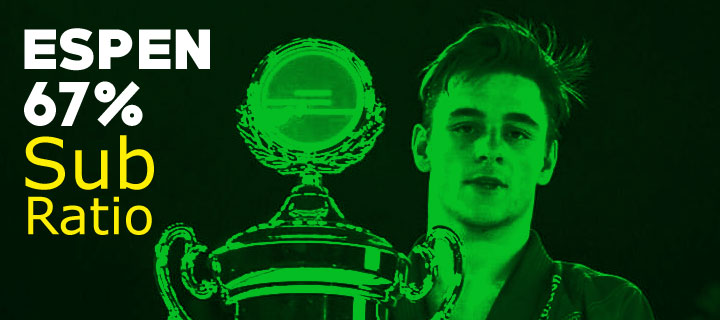 ESPEN MATHIESEN
Lightweight
The "King of the Crab Ride", Espen has hit the ground running since achieving his BB rank a few months ago. Galvanized by his epic performances at the Copa Podio GP, Norway's Mathiesen has been taking very good care of himself in the pro circuit while competing all around the world with great success.
Espen is well known for his masterful guard, but seems to have improved on all aspects of the game being today one of the leading figures for European jiu jitsu.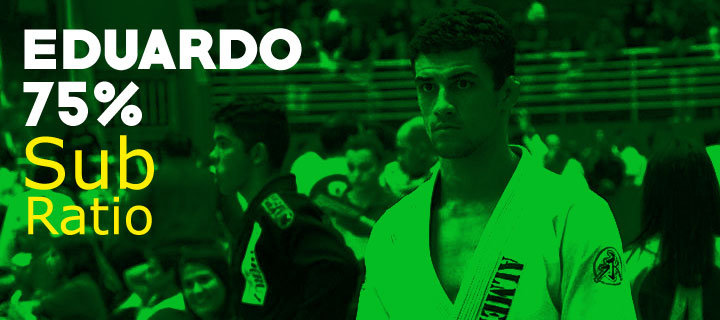 EDUARDO TINOCO
Middleweight
Lesser known to mainstream BJJ fans is Eduardo Tinoco of Almeida Jiu Jitsu. The mega talented middleweight is not regularly seen on social media and has shined away from being interviewed in the past, but although his lack of exposure may have cost him the recognition his skills deserve, he is certainly one of the brightest prospects in the division.
Eduardo's career at black belt has been a short one, but in the few times he stepped on the mats Tinoco proved his worth. 2017's brown belt IBJJF World Champion is the real deal, expect him to be a big player in the future of this division.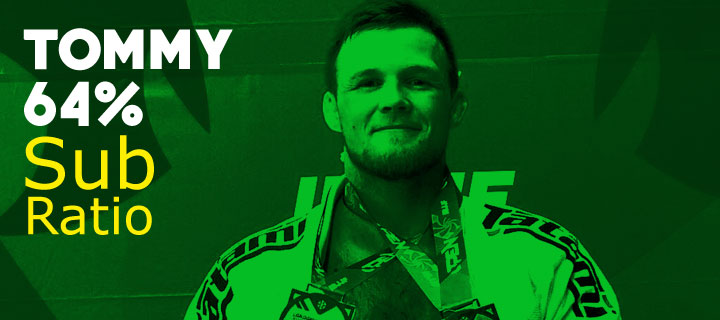 TOMMY LANGAKER
Middleweight
We have already mentioned Tommy in our Top Finishers of 2017 piece (where we also had Meregalli and Najmi), so no surprise here. Langaker is one of the most aggressive players in the game today and has shown no signs of slowing down this year, having submitted huge names such as Erberth Santos and Renato Canuto.
Made from the same Norwegian cloth as Espen Mathiesen, Kimura's Tommy Langaker is a Professional BJJ promotion's dream.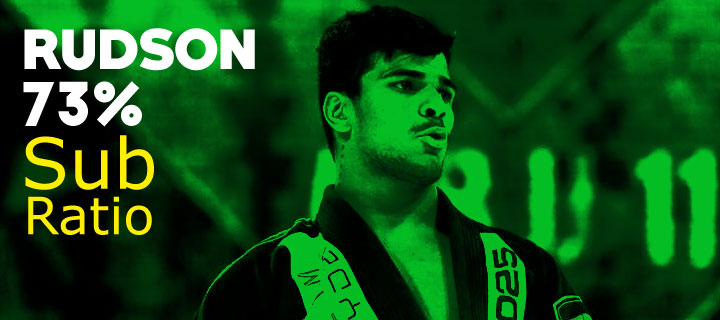 RUDSON MATEUS
Medium Heavy
Another competitor who has made his mark this year was Mateus, a representative of the Caio Terra Association. Rudson seems near unstoppable in this debut year as a black belt making better use of his deadly closed guard.
After strong performances for ACBJJ's professional league, Rudson conquered his first Brazilian National title at black belt. His career is gaining momentum, so expect Mateus to give a lot of trouble to the established medium heavy players at the World Championships.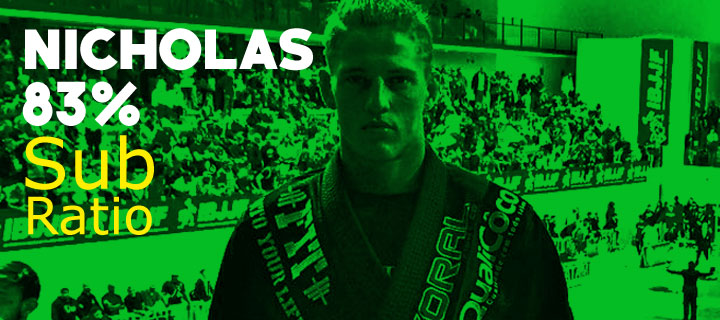 NICHOLAS MEREGALI
Heavy
Meregali arrived in the black belt division already revered as arguably the best grappler of his generation. Last year, in his debut BJJ season as a black belt he cemented that claim by earning a world title while stacking one of the best submission averages in the sport.
Among Nicholas' many submission victims are names such as Otavio Nalati, Mahamed Aly, Lucas Leite, Dimitrius Souza and many more.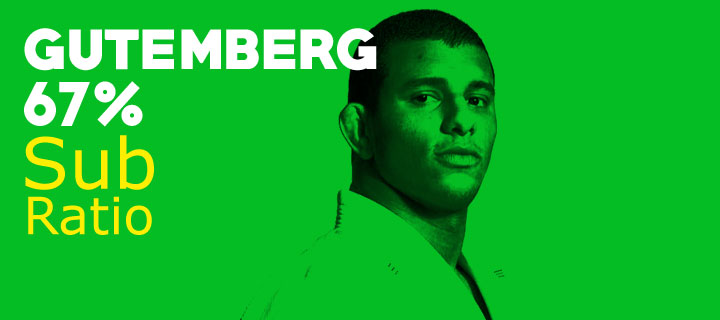 GUTEMBERG PEREIRA
Super Heavy
Not often do we have a super heavyweight grappler as versatile as Pereira. The 24 year old GF Team representative has a deep arsenal hidden in his jiu jitsu weapons cabinet and is quickly making his mark in the sport.
His eye pleasing jiu jitsu style, where skilled movement and technique are in abundance, have earned Gutemberg a contract with the professional BJJ organization ACB earlier this year. Pereira has also turned plenty of eyes his way by placing 2nd at the IBJJF Pan American Championship back in March.