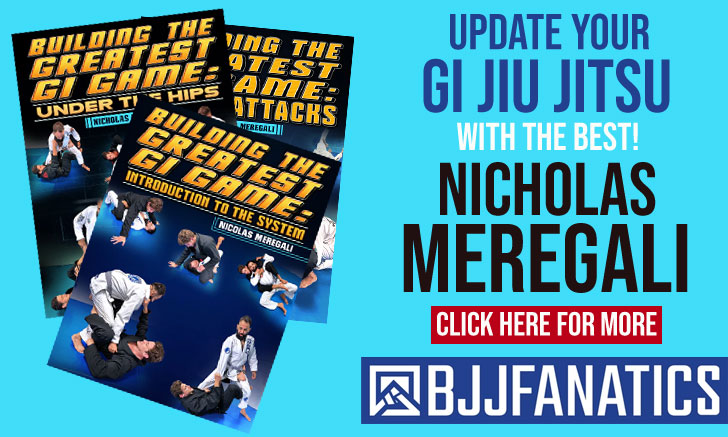 Igor Silva is one of the top fighters in Brazilian Jiu Jitsu's heavyweight divisions, with wins over a true "who is who" of Jiu Jitsu. BJJ Heroes got together with Igor this week to discuss the most recent developments in his career, namely the release of his snazzy new website, his first 3 black belts, whom he graduated earlier this year and his recent injury problems.
The Black Belts:
BJJ Heroes: In the start of the year 3 of your students were given their well earned black belts (Ricardo Sena, João Zaca and Luciano Balzano. How have you managed to keep a balance between training full time and the responsibility of teaching classes?
Igor Silva: It is a hard thing to do, but thankfully I have had fantastic students that are always helping me out in my training, and when I go away to compete. I am very thankful for this! This way, even with a tight schedule of teaching, training, competing and giving seminars throughout the world, I feel I can be in a condition to compete against my peers. This and the fact that I love what I do, all of it, competing, teaching and giving seminars. I would also like to leave here some big congratulations to my first three black belts, Ricardo, Zaca and Luciano.
The Website
BJJ Heroes: This has been a very busy year for you (and we are still in the first semester!), graduations, a gold medal in spectacular fashion at the European Open and the launch of a cool new website, igorsilvabjj.com. Tell me about this website.

Igor Silva: Yeah, this year has been intense; I travelled a lot, competed, new website (igorsilvabjj.com) and seminars… There is a lot going on!
First I went to Portugal, where I was fortunate enough to close the division with a very good friend and someone who has taught me many things, Rodrigo Comprido. After that I spent 10 days in Turkey giving seminars and helping Coach Burak Deger to prepare MMA fighter Ertan Balaban for his upcoming bout. After that I returned to Brazil to compete in the Word Pro Cup trials. In preparation I injured a finger in my hand, though even injured I managed to win all 5 fights in my division and book my seat to Abu Dhabi.
Now I released my website, where soon everyone will be able to follow my path in competitions and seminars, this will hopefully help promote my work. The website was created by two friends of mine, Daniel Rodrigues and Eduardo Fontenelle. I am very pleased with their work, actually if anyone is interested in working with them, here is the contact: [email protected]
The Social Project
BJJ Heroes: and what about the Marc Romano project, which you are a part of. What does it do, and what can people do to help in its development?

Igor Silva: The Marc Romano Project is aimed at social inclusion of children and teenagers through sports, specifically the practice of Jiu-Jitsu. Classes are structured to teach in a fun way: with games, individual or in team challenges that develop these kids motor skills, reasoning, creativity, organizational skills and improvisation; there is of course, training technique and tests on the rules of Jiu-Jitsu as well as refereeing and on the history of Jiu-Jitsu (for the training of students we developed a booklet with key information about the sport they are practicing), special classes where students can observe the conduct of the referees during the fight, with the demonstration of positions, gestures, scoring, etc.. All these lessons are intended to prepare our students for the official competitions, reducing anxiety and transforming it into a natural extension of drills and lessons of the project. With this type of training several athletes have achieved great results, and often can't wait for the next championship. The incentive to study, healthy life style, respect for nature and the tightening of family ties are also ongoing concerns for all involved, aiming to add on a daily basis, new values ​​in the life of each student.
All these actions are funded through donations, occasional or regular basis, carried out by individuals and companies to the Project, which is a Civil Society Organization of Public Interest (OSCIP), founded on the 1st of May Day 2007, whose goal is to promote the social inclusion of children and teenagers through sports, recreational and educational. Project Marc Romano was the first project developed by the institute and was initiated in July 2007.
Normally individuals donate via bank bills directly to the Office Excel or can become 'fosters' and support one of the children or adolescents participating in the project. Many companies make their partnership with the Institute, aiming to maintain groups of students, help purchase the necessary equipment, professional payment or funding of the competition fees throughout the year.
All donations are very important for the maintenance and development activities of the project and the institute itself, which is a non profit organization. To contact the Office Excel simply visit our website: www.institutosuperar.org.br
Competition
BJJ Heroes: And coming back to your competition career, you were being pointed as one of the favourites to win your division in the World Pro Cup, but you didn't make the podium. What happened?

Igor Silva: After the trials in Brazil, the injury in my hand got a lot worst, to the point that I could no longer make grips with it. I arrived at Abu Dhabi after a 30 hours long flight, and decided to enter the nogi competition (because it didn't involve grips), I managed to reach the semi final, but was exhausted from the flight and decided not to fight for the final. With the kimono I tried my best, but if it was hard with two hands it was a lot harder with just one (laughs)
BJJ Heroes: So when will we see you again competing, in the Mundial?
Igor Silva: My intention was to compete at this World competition in Dubai, I am gutted. We will see if I am fully recovered until the Mundial, if I am I will definitely be there fighting!
The Team
BJJ Heroes: The Grappling Fight Team (GFT) has had tremendous success recently with Theodoro Canal, Pimenta, Rodolfo, Italo Lins and of course yourself. What do you think is the reason for this rebirth of the team at an international level?

Igor Silva: There is no other answer then the amount of hard training we do, always very well conducted by professor Julio Cesar! Everybody there trains very hard, and when practice is finished they want to train more. This is a natural consequence of the training, be it amongst the lighter guys and the heavy ones and it sets a lot of confidence in us, so that when we compete we are very tranquil.
Thank You Notes
BJJ Heroes: Thanks a lot for your time Igor, any thank you notes you would like to add?
Igor Silva: Of course!
To all my students
Brasa GFT teams
Masters Muzio de Angelis and Julio Cesar
Pride Fight Wear
www.garradesign.com
www.brixton.com.br
www.drprotetor.com.br
www.5dcomunicacao.com