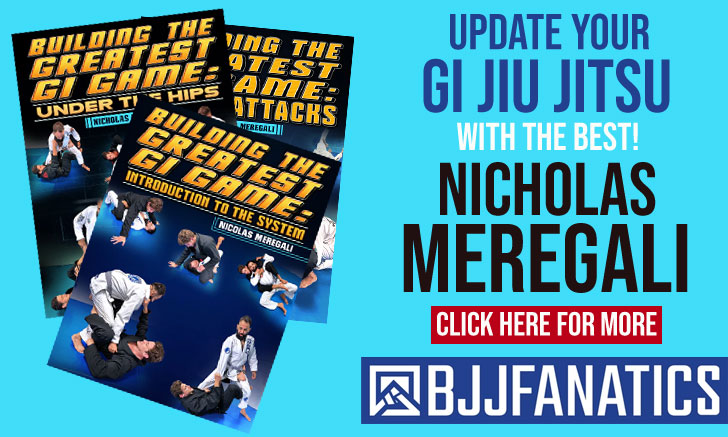 Often referenced across a spectrum of social media platforms, the jiu jitsu lifestyle has historically been associated with beach life. Strolls around Copacabana's "Calçadão", açaí bowl in one hand and surfing board on the other. This image of the jiu jitsu practitioner, however, has been developing over the past few years, following our martial art's own evolution away from sunny Zona Sul of Rio de Janeiro and into more urban areas and lifestyles in cities such as New York, US or London, UK.
This expansion of jiu jitsu's surroundings has raised the imaginary of many grappling minds, exposing our martial art to a range of cultural genres with motifs that range from urban arts such as graffiti to mainstream entertainment industries like pro-wrestling.
More recently two well known 10th Planet athletes added another interesting subculture to grappling's landscape: B-Boying, popularized in BJJ's circuit by brothers Richie and Geo Martinez. Although innovative, this fascinating branch of urban dancing ran in parallel with jiu jitsu's culture, not in combination with it. This in-depth merge between sport and art performance does, however, exist, and it is called Jitz Jamming, an idea that is being developed by two very interesting young grapplers: Margot Ciccarelli (purple belt) and Stephanie Lee (blue belt).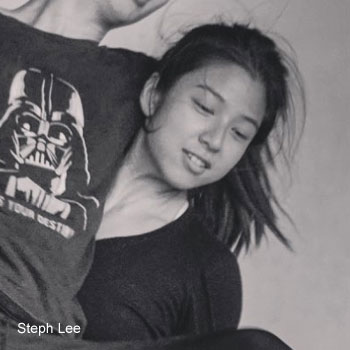 Well travelled citizens of the world, both British born Margot and Malaysia native, Stephanie trained in a variety of countries, having met in China, through jiu jitsu: "I was getting really frustrated with not having smaller training partners to spar with and was also a bit lost with the whole Hong Kong BJJ scene at the time. I asked a friend/fellow co-owner of a gym to recommend a coach for private lessons and that was how we formally met! I got lucky… if I had not met her, I would have probably given up training jiu jitsu in Hong Kong." said Lee, who was then a white belt.
More familiar to the average grappling fan, purple belt IBJJF World Champion Margot Cicarelli remained as Stephanie's tutor from then on, sharing the responsibility with Murilo Santana of Unity JJ Academy in New York City, under who both Cicarelli and Lee currently train when in the United States.
Having spent most of her life on the dance floor, former professional contemporary dancer Stephanie Lee has always enjoyed experimenting in that field, "I love all types of dance but contemporary dance and partnering is where most of my focus has been. My mentors from my college dance department, Erika Randall, Gabe Masson, and Michelle Ellsworth were really open to letting me cross train when I was in school. So even, back then, I was trying to blend rock climbing and dance, swing dancing to Turkish music, and aerial dance." she referenced to BJJ Heroes when interviewed for this piece. Her love for dancing and movement drove her to open a movement facility in Hong Kong named Trybe.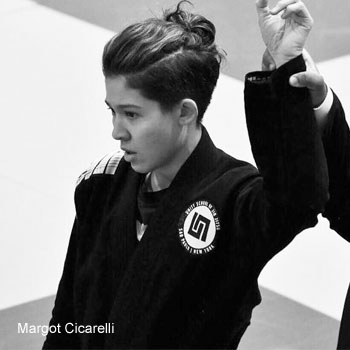 On the other side of the Jitz Jamming concept, co-founder Margot came from a very different background, mechanical engineering (ME). Although in tune with her artistic side from a young age, having studied music, playing the guitar, violin and also DJing, Cicarelli's academic life led her to a BEng in ME. Over past 6 years she has dedicated most of her time to jiu jitsu, being today, universally regarded as one of the martial art's most promising young stars.
The concept of Jitz Jamming grew organically midway through 2017, "it was more of an experiment of curiosity" said Cicarelli, "I had at the time started doing some contact improvisation but I was still very green in the ways that I felt I could engage with my partner in the jams. I wanted to create a format where I could use jiu-jitsu as a template for my movement and evolve from there" she concluded. Stephanie, on the other hand, saw it from the opposite angle, being more experienced as a dancer than a grappler: "I have a different movement 'instinct' from Mars [Margot] or most martial artists so my early goals were to learn how to stay combative while still be creative and give my partner a good time/ challenge. I didn't want to roll and be a tense white belt all the time so I felt this format of movement leveled the playing field and allowed me to experiment with all the techniques I was learning. I actually learned how to react better and sequence a technique in a way that fit my physical abilities."
Margot Jitz Jamming with Fellow BJJ practitioner Caroline Prill
After a few sessions both Margot and Stephanie realized how engaged they were with this new concept and by Fall / Winter that year the pair shared a workshop in Cologne, Germany just before the IBJJF European Open Championship. "The response from the participants really blew our minds; they really enjoyed the format as they were able to be more creative, look for more intelligent and efficient ways to move, and in general roll for much longer," said Margot.
Although in its infancy, Jitz Jamming is certainly grabbing the attention of those who have tried it and becoming a niche inside BJJ. To improve her own movement, Margot has been working with Suzi Wilson (founder of Circus Warehouse) and taking ballet privates while continuously doing research for this project.
Steph Lee Jitz Jamming with Cicarelli
The short-term goal for Jitz Jamming is to develop the concept "into something that can be used as a softer practice/alternative to play with when you may be sore from hard training or comp training. Perhaps you're injured and afraid to come back to train hard. Or you come from a different movement background and are highly skilled but are new to jiu jitsu, you may want to find a different entry into the practice" said Margot. An argument completed by Steph by referencing that "a lot of our friends have professions that require them to stay injury free as much as possible. For example, professional circus artists, massage therapists, and other folks who need their bodies for their jobs. We were missing out on an amazing array of bodies/training partners to move with and learn from." Jitz Jamming may prove to be an excellent binder of different artistic backgrounds with jiu jitsu, a mortar for movement-based disciplines per se, or just a fun, carefree and creative approach to one of the most effective combat sports on the planet.
Cicarelli Jitz Jamming with BJJ black belt Kristina Barlaan
Other work