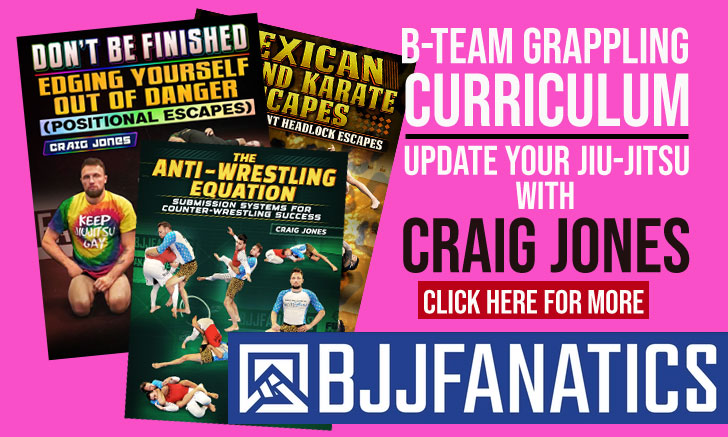 Gazzy Parman is a Brazilian jiu jitsu pioneer, and a member of the female BJJ "Dirty Dozen" (first 12 women outside Brazil to reach the rank of black belt in the sport). A unique character in the female competitive grappling scene throughout the 2000's decade, Gazzy's outspoken demeanor and competitive accolades made her a fan favorite across the globe, having also raised the awareness of big brands such as Tapout and even the Ultimate Fighting Championship (UFC) to the women's divisions, with Parman being the very first female athlete to be sponsored by both companies. Gazzy Parman was one of the very first BJJ/MMA female gym owners in the USA, through her LVL5 academy and the first and only female Grappling Hall of Fame inductee.
Gazzy Parman Jiu Jitsu
Full Name: Ghazlaeh Parman
Nickname: Gazzy, short for Ghazlaeh.
Lineage: Mitsuyo Maeda > Carlos Gracie > Carlson Gracie > Andre Pederneiras > John Lewis > Gazzy Parman
Main Achievements:
World No-Gi Champion (2007)
Pan American Champion (2000 blue)
NAGA Fighter Pro Champion (2008)
Grapplers Quest West VI "Gracie vs. Laimon" Champion (2004 absolute)
Grapplers Quest West III Champion (2002 weight & absolute)
Grapplers Quest West II: Viva Las Vegas Champion (2002)
Desert Quest Arizona State Champion (2003)
Desert Quest Superfight Champion (2002)
Copa Pacifica Champion (2003)
ADCC US Trials Winner (2003)
Las Vegas Grappling Tournament Champion (2002)
California State Champion (2002)
Machado International Tournament Champion (2001)
Grapplers Quest Women's Pro Division Invitational Runner-up (2006)
ADCC 4th Place (2005)
Favorite Position/Technique: "Gazzinator" – particular move developed by Parman.
Weight Division: Peso Leve
Team/Association: Nova Uniao
Gazzy Parman Biography
Gazzy Parman was conceived in London, England, though her mother travelled to her homeland of Iran to deliver Ghazlaeh at the country's capital, Tehran. She returned to London with her baby shortly after, where the family remained until Gazzy's 3rd birthday. The family then moved to the United States east coast (1980), moving from coast to coast a couple of times before settling in California.
Parman grew up in a traditional Persian family, learning both Farsi and English from a young age, while not being allowed to eat chocolate or candy, and with TV privileges restricted to weekends. As she grew into her teens, and as the Parman's patriarch worked long hours away from home, both Gazzy and her brother would often break the house rules and watch martial arts films for entertainment, quickly gaining an admiration for the legendary Sho Kosugi and Bruce Lee. Which ultimately led them both to Shaolin Chuan Fa Kung Fu classes as well as T'ai Chi Ch'uan.
As her interest for martial arts grew, particularly during 7th grade, Gazzy would often stop by a shopping centre on her way home from school, carefully watching the karate classes through the window of a gym located inside the stripmall. One day the instructor came outside and offered her a free introductory class. After being explained by Gazzy that her parents could not afford her fees, he offered her a her a job as a gym cleaner in return for the classes.
Gazzy became highly involved with karate, going on to be an instructor, attending Instructors College on a scholarship. Although she had a lot invested in the martial art, her beloved instructor stopped coaching which led to Gazzy's disheartenment for karate. She ended up quitting two days before her brown belt test.
On January 1998 Gazzy Parman was going through college while working at a coffee cart on campus to pay her bills. As she ran into an old highschool friend Parman found out that her friend's father had opened a fitness gym with a variety of classes, one of them being Shaolin Kung Fu. He knew Gazzy was in no financial situation to afford the gym's membership so a deal was made where she would work folding towels and cleaning at the gym, being able to train in return.
At the fitness gym Gazzy also picked up on dance classes, such as hip hop and salsa. Her dance teacher knew of Parman's interest in combat, and invited her to be present at a martial arts tournament, one in which he would be competing. The martial art was Brazilian jiu jitsu, and the event (organized by Joe Moreira) became Parman's first contact with this grappling style. She met Joe Moreira that day, and became a student of Moreira through that first introduction.
At Joe Moreira's gym, Gazzy was offered to train for free if she never missed a class which she accepted. Within a few weeks of training Parman was convinced she had found her "calling", deciding to abandon college to pursue a career as a full time grappler. Her dedication was unparalleled and Parman went from white to purple belt under Moreira's tutelage, later changing to John Lewis' academy (J-Sect).
Parman's dedication to jiu jitsu was the great differentiator at the time when comparing to other female athletes outside Brazil, who did not train full time. When Gazzy switched to J-Sect, she spent 2 ½ years living at John Lewis' academy, being taught by both Lewis and Marc Laimon (who had also come from Joe Moreira's school). Her hard work was noticed around the US grappling scene, particularly in the West Coast, where her wins got her a sponsorship with the most famous MMA/Grappling brand of the time, Tapout. Becoming the very first female athlete sponsored by label.
J-Sect was a highly popular martial arts academy in the US, a pioneering gym as such, with many illustrious members and fans. One of the regular visitors of the academy was Dana White, the president of the UFC who would often stop by to watch the classes and keep an eye on the up and coming talent.
In 2005 the Abu Dhabi Combat Club (ADCC), the world's most prestigious submission grappling event, opened its very first female division, divided into under 60 kilograms and over 60 kilograms. The top 16 female grapplers in the world were invited (8 per weight class) and Gazzy Parman was among them. Finding capable lightweight training partners for Parman was a hard task, and in order to get herself in the best shape possible for the tournament, Parman decided to have her training camp in Brazil at André Pederneiras' gym, where some of the top BJJ lightweight athletes trained. As Parman did not have the financial means to make this happen, she contacted Dana White who agreed to sponsor her ahead of the famed international event, this way becoming the very first female athlete sponsored by the UFC.
Parman's ADCC run was well planed from from all aspects by a professional publicist. Considering this was the first time the tournament was adding a female division, the importance of this event brought in many big names of the sport. Gazzy quickly became one of the most talked about athletes, even as a brown belt. She went on to do important promotional work, including a photo shoot for Maxim Magazine. Parman also had an auction for add space on her trunks (particularly on her behind) making this a main topic for the monetization of her ADCC campaign, an idea that made her one of the most well paid athletes on the roster (pre-prizemoney).
After a long career competing in all levels of the sport, Gazzy Parman was awarded her black belt by John Lewis, on January 2006, becoming the first female outside Brazil to achieve the rank from the famous Nova Uniao team.
As many full time grapplers, Gazzy became a dedicated coach at a local martial arts academy. Although she had great results, single handedly growing the gym's kids program from 6 to 45 paying members within one year, the gym tried to cut her wages after 3 years of employment. Failing to see the logic in the numbers offered, Parman left the gym.
Parman had many students who wanted to follow her, staying loyal to them and knowing that they were still tied to their contracts with the gym, Gazzy decided to open the doors of her home, teaching the students for free inside her flat on top of borrowed mats, two times per day (early morning and night time). During the morning training Gazzy was also feeding the students, ensuring they followed a correct diet. These were hard times for Parman who struggled to make ends meet, working hard for no financial gain. During these desperate times Gazzy looked to her friend Dana for help. With White's help Parman raised her own gym from the ashes, naming it LVL5, a reference to Jean Gray of X-Men.
As a black belt, Gazzy Parman also trained with Lloyd Irvin and his team. Having spent several training camps with the famed Maryland based academy.
With time the many injuries undertaken while training kept Gazzy away from the mats. She was invited to make an an epic return to competition in 2012, by the freestyle wrestling federation of American Samoa. An invite to compete at the pre-olympic qualifiers in Sidney Australia, though the Olympic dream never materialized.
Photo credit to Julieta Okot.
Gazzy Parman Induction Ceremony for Grappling Hall of Fame

Gazzy Parman fan highlight