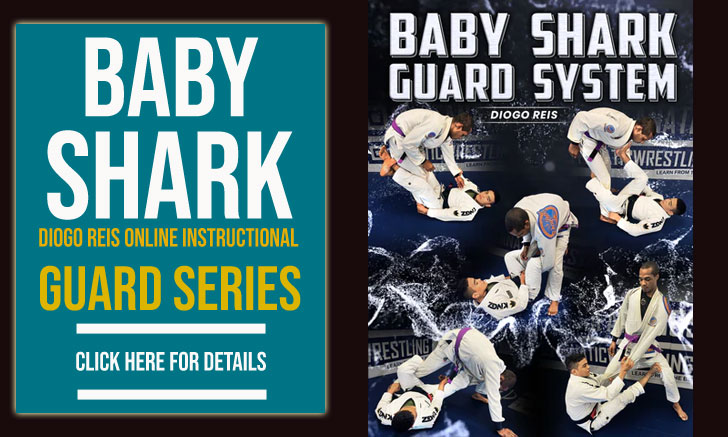 Alan do Nascimento, or  "Finfou" as he is known in the Jiu Jitsu world, is an European Open Jiu Jitsu champion from the notorious Checkmat academy. Alan Finfou started his Jiu Jitsu career with Fernando "Terere", but as Terere moved away from Rio de Janeiro, his tuition was handed to Ricardo Vieira with whom he earned his black belt. Alan Finfou is also part of a group of successful competitors to have been developed from the social project in the Cantagalo (Rio de Janeiro slum), a project run by Ricardo Vieira, Finfou has for the last few years, adopted Sweden as his second home where he teaches BJJ.
Alan Finfou Jiu Jitsu
Full Name: Alan Douglas Pereira do Nascimento
Nickname: Finfou is the name of a game played by the Children in the "Favela do Cantagalo" (Famous Rio de Janeiro Slums) were Alan usued to live. When Alan first started training Jiu Jitsu, he would often play that game, so his teacher at the time (the legendary Fernando Tereré) gave him the nickname Finfou
Lineage: Mitsuyo Maeda > Carlos Gracie > Helio Gracie > Rolls Gracie > Romero Cavalcanti > Ricardo Vieira > Alan Finfou
Main Achievements in BJJ:
IBJJF World Champion (2006 brown, 2005 purple)
IBJJF World No-Gi Champion (2016 black Master 1 weight & absolute)
CBJJO World Cup Champion (2005 blue)
CBJJE World Cup Champion (2008)
IBJJF European Champion (2009, 2008, 2007 )
CBJJ Brazilian National Champion (2007, 2008, 2009)
CBJJO Brazilian Cup Champion (2006/2005/2004 in the purple and brown belts weight & Absolute)
IBJJF European Silver Medallist (2012)
IBJJF Bronze Mundial Medallist (2009, 2014)

Favourite Technique: Triangle
Weight Division: Medio (82Kg – 180Lbs) and Meio Pesado (up to 88Kg – 194Lbs)
Association/Team: Checkmat – Vieira Bros Team Cantagalo.
Alan "Finfou" do Nascimento Biography
Alain "Finfou" do Nascimento was born on the 12th of March 1982 in Rio de Janeiro and raised by his mother in the "Jardim Catarina" one of the most dangerous slums of the city of Niteroi. Because of the dangerous life in this slum, his mother sent Alan to the "Favela do Cantagalo" a Rio de Janeiro slum so Alan could live with his grandmother. Life was hard in the "Favela" and Alan had to work and study at the same time to survive.
One day as he was playing flippers at a nearby store when a local BJJ instructor asked him if he wanted to go and train at his academy. Finfou accepted (even though he didn't really know much about Jiu Jitsu). That local that invited him was none other than Brazilian Jiu Jitsu legend Fernando Augusto "Terere" who had a social project in the slum to take kids off street crime through BJJ. Even though Alan was still in his early teens (he was 13 years old at the time), he immediately identified BJJ as a possible route to escape his hard life and started training as much as he could during the day while studying at night.
In his first competition when he was a yellow belt, all his friends-team mates won and Finfou didn't. That upset him, a feeling that fed his hunger to compete and push himself even further and served as a base to his competitive spirit today. Finfou stayed training under Fernando Tereré until 2003. He achieved his purple belt with one legend and shortly after began training with another legend, Ricardo Vieira, in Copacabana.
Even though Finfou was being extremely successful in competitions, there was little to no money being made through Jiu Jitsu and often he had to abandon training to work, but he could always count on his coach Ricardo Vieira to bring him back to the mats and convince him his future belonged in BJJ. He was awarded his Black Belt by Ricardinho Vieira in 2007.
In 2005 he was contacted to start teaching in Sweden, he accepted the challenge and shortly after moved to there to help develop the "gentle art" in the North European country. He now travels often giving seminars throughout the World and going to train in Brazil and still teaching in Sweden.
Alan Finfou Grappling Record
50 WINS
BY POINTS


BY ADVANTAGES




BY SUBMISSION




BY DECISION




BY PENALTIES




BY DQ



9 SUBMISSIONS WINS
#214eb8
Choke from back
22
2
#fad11b
Bow and arrow
11
1
17 LOSSES
BY POINTS


BY ADVANTAGES




BY SUBMISSION




BY DECISION




BY PENALTIES




BY DQ



7 SUBMISSIONS LOSSES
#f58822
Choke from back
14
1
Alan Finfou Fight History
ID
Opponent
W/L
Method
Competition
Weight
Stage
Year
1937

Bill Cooper

Bill Cooper
L
Lapel choke
World Champ.
82KG
R2
2008
2344

Sergio Moraes

Sergio Moraes
L
Choke
World Champ.
82KG
SF
2009
2918

Claudio Calasans

Claudio Calasans
L
Adv
World Pro.
83KG
SF
2011
3050

Gustavo Campos

Gustavo Campos
L
Submission
World Champ.
82KG
RDS
2011
3513

Victor Estima

Victor Estima
L
Triangle
European Open
82KG
F
2012
4061

Claudio Calasans

Claudio Calasans
L
Pts: 4x2
World Champ.
82KG
4F
2012
4889

Leandro Lo

Leandro Lo
L
Pts: 2x0
Mundial CBJJE
82KG
SF
2013
4904

R. Evangelista

R. Evangelista
L
Referee Decision
Rome Open
ABS
F
2013
4910

Caio Terra

Caio Terra
L
N/A
European NoGi
ABS
F
2013
4926

Leandro Lo

Leandro Lo
L
Armbar
Rio Open
82KG
F
2013
5820

Otavio Sousa

Otavio Sousa
L
Armbar
World Champ.
82KG
SF
2014
7122

Tarsis Humphreys

Tarsis Humphreys
L
Pts: 0x0, Adv
World Pro
85KG
R2
2015
8951

Yago Souza

Yago Souza
L
Pts: 2x0
European Open
82KG
F
2016
8998

Felipe Pena

Felipe Pena
L
Choke from back
European Open
ABS
4F
2016
10011

Yago Souza

Yago Souza
L
N/A
World Champ.
82KG
8F
2016
10365

Gabriel Arges

Gabriel Arges
L
Referee Decision
Berkut 3
ABS
SPF
2016
21047

Lucas Barbosa

Lucas Barbosa
L
Referee Decision
ACB World Champ.
85KG
F
2019
1850

Victor Estima

Victor Estima
W
Pts: 2x0
European Open
82KG
SF
2008
1851

Otavio Sousa

Otavio Sousa
W
Adv
European Open
82KG
F
2008
1896

Otavio Sousa

Otavio Sousa
W
Pts: 2x0
Brasileiro
82KG
F
2008
2037

Eduardo Rios

Eduardo Rios
W
Points
Stenungsund Open
88KG
F
2008
2106

Otavio Sousa

Otavio Sousa
W
Points
European
88KG
F
2009
2342

Pedro Bessa

W
Pts: 6x2
World Champ.
82KG
4F
2009
3040

Bruno Augusto

W
Submission
World Champ.
82KG
RDS
2011
3511

Gabriel Goulart

Gabriel Goulart
W
N/A
European Open
82KG
SF
2012
4048

Marcus Bello

Marcus Bello
W
Choke from back
World Champ.
82KG
R2
2012
4056

Bruno Alves

Bruno Alves
W
DQ
World Champ.
82KG
8F
2012
4286

Renato Morais

W
Armbar
Sweden Open
NA
NA
2012
4394

Unknown

W
Bow and arrow
UK Pro Trials
75KG
4F
2013
4395

Lucio Sergio

W
Referee Decision
UK Pro Trials
75KG
F
2013
4451

Jake Mackenzie

Jake Mackenzie
W
Choke
European Open
82KG
4F
2013
4901

Max Carvalho

Max Carvalho
W
Points
Rome Open
88KG
F
2013
4902

Oliver Geddes

Oliver Geddes
W
Points
Rome Open
ABS
SF
2013
4906

Andre Monteiro

Andre Monteiro
W
Points
European NoGi
ABS
4F
2013
4909

AJ Agazarm

AJ Agazarm
W
Referee Decision
European NoGi
ABS
SF
2013
4925

Adriano Silva

Adriano Silva
W
Points
Rio Open
82KG
SF
2013
5168

Julien Cazier

W
N/A
London Open
88KG
SF
2013
5169

Max Carvalho

Max Carvalho
W
Points
London Open
88KG
F
2013
5170

Alan Oliveira

W
DQ
London Open
ABS
SF
2013
5171

Max Carvalho

Max Carvalho
W
Points
London Open
ABS
F
2013
5181

Tero Pyylampi

W
Pts: 5x2
Finnish Open
82KG
F
2013
5818

Jaime Canuto

Jaime Canuto
W
Pts: 6x4
World Champ.
82KG
4F
2014
6741

Jack Magee

W
N/A
UK Pro Trials
85KG
4F
2015
6742

Unknown

W
Points
UK Pro Trials
85KG
SF
2015
6743

Viking Wong

W
Points
UK Pro Trials
85KG
F
2015
7033

Edcarlos de Lima

W
N/A
Rome Open
88KG
4F
2015
7037

Alberto Ortiz

W
N/A
Rome Open
88KG
SF
2015
7038

Darragh OConaill

Darragh OConaill
W
Points
Rome Open
88KG
F
2015
7044

Nelton Pontes

Nelton Pontes
W
Pts: 2x0
Rome Open
ABS
SF
2015
7118

Pedro Guaraci

W
Points
World Pro
85KG
R1
2015
8945

Jordi Lloveras

W
Armbar
European Open
82KG
4F
2016
8949

C. Negromonte

C. Negromonte
W
Pts: 0x0, Adv
European Open
82KG
SF
2016
8982

Max Carvalho

Max Carvalho
W
Pts: 0x0, Adv
European Open
ABS
R1
2016
8994

Diogo Sampaio

Diogo Sampaio
W
Pts: 2x0
European Open
ABS
R2
2016
9042

Luca Anacoreta

Luca Anacoreta
W
Pts: 2x2, Adv
PNBJJC
88KG
GP
2016
9044

Gregorio Thomaz

W
Triangle
PNBJJC
88KG
GP
2016
9046

Gabriel Arges

Gabriel Arges
W
DQ
PNBJJC
88KG
GP
2016
9065

Arya Esfandmaz

Arya Esfandmaz
W
Points
UK National Pro
94KG
F
2016
9067

Arya Esfandmaz

Arya Esfandmaz
W
Points
UK National Pro
ABS
F
2016
9212

Bruno Amorim

Bruno Amorim
W
Pts: 6x0
Grand Slam LDN
77KG
SF
2016
9215

Pedro Fernandes

W
Choke from back
Grand Slam LDN
77KG
F
2016
9997

Luca Anacoreta

Luca Anacoreta
W
Pts: 4x2
World Champ.
82KG
R2
2016
10126

Reid Reale

W
N/A
British National
94KG
SF
2016
10975

Michael Glynn

W
Triangle
NoGi Worlds
83KG
4F
2016
10977

Filipe Brobrick

W
Pts: 4x0
NoGi Worlds
83KG
SF
2016
10978

Richie Martinez

Richie Martinez
W
Pts: 10x0
NoGi Worlds
83KG
F
2016
21046

Bruno Lima

Bruno Lima
W
Pts: 0x0, Adv
ACB World Champ.
85KG
SF
2019
(banner picture taken by: William Burkhardt of BJJ Pix)
Alan Finfou Sparring