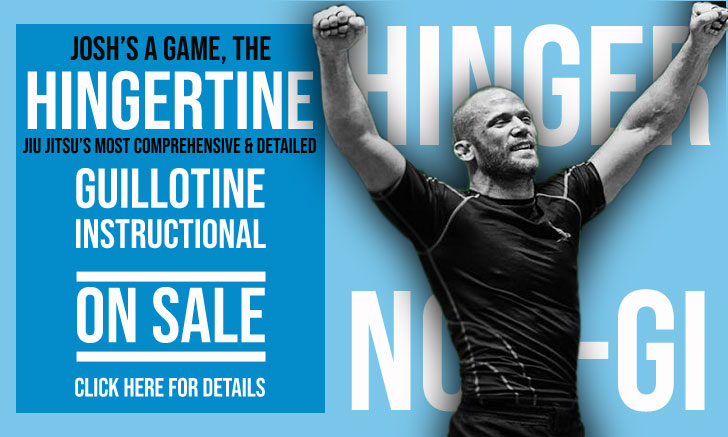 Alec Baulding is a Brazilian jiu jitsu black belt under Romero Cavalcanti, being one of the most accomplished grapplers produced by the legendary Alliance Jiu Jitsu co-founder on American soil. Baulding earned the reputation of being one of the top grapplers of his generation in the lower belts of the sport, where he conquered a world title and 2 Pan American championships.
Alec Baulding Jiu Jitsu
Full Name: Alec Jerrod Baulding
Nickname: "Cofrinho" which is the Portuguese word for "piggy bank" or "mini vault". The name, in Portuguese slang, also relates to the split between someone's bottom. The name became associated with Baulding both for his body type and for wearing his gi pants too low.
Lineage: Mitsuyo Maeda > Carlos Gracie > Helio Gracie > Rolls Gracie > Romero Cavalcanti > Alec Baulding
Main Achievements:
ADCC East Coast Trials Champion (2018)
IBJJF London Fall Open Champion (2017)
IBJJF Atlanta Winter Open Champion (2016)
IBJJF Dallas Open Champion (2015)
IBJJF European Open Championship 2nd Place (2017)
IBJJF Asian Open Championship 2nd Place (2016)
IBJJF London Fall No-Gi Open Championship 2nd Place (2017)
UAEJJF Grand Slam Tour – Las Vegas 3rd Place (2015)
IBJJF Atlanta Summer International Open 3rd Place (2015**)
Main Achievements (Colored Belts):
IBJJF World Champion (2010 purple)
IBJJF Pans Champion (2010** purple)
IBJJF Atlanta Winter Open Champion (2015** brown)
IBJJF Pans Championship 2nd Place (2011/2015 brown)
Favorite Position/Technique: Lasso Guard
Weight Division: Meio Pesado (88kg/184lbs)
Team/Association: Alliance
Alec Baulding Biography
Alec Baulding was born on April 5th, 1989 in Atlanta – Georgia, United States of America where he grew up.
During his mid teens, after years playing sports, Alec decided to do something different. He was doing well at school but wanted to practice a martial art where he could practice something out of the ordinary. Searching the web for the ideal martial art, he found taekwondo, which he did for a few months, competing in the sport at an AAU tournament as an orange belt.
While researching for the most effective martial art, Baulding often bumped into the name "Brazilian jiu jitsu" on specialized websites. The high praise received by BJJ on the web took him to sign up to a jiu jitsu club, he was 15 at the time. As there weren't many gyms in his area, he joined Robert Shaw's academy. Shaw, also known as the "Bull" was Romero CavalcantiRomero "Jacaré" Cavalcanti's first American black belt, and when his academy closed down 1 year into Alec's training, Baulding decided to join the Alliance Jiu Jitsu Academy headquarters, also in Atlanta.
After many years training at Alliance's US HQ, Baulding unexpectedly switched camps in 2012, moving to Team Lloyd Irvin, even training at their headquarters in Camp Springs, Maryland. The spell at TLI was shortlived as Alec returned to Alliance on April 2013.
Alec Baulding received all belts by Romero Cavalcanti, including his black belt, received on June 20th, 2015.
Banner picture taken from the IBJJF FB page.
Alec Baulding Grappling Record
42 WINS
BY POINTS


BY ADVANTAGES




BY SUBMISSION




BY DECISION




BY PENALTIES




BY DQ



18 SUBMISSIONS WINS
#214eb8
Choke from back
44
8
19 LOSSES
BY POINTS


BY ADVANTAGES




BY SUBMISSION




BY DECISION




BY PENALTIES




BY DQ



2 SUBMISSIONS LOSSES
Alec Baulding Fight History
ID
Opponent
W/L
Method
Competition
Weight
Stage
Year
7962

Michael Liera

Michael Liera
L
Pts: 10x4
Atlanta W. Open
82KG
SF
2015
7969

Guybson Sa

L
Points
Atlanta Open
ABS
SF
2015
8207

Tanner Rice

Tanner Rice
L
Referee Decision
Grand Slam LA
85KG
SF
2015
8222

Roberto Abreu

Roberto Abreu
L
Pts: 6x0
Grand Slam LA
ABS
8F
2015
9227

Jaime Canuto

Jaime Canuto
L
Armbar
Pan American
82KG
8F
2016
9920

Diogo Sampaio

Diogo Sampaio
L
Referee Decision
World Champ.
82KG
R2
2016
10454

Claudio Calasans

Claudio Calasans
L
Pts: 2x0
Asian Open
88KG
F
2016
11486

Marcos Tinoco

Marcos Tinoco
L
Pts: 4x2
European Open
82KG
F
2017
13000

Mansher Khera

Mansher Khera
L
Pts: 0x0, Adv
World Champ.
82KG
8F
2017
13982

C. Negromonte

C. Negromonte
L
Points
London Fall NG.O
85KG
F
2017
14267

Tommy Langaker

Tommy Langaker
L
Triangle
Swedish Open
ABS
F
2017
14684

Nathan Mendelsohn

Nathan Mendelsohn
L
Pts: 2x2, Pen
European Open
82KG
R1
2018
15065

Tommy Langaker

Tommy Langaker
L
Adv
London W. Open
82KG
F
2018
15073

Tommy Langaker

Tommy Langaker
L
Adv
London W. Open
ABS
F
2018
15264

Max Lindblad

Max Lindblad
L
Pts: 4x2
Nordic Spring
ABS
F
2018
15376

Eduardo Rios

Eduardo Rios
L
Points
European NoGi
79KG
4F
2018
16202

Josh Hinger

Josh Hinger
L
Pts: 6x6, Pen
World Champ.
82KG
R2
2018
16769

Diego Ramalho

Diego Ramalho
L
Pts: 4x0
ACBJJ Poland
85KG
4F
2018
17126

Tommy Langaker

Tommy Langaker
L
Pts: 4x2
Copenhagen Open
ABS
F
2018
7961

Gregory Walker

W
Choke from back
Atlanta W. Open
82KG
4F
2015
7968

Pedro Palhares

W
Points
Atlanta Open
ABS
4F
2015
8064

Pedro Mello

Pedro Mello
W
Points
Dallas Open
88KG
SF
2015
8066

Marcos Tinoco

Marcos Tinoco
W
Choke from back
Dallas Open
88KG
F
2015
8204

Ryan Golgosky

W
Pts: 0x0, Adv
Grand Slam LA
85KG
4F
2015
8209

Matt Baker

W
Clock choke
Grand Slam LA
85KG
3RD
2015
8992

Brian Beaury

Brian Beaury
W
Armbar
Atlanta W. Open
88KG
SF
2016
8994

Steven Patterson

W
Adv
Atlanta W. Open
88KG
F
2016
9213

Ryan Golgosky

W
Pts: 0x0, Adv
Pan American
82KG
R1
2016
10450

Marcelo Cortelassi

W
Choke from back
Asian Open
88KG
4F
2016
10453

Nathan Mendelsohn

Nathan Mendelsohn
W
Pts: 2x0
Asian Open
88KG
SF
2016
10544

Andrew Wooten

W
Points
Atlanta S. Open
88KG
F
2016
10545

Pedro Palhares

W
N/A
Atlanta S. Open
ABS
4F
2016
10546

Joao Soares

W
N/A
Atlanta S. Open
ABS
SF
2016
10547

Joshua Bowling

W
Points
Atlanta S. Open
ABS
F
2016
11477

Marcos Ntumu

W
Choke from back
European Open
82KG
8F
2017
11481

Thomas Oyarzun

W
Submission
European Open
82KG
4F
2017
11484

Isaque Bahiense

Isaque Bahiense
W
Choke from back
European Open
82KG
SF
2017
12991

Vinicius Garcia

Vinicius Garcia
W
Pts: 10x2
World Champ.
82KG
R1
2017
13967

Bradley Hill

W
Choke from back
London Fall Open
88KG
4F
2017
13968

Sebastian Brosche

Sebastian Brosche
W
Points
London Fall Open
88KG
SF
2017
13969

Isaac Dull

W
Adv
London Fall Open
88KG
F
2017
13979

Sergio Rios

Sergio Rios
W
Points
London Fall NG.O
85KG
4F
2017
13980

Isaac Dull

W
Points
London Fall NG.O
85KG
SF
2017
14257

Daniel Haglind

W
Submission
Swedish Open
88KG
SF
2017
14258

Joachim Svenson

W
Submission
Swedish Open
88KG
F
2017
14260

Martin Svenson

W
Cross choke
Swedish Open
ABS
R1
2017
14262

Max Lindblad

Max Lindblad
W
Pts: 0x0, Adv
Swedish Open
ABS
4F
2017
14265

Thomas Johansen

W
Katagatame
Swedish Open
ABS
SF
2017
15064

Eduardo Silva

W
N/A
London W. Open
82KG
RR
2018
15072

S. Varshavskiy

W
N/A
London W. Open
ABS
RR
2018
15261

Ricard Carneborn

W
Submission
Nordic Spring
94KG
F
2018
15262

Ralf Carneborn

W
Submission
Nordic Spring
ABS
SF
2018
15397

Bradley Hill

W
Points
Rome Open
82KG
SF
2018
15398

Nic Ruben

Nic Ruben
W
Points
Rome Open
82KG
F
2018
17121

Bruno Oliveira

W
Choke from back
Copenhagen Open
94KG
F
2018
17122

Bruno Oliveira

W
Points
Copenhagen Open
ABS
4F
2018
17125

Patrick Almeida

W
Choke from back
Copenhagen Open
ABS
SF
2018
17699

Kyle Boehm

W
Referee Decision
ADCC EC Trials
88KG
R1
2018
17700

Ryan Quinn

W
Kimura
ADCC EC Trials
88KG
4F
2018
17701

R. Jimenez

W
Pts: 4x2
ADCC EC Trials
88KG
SF
2018
17702

Dan Martinez

W
Pts: 4x0
ADCC EC Trials
88KG
F
2018
Alec Baulding vs Marcos Tinoco

Alec Baulding vs Steven Patterson