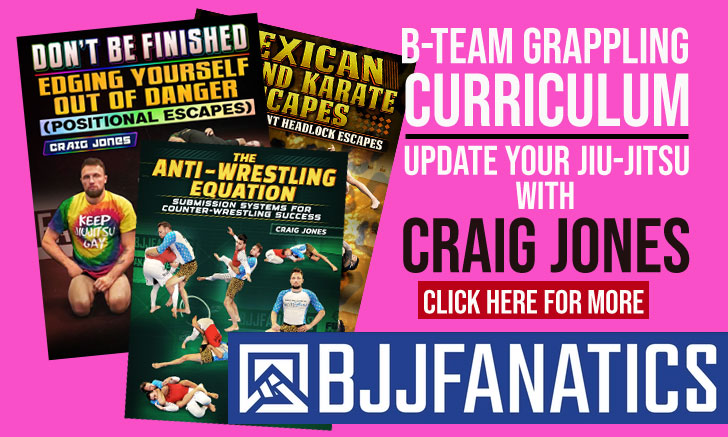 Nathan Mendelsohn is a Brazilian jiu-jitsu black belt under Cláudio França and a representative of the Coalition 95 BJJ, a team based in Santa Cruz, CA. One of the top American grapplers of his generation, Mendelsohn is known not only for his tremendous list of achievements but also for his open-minded attitude towards training – often breaking strict team taboos to practice with the best in this martial art/sport.
Nathan Mendelsohn Jiu-Jitsu
Full Name: Nathan Albrecht Mendelsohn
Nickname: N/A
Lineage: C. Gracie > Helio Gracie > Francisco Mansor >  Cláudio França > Nathan Mendelsohn
Main Achievements:
1st Place IBJJF American Nationals (2020)
2nd Place IBJJF Asian Open (2017)
3rd Place AJP Abu Dhabi World Pro (2021)
3rd Place IBJJF European Open (2018)
3rd Place IBJJF American Nationals (2014*)
3rd Place IBJJF Pan Championship (2021)
3rd Place IBJJF Asian Open (2016**)
Main Achievements (Colored Belts):
1st Place IBJJF American Nationals (2009 purple)
2nd Place IBJJF American Nationals (2012 brown)
* Absolute
** Weight and absolute
Favorite Position/Technique: Good Overall Game
Weight Division: Peso Médio (82,30 kg / 181.5 lbs)
Team/Association: Coalition 95
Nathan Mendelsohn Biography
Nathan Mendelsohn was born on December 10, 1989, in Santa Cruz, California – USA.
As a toddler Nathan was introduced to karate, a martial art Mendelsohn practiced until his sixth anniversary. He then switched to ho kuk mu sul – a Korean martial art based on self-defense for 4 years. At the age of 10, Nathan Mendelsohn's training schedule finally gave way to water polo and jiu-jitsu, where he settled.
Nathan's father knew Master Cláudio França from a restaurant he used to work at, and it was through this connection that the young Mendelsohn began his life in BJJ. França being one of the very first black belts to bring jiu-jitsu to California (Santa Cruz in particular), and a crucial contributor to the growth of this sport/martial art in North America.
Going through the ranks at Cláudio França's academy, by the time he was 16 (blue belt) Nathan's talent was already shining through on a competitive level. As a reward for Mendelsohn's hard work França asked him to start helping with the kids class – this way kick-starting Nathan's long career as an instructor.
At the age of 17, Nathan Mendelsohn took his first trip to Brazil, training not only at Roberto Gordo's academy but also at GF Team during that initial period spent in Rio de Janeiro. This was the first of many trips to America's southern hemisphere. As time progressed, Nathan trained with many different teams and in a variety of gyms, particularly in Brazil.
His many jiu-jitsu experiences helped raise the level of his skill, ultimately leading Nathan to his black belt promotion. A ceremony led by Cláudio França took place in December 2012.
Mendelsohn's link with Soul Fighters occurred as a natural process. Cláudio França was of the same direct lineage as many of SF's founders, this personal bond between Master Cláudio and particularly Alvaro Mansor (co-founder of Soul Fighters) led Nathan to train regularly occasion with the team, often when preparing for big tournaments.
Cover photo by Nordic Naturals.
Nathan Mendelsohn Highlight

Nathan Mendelsohn vs Rhalan Gracie