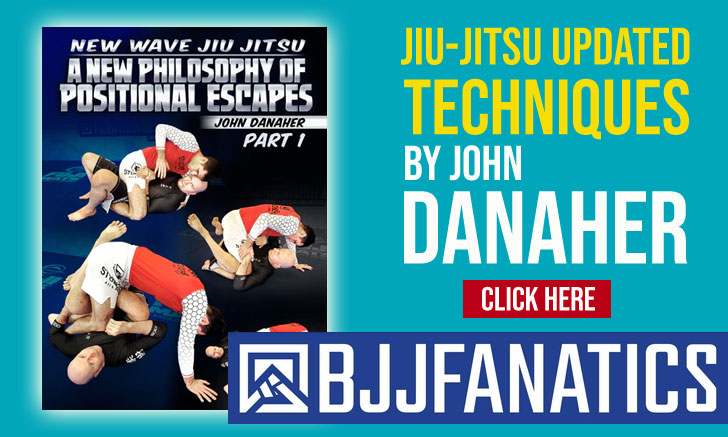 Alexandre Vieira is a Brazilian jiu jitsu black belt under Murilo Bustamante, having also worked extensively with Master Paulo Maurício Strauch while being also one of the top representatives of the BTT academy in the sport's international circuit. A well-accomplished competitor, Vieira is also known for his unique style of grappling which earned him strong praise by media outlets such as the BJJ Scout and FloGrappling, particularly after his world famous loop choke over Tomoshige Sera at the UAEJJF Abu Dhabi Grand Slam Tour in Tokyo (2017).
Alexandre Vieira Jiu Jitsu
Full Name: Alexandre de Souza Vieira
Nickname: N/A
Lineage: Mitsuyo Maeda > Carlos Gracie > Carlson Gracie > Murilo Bustamante > Alexandre Vieira
Main Achievements:
1st Place IBJJF Rio Open (2019)
1st Place CBJJ Brazilian Nationals NoGi (2019)
1st Place UAEJJF Grand Slam NoGi, RJ (2016)
1st Place UAEJJF S.A. Continental Pro (2018)
2nd Place IBJJF Rio Fall Open (2015)
2nd Place ADCC SP Trials 2nd Place (2015)
2nd Place ADCC RJ Trials 3rd Place (2015)
3rd Place ACBJJ World Championship NoGi (2017)
3rd Place CBJJ Brazilian Nationals NoGi (2016)
3rd Place IBJJF Fortaleza Open (2019**)
3rd Place UAEJJF Grand Slam, TYO (2017)
Main Achievements (Colored Belts):
1st Place IBJJF No-Gi World Champion(2014 brown)
1st Place CBJJ Brasileiro No-Gi Champion (2013 brown)
1st Place IBJJF Rio International Open Champion (2013**/2012 brown)
3rd Place CBJJ Brazilian Nationals (2014 brown)
* Absolute
** Weight and absolute
Favorite Position/Technique: Crucifix Position / Loop Choke
Weight Division: Peso Pena (70,00 kg / 154.5 lbs)
Team/Association: BTT
Alexandre Vieira Biography
Alexandre Vieira was born on April 12, 1990, in Rio de Janeiro – growing up in the world famous Zona Sul, Copacabana district – where he picked up an interest in martial arts.
The kicking art of capoeira was Alexandre Vieira's first experience with a combat style, one he practiced regularly from the age of 5 to 15. Although he had many coaches along the way, none was more important than Master Rodrigo Escorpião, the man who taught Vieira not only technique but also the rich history of this martial art.
As a 7-year-old Vieira was approached by Carlson Gracie jiu-jitsu black belt Marcelo Saporito after a capoeira class. The well known BJJ instructor saw great talent in the young Alexandre and invited him to take part in his kids' program under a scholarship, thus initiating Vieira in grappling.
Vieira's time with Saporito was short-lived, as a yellow belt he moved to Flávio Nobre's "Bushidô Academy", an affiliate school of the illustrious Paulo Maurício Strauch. When Bushidô closed its doors a few years later Vieira moved to Strauch's headquarters, Alexandre was a teenager then.
As a 15-year-old Alexandre Vieira added kickboxing to his weekly routine, combining it with BJJ. He competed in the ring under full contact rules and earned his black belt in this striking style a few years later. Although Vieira did not aspire to become a mixed martial artist when he started, given his grappling and striking experience MMA ended up crossing paths with the young Brazilian.
Alexandre's cage fighting debut occurred in 2012 with the WOCS MMA promotion, having had no real preparation for the cage prior to the bout Vieira managed to make quick work of his opponent. On the corner of his challenger was veteran MMA fighter Alexandre Pimentel, who ended up befriending Vieira after the fight.
Alexandre Pimentel (AKA Pulga) saw a potential training partner in Alexandre and asked him to visit the Brazilian Top Team (BTT) HQ, to help him prepare for a match. After working with BTT and meeting team leader Murilo Bustamante it made sense for Vieira to prepare for a possible career in MMA there, and for that reason, he dropped Academia Strauch to join BTT – he was a brown belt at the time.
On December 17, 2014, Vieira earned his black belt from Murilo Bustamante. He would later reconsider his plans of becoming a professional cage fighter to dedicate himself full time to grappling.
Cover photo by Carlos Arthur Junior.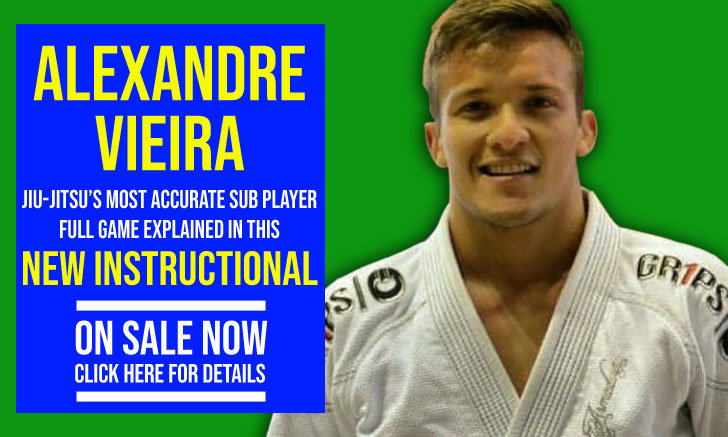 Alexandre Vieira Grappling Record
50 WINS
BY POINTS


BY ADVANTAGES




BY SUBMISSION




BY DECISION




BY PENALTIES




BY DQ



47 SUBMISSIONS WINS
#86e620
Crucifix choke
28
13
36 LOSSES
BY POINTS


BY ADVANTAGES




BY SUBMISSION




BY DECISION




BY PENALTIES




BY DQ



13 SUBMISSIONS LOSSES
#5AD3D1
Choke from back
8
1
#224aba
No arm triangle
8
1
#bf1f6c
Inside heel hook
8
1
Alexandre Vieira Fight History
ID
Opponent
W/L
Method
Competition
Weight
Stage
Year
6930

Kim Terra

Kim Terra
L
Pts: 7x4
Rio Fall Open
70KG
F
2015
6976

Fernando Carsadale

L
Pts: 2x0
ADCC RJ
66KG
SF
2015
7057

Gabriel Marangoni

Gabriel Marangoni
L
Pts: 3x0
ADCC SP
66KG
F
2015
7963

Geo Martinez

Geo Martinez
L
Armbar
ADCC
66KG
R1
2015
10835

Isaque Paiva

Isaque Paiva
L
RNC
Brasileiro NoGi
67KG
4F
2016
11035

Rafael Mansur

Rafael Mansur
L
Adv
Grand Slam RJ
69KG
4F
2016
11557

Rubens Charles

Rubens Charles
L
Choke from back
European Open
70KG
4F
2017
12141

Victor Genovesi

Victor Genovesi
L
Armbar
Pan American
70KG
4F
2017
12291

Erberth Santos

Erberth Santos
L
Cross face
Rio F. NG Open
ABS
SF
2017
13384

Shiraki Daisuke

L
RNC
Grand Slam TYO
69KG
SF
2017
13795

Thiago Macedo

Thiago Macedo
L
Pts: 4x0
Grand Slam LA
69KG
4F
2017
13801

Vitor Moraes

L
Pts: 0x0, Adv
Grand Slam LA
69KG
3RD
2017
14610

Pablo Mantovani

Pablo Mantovani
L
Pts: 15x0
ACB JJ Worlds
65KG
SF
2017
14821

Joao Bosco

L
Submission
Grand Slam AD
69KG
R1
2018
14993

Rodrigo Francioni

Rodrigo Francioni
L
Pts: 0x0, Adv
BR National Pro
69KG
F
2018
15000

Rodrigo Dias

L
Injury
BR National Pro
LWA
F
2018
15491

Victor Moraes

L
Pts: 5x2
Grand Slam LDN
69KG
SF
2018
15495

Max Campos

L
Pts: 6x0
Grand Slam LDN
69KG
RPC
2018
15961

Matheus Gonzaga

Matheus Gonzaga
L
Pts: 7x0
NY Spring Open
70KG
4F
2018
16317

Dante Leon

Dante Leon
L
Pts: 7x0
Dallas SPO
ABS
4F
2018
16440

Cleber Sousa

Cleber Sousa
L
Toe hold
World Champ.
64KG
R1
2018
17226

Endres Barbosa

Endres Barbosa
L
Referee Decision
Joao Pessoa Pro
ABS
SF
2018
17466

Alex Sodre

Alex Sodre
L
Armbar
Sao Paulo Open
70KG
4F
2018
17931

Francisco Cuneo

Francisco Cuneo
L
Points
Curitiba SPNGO
73KG
SF
2018
18593

Gilson Nunes

Gilson Nunes
L
Pts: 0x0, Adv
NoGi Worlds
67KG
R2
2018
20243

Osmar Telles

L
Pts: 2x0
Brasileiro
70KG
R1
2019
20876

Felipe Araujo

L
Points
Fortaleza Open
70KG
SF
2019
20887

Jonas Bruno

L
N/A
Fortaleza Open
ABS
SF
2019
21774

Danilo Moreira

Danilo Moreira
L
Pts: 5x0
Brasileiro NoGi
67KG
4F
2019
21811

Marcelo Gomide

Marcelo Gomide
L
Points
Brasileiro NoGi
ABS
4F
2019
22079

Lukete Silva

Lukete Silva
L
No arm triangle
BH SPO
70KG
SF
2019
28744

Josh Cisneros

Josh Cisneros
L
Triangle
AIGA World
70KG
4F
2021
35774

Paulo Miyao

Paulo Miyao
L
Inside heel hook
BJJ Stars
70KG
SPF
2022
41545

Jackson Douglas

Jackson Douglas
L
Points
Austin NGO
ABS
4F
2023
41556

JP Rocha

L
N/A
Orlando SMO
70KG
4F
2023
41611

Jorge Barba

L
RNC
Orlando SMNGO
ABS
SF
2023
6929

Johnny Crispim

W
Choke
Rio Fall Open
70KG
SF
2015
6947

Thomas Lisboa

Thomas Lisboa
W
Crucifix choke
Rio Fall NoGi
67KG
SF
2015
6948

Rodrigo Socorro

W
Crucifix choke
Rio Fall NoGi
67KG
F
2015
6973

Pedro Nejaime

W
RNC
ADCC RJ
66KG
R2
2015
6974

De Assis

W
RNC
ADCC RJ
66KG
R3
2015
6975

Victor Dias

W
RNC
ADCC RJ
66KG
4F
2015
6979

Bruno Celio

W
RNC
ADCC RJ
66KG
3RD
2015
7052

Thomas Lisboa

Thomas Lisboa
W
Crucifix choke
ADCC SP
66KG
R2
2015
7053

R. Cardoso

W
RNC
ADCC SP
66KG
4F
2015
7056

Antonio Guimaraes

W
RNC
ADCC SP
66KG
SF
2015
10834

Julio Rufino

W
RNC
Brasileiro NoGi
67KG
R1
2016
11030

Pedro Neto

W
Collar choke
Grand Slam RJ
69KG
R2
2016
11105

Geovan Carmo

W
RNC
G.S. Rio NoGi
66KG
F
2016
11552

Tuomas Tamilehto

W
Choke
European Open
70KG
8F
2017
12130

Nielton Soares

W
Crucifix choke
Pan American
70KG
R1
2017
12137

Bruno Frazatto

Bruno Frazatto
W
Crucifix choke
Pan American
70KG
8F
2017
12289

Unknown

W
Crucifix choke
Rio F. NG Open
ABS
R1
2017
12290

Unknown

W
RNC
Rio F. NG Open
ABS
4F
2017
13382

Tomoshige Sera

W
RNC
Grand Slam TYO
69KG
4F
2017
13386

Ricardo Yagi

W
Loop choke
Grand Slam TYO
69KG
RR
2017
13387

Tomoshige Sera

W
Loop choke
Grand Slam TYO
69KG
3RD
2017
13791

Gabriel Revoredo

W
Choke
Grand Slam LA
69KG
R1
2017
13799

Brandon Walensky

Brandon Walensky
W
Crucifix choke
Grand Slam LA
69KG
RR
2017
14608

Kim Terra

Kim Terra
W
RNC
ACB JJ Worlds
65KG
4F
2017
14612

Asadulaev Agate

W
RNC
ACB JJ Worlds
65KG
3RD
2017
14989

Helder Campoz

W
Choke
BR National Pro
69KG
4F
2018
14991

Raphael Cadena

W
Choke
BR National Pro
69KG
SF
2018
14999

Jorge Nakamura

W
Choke
BR National Pro
LWA
SF
2018
15267

Helder Campoz

W
Choke
SA Continental Pro
69KG
4F
2018
15268

Rodrigo C.

W
Choke
SA Continental Pro
69KG
SF
2018
15269

Jonathans Veiga

W
Choke
SA Continental Pro
69KG
F
2018
15488

Igor Terreco

W
Crucifix choke
Grand Slam LDN
69KG
4F
2018
17222

Henrique Gomes

W
Submission
Joao Pessoa Pro
69KG
RR
2018
17223

Henrique Gomes

W
Submission
Joao Pessoa Pro
69KG
F
2018
17225

Esdras Junior

W
Choke
Joao Pessoa Pro
ABS
4F
2018
17677

Elifrank Nascimento

W
RNC
Brasileiro NoGi
67KG
4F
2018
17678

Marcio Nascimento

W
Triangle
Brasileiro NoGi
67KG
SF
2018
17679

Tiago Barros

Tiago Barros
W
Referee Decision
Brasileiro NoGi
67KG
F
2018
20804

Pedro Teixeira

W
RNC
Rio Open
70KG
4F
2019
20807

Jorge Nakamura

W
Crucifix choke
Rio Open
70KG
SF
2019
20808

Yago Rodrigues

W
Loop choke
Rio Open
70KG
F
2019
20874

Davi Oliveira

W
Crucifix choke
Fortaleza Open
70KG
4F
2019
20886

Herico Hesley

W
Crucifix choke
Fortaleza Open
ABS
4F
2019
20891

Jose Robson

W
Submission
Fortaleza NGO
67KG
F
2019
21086

Eduardo Botega

W
Submission
BH Winter Open
70KG
SF
2019
21087

Bernardo Dib

W
Crucifix choke
BH Winter Open
70KG
F
2019
21806

Edward Hohl

W
Katagatame
Brasileiro NoGi
ABS
R1
2019
41530

Frank Rosenthal

Frank Rosenthal
W
N/A
Austin NGO
67KG
F
2023
41595

Kalel Santos

W
N/A
Orlando SMNGO
67KG
F
2023
41609

Jose Munoz

W
Crucifix choke
Orlando SMNGO
ABS
4F
2023
Alexandre Vieira vs Tomoshige Sera

Alexandre Vieira BJJ Scout Analyisis

Alexandre Vieira BJJ Pix Highlight