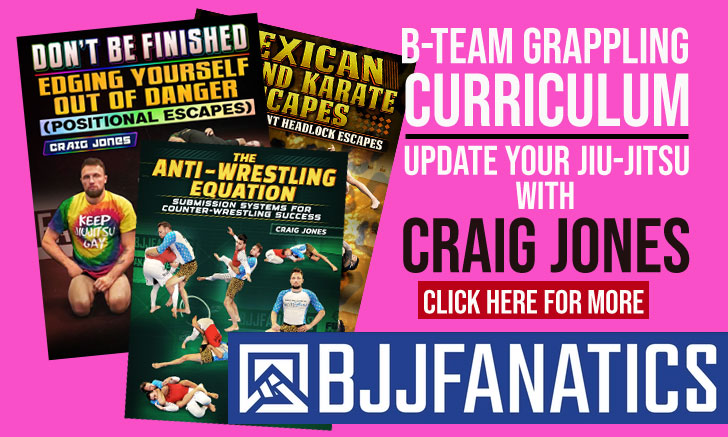 Allan Góes is a 6th degree black belt in Brazilian Jiu Jitsu (BJJ) who was part a famous team that ruled the sport in the late 1980s/early 1990s, led by Carlson Gracie. Allan Goes was also a pioneer mixed martial arts (MMA) fighter, having competed in promotions all around the world, when the focus of the Carlson Gracie Academy shifted to cage fighting. Góes was also one of the first of Carlson Gracie's students to bring the famous CGA style of grappling to the United States.
Allan Goes Jiu Jitsu
Full Name: Allan Alexandre Góes
Nickname: N/A
Lineage: Mitsuyo Maeda > Carlos Gracie >Carlson Gracie > Allan Góes
Favourite Position/ Technique: Armbar
Weight Division: Heavyweight (Peso Pesado)
Team/Association: Carlson Gracie/BTT (Brazilian Top Team)
Allan Góes Biography
Allan Alexandre Góes was born on the 20th of April, 1971 in Rio de Janeiro, Brazil. He started practicing sports when still a toddler, under the guidance of his grandfather, Alcides Goes, who was a Judo expert. As his grandfather grew older he could no longer help Allan with his martial arts tuition, Allan then took free Jiu Jitsu classes at the "Radar" academy in Copacabana, which was led by master Manimal. The class was very early in the morning, at 4am, but it was the only one with free tuition in the neighborhood.
In 1983, Allan won his very first medal at a Jiu Jitsu tournament in Teresópolis as a yellow belt. Carlson Gracie was on the stands and saw potential in the young Allan Goes, he immediately asked professor Manimal (one of Carlson Gracie's best friends) to bring Goes to the juvenile class at the famous Carlson Gracie school where he would have more and tougher sparring partners. This was an incredible opportunity and Allan Goes was well aware of this, as was his grandfather who took such pride in the invitation he took his grandchild to the club himself.
Allan grew up in the Favelas (slums) of Rio de Janeiro and his upbringing was anything but easy. His father was a musician/poet and money was scarce. As a result, Goes ended up on the wrong side of the law, being imprisoned as a minor in a very tough youth detention centre called FEBEM (Fundação Estadual para o Bem Estar do Menor). When he left FEBEM at age 16, Master Carlson Gracie took him under his wing, and brought Allan to live with him at his home. Sharing everyday with the master, Allan's technique and personality grew exponentially. He recorded a fabulous streak of victories in Jiu Jitsu, being his only recorded loss to Fernando Gurgel as a brown belt. He lived with Carlson for around 3 years until he joined the Brazilian Paratroopers (around the same time he received his black belt).
Being raised in Botafogo for most of his life, Allan Goes found himself coaching in that Rio de Janeiro burg as soon as he had a chance. Botafogo's martial arts schools at the time were largely dominated by the great rival of the Jiu Jitsu in the 1980's and 1990's Luta Livre, and soon Allan understood how strong that domain was when he found himself in trouble with the local luta livre coaches constant bullying. At one stage a group of 20 Luta Livre men led by Eugenio Tadeu (who himself was commanded by Hugo Duarte) ganged up on Allan Goes at his gym, they wanted him to leave Botafogo for good. Years later in Buffalo, NY, Allan found the same Eugenio Tadeu and Hugo Duarte completely lost in the American City not knowing any English (they were there to compete at an MMA event). Allan Goes let bygones be bygones and helped the pair while they stayed in the US, even cornering them in the fight.
Allan Goes was also one of the very first representatives of Carlson Gracie in the Northern hemisphere, paving the way to many other BJJ coaches that tagged along after him, including his own master, Carlson. In the early 2000's however, he joined the "dissidents" of Carlson Gracie to form BTT (Brazilian Top Team) a team led by Ze Mario Sperry, Murilo Bustamante and "Bebeo" Duarte, all men who left the Carlson Gracie team after an internal dispute.
Allan was very involved in MMA since the beginning of his arrival in the US having fought all over the planet, from Brazil to Japan and in some of the biggest events in the world like Meca, Pride, UFC and the IFL. When in the states, one of the Brazilians that helped Allan Goes establish himself was Joe Moreira, the two cornered each other on more then one MMA event. On one of those events (UFC #8) Allan (who was cornering Moreira) had a famous scuffle with a "big name" fighter, Tank Abbot in the backstage of the UFC. The argument propelled to the fighter's hotel lobby the day after the fight when "Tank" showed up with a few more of his team members to settle the score. The quarrel was ended with the help of Kimo Leopoldo (another fighter who was also in that UFC card).