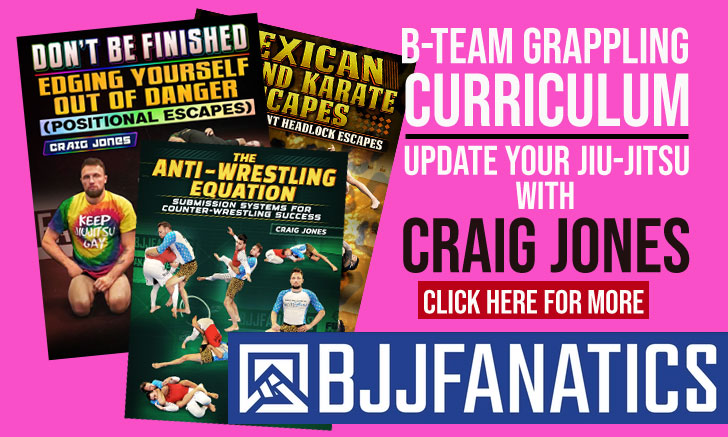 Breno Bittencourt is a Brazilian jiu jitsu black belt under Alan Moraes, and a representative of the Carlson Gracie lineage in the sport. A member of the Ares Jiu Jitsu/Alan Moraes BJJ (AMBJJ) association, one of the most fruitful branches of the Carlson Gracie Academy, Breno Bittencourt made a name for himself during his brown belt campaign, by conquering two Brazilian National titles, as well as a South American championship.
Breno Bittencourt Jiu Jitsu
Full Name: Breno Henrique Abreu Bittencourt
Nickname: n/a
Lineage: Mitsuyo Maeda > Carlos Gracie > Carlson Gracie > C. Gracie Júnior > Alan Moraes > Breno Bittencourt
Main Achievement:
USBJJF/IBJJF American No-Gi National Champion (2017)
IBJJF Los Angeles Open Champion (2018)
CBJJ Brazilian National Teams Championship 2nd Place (2016)
IBJJF Pan Championship 3rd Place (2018)
Main Achievement (Colored Belts):
CBJJ Brazilian National Champion (2015 brown)
CBJJ Brazilian National No-Gi Champion (2015 brown)
IBJJF South American Champion (2015 brown)
IBJJF Rio BJJ Pro Champion (2015 brown)
IBJJF Rio Fall International Open Champion (2015 brown)
IBJJF Rio Winter International Open Champion (2015 brown)
IBJJF European Open 3rd Place (2016 brown)
Favorite Position/Technique: Good overall game
Weight Division: Peso Leve (76kg/168lbs)
Team/Association: Ares BJJ
Breno Bittencourt Biography
Breno Bittencourt was born on July 7, 1989 in Rio de Janeiro – Brazil.
Having in his father a big no-holds-barred fan with combat experience, it didn't take long for young Breno to have his first steps in martial arts, steps that took place at the age of 4 in judo class.
As a 13 year old Breno Bittencourt added jiu jitsu to his off-school activities, learning directly from a good friend of his father named Marco Aurélio. Over time, Bittencourt's training was passed on to a few different instructors, namely Gabriel Wilcox (who promoted Breno to yellow belt) and Marco Túlio in Floripa (blue belt) before settling at Carlson Gracie team in Rio de Janeiro, with Alan Moraes.
While progressing through the belt system, Breno decided to take a 4 year hiatus to focus on his university degree in Information Technology. Once Bittencourt finished his degree, and found a job in the IT industry he went straight back into jiu jitsu's competitive scene.
Even though he was equipped with his incredible talent, Breno struggled to break through in jiu jitsu. He soon acknowledged that the sport was no place for the part time grappler, and decided to meet the standard. He quit his full time job to work as a freelancer, so he could dedicate himself to being an athlete.
His hard work started bearing fruits in 2015, as Breno conquered numerous important titles. His hard work paid off with coach Alan Moraes promoting him to black belt on July 2016.
Breno Bittencourt Grappling Record
37 WINS
BY POINTS


BY ADVANTAGES




BY SUBMISSION




BY DECISION




BY PENALTIES




BY DQ



8 SUBMISSIONS WINS
#214eb8
Choke from back
38
3
#fad11b
No arm triangle
13
1
23 LOSSES
BY POINTS


BY ADVANTAGES




BY SUBMISSION




BY DECISION




BY PENALTIES




BY DQ



7 SUBMISSIONS LOSSES
#214eb8
Choke from back
43
3
Breno Bittencourt Fight History
ID
Opponent
W/L
Method
Competition
Weight
Stage
Year
10246

Claudevan Oliveira

L
Kneebar
Rio Winter Open
76KG
R1
2016
10724

Fabio Caloi

Fabio Caloi
L
Toe hold
Floripa Open
76KG
SF
2016
12168

Lucas Lepri

Lucas Lepri
L
Choke from back
Pan American
76KG
8F
2017
13346

Rodrigo Freitas

Rodrigo Freitas
L
Points
American Nats
76KG
4F
2017
13517

Francisco Iturralde

Francisco Iturralde
L
DQ
San Jose Open
76KG
F
2017
13526

Yuri Simoes

Yuri Simoes
L
Points
San Jose Open
ABS
SF
2017
13528

Dustin Akbari

L
Points
San Jose NGO
79KG
F
2017
13775

Victor Silverio

Victor Silverio
L
Pts: 0x0, Adv
San Diego Pro
82KG
4F
2017
13979

Gianni Grippo

Gianni Grippo
L
Points
Atlanta SM Open
ABS
SF
2017
13981

Pedro Palhares

L
Darce choke
Atlanta SM NGO
85KG
F
2017
14200

Alexandre Molinaro

Alexandre Molinaro
L
Points
Miami FO
76KG
SF
2017
14680

Lucas Valle

L
Pts: 4x0
NoGi Worlds
79KG
R1
2017
15293

Michael Liera

Michael Liera
L
Pts: 6x4
San Francisco Open
82KG
F
2018
15406

JT Torres

JT Torres
L
Triangle
Pan American
76KG
SF
2018
15745

Nathan Mendelsohn

Nathan Mendelsohn
L
Points
San Jose Open
82KG
F
2018
15757

Yuri Simoes

Yuri Simoes
L
Points
San Jose Open
ABS
SF
2018
15762

Dustin Akbari

L
Points
San Jose NGO
79KG
SF
2018
16373

Diego Ramalho

Diego Ramalho
L
Pts: 6x4
ACB North America
ABS
8F
2018
16498

Jake Mackenzie

Jake Mackenzie
L
Choke from back
World Champ.
76KG
R2
2018
19345

Andris Brunovskis

Andris Brunovskis
L
Choke from back
Portland Open
82KG
F
2019
21498

Leo Silva

Leo Silva
L
Referee Decision
F2W 123
77KG
SPF
2019
22398

Ronaldo Junior

Ronaldo Junior
L
Injury
Long Beach Open
82KG
F
2019
26665

Daniel Diniz

Daniel Diniz
L
Pts: 4x4, Adv
American Nats
76KG
4F
2021
10193

Marcelo Yoshi

W
Pts: 21x0
JJ Olimpico GP
76KG
4F
2016
10194

Luciano Izzi

W
Pts: 12x0
JJ Olimpico GP
76KG
SF
2016
10195

Phillipe Iorio

W
Triangle
JJ Olimpico GP
76KG
F
2016
10480

Igor Ferreira

W
RNC
Brasileiro Equipes
76KG
SF
2016
10483

Sérgio Benini

W
Points
Brasileiro Equipes
76KG
F
2016
10723

Robson Borges

W
N/A
Floripa Open
76KG
4F
2016
11423

Thales Vieira

W
Choke from back
Desafio Verao
77KG
F
2017
12160

Julian Vega

W
Pts: 13x4
Pan American
76KG
R2
2017
13307

Victor de Matos

W
Points
American NG Nats
73KG
SF
2017
13308

Blake Nolan

W
RNC
American NG Nats
73KG
F
2017
13342

Scott Thometz

W
Pts: 6x
American Nats
76KG
R1
2017
13515

Scott Thometz

W
Pts: 7x0
San Jose Open
76KG
RR
2017
13969

Douglas Kallin

W
Choke from back
Atlanta SM Open
82KG
SF
2017
13970

Pedro Palhares

W
Pts: 12x2
Atlanta SM Open
82KG
F
2017
13976

Matt Leighton

Matt Leighton
W
Pts: 5x0
Atlanta SM Open
ABS
4F
2017
14196

Jeffrey Cummings

W
Points
Miami FO
76KG
4F
2017
15014

Gabriel Procopio

Gabriel Procopio
W
Points
LA Open
82KG
4F
2018
15018

Diego Ramalho

Diego Ramalho
W
Pts: 8x6
LA Open
82KG
SF
2018
15291

Lucio Vitorelli

W
Pts: 12x0
San Francisco Open
82KG
4F
2018
15391

Lucas Valente

Lucas Valente
W
Pts: 0x0, Adv
Pan American
76KG
R1
2018
15401

Andris Brunovskis

Andris Brunovskis
W
Pts: 6x4
Pan American
76KG
4F
2018
15743

Gabriel Procopio

Gabriel Procopio
W
Points
San Jose Open
82KG
SF
2018
16357

Guilherme Correa

W
Choke from back
ACB North America
75KG
4F
2018
16413

Victor Emanuel

W
No arm triangle
F2W 75
77KG
SPF
2018
19342

Aaron North

W
N/A
Portland Open
82KG
4F
2019
19344

Edmund Kim

W
N/A
Portland Open
82KG
SF
2019
19594

Inseong Jang

Inseong Jang
W
Pts: 2x2, Adv
Pan American
76KG
8F
2019
20854

Josh Calvo

W
Referee Decision
F2W 115
83KG
SPF
2019
21123

Thiago Lemos

W
Points
Portland SMO
82KG
SF
2019
21125

Daniel Speirn

W
Pts: 6x4
Portland SMO
82KG
F
2019
22395

Erik Anderson

W
Pts: 10x6
Long Beach Open
82KG
4F
2019
22397

L. Muram

W
Botinha
Long Beach Open
82KG
SF
2019
23217

Saul Viayra

W
Points
Fresno Open
82KG
SF
2020
23218

Thiago Lemos

W
Points
Fresno Open
82KG
F
2020
26579

Caio Caetano

Caio Caetano
W
N/A
Boise Open
82KG
SF
2021
26580

Ross Keeping

W
N/A
Boise Open
82KG
F
2021
31271

Cameron Chaffee

W
Points
Boise Open
76KG
F
2022
Breno Bittencourt @Brazilian Team Nationals (2015)

Breno Bittencourt vs Vibhudatta Rout (2016)