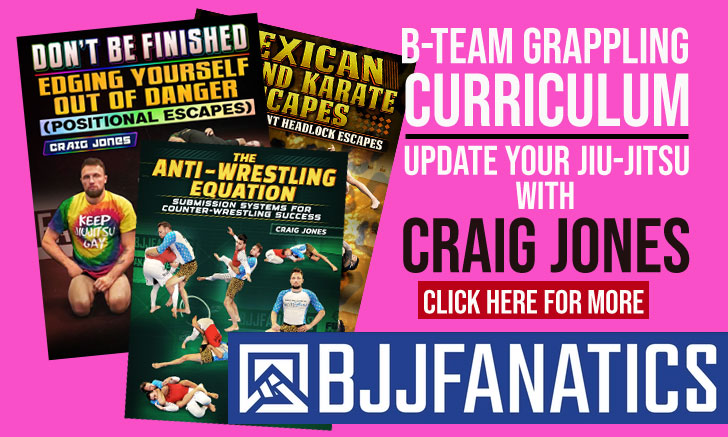 Bruno Lima is a Portuguese grappler and a Brazilian jiu-jitsu black belt under Alexandre Machado, who is widely recognized as one of the top European grapplers of his generation, referenced as one of the sport's rising stars by BJJ Heroes in 2017. Bruno earned his reputation in BJJ while competing in the lower belt divisions of this martial art, a time when he conquered numerous important titles of the International Brazilian Jiu-Jitsu Federation (IBJJF) and the UAE Jiu-Jitsu Federation (UAEJJF).
Bruno Lima Jiu-Jitsu
Full Name: Bruno Filipe Santos Lima
Nickname: N/A
Lineage: Mitsuyo Maeda > Carlos Gracie > Helio Gracie > Carlos Gracie Jr > Alexandre Machado > Bruno Lima
Main Achievements:
1st Place IBJJF European Open (2022)
1st Place IBJJF Spanish Nationals (2019)
1st Place IBJJF Paris Open (2019**)
2nd Place IBJJF European Open (2020)
Main Achievements (Colored Belts):
1st Place IBJJF European Open (2017 purple, 2019 brown)
1st Place UAEJJF Abu Dhabi World Pro (2019 brown)
1st Place UAEJJF Grand Slam, LDN (2019 brown)
1st Place IBJJF London Fall Open (2018** brown)
1st Place IBJJF Miami Spring Open (2017 purple)
1st Place IBJJF Lisbon Open (2018** brown)
1st Place Shoyoroll Clash Championship (2019 brown)
2nd Place UAEJJF Abu Dhabi World Pro (2017 purple)
2nd Place IBJJF Pans Championship (2019* brown)
3rd Place IBJJF World Championship (2017 purple)
3rd Place IBJJF European Open (2016 blue, 2019* brown)
* Absolute
** Weight and absolute
Favorite Position/Technique: Single Leg X
Weight Division: Meio Pesado (88,30 kg / 195.0 lbs)
Team/Association: AMA Jiu-Jitsu Team
Bruno Lima Biography
Bruno Lima was born on September 04, 1993, in Lisbon, the capital city of Portugal, growing up in the Cacém neighborhood.
From the very get-go, Bruno did not feel a connection with traditional sports such as football (soccer), instead, he spent his childhood playfighting and doing parkour, an activity he practiced up until his mid-teens.
As a 16-year-old, Lima looked to finally put his love for fighting to some training, then joining the MiraSintra boxing club, immediately jumping into the competitive ring with an amateur debut that year. Wanting to pursue the mixed martial arts (MMA) avenue, at the age of 19 Bruno joined a local Gracie-Barra Academy led by a blue belt named Mário Santos.
In between his white and blue belt progression, Bruno entered the cage on 7 occasions, winning 5 of those bouts. He would join his jiu-jitsu team's headquarters in Central Lisbon during this transitioning process from MMA fighter to grappler, there following the guidance of black belts coach, Alexandre Machado and Handre Peters. By his second year as a blue belt, Lima was already fully committed to BJJ.
Once Bruno focussed his efforts on to jiu-jitsu, his talent started shining through in the Portuguese national circuit, and at an international level, performances that held throughout Lima's progression through the rank system. The consistency of Bruno's results led to his black belt promotion by professor Alexandre Machado in June 2019.
Bruno Lima Grappling Record
52 WINS
BY POINTS


BY ADVANTAGES




BY SUBMISSION




BY DECISION




BY PENALTIES




BY DQ



12 SUBMISSIONS WINS
#86e620
Mounted X choke
8
1
31 LOSSES
BY POINTS


BY ADVANTAGES




BY SUBMISSION




BY DECISION




BY PENALTIES




BY DQ



4 SUBMISSIONS LOSSES
#86e620
Arm in Ezekiel
25
1
Bruno Lima Fight History
ID
Opponent
W/L
Method
Competition
Weight
Stage
Year
21049

Alan Finfou

Alan Finfou
L
Pts: 0x0, Adv
ACB World Champ.
85KG
SF
2019
21063

R. Evangelista

R. Evangelista
L
Submission
ACB World Champ.
ABS
4F
2019
21930

Matheus Luna

Matheus Luna
L
Pts: 6x2
Lisbon Open
ABS
4F
2019
22623

Jeferson Guaresi

Jeferson Guaresi
L
Pts: 2x2, Adv
Madrid Open
ABS
F
2019
22631

Jakub Zajkowski

Jakub Zajkowski
L
Pts: 0x0, Adv
Paris Open
88KG
F
2019
22790

Pedro Ramalho

Pedro Ramalho
L
Pts: 0x0, Adv
PT National Open
88KG
F
2019
22791

Guilherme Jardim

L
Referee Decision
PT National Open
ABS
SF
2019
23033

Mathias Luna

Mathias Luna
L
Arm in Ezekiel
European Open
ABS
R1
2020
23131

Manuel Ribamar

Manuel Ribamar
L
Injury
European Open
88KG
F
2020
23646

Jamie Paxman

L
Pts: 3x2
Grand Slam LDN
85KG
SF
2020
23650

Gilvan Costa

L
Toe hook
Grand Slam LDN
85KG
RPC
2020
25545

Patrick Gaudio

Patrick Gaudio
L
Pts: 4x2
Grand Slam AD
94KG
4F
2021
25550

Renato Cardoso

Renato Cardoso
L
Pts: 4x0
Grand Slam AD
94KG
RPC
2021
25683

Renato Cardoso

Renato Cardoso
L
Pts: 3x1
World Pro
94KG
4F
2021
25688

Philippe Pomaski

Philippe Pomaski
L
Referee Decision
World Pro
94KG
RPC
2021
26687

Pedro Marinho

Pedro Marinho
L
Pts: 6x2
American Nats
94KG
F
2021
26701

Fellipe Andrew

Fellipe Andrew
L
DQ
American Nats
ABS
F
2021
26741

Jake Watson

Jake Watson
L
Pts: 6x0
American NGN
91KG
SF
2021
26752

Fellipe Trovo

Fellipe Trovo
L
RNC
American NGN
ABS
4F
2021
27722

Catriel Oliveira

Catriel Oliveira
L
Pts: 8x4
Grand Slam MSK
94KG
4F
2021
29232

Matheus Felipe

Matheus Felipe
L
Referee Decision
World Pro
94KG
4F
2021
29239

Arsen Shapiev

L
Pts: 3x0
World Pro
94KG
RPC
2021
30642

Shane Fishman

L
Pts: 0x0, Adv
European Open
ABS
8F
2022
32295

Santeri Lilius

Santeri Lilius
L
Pen
ADCC EU Trials
99KG
F
2022
32974

Leandro Lo

Leandro Lo
L
Pts: 2x0
World Champ.
88KG
SF
2022
33023

Eric Bergmann

L
Pts: 6x2
World Champ.
ABS
R1
2022
36382

Catriel Oliveira

Catriel Oliveira
L
Pts: 2x0
World Pro
94KG
F
2022
37142

Rider Zuchi

Rider Zuchi
L
Pts: 4x2
European Open
ABS
SF
2023
37225

Devhonte Johnson

Devhonte Johnson
L
Pts: 2x0
European Open
94KG
4F
2023
38243

Catriel Oliveira

Catriel Oliveira
L
Pts: 1x0
AJPGD LDN
94KG
F
2023
40330

Lucas Barbosa

Lucas Barbosa
L
Pts: 0x0, Adv
World Champ.
94KG
8F
2023
20990

Wilson Martins

W
Submission
Spanish Nats
88KG
SF
2019
20991

Angel Cicero

W
Mounted X choke
Spanish Nats
88KG
F
2019
21048

D. Lapchenkov

W
Pts: 12x0
ACB World Champ.
85KG
4F
2019
21927

Arturo Salas

W
Pts: 12x0
Lisbon Open
88KG
SF
2019
21928

Jacopo Pasquini

W
Verbal tap
Lisbon Open
88KG
F
2019
21929

Ruben Lemos

W
N/A
Lisbon Open
ABS
R1
2019
22622

Eldar Rafigaev

Eldar Rafigaev
W
Pts: 4x0
Madrid Open
ABS
SF
2019
22628

Abdelb Annabi

W
Pts: 5x0
Paris Open
88KG
4F
2019
22629

Thomas Edmund

W
Points
Paris Open
88KG
SF
2019
22632

Riccardo Berti

W
Omoplata
Paris Open
ABS
R1
2019
22634

Rafael Colonhese

W
Pts: 2x0
Paris Open
ABS
4F
2019
22637

Stan Varshavskiy

W
Armlock
Paris Open
ABS
SF
2019
23119

T. Trintigna

W
Clock choke
European Open
88KG
R1
2020
23125

Gabriel Almeida

Gabriel Almeida
W
Pts: 10x4
European Open
88KG
4F
2020
23130

Santeri Lilius

Santeri Lilius
W
Pts: 0x0, Adv
European Open
88KG
SF
2020
23642

Max Bickerton

W
Pts: 4x1
Grand Slam LDN
85KG
R1
2020
23644

Renato Cardoso

Renato Cardoso
W
Pts: 5x2
Grand Slam LDN
85KG
4F
2020
26685

Jake Watson

Jake Watson
W
Pts: 9x0
American Nats
94KG
SF
2021
26697

Ashur Darmo

W
Choke
American Nats
ABS
4F
2021
26699

Austin Baker

Austin Baker
W
Pts: 7x0
American Nats
ABS
SF
2021
26739

Bradley Ringler

W
Pts: 4x0
American NGN
91KG
R1
2021
26751

Austin Baker

Austin Baker
W
Pts: 7x4
American NGN
ABS
R1
2021
27727

A. Guseinov

W
Pts: 10x0
Grand Slam MSK
94KG
RPC
2021
27728

Arsen Shapiev

W
Pts: 6x1
Grand Slam MSK
94KG
3RD
2021
28725

Marco Pereira

W
Bread Cutter
Portugal Pro
120KG
SF
2021
28726

Walter Santos

W
Pts: 2x0
Portugal Pro
120KG
F
2021
29230

Basel Fanous

W
Pts: 1x0
World Pro
94KG
R1
2021
29237

Junior Cabezas

W
Pts: 10x0
World Pro
94KG
RPC
2021
29238

Eric Bergmann

W
Pts: 2x1
World Pro
94KG
RPC
2021
30592

Luca Anacoreta

Luca Anacoreta
W
Pts: 4x0
European Open
88KG
4F
2022
30595

Matheus Spirandeli

Matheus Spirandeli
W
Pts: 0x0, Adv
European Open
88KG
SF
2022
30596

Szilard Sule

W
Pts: 0x0, Adv
European Open
88KG
F
2022
30634

Eletherios Pagkalos

W
Katagatame
European Open
ABS
R1
2022
31802

Neo Barbosa

W
Referee Decision
Porto Pro
94KG
F
2022
32283

Jakov Jovic

W
N/A
ADCC EU Trials
88KG
R1
2022
32286

Kacper Kozłowski

W
Pts: 3x0
ADCC EU Trials
88KG
R2
2022
32288

Kieran Davern

W
Pts: 3x0
ADCC EU Trials
88KG
8F
2022
32291

Johan Oosthuysen

W
RNC
ADCC EU Trials
88KG
4F
2022
32294

Otto Kuikka

W
Pts: 4x0
ADCC EU Trials
88KG
SF
2022
32968

Matheus Luna

Matheus Luna
W
DQ
World Champ.
88KG
8F
2022
32970

Sebastian Rodriguez

Sebastian Rodriguez
W
Pts: 6x4
World Champ.
88KG
4F
2022
36378

Heeseoung Kim

W
Pts: 1x0
World Pro
94KG
4F
2022
36381

Javier Barter

W
Pts: 11x2
World Pro
94KG
SF
2022
37133

Francisco Lo

Francisco Lo
W
Pts: 2x0
European Open
ABS
R2
2023
37140

Pedro Machado

Pedro Machado
W
Pts: 5x2
European Open
ABS
4F
2023
37220

Macos Carrozzino

W
Pts: 7x6
European Open
94KG
R1
2023
38236

Luis Betta

W
Pts: 2x1
AJPGD LDN
94KG
R1
2023
38241

Adam Wardzinski

Adam Wardzinski
W
Pts: 1x0
AJPGD LDN
94KG
SF
2023
38946

David Feio

W
Manoplata
Portuguese Nat.
94KG
F
2023
38947

David Feio

W
Submission
Portuguese Nat.
ABS
SF
2023
38948

Ibrahima Camara

W
DQ
Portuguese Nat.
ABS
F
2023
40315

Matheus Godoy

Matheus Godoy
W
Pts: 0x0, Adv
World Champ.
94KG
R1
2023
Bruno Lima vs Stephano Correa