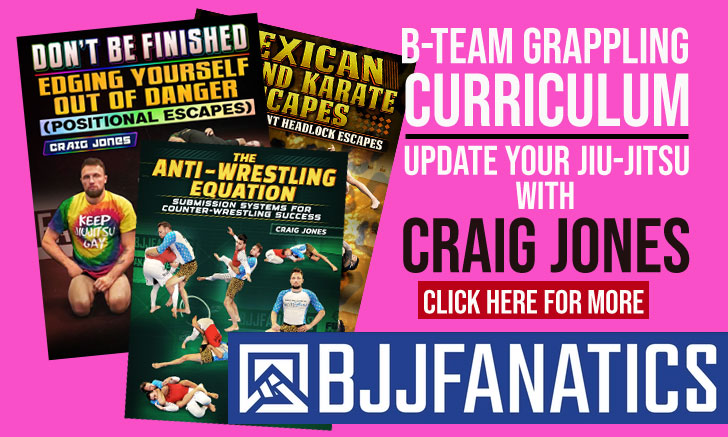 Caio Terra is a Brazilian jiu jitsu black belt under Master Paulo Maurício Strauch being also one of this sport's most accomplished rooster-weights (57,50 kg/127.0 lbs). Terra is known for his motto "Technique Conquers All", an expression he tested successfully on numerous occasions, being arguably the most successful 127 lbs athlete to compete in the open weight division. Caio Terra's outspoken nature, particularly against Performance Enhancers' (PED) use in the sport was also an important step towards the drug testing enforced today by the International Brazilian Jiu Jitsu Federation (IBJJF).
Caio Terra Jiu Jitsu
Full Name: Caio Terra
Nickname: n/a
Lineage: Mitsuyo Maeda > Carlos Gracie Sr. > Reylson Gracie > Paulo Maurício Strauch > Caio Terra
Main Achievements:
1st Place IBJJF World Championship (2008 / 2013)
1st Place IBJJF World No-Gi Championship (2008 / 2009 / 2010 / 2011 / 2012 / 2013 / 2014 / 2015 / 2016 / 2017)
1st Place IBJJF Pan American Championship (2011 / 2012 / 2013)
1st Place USBJJF/IBJJF American Nationals (2010* / 2011**)
1st Place USBJJF/IBJJF American Nationals No-Gi (2012*)
1st Place IBJJF European Open (2014 / 2015)
1st Place IBJJF European No-Gi Open (2013**)
1st Place IBJJF Las Vegas (2010** / 2011** / 2012)
1st Place UKBJJF/IBJJF British Nationals (2015**)
1st Place UKBJJF/IBJJF British Nationals No-Gi (2015**)
2nd Place IBJJF World Championship (2017 / 2011 / 2010 / 2009 [2005 blue belt])
2nd Place IBJJF Pan American Championship (2010)
2nd Place IBJJF World No-Gi Championship (2008)
2nd Place USBJJF/IBJJF American National Championship (2010 / 2012 / 2014)
Main Achievements (Colored Belts):
2nd Place IBJJF World Championship (2005 blue belt)
* Absolute
** Weight and absolute
Favorite Technique: Guard (all guards)
Weight Division: Peso Galo/Rooster Weight – 57,50 kg/127.0 lbs
Association/Team: Caio Terra BJJ Association (CTBJJA)
Caio Terra's Biography
Caio Terra was born on 1986 in Rio de Janeiro, Brazil.
Caio Terra's started jiu-jitsu in the early 2000s, and even though his introduction did not look promising, he was forced by his mother, to keep practicing after a series of bullying episodes took place at school.
Caio was a very small teenager weighing around 85 pounds (38kg) at the time, and his mother felt he needed to train a martial art for self defence purposes. As Caio refused to train his mother joined the class forcing her teenage son to tag along.
The gym chosen by his mother was the famous Fight Zone academy in Copacabana, led by Rodrigo Medeiros and Ricardo Vieira. Although he had two multiple time World Champions working towards improving his technique, Caio did not give much thought to the sport/martial art and much rather spend his time playing football (soccer) with his friends. Fortunately, Terra did not quit, as he believed he owed to his mother the effort of giving jiu-jitsu a chance.
Despite his lack of effort Caio's technique developed to the standard of blue belt, being promoted by "Comprido" and Vieira. After Caio received his blue belt, his coaches and training partners encouraged him to compete. Terra lacked faith in himself, and in his first competition, after his 1st match victory, he was so nervous that he asked his coach to quit. Terra did not want to enter the mat for his 2nd match. His coaches insisted and so he fought again, another victory. One by one Caio beat his opponents on his way to the final. His final match was against a teenager that would become his nemesis in the black belt division later in life, Bruno Malfacine. The match against the Gama Filho competitor (later became Alliance) was a backward and forwards battle but in the end, Malfacine managed to take the win.
After this roller coaster of emotions, Caio was convinced that grappling was something he wanted to take seriously and started training every day, twice a day.
Caio Terra's progress was clearly visible with this new found enthusiasm and dedication. In 2004 he competed in the World Championship as a blue belt reaching a silver medal (losing in the final by one advantage). Shortly after the tournament (August 2004) Caio left Fight Zone in a dispute with coach Ricardo, finding a new home at Paulo Maurício Strauch's academy.
Around this time Caio planned to have a matted area in his home for him to train with friends. He took down a few walls and built a mini-academy for himself. This arena would serve as the laboratory for Caio's rocket fast rise to black belt. His house was used as an open mat for whoever wanted to come by to roll or drill positions. Caio would get visits all day, some times late at night, but being a good host and always eager to train he would always open his doors.
Going through the belt system at the Strauch academy, Caio received his black belt from both Reyson Gracie and Paulo M. Strauch on July 2006 making his rise to black belt one of the fastest ever recorded.
His promotion "landed" on the same year in which the IBJJF set minimum time frames for each belt, making it mandatory for a brown belt to stay in this belt division for a minimum of 1 year before being promoted. As Caio had not hit the time frame outlined by the federation, he was blocked from competing at the 2007 Brazilian Nationals (Brasileiro). Later that year, and although the federation had plans to veto Caio (and Bruno Malfacine for the same reason) from the World Championship, the IBJJF made a last-minute exception accepting both athletes in. This was the last time someone with less than 1 year experience at brown belt was legally allowed to compete as a black belt in an IBJJF tournament.
On his second year at black belt (2008), Caio reached the top spot of the IBJJF World Championship, winning one of the few important titles still missing in his long list of accolades.
Caio moved to the United States of America in 2008, after an invitation made by Cesar Gracie who saw potential in the young grappler. Terra remained at Cesar's academy for 4 years, leaving on November 2012. The reason given for the dismissal by the Gracie was founded on Caio's assistance to Carlos Condit on his ground game ahead of Condit's fight against George Saint Pierre (UFC 154). Cesar Gracie was very vocal to the media at the time, stating that he saw Terra's work with Carlos as a betrayal against his own camp due to Condit's status as a welterweight title contender (same weight division as Gracie Elite team member Nick Diaz).
When in the United States Caio Terra became famous for his successful incursions to the sport's absolute division, conquering several important IBJJF gold medals, being the first truly successful roosterweight in history to do so at the highest level. His wins in the open weight paved the way for numerous other lighter weights to compete in that division, setting a trend in modern day jiu-jitsu.
Since establishing his own team – Caio Terra Brazilian Jiu Jitsu Association, Caio formed several high-level competitors, also developing numerous positions, helping advance the technical aspect of the sport.
Both Caio Terra's mother and brother (Kim Terra) continued competing and training with his brother becoming an accomplished black belt of his own merit.
Cover photo by Flavio Scorsato for War Tribe.
Caio Terra Highlight

Caio Terra vs Marcelo Mafra