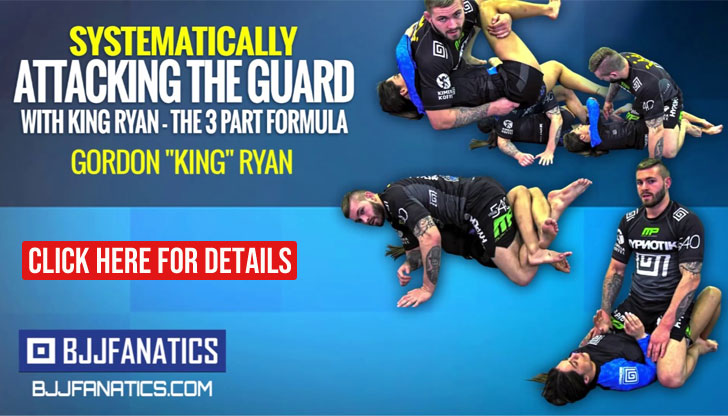 Carlos Barreto, commonly known as "Carlão" Barreto is an iconic figure in both jiu jitsu and vale-tudo/mixed martial arts (MMA). A black belt under Sergio "Bolão" Souza, Barreto defended the flag of jiu jitsu and the Carlson Gracie Academy inside cages and rings across the world against various styles of combat, defeating big names of cage-fighting such as Kevin Randleman, Ben Rothwell, Dan Bobish, Paul Varelans and numerous others. "Carlão" Barreto was also known as one of the most talented and successful guard players in vale tudo.
Carlos Barreto Jiu Jitsu
Full Name: Carlos Eduardo Barreto dos Santos
Nickname: "Carlão" meaning "big Carlos" in Portuguese slang.
Lineage: Mitsuyo Maeda > Carlos Gracie > Helio Gracie > Carlson Gracie> Sergio Souza > Carlos Barreto
Main Achievements:
World Champion (1996 brown)
Favorite Position/Technique: Triangle
Weight Division: Peso Pesado (94kg/207lbs)
Team/Association: Carlson Gracie Academy/BTT/Bolao-Murilo
Carlão Barreto Biography
Carlos Barreto was born on July 22, 1968 in Rio de Janeiro – Brazil.
Barreto started training martial arts as a teenager through Thai boxing. He first thought about doing jiu jitsu after a conversation he had with someone he played soccer with, a well known Carlson Gracie student and legendary competitor by the name of Ricardo Libório, who commented on Barreto lanky physique (6'4″) as a handy weapon from a guard playing perspective in jiu jitsu.
After giving it some thought Carlos decided to visit the Gracie academy in Humaitá. Although he liked the class, he realized the monthly fees were out of his range, and walked away.
A few months later he met Libório once again. Ricardo convinced Barreto to come and watch a class at the Carlson Gracie Academy, which he agreed to. While Carlão sat at the entrance, observing the warm up, an "older gentleman" (as described by Carlos on an interview given to Dojjo) who was at the desk invited him to get involved with the class. The old timer's charisma won Barreto over and he agreed to join in. After the class Carlão fell in love with the energy of jiu jitsu, but as aforementioned, he could not afford the gym fees. The older gentleman, who turned out to be Master Carlson Gracie, then agreed to have those cut to an amount that Barreto could afford, allowing Carlão to join.
With 4 months of training Carlos received his blue belt from Master Carlson. Unfortunately shortly after, Carlão's parents forced him to quit jiu jitsu so he could push harder with his studies and attempt to enter University. As the Barreto family lacked the funds to place Carlos in a private university, he had to work very hard in hope for a chance to get through the public system. Several months later, after Carlos failed to enter in a public engineering university, and with a whole year to wait for his next chance, Carlos decided to find a regular job and re-joined jiu jitsu.
When he returned to jiu jitsu, Master Carlson was getting ready to move to the United States with a couple of his students (Vitor Belfort and Marcelo Mello). The academy's classes had been taken over by some of the Master's senior black belts, and Barreto did not like the new methodology being applied in class, deciding to switch gyms, moving to "Clube Israelita" where his tuition was picked up by two of Carlson's most formidable pupils, Clóvis de Souza and Sergio "Bolão".
Clóvis ended up quitting jiu jitsu early on, to focus on other aspects of his life, leaving "Bolão" as the sole instructor. Under Sergio's guidance, Carlão started practising twice per day, going on to earn his purple, brown and black belts from the famous coach.
When Murilo Bustamante joined forces with Sergio "Bolão" (Barreto was a brown belt at the time), Carlão was introduced to the no-gi aspect of jiu jitsu, becoming a sparring partner for many of the Carlson Gracie Team's top no-holds-barred (NHB) fighters.
At the first World Jiu Jitsu Championship (1996) Carlos Barreto won a world title as a brown belt, becoming in the process the first competitor in the history of the sport, to wear a blue kimono at an official event.
After his world title, Carlos was offered a chance to fight in a Japanese vale tudo (NHB) tournament, as a late replacement for Murilo Bustamante (who had injured himself in practice). Carlão accepted, going on to win the "Universal Vale Tudo Fighting 1". The victory propelled him for bigger challenges, including the Ultimate Fighting Championship (UFC), Pride Fighting Championship (Pride FC), International Vale Tudo Championship (IVC) and many others.
After his retirement from competition, Carlos Barreto became an ambassador for MMA in Brazil, working as a fight analyst and commentator on television, for channels such as SporTV and Combate, as well as a fight promoter.
Photo taken from Sherdog.com