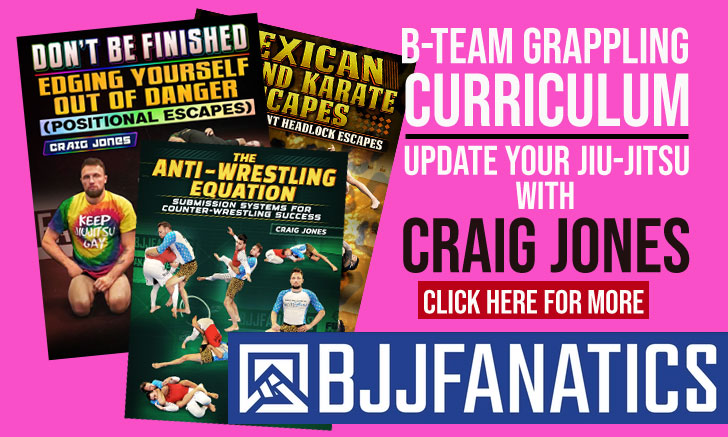 Cassio Francis, commonly known as "Cassão" is a Brazilian jiu jitsu black belt under Vinícius "Draculino" Magalhães, being one of the strongest heavyweight competitors produced by the famous Gracie Barra instructor. Francis is also a great example of a persevering mind: In 2011 Francis was told he would never be able to compete again due to a spinal injury. Overcoming the odds, Cassio returned to the sport two years later as strong as ever, regaining his spot as a contender in the heavyweight division.
Cassio Francis Jiu Jitsu
Full Name: Cássio Francis da Silva
Nickname: "Cassão" which means Big Cassio in Portuguese jargon. The name coming obviously from Francis' impressive physique.
Lineage: Carlos Gracie Sr. > Helio Gracie > Carlos Gracie Jr > Vinicius Magalhães > Cassio Francis
Main Achievements:
Pan American Championship (2016)
Brazilian National Champion (2014/2015)
Brazilian National No-Gi Champion (2009 brown, 2014/2015)
South American Champion (2010 brown, 2013)
Rio International Open Champion (2014)
Rio Summer Open Champion (2016 absolute)
European Open Championship Runner-up (2009 brown)
South American Championship Runner-up (2009 brown)
Brazilian National Championship Runner-up (2010 brown)
Brazilian National No-Gi Championship Runner-up (2009 brown absolute)
Rio Summer Open Championship Runner-up (2016)
Rio International Open 3rd Runner-up (2008 purple, 2009 brown)
World Championship 3rd Place (2016)
Pan American Championship 3rd Place (2010 brown)
Brazilian National Championship 3rd Place (2011/2016)
Favorite Position/Technique: Wristlock
Weight Division: Peso Pesado (94kg/207lbs)
Team/Association: Gracie Barra BH
Casio Francis Biography
Cassio Francis was born on the June 18, 1983 in Belo Horizonte – state of Minas Gerais, Brazil.
Francis was drawn to jiu jitsu as a teenager by watching Royce Gracie fight in the UFC. Cassio was skinny as a child and related to the Gracie's physique when competing against bigger opponents. At 19 years of age Cassão finally stepped on the mats for the first time, joining the class of Vinícius Magalhães, the famous "Draculino".
All of Cassio's belt promotions were handed by Draculino, the black belt occurring on the 21st of December, 2010.
What looked like a promising jiu jitsu career almost came to a full stop in 2011 when Cassio's doctors found 3 herniated discs in his lower back (L3 – L4, L4 – L5 and in between L5 and S1). An injury caused by Francis' intense weight lifting regime.
Although two doctors distinct doctors told Cassio his career was over, he did not accept their decision, taking two years off competition to heal his spine and phase back into training. Once returned to the international jiu jitsu circuit in late 2013, Francis picked up where he left off with incredible performances, making himself one of the tougher names in the heavyweight division and conquering numerous important medals.
Cassio Francis Grappling Record
47 WINS
BY POINTS


BY ADVANTAGES




BY SUBMISSION




BY DECISION




BY PENALTIES




BY DQ



28 SUBMISSIONS WINS
#5AD3D1
Choke from back
14
4
#f58822
Bow and arrow
7
2
#03c61f
Arm in Ezekiel
4
1
23 LOSSES
BY POINTS


BY ADVANTAGES




BY SUBMISSION




BY DECISION




BY PENALTIES




BY DQ



5 SUBMISSIONS LOSSES
Cassio Francis Fight History
ID
Opponent
W/L
Method
Competition
Weight
Stage
Year
2823

Vinicius Marinho

Vinicius Marinho
L
Points
Sulamericano
ABS
NA
2011
2832

Fabiano Boi

L
Kneebar
Panamericano
94KG
NA
2011
2833

Alexandre Ceconi

Alexandre Ceconi
L
Points
Panamericano
ABS
NA
2011
4876

Cássio Lisboa

L
Referee Decision
Brasileiro Sud.
94KG
F
2013
4881

Leandro Lo

Leandro Lo
L
Points
Brasileiro CBJJE
ABS
NA
2013
5241

Antonio Peinado

Antonio Peinado
L
Adv
World Pro Trial
94KG
SF
2014
5527

Renato Cardoso

Renato Cardoso
L
Points
Brasileiro
ABS
R1
2014
5881

Victor Silverio

Victor Silverio
L
Adv
Rio Open
ABS
4F
2014
6140

Gabriel Lucas

Gabriel Lucas
L
Pts: 3x0
Rio BJJ Pro
O94KG
SF
2014
7267

Erberth Santos

Erberth Santos
L
Pts: 0x0, Adv
Brasileiro
ABS
4F
2015
7499

Jackson Sousa

Jackson Sousa
L
Pts: 2x2, Adv
World Champ.
94KG
4F
2015
7919

Rodolfo Vieira

Rodolfo Vieira
L
RNC
ADCC
99KG
4F
2015
8330

Romulo Azevedo

Romulo Azevedo
L
Pts: 2x0
Brasileiro NoGi
ABS
R1
2015
8374

Otavio Nalati

L
Referee Decision
SP National Pro
O77KG
4F
2015
8716

Erberth Santos

Erberth Santos
L
Kneebar
Grand Slam RJ
ABS
4F
2015
8975

Erberth Santos

Erberth Santos
L
Pts: 6x4
European Open
100KG
4F
2016
9795

Guilherme Augusto

Guilherme Augusto
L
Toe hold
Brasileiro
94KG
SF
2016
10051

Andre Galvao

Andre Galvao
L
Pts: 4x4, Adv
World Champ.
94KG
SF
2016
10685

Jonathan Satava

Jonathan Satava
L
Referee Decision
NoGi Pan Ams
ABS
SF
2016
10767

Erberth Santos

Erberth Santos
L
Pts: 0x0, Adv
Copa Podio
105KG
RR
2016
10770

Leandro Lo

Leandro Lo
L
Toe hold
Copa Podio
105KG
RR
2016
10775

I. Bahiense

L
Pts: 5x2
Copa Podio
105KG
RR
2016
16675

Otavio Nalati

L
N/A
BH Winter Open
O100KG
F
2018
2822

Jefferson Conceição

W
Verbal tap
Sulamericano
ABS
NA
2011
2824

Grimaldo Oliveira

W
Kneebar
Brasileiro CBJJE
94KG
NA
2011
2825

Raggi Junior

W
Armbar
Brasileiro CBJJE
94KG
NA
2011
2829

Alexandre Cordeiro

W
Bow and arrow
XXII Interclubes
100KG
SF
2011
2830

Luiz Pereira

W
Triangle
XXII Interclubes
100KG
F
2011
2831

Dalton Régis

W
Toe hold
Panamericano
94KG
NA
2011
4873

Josimar Junior

W
Arm in Ezekiel
Brasileiro Sud.
ABS
4F
2013
4874

Alex Silva

W
Wristlock
Brasileiro Sud.
ABS
SF
2013
4875

Cássio Lisboa

W
Wristlock
Brasileiro Sud.
ABS
F
2013
4880

Rodrigo Ribeiro

Rodrigo Ribeiro
W
Points
Brasileiro CBJJE
ABS
NA
2013
5190

Diogo Almeida

Diogo Almeida
W
Points
SP Open
ABS
F
2013
5192

Petrônio Batista

W
Wristlock
Leao Dourado Cup
ABS
SF
2013
5193

Leandro Beinroth

W
Choke from back
Leao Dourado Cup
ABS
F
2013
6324

V. Honorio

W
Points
The Team
O85KG
RR
2014
6387

Augusto Lessa

W
Bow and arrow
Panamericano
ABS
SF
2015
6388

Evandro Resende

W
Wristlock
Panamericano
ABS
F
2015
7076

Erberth Santos

Erberth Santos
W
Footlock
ADCC SP
99KG
R1
2015
7077

Jorge Luis

W
RNC
ADCC SP
99KG
SF
2015
7078

Armando Sapo

W
RNC
ADCC SP
99KG
F
2015
7491

Manuel Diaz

W
Toe Hold
World Champ.
94KG
8F
2015
7914

Tobias G

W
N/A
ADCC
99KG
R1
2015
8327

Bruno Cuppari

W
Points
Brasileiro NoGi
100KG
SF
2015
8328

Ivan Tomic

W
Ankle lock
Brasileiro NoGi
100KG
F
2015
8371

Pedro Pimenta

W
Botinha
SP National Pro
O77KG
R1
2015
8689

Rodrigo Almeida

W
Choke
Grand Slam RJ
ABS
R1
2015
8701

Luiz Silva

W
Choke from back
Grand Slam RJ
ABS
R2
2015
8709

Jair Neto

W
Submission
Grand Slam RJ
ABS
8F
2015
8971

Nathan Mendelsohn

Nathan Mendelsohn
W
Pts: 6x2
European Open
100KG
R1
2016
9184

Diogo Almeida

Diogo Almeida
W
Choke from back
Rio Summer Open
94KG
SF
2016
9190

Jhonny Loureiro

Jhonny Loureiro
W
Toe hold
Rio Summer Open
ABS
4F
2016
9193

Jaime Canuto

Jaime Canuto
W
Pts: 2x0
Rio Summer Open
ABS
SF
2016
9194

Ruan Oliveira

Ruan Oliveira
W
Kneebar
Rio Summer Open
ABS
F
2016
9333

Herico Hesley

W
Kneebar
Pan American
94KG
4F
2016
9337

Diego Herzog

W
N/A
Pan American
94KG
SF
2016
9338

Leo Nogueira

Leo Nogueira
W
Pts: 2x0
Pan American
94KG
F
2016
9789

Andre Cassio

W
N/A
Brasileiro
94KG
R1
2016
9794

Igor Marques

W
N/A
Brasileiro
94KG
4F
2016
10043

R. Torralbas

W
Pts: 11x0
World Champ.
94KG
R1
2016
10047

Dimitrius Souza

Dimitrius Souza
W
Pts: 2x2, Adv
World Champ.
94KG
4F
2016
10478

Diego Pereira

W
Pts: 0x0, Adv
Brasileiro Equipes
94KG
R1
2016
10677

Fernando Reis

Fernando Reis
W
Pts: 0x0, Adv
NoGi Pan Ams
97KG
F
2016
10683

Vinicius Soares

W
Pts: 27x2
NoGi Pan Ams
ABS
4F
2016
11836

Romes Ramos

W
Points
BH Summer Open
100KG
SF
2017
11837

Vitor Toledo

Vitor Toledo
W
Choke from back
BH Summer Open
100KG
F
2017
14521

Marcos Goulart

W
Points
Brasilia Open
100KG
F
2017
14524

Alexandre Cavaliere

Alexandre Cavaliere
W
Kneebar
Brasilia Open
ABS
SF
2017
14525

Igor Marques

W
Points
Brasilia Open
ABS
F
2017
Cassio Francis vs Alex Silva

Cassio Francis vs Petronio Batista