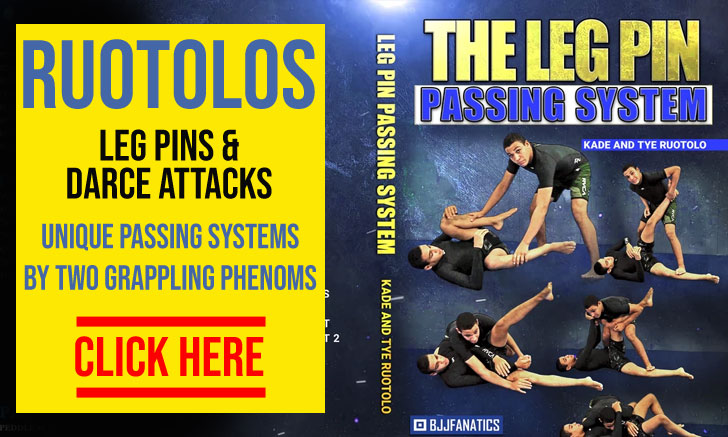 Cleito Soares Junior is a Brazilian jiu jitsu black belt under Cleito Soares (Senior), having also worked extensively with Paulo Rezende and Ronald Bauer. Soares is widely regarded as one of the main representatives of the Alliance Jiu Jitsu team in the sport's rooster weight division, a reputation earned through his wins at important tournaments such as the International Brazilian Jiu Jitsu Federation's (IBJJF) European Open, Curitiba Fall Open as well as at the Confederação Brasileira de Jiu Jitsu's (CBJJ) Brazilian National Championship.
Cleito Soares Junior Jiu Jitsu
Full Name: Cleito Soares de Resende Junior
Nickname: Juninho which means "little Junior" in Portuguese.
Lineage: Takeo Yano > José Senador > Alberto Lage > Ronald Bauer > Cleito Soares > Cleito Soares Jr
Main Achievements:
CBJJ Brazilian National Champion (2018)
CBJJE Brazilian National Cup Champion (2015)
IBJJF Curitiba Fall Open Champion (2017)
IBJJF European Open 2nd Place (2018)
IBJJF Belo Horizonte Summer Open 3rd Place (2017)
Main Achievements (Coloured Belts):
CBJJE World Cup Champion (2012 purple)
CBJJE World Cup Juvenile Champion (2011 blue)
CBJJE Brazilian National Cup Juvenile Champion (2011 blue)
Favorite Position/Technique: Open Guard
Weight Division: Peso Galo (57,50 kg / 127.0 lbs)
Team/Association: Alliance
Cleito Soares Junior Biography
Cleito Soares Junior was born on January 3, 1995 in São João del Rei – a Brazilian city located inside the state of Minas Gerais.
By influence of his father – a purple belt at the time, Cleito Junior started practicing jiu jitsu at the age of 4 under the tutelage of coach Ronald Bauer. 1 year after stepping on the mats for the first time, young Soares dipped his toes in competition and never stopped from then onwards.
Training became part of Junior's day to day life from early on, and as his father Cleito Soares Senior owned a BJJ academy, as soon as he turned 16 Juninho became part of the coaching staff there. First as a kids coach and two years later as an adult team instructor.
After earning his purple belt from Ronald Bauer, Cleito decided to move to Poços de Caldas where he lived in Paulo Rezende's "Fighter House" under a BJJ scholarship. Rezende's jiu jitsu program was revered across the globe while being, arguably the most successful school in Minas Gerais. A jiu jitsu landmark from which big names of the sport were developed, such as Marcelo Garcia, Matheus Dinis, Reinaldo Ribeiro and Rodnei Barbosa.
Cleito Soares conquered many important titles under the guidance of Paulo Rezende and was promoted to brown belt by him, but in 2013 returned to Barbacena (MG) to help his father with the gym. He continued to train hard, earning his black belt from his Cleito Senior in 2014. Juninho would later become an affiliate of Alliance – Leblon, going there regularly to prepare for major competitions.
Cleito Soares Grappling Record
12 WINS
BY POINTS


BY ADVANTAGES




BY SUBMISSION




BY DECISION




BY PENALTIES




BY DQ



1 SUBMISSION WINS
#214eb8
Choke from back
100
1
4 LOSSES
BY POINTS


BY ADVANTAGES




BY SUBMISSION




BY DECISION




BY PENALTIES




BY DQ



1 SUBMISSION LOSSES
Cleito Soares Fight History
ID
Opponent
W/L
Method
Competition
Weight
Stage
Year
10137

Carlos Esquisito

Carlos Esquisito
L
Points
BH Open
64KG
F
2016
11829

Thomas Lisboa

Thomas Lisboa
L
Points
BH Summer Open
64KG
F
2017
12721

Aniel Bonifacio

Aniel Bonifacio
L
DQ
Brasileiro
57KG
4F
2017
14893

Hiago Gama

Hiago Gama
L
Kneebar
European Open
57KG
F
2018
6372

Angelo Guilherme

W
Points
Brasileiro CBJJE
64KG
SF
2015
6373

Raymison Michiles

W
Points
Brasileiro CBJJE
64KG
F
2015
6374

Alex Taveira

W
Points
Mundial CBJJE
64KG
SF
2015
6375

Angelo Guilherme

W
Adv
Mundial CBJJE
64KG
F
2015
12988

Unknown

W
Choke from back
Curitiba Fall Open
64KG
4F
2017
12989

Oscar Prata

W
Points
Curitiba Fall Open
64KG
SF
2017
12990

Caio Santos

W
Points
Curitiba Fall Open
64KG
F
2017
14887

Jorge Nakamura

W
Pts: 6x6, Adv
European Open
57KG
R1
2018
14889

Rodnei Barbosa

Rodnei Barbosa
W
Pts: 2x2, Pen
European Open
57KG
4F
2018
14892

Vincent Nguyen

W
Pts: 4x4, Adv
European Open
57KG
SF
2018
16197

Felipe Giarolla

W
Points
Brasileiro
57KG
SF
2018
16198

William Mello

W
Points
Brasileiro
57KG
F
2018
Ceito Soares vs Angelo Guilherme