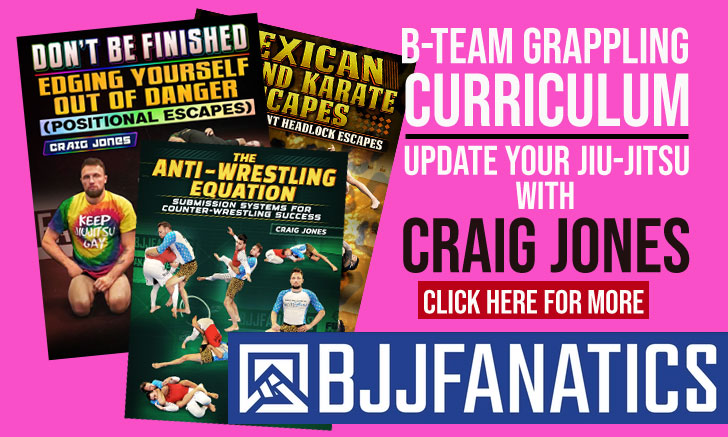 Thomas Halpin, commonly referenced as Tom Halpin is an Irish born black belt in Brazilian jiu-jitsu, a rank earned from the hands of Roberto Abreu of the Fight Sports Academy. Competing out of a small Irish province, Halpin was able to establish himself as one of the toughest European competitors of his generation while being a self-taught grappler for extended periods of his career in the lower belt divisions.
Thomas Halpin Jiu Jitsu
Full Name: Thomas James Halpin
Nickname: N/A
Lineage: M. Maeda > Carlos Gracie > Carlson Gracie > Francisco Toco > Roberto Abreu > Thomas Halpin
Main Achievements:
1st Place ADCC European Trials (2019)
1st Place UAEJJF Spain National Pro (2018)
1st Place UAEJJF Netherlands National Pro (2018)
3rd Place IBJJF European No-Gi Open (2018)
4th Place UAEJJF Abu Dhabi Pro (2018)
Main Achievements (Colored Belts):
1st Place IBJJF European No-Gi Open (2016 brown)
1st Place Grappling Pro (2016 brown)
Favorite Position/Technique: Kneebar
Weight Division: Peso Pena (70,00 kg / 154.5 lbs)
Team/Association: Fight Sports
Thomas Halpin Biography
Thomas Halpin was born on November 9, 1993 in Limerick, a city located in the Munster province – Republic of Ireland.
Growing up Halpin was an avid sports player, going through a range of activities which included hurling and Gaelic football (Irish national sports), as well as soccer (football), rugby, and basketball – his passion as a teenager, and a sport in which he was the school team captain for a few years.
During his mid-teens Thomas started losing his interest in basketball, mainly because he wasn't progressing in the sport as much as he aspired to, seeing no future in his career as a player. This coincided with a newly found interest in mixed martial arts (MMA) at the time, which led Halpin to look for an MMA club. Unfortunately, Tom's mother was not in agreement with any such activities and ended up convincing Halpin to pick jiu jitsu instead, a sport where head injuries would be less of a threat.
Starting his tuition in 2011 under the watchful eye of Fergal Quinlan – a Rodrigo Medeiros black belt, Thomas quickly got hooked on to jiu-jitsu and by the time he was a blue belt, he decided to travel to Rio de Janeiro with the intent of expanding his ground skills. Halpin was then convinced by one of his best friends and training partner – John Eustace to visit Miami instead, and train at Roberto "Cyborg" Abreu's Fight Sports Academy. One of the top teams in the sport.
The Miami experience opened Tom's eyes to a different reality. Cyborg's fascinating approach to jiu-jitsu convinced Halpin to pursue a career in this sport. Shortly after earning his purple belt from coach Fergal, Thomas decided to dedicate his full attention to the sport. To circumvent the fact that the gym was run on a part-time basis, Quinlan handed the keys of the academy to Tom, so the youngster could come in and drill/spar any time he wanted.
Together with his main training partners John Eustace and Gearoid Moore, outside of regular class times, these three grapplers experimented with various training methods and positions. Halpin was studying sports and exercise science at the University and, despite not finishing the course, the scientific approach to diverse subjects taught during his stay was of great benefit in analyzing the various training methods readily sourced online and through books.
From 2014 onwards Thomas Halpin started spending his Summers in Miami, learning, and training as much as he could from Roberto Abreu, a stance totally supported by his Irish coaches. Tom would earn his brown (2013) and black belt (July 2017) from the hands of Cyborg.
Thomas Halpin Grappling Record
18 WINS
BY POINTS


BY ADVANTAGES




BY SUBMISSION




BY DECISION




BY PENALTIES




BY DQ



15 SUBMISSIONS WINS
#86e620
Inside heel hook
20
3
11 LOSSES
BY POINTS


BY ADVANTAGES




BY SUBMISSION




BY DECISION




BY PENALTIES




BY DQ



1 SUBMISSION LOSSES
Thomas Halpin Fight History
ID
Opponent
W/L
Method
Competition
Weight
Stage
Year
15233

Hiago George

Hiago George
L
Pts: 5x0
Netherlands Pro
69KG
F
2018
15657

Gabriel Marangoni

Gabriel Marangoni
L
Pts: 12x2
European NoGi
67KG
SF
2018
16133

Paulo Miyao

Paulo Miyao
L
Pts: 6x0
World Pro
69KG
SF
2018
16139

Ali Monfaradi

Ali Monfaradi
L
Pts: 4x2
World Pro
69KG
RPC
2018
19543

Ethan Crelinsten

Ethan Crelinsten
L
Armbar
Polaris 9
65KG
SPF
2019
21867

Pablo Mantovani

Pablo Mantovani
L
Pts: 13x0
ADCC
66KG
R1
2019
22697

Tye Ruotolo

Tye Ruotolo
L
Referee Decision
GrappleFest 7
73KG
SPF
2019
22843

Alex Sodre

Alex Sodre
L
Pts: 6x0
NoGi Worlds
67KG
4F
2019
24381

Ashley Williams

Ashley Williams
L
Referee Decision
Polaris Squads 2
70KG
SPF
2020
32246

Thomas Kartas

L
DQ
ADCC EU Trials
66KG
R1
2022
36815

Anthony Oliveira

L
Pts: 14x0
NoGi Worlds
67KG
4F
2022
15223

Alejandro Carreras

W
Pts: 7x4
Spain Nat. Pro
69KG
SF
2018
15224

Wojciech Piekut

W
Kneebar
Spain Nat. Pro
69KG
F
2018
15241

Krzysztof Suchor

W
Kneebar
Netherlands Pro
ABS
SF
2018
15242

Krzysztof Flak

W
Kneebar
Netherlands Pro
ABS
F
2018
15656

Unknown

W
Kneebar
European NoGi
67KG
4F
2018
16128

Alberto Serrano

W
Darce choke
World Pro
69KG
R1
2018
16130

Jorge Nakamura

W
Kneebar
World Pro
69KG
4F
2018
16138

Sergio Calderon

Sergio Calderon
W
Kneebar
World Pro
69KG
RPC
2018
16907

Igor Terreco

W
Armbar
Polaris 7
68KG
SPF
2018
18509

Brett Johns

W
Inside heel hook
Polaris 8
66KG
SPF
2018
20195

Seba Palmdahl

W
Pts: 3x0
ADCC EU Trials
66KG
N/A
2019
20196

Adam Gorny

W
RNC
ADCC EU Trials
66KG
N/A
2019
20197

Ali Gherbi

W
Inside heel hook
ADCC EU Trials
66KG
N/A
2019
20198

J. Andrejczuk

W
Inside heel hook
ADCC EU Trials
66KG
N/A
2019
20199

T. Kokkonen

W
RNC
ADCC EU Trials
66KG
N/A
2019
22840

Emilio Hernandez

Emilio Hernandez
W
Kneebar
NoGi Worlds
67KG
R1
2019
24067

Dino Bucalet

W
Triangle
Polaris Squads
ABS
RR
2020
24068

Tommi Pulkkanen

D
---
Polaris Squads
ABS
RR
2020
35111

Alessio Sacchetti

W
Referee Decision
Polaris
N/A
SPF
2022
Thomas Halpin World Pro Highlight 2018