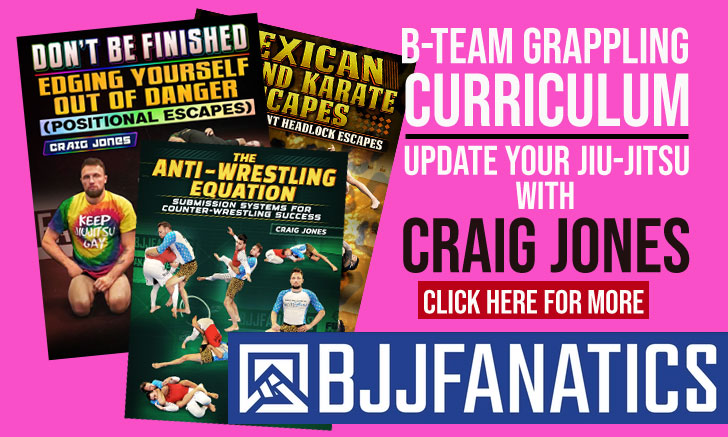 Thomas Lisboa is a Brazilian jiu jitsu black belt under Fábio Gurgel as well as one of the main light featherweight competitors of his generation. A reputation earned while competing for the Alliance Jiu Jitsu team, for whom Lisboa earned medals in tournaments such as the International Brazilian Jiu Jitsu Federation (IBJJF) World No-Gi Championship and European International Open Championship.
Thomas Lisboa Jiu Jitsu
Full Name: Thomas L. Correa Lisboa
Nickname: Thomas is often referenced as "Jabuta", which is the name for a small type of tortoise in Brazil. The nickname was first used by Thomas' training partner Bruno Malfacine while rolling with Lisboa when he had just returned to practice after an extended absence. Thomas was a bit heavier and slower than usual so "Malfa" joked that he moved like small turtle/tortoise (Jabuta). The fact that Thomas Lisboa is a laid back type of person and likes to take his time in day to day life led other training partners to identify him as a Jabuta.
Lineage: M. Maeda > C. Gracie > H. Gracie > Rolls Gracie > Romero Cavalcanti > Fábio Gurgel > Thomas Lisboa
Main Achievements:
IBJJF Rio Fall Open Champion (2017)
IBJJF Floripa Open Champion (2017)
IBJJF Floripa Open No-Gi Champion (2017)
IBJJF Belo-Horizonte Open Champion (2017)
IBJJF Belo-Horizonte No-Gi Open Champion (2017)
Finnish No-Gi Open Champion (2013**)
CBJJ Brazilian National 2nd Place (2015)
CBJJ Brazilian National No-Gi 2nd Place (2017)
IBJJF World No-Gi 2nd Place (2014)
IBJJF World No-Gi 3rd Place (2015/2016)
IBJJF European Open 3rd Place (2013/15)
IBJJF Pan American 3rd Place (2012/13)
CBJJ Brazilian National 3rd Place (2014)
CBJJ Brazilian National No-Gi 3rd Place (2016)
Main Achievements (Colored Belts):
IBJJF World Champion (2010 purple, 2012 brown)
IBJJF South American Champion (2012 brown)
CBJJ Brazilian Team National Champion (2008 blue)
CBJJ Brazilian National 2nd Place (2011 brown)
CBJJ Brazilian National No-Gi 2nd Place (2009 purple, 2011 brown)
IBJJF World Championship 3rd Place (2009 purple, 2011 brown)
CBJJ Brazilian National 3rd Place (2009 purple)
Favorite Position/Technique: Crucifix, Butterfly Guard
Weight Division: Peso Pluma (64,00 kg / 141.5 lbs)
Team/Association: Alliance
Thomas Lisboa Biography
Thomas Lisboa was born on March 6, 1988 in Taubaté a city located inside São Paulo state borders, in southeastern Brazil.
Influenced by his mother, an avid sports fan, Thomas tried a variety of physical activities while growing up. Although he kept soccer (football) as the main pastime, Lisboa also practiced karate and capoeira during his childhood going on to find an interest in judo and skate boarding during his early teens.
It was through judo that Thomas Lisboa developed an interest in competition. But although he enjoyed training and representing the Clube Associação de Taubaté, Lisboa believed judo to be too limiting as a grappling sport and abandoned the activity after 2 years.
It was through a close friend named Gabriel Gomes that Thomas became interested in jiu jitsu. Gomes was training BJJ at the time and showed Lisboa a few submission techniques that reasoned with the 16 year old. It didn't take long for Thomas to sign on to the Taubaté Alliance Jiu Jitsu team affiliate.
Starting in 2004 Lisboa's tuition was picked up by Alex Monsalve and Daniel "Cabelo" Nogueira. As a blue belt Thomas, his coach "Cabelo" and brother Edu Lisboa started making regular weekly trips to São Paulo in order to train with Fábio Gurgel at the team's HQ. Working with Gurgel and training alongside a variety of world BJJ champions at the headquarters mats boosted Thomas' belief that he could become a professional grappler.
After earning medals sequentially for 3 years at the IBJJF World Championship, in 2011 brown belt Thomas Lisboa was invited by Bruno Malfacine to train with him in Orlando – USA. Upon his return to Brazil Lisboa decided to move to São Paulo so he could train full time. His career prospered while in SP which led Fábio Gurgel to promote him to black belt on December 15, 2012.
Shortly after being promoted, Fábio Gurgel indicated Lisboa to Marcelo Garcia – who was looking for an extra pair of hands to help in his New York based academy. Thomas spent 6 months in New York learning and coaching, returning to São Paulo after this period to fill up a coaching vacancy at the Alliance Headquarters. There he worked alongside Gurgel and Michael Langhi for two years, also coaching in Moema, SP.
In 2015 after the IBJJF No-Gi World Champion, Thomas Lisboa was invited to coach for a few days at the Alliance gym in Vancouver – Canada. After this initial setup Lisboa was invited to be part of the workgroup as an official instructor.
Thomas Lisboa Grappling Record
46 WINS
BY POINTS


BY ADVANTAGES




BY SUBMISSION




BY DECISION




BY PENALTIES




BY DQ



18 SUBMISSIONS WINS
#214eb8
Crucifix choke
22
4
#d1212a
Choke from mount
6
1
#fad11b
Copacabana choke
6
1
#224aba
Choke from back
6
1
28 LOSSES
BY POINTS


BY ADVANTAGES




BY SUBMISSION




BY DECISION




BY PENALTIES




BY DQ



7 SUBMISSIONS LOSSES
#214eb8
Choke from back
43
3
#86e620
Crucifix choke
29
2
Thomas Lisboa Fight History
ID
Opponent
W/L
Method
Competition
Weight
Stage
Year
4439

Carlos Esquisito

Carlos Esquisito
L
Adv
European Open
64KG
SF
2013
4542

Guilherme Mendes

Guilherme Mendes
L
Pts: 10x0
Pan American
64KG
SF
2013
4635

Carlos Esquisito

Carlos Esquisito
L
Points
Brasileiro
64KG
4F
2013
4773

Gabriel Moraes

Gabriel Moraes
L
Adv
World Champ.
64KG
8F
2013
5540

Tiago Barros

Tiago Barros
L
Points
Brasileiro
64KG
SF
2014
5750

Gabriel Moraes

Gabriel Moraes
L
Pts: 11x2
World Champ.
64KG
4F
2014
5890

Joao Miyao

Joao Miyao
L
Choke from back
SP Open
64KG
F
2014
5898

Joao Miyao

Joao Miyao
L
Points
SP Open NoGi
63KG
F
2014
6023

Joao Miyao

Joao Miyao
L
Pts: 10x4
NoGi Worlds
61KG
F
2014
6433

Isaque Paiva

Isaque Paiva
L
Adv
Brazil Nat. Pro
65KG
4F
2015
6528

Paulo Miyao

Paulo Miyao
L
Pts: 11x0
European
64KG
SF
2015
6704

Isaque Paiva

Isaque Paiva
L
Pts: 2x2, Adv
Gramado Trials
65KG
SF
2015
6927

Douglas Rufino

L
Points
Rio Fall Open
64KG
4F
2015
6947

Alexandre Vieira

Alexandre Vieira
L
Crucifix choke
Rio Fall NoGi
67KG
SF
2015
7052

Alexandre Vieira

Alexandre Vieira
L
Crucifix choke
ADCC SP
66KG
R2
2015
7222

Joao Miyao

Joao Miyao
L
Choke from back
Brasileiro
64KG
F
2015
7409

Daniel Beleza

Daniel Beleza
L
Triangle
World Champ.
64KG
8F
2015
7710

Douglas Rufino

L
Points
Rio Winter Open
64KG
SF
2015
7826

Hiago George

Hiago George
L
Wristlock
SP Open
64KG
4F
2015
7861

David Lemes

David Lemes
L
DQ
SP Open NoGi
61KG
F
2015
8301

Philipe Freitas

L
Points
Brasileiro NoGi
63KG
SF
2015
8394

Joao Miyao

Joao Miyao
L
Pts: 6x4
NoGi Worlds
61KG
SF
2015
10886

Mikey Musumeci

Mikey Musumeci
L
Pts: 4x4, Adv
NoGi Worlds
62KG
SF
2016
11230

Unknown

L
Adv
South American
64KG
4F
2016
12729

Cleber Sousa

Cleber Sousa
L
Points
Brasileiro
64KG
8F
2017
13061

Daniel Beleza

Daniel Beleza
L
Referee Decision
World Champ.
64KG
R1
2017
14047

Tiago Barros

Tiago Barros
L
Points
Brasileiro NoGi
67KG
F
2017
16448

Hiago George

Hiago George
L
Choke from back
World Champ.
64KG
R2
2018
4438

Edvaldo Ferreira

W
Points
European Open
64KG
4F
2013
4541

Unknown

W
Points
Pan American
64KG
4F
2013
4634

Diogo Perez

W
Choke from back
Brasileiro
64KG
R1
2013
4772

Gustavo Carpio

W
Points
World Champ.
64KG
R1
2013
5172

Ville Saari

W
DQ
Finnish NG Open
ABS
4F
2013
5173

Mardo Mannimagi

W
Points
Finnish NG Open
ABS
SF
2013
5174

Severi Nenonen

W
Choke
Finnish NG Open
ABS
F
2013
5175

Jorgen Matsi

W
Points
Finnish NG Open
67KG
4F
2013
5176

Severi Nenonen

W
Points
Finnish NG Open
67KG
SF
2013
5177

Erno Elgland

W
Points
Finnish NG Open
67KG
F
2013
5218

André Bernardo

W
Crucifix choke
Circuito Paulista
64KG
SF
2014
5219

Jorge Azevedo

W
Referee Decision
Circuito Paulista
64KG
F
2014
5537

Gilberto Polim

W
Guillotine
Brasileiro
64KG
R1
2014
5539

Paulo Santana

W
Points
Brasileiro
64KG
4F
2014
5739

Unknown

W
Points
World Champ.
64KG
R1
2014
5741

Rafael Freitas

Rafael Freitas
W
Adv
World Champ.
64KG
8F
2014
5888

Douglas Rufino

W
Referee Decision
SP Open
64KG
SF
2014
5897

Leandro Silva

W
Guillotine
SP Open NoGi
63KG
SF
2014
6019

Mark Ramos

Mark Ramos
W
Points
NoGi Worlds
61KG
4F
2014
6021

Joao Somalia

Joao Somalia
W
Crucifix choke
NoGi Worlds
61KG
SF
2014
6431

Unknown

W
Adv
Brazil Nat. Pro
65KG
R1
2015
6432

Bruno Dias

W
Points
Brazil Nat. Pro
65KG
R2
2015
6526

Baruc Barrios

W
Pts: 6x6, Adv
European
64KG
4F
2015
6702

Bruno B.

W
Points
Gramado Trials
65KG
R1
2015
7050

Unknown

W
Toe hold
ADCC SP
66KG
R1
2015
7219

Magno Mota

W
Points
Brasileiro
64KG
4F
2015
7221

Thales Nakassu

W
Triangle
Brasileiro
64KG
SF
2015
7709

Unknown

W
Katagatame
Rio Winter Open
64KG
4F
2015
7860

Edson Oliveira

W
RNC
SP Open NoGi
61KG
SF
2015
8299

Unknown

W
RNC
Brasileiro NoGi
63KG
4F
2015
8392

Helio Guilherme

W
Pts: 13x0
NoGi Worlds
61KG
4F
2015
10884

Unknown

W
Crucifix choke
NoGi Worlds
62KG
4F
2016
11229

Nielton Soares

W
Points
South American
64KG
R1
2016
11828

Unknown

W
Choke from mount
BH Summer Open
64KG
SF
2017
11829

Cleito Soares

Cleito Soares
W
Points
BH Summer Open
64KG
F
2017
11846

Felipe Brito

W
Copacabana choke
BH NG S. Open
67KG
F
2017
12271

Diego Quadros

W
RNC
Rio Fall Open
64KG
SF
2017
12272

Douglas Rufino

W
Adv
Rio Fall Open
64KG
F
2017
12418

Thales Nakassu

W
Armbar
Floripa Fall Open
64KG
SF
2017
12419

Douglas Rufino

W
Adv
Floripa Fall Open
64KG
F
2017
12435

Samuel Saul

W
Adv
Floripa Fall NGO
61KG
SF
2017
12436

Gustavo Mendes

W
Points
Floripa Fall NGO
61KG
F
2017
14044

Edson Oliveira

W
Crucifix choke
Brasileiro NoGi
67KG
R1
2017
14045

Pedro Petrônio

W
RNC
Brasileiro NoGi
67KG
4F
2017
14046

Felipe Brito

W
Adv
Brasileiro NoGi
67KG
SF
2017
16445

Pedro Dias

Pedro Dias
W
Injury
World Champ.
64KG
R1
2018