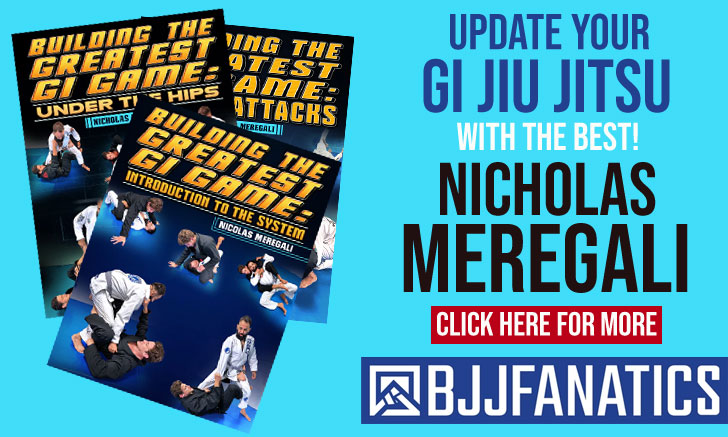 Enrico Cocco is a Brazilian jiu-jitsu black belt under Marcos and David Avellan, who specialized in the no-gi facet of the sport who was particularly successful competing in the North American circuit. Cocco was regarded as a grappling prodigy as a teenager, a reputation earned through his repeated victories in adult divisions of local and national tournaments. More recently Enrico Cocco became the head instructor and founder of the Zen Jiu-Jitsu Academy, as well as a role model and active spokesperson for the benefits of plant-based diets in our sport.
Enrico Cocco Jiu-Jitsu
Full Name: Enrico Daniel Cocco
Nickname: "Teenage Phenom" a name often used to describe Cocco during his early jiu-jitsu days.
Lineage: Carlos Gracie > Helio Gracie > Francisco Mansor > Joe Moreira > Ricardo Teixeira > Marcos/David Avellan > Enrico Cocco
Main Achievements:
#1 Ranked Fight 2 Win 170lbs (2019)
1st Place ADCC US Trials (2009 / 2011 / 2014)
1st Place Grapplers Quest Pro Stars (2009)
2nd Place Pan Championship NoGi (2014)
2nd Place Sapateiro Invitational (2016)
3rd Place World Championship NoGi (2014)
Favorite Position/Technique: Open Guard
Weight Division: Peso Médio (82kg/181lbs)
Team/Association: Zen Jiu Jitsu / Fight Sports
Enrico Cocco Biography
Enrico Cocco was born on October 8, 1987, in Miami, Florida – United States.
His parents owned a taekwondo school since 1985, and instilled in Enrico a love for martial arts from early on, formally introducing him to structured classes at the age of 4. Cocco would go on to be an assistant instructor at the academy as a child and earn his black belt in TKD as a teenager.
When Enrico was 13 years old, one of the Avellan brothers started dating his older sister. Through that relationship Cocco was introduced to jiu jitsu, starting his grappling classes at Avellan's Freestyle Fighting Academy.
The Avellan brothers were both former high school wrestlers who transitioned to shootfighting (a form of mixed martial arts [MMA]) while training under Randy Ibarra. Highly versed in grappling, the brothers also sought out formal jiu-jitsu instruction, finding it in Ricardo Teixeira. The man who promoted the Avellan's to black belt.
By the time he was 15 years old, Enrico was already being pointed as a future star in the sport of grappling, thanks to his competitive accolades. It was also around that time that Cocco started coaching jiu-jitsu at the Avellan brother's gym, a job he held until his 21st birthday – 2007. The same year when Enrico earned his black belt.
Around 2009 Enrico Cocco opened the doors of his own academy – Zen Jiu-Jitsu, distancing himself from the Freestyle Fighting Academy. Working almost exclusively with his own students, Cocco conquered some important wins in prestigious tournaments such as the ADCC US Trials.
In 2013, after losing a 0-0 referee decision to Vagner Rocha at the ADCC North American trials. Enrico was invited by Vagner, to come and train at Fight Sport's pro class, a group supervised by Roberto "Cyborg" Abreu. Enrico accepted the invitation and was pleased with the group, starting a relationship with the team that led Cyborg to offer Cocco his IBJJF black belt certificate.
Enrico Cocco Grappling Record
43 WINS
BY POINTS


BY ADVANTAGES




BY SUBMISSION




BY DECISION




BY PENALTIES




BY DQ



29 SUBMISSIONS WINS
#214eb8
Inside heel hook
34
10
#f58822
Outside heel hook
7
2
#ff9124
North south choke
3
1
#22c9a5
Reverse triangle
3
1
#fad223
Triangle armbar
3
1
28 LOSSES
BY POINTS


BY ADVANTAGES




BY SUBMISSION




BY DECISION




BY PENALTIES




BY EBI/OT



6 SUBMISSIONS LOSSES
#214eb8
Inside heel hook
50
3
#5AD3D1
Inside heel hool
17
1
#d1212a
Outside heel hook
17
1
Enrico Cocco Fight History
ID
Opponent
W/L
Method
Competition
Weight
Stage
Year
2088

Brian McLaughlin

L
Pts: 2x0
GQ Pro Star
ABS
N/A
2009
2471

Daniel Moraes

Daniel Moraes
L
Points
GQ Europa
77KG
F
2010
2477

Renan Borges

L
Pts: 4x0
GQ UFC Expo
ABS
N/A
2010
2765

Bill Cooper

Bill Cooper
L
Pts: 2x0
GQ UFC Expo
ABS
NA
2010
3234

Leonardo Vieira

Leonardo Vieira
L
Pts: 6x0
ADCC
77KG
R1
2011
4347

Vagner Rocha

Vagner Rocha
L
Referee Decision
ADCC US Trials
77KG
SF
2013
5120

AJ Agazarm

AJ Agazarm
L
Pts: 4x0
NoGi Worlds
ABS
R1
2013
6040

Thiago Abreu

Thiago Abreu
L
Pts: 2x0
NoGi Worlds
79KG
SF
2014
7367

Eddie Cummings

Eddie Cummings
L
Inside heel hook
EBI 3
77KG
4F
2015
7947

Gabriel Rollo

Gabriel Rollo
L
Pts: 8x0
ADCC
77KG
R1
2015
9131

Gordon Ryan

Gordon Ryan
L
Inside heel hook
Sapateiro Inv.
ABS
F
2016
10543

Lucas Barbosa

Lucas Barbosa
L
Pts: 6x1
Grappling Pro
77KG
SF
2016
10546

Garry Tonon

Garry Tonon
L
Inside heel hook
Grappling Pro
77KG
3RD
2016
10904

AJ Agazarm

AJ Agazarm
L
Pts: 2x0
NoGi Worlds
73KG
4F
2016
10948

Felipe Cesar

Felipe Cesar
L
Pts: 8x6
NoGi Worlds
ABS
R1
2016
11480

Dan Martinez

L
EBI/OT
Sapateiro 6
ABS
R1
2017
13897

Celso Vinicius

Celso Vinicius
L
Pts: 3x0
ADCC
77KG
E1
2017
14576

Gianni Grippo

Gianni Grippo
D
---
Kasai Pro
70KG
RR
2017
14587

Celso Vinicius

Celso Vinicius
L
Guillotine
Kasai Pro
70KG
RR
2017
17400

Jackson Sousa

Jackson Sousa
L
Pts: 2x0
No Gi Pan Am.
ABS
8F
2018
17432

Enrique Galarza

L
Points
No Gi Pan Am.
79KG
4F
2018
18629

Felipe Cesar

Felipe Cesar
L
Pts: 0x0, Adv
NoGi Worlds
79KG
R1
2018
19103

W. Tacket

L
Pts: 2x0
ADCC WC Trials
77KG
SF
2019
19106

Stephen Simms

L
Referee Decision
ADCC WC Trials
77KG
3RD
2019
20845

Kevin Crane

L
Points
High Rollerz
ABS
F
2019
20972

Mansher Khera

Mansher Khera
L
Inside heel hool
KASAI SS Florida
77KG
SPF
2019
20987

William Tackett

William Tackett
L
Outside heel hook
Jitz King
75KG
4F
2019
23447

Ethan Crelinsten

Ethan Crelinsten
L
Referee Decision
Sub Stars
N/A
SPF
2020
29807

Yuri Villefort

L
Referee Decision
F2W 191
N/A
SPF
2022
33523

Daniel Manasoiu

D
---
UFC Inv. 2
ABS
RR
2022
2087

Seph Smith

W
Armbar
GQ Pro Star
ABS
N/A
2009
2205

Unknown

W
Submission
ADCC US Trials
77KG
R1
2009
2206

Unknown

W
Points
ADCC US Trials
77KG
4F
2009
2207

Brian McLaughlin

W
Guillotine
ADCC US Trials
77KG
SF
2009
2208

Jacob Volkmann

W
Toe hold
ADCC US Trials
77KG
F
2009
2467

Chris Westfall

W
Injury
GQ Europa
77KG
4F
2010
2470

Edson Diniz

Edson Diniz
W
Inside heel hook
GQ Europa
77KG
SF
2010
2472

Kevin Macmullen

W
Outside heel hook
GQ US Nationals
76KG
N/A
2010
2473

Rob Greenidge

W
RNC
GQ US Nationals
76KG
N/A
2010
2474

J. Satava

W
N/A
GQ US Nationals
76KG
N/A
2010
2475

Andre Vaughan

W
North south choke
GQ UFC Expo
76KG
N/A
2010
2476

Javier Valenciano

W
Armbar
GQ UFC Expo
ABS
N/A
2010
3207

Santino Franco

W
Inside heel hook
ADCC WC Trials
77KG
R1
2011
3208

Dustin Akbari

W
Toe hold
ADCC WC Trials
77KG
4F
2011
3209

Jason Manly

W
Points
ADCC WC Trials
77KG
SF
2011
3210

Shawn Williams

Shawn Williams
W
Points
ADCC WC Trials
77KG
F
2011
4346

Unknown

W
Heel hook
ADCC US Trials
77KG
4F
2013
5689

Nathan Orchard

W
Points
ADCC US Trials
77KG
R1
2014
5690

Unknown

W
Inside heel hook
ADCC US Trials
77KG
4F
2014
5691

Matt Skaff

W
Inside heel hook
ADCC US Trials
77KG
SF
2014
5692

E. Cummings

W
Points
ADCC US Trials
77KG
F
2014
7362

Stephen Martinez

W
Heel hook
EBI 3
77KG
R1
2015
9125

Adam Collarlie

W
Outside heel hook
Sapateiro Inv.
ABS
4F
2016
9129

Jason Hayden

W
Inside heel hook
Sapateiro Inv.
ABS
SF
2016
10540

Anderson Melo

W
Inside heel hook
Grappling Pro
77KG
4F
2016
10902

Fabio Caloi

Fabio Caloi
W
Pts: 0x0, Adv
NoGi Worlds
73KG
R2
2016
14577

Edwin Ocasio

D
---
Kasai Pro
70KG
RR
2017
15720

John Combs

John Combs
W
Inside heel hook
F2W 68
77KG
SPF
2018
17395

Steven Barerre

W
Pts: 21x0
No Gi Pan Am.
ABS
8F
2018
17428

Dustin Akbari

W
Pts: 10x0
No Gi Pan Am.
79KG
R1
2018
17847

Ricky Semiglia

W
Katagatame
F2W 89
N/A
SPF
2018
19096

Edmund Kim

W
Inside heel hook
ADCC WC Trials
77KG
R3
2019
19098

Dustin Castleberry

W
Reverse triangle
ADCC WC Trials
77KG
R4
2019
19099

N. Domgjoni

W
Pts: 3x0
ADCC WC Trials
77KG
8F
2019
19102

Thomas Keenan

W
Pts: 2x0
ADCC WC Trials
77KG
4F
2019
19696

Travis Magalit

W
Armbar
F2W 106
77KG
SPF
2019
20208

Mauricio Gomez

W
Referee Decision
Sub Stars
77KG
SPF
2019
20843

N/A

W
Guillotine
High Rollerz
ABS
4F
2019
20844

Jose Diaz

W
Guillotine
High Rollerz
ABS
SF
2019
20846

Dany Chavez

W
Triangle armbar
MMA Live
N/A
SPF
2019
20984

Jake Ferrara

Jake Ferrara
W
Pts: 6x0
Jitz King
75KG
R1
2019
21365

Rafael Domingos

W
Inside heel hook
Kinektic 1
ABS
R1
2019
21366

Gabriel Checco

D
---
Kinektic 1
ABS
R2
2019
22032

Mike Padilla

W
Toe hold
F2W 128
77KG
SPF
2019
23171

Richie Martinez

Richie Martinez
W
Inside heel hook
JitzKing
84KG
SPF
2020
33518

Ryan Loder

D
---
UFC Inv. 2
ABS
RR
2022
Enrico Cocco feature film

Enrico Cocco vs Jason Hayden