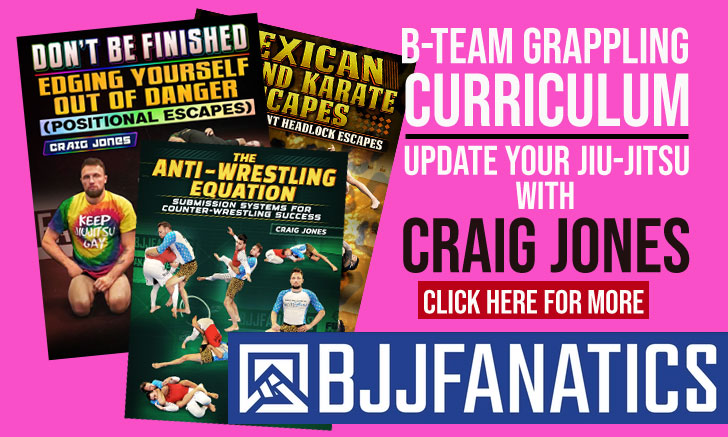 Diego Borges is a Brazilian jiu jitsu black belt under José Augusto Gato, being widely regarded as one of the top grappling competitors his generation, having conquered important medals in the sport, including in the Brazilian National Championship, Copa Podio, World Championships, etc., having defeated big names of the sport such as Claudio Calasans, Clark Gracie, Dillon Danis, to name a few.
Diego Borges Jiu Jitsu
Full Name: Diego Borges Silva
Nickname: n/a
Lineage: Mitsuyo Maeda > Carlos Gracie sr > Reyson Gracie > Osvaldo Alves > José Augusto > Diego Borges
Main Achievements:
IBJJF World Champion (2004/2005/2006 blue junior)
CBJJ Brazilian National Champion (2010/2011 brown)
Copa Podio Runner-up (2013)
IBJJF World Championship Runner-up (2011)
CBJJ Brazilian National Runner-up (2014)
Copa Podio 3rd Place (2016/2017)
CBJJ Brazilian National Championship 3rd Place (2007 purple)
Favorite Position/Technique: Bow and arrow
Weight Division: Peso Médio (82kg/181lbs)
Team/Association: Zenith BJJ
Diego Borges Biography
Diego Borges was born on January 15, 1990 in Manaus – Brazil.
Borges started his martial arts training at the age of 11, through capoeira, changing his focus to jiu jitsu when he was 14 years old, influenced by his older cousins who had just started training themselves at José Augusto Gato's academy in Manaus.
Within 7 months Borges was promoted to blue belt, competing at the 2004 World Jiu Jitsu Championship in the juvenile division, a tournament he won decisively. By the age of 16 Diego had already earned 3 world titles and was being looked at as the future of the sport's lightweight division.
After the success at a world stage, Diego's family moved to Boa Vista in the state of Roraima where Borges joined the academy led by the Trindade family. While training with the Trindade brothers, Diego remained in close contact with his instructor José Augusto Gato – who awarded him all belts, including his black belt in 2011 (3 days before the World Pro Cup Trials in Manaus). Later that year Carlos Holanda convinced Diego to join the Checkmat Academy, as means to have a stronger support when competing outside Roraima and Manaus.
In 2013 Diego Borges spent some time in Bulgaria, training with the country's national wrestling squad. Working on improving his no-gi takedowns while also teaching the Brazilian style in the Eastern European country, the opportunity arose after an (unsanctioned) mixed martial arts fight, Diego took against Vladislav Kanchev in Bulgaria, a fight that ended in a draw.
After Rodrigo Cavaca and Robert Drysdale founded the Zenith Jiu Jitsu academy in 2013, Diego Borges decided to follow the duo and join the world wide grappling association.
Banner picture taken from Copa Podio's Facebook Page.
Diego Borges Grappling Record
36 WINS
BY POINTS


BY ADVANTAGES




BY SUBMISSION




BY DECISION




BY PENALTIES




BY DQ



8 SUBMISSIONS WINS
#214eb8
Bow and arrow
50
4
15 LOSSES
BY POINTS


BY ADVANTAGES




BY SUBMISSION




BY DECISION




BY PENALTIES




BY DQ



3 SUBMISSIONS LOSSES
#5AD3D1
Inverted triangle
33
1
Diego Borges Fight History
ID
Opponent
W/L
Method
Competition
Weight
Stage
Year
4062

Victor Estima

Victor Estima
L
Inverted triangle
World Champ.
82KG
4F
2012
4686

Clark Gracie

Clark Gracie
L
Omoplata
Copa Podio
82KG
SPF
2013
4852

Leandro Lo

Leandro Lo
L
Adv
Copa Podio
76KG
GP
2013
4872

Leandro Lo

Leandro Lo
L
Adv
Copa Podio
76KG
F
2013
5553

Claudio Mattos

Claudio Mattos
L
Referee Decision
Brasileiro
82KG
F
2014
8868

Nelton Pontes

Nelton Pontes
L
Pts: 2x0
Zurich Open
ABS
4F
2016
8895

Lucas Lepri

Lucas Lepri
L
Pts: 0x0, Adv
Copa Podio
77KG
SF
2016
10165

Erberth Santos

Erberth Santos
L
Botinha
Copa Podio
86KG
GP
2016
10179

Leandro Lo

Leandro Lo
L
Pts: 2x0
Copa Podio
86KG
SF
2016
10764

Rodrigo Cavaca

Rodrigo Cavaca
D
---
Copa Podio
105KG
RR
2016
10772

Nelton Pontes

Nelton Pontes
L
Pts: 2x0
Copa Podio
105KG
RR
2016
10780

Alexander Trans

Alexander Trans
L
Pts: 6x0
Copa Podio
105KG
RR
2016
11892

Espen M.

L
Pts: 2x0
Copa Podio
77KG
RR
2017
11904

Isaque Bahiense

Isaque Bahiense
L
Pts: 2x0
Copa Podio
77KG
SF
2017
12604

C. Negromonte

C. Negromonte
L
Pts: 2x2, Adv
WP BR Qualifier
85KG
4F
2017
17195

Guilherme Cordiviola

Guilherme Cordiviola
L
Pts: 0x0, Adv
Team Nationals
O76KG
F
2018
2854

Vitor Hugo

W
Pts: 2x2, Adv
World Pro Trials
83KG
SF
2011
2855

Claudio Calasans

Claudio Calasans
W
Pts: 4x2
World Pro Trials
83KG
F
2011
3452

Juarez Harles

W
Bow and arrow
Amazon Meeting
82KG
SPF
2011
4028

Vagner Rocha

Vagner Rocha
W
Points
World Champ.
82KG
R1
2012
4050

Murilo Santana

Murilo Santana
W
Pts: 6x2
World Champ.
82KG
R2
2012
4393

Victor Pina

W
Bow and arrow
Manaus Pro Trials
85KG
SF
2013
4397

Rodrigo Reis

W
Armbar
Copa Podio
ABS
SPF
2013
4859

Clark Gracie

Clark Gracie
W
Pts: 2x0
Copa Podio
76KG
GP
2013
4864

Juan Kamezawa

Juan Kamezawa
W
Pts: 6x0
Copa Podio
76KG
GP
2013
4867

Brandon Magana

W
Pts: 8x0
Copa Podio
76KG
GP
2013
4869

Vinicius Marinho

Vinicius Marinho
W
Pts: 8x0
Copa Podio
76KG
SF
2013
5550

Eduardo Santoro

Eduardo Santoro
W
Bow and arrow
Brasileiro
82KG
4F
2014
5552

Augusto Carsalade

W
Pts: 2x0
Brasileiro
82KG
SF
2014
8873

Nelton Pontes

Nelton Pontes
W
Referee Decision
Zurich NoGi Open
ABS
F
2016
8877

Luan Carvalho

Luan Carvalho
W
Pts: 0x0, Adv
Copa Podio
77KG
GP
2016
8880

Dillon Danis

Dillon Danis
W
Pts: 0x0, Pen
Copa Podio
77KG
GP
2016
8884

Edwin Najmi

Edwin Najmi
W
Pts: 2x2, Adv
Copa Podio
77KG
GP
2016
8892

Patrick Gaudio

Patrick Gaudio
W
Pts: 2x0
Copa Podio
77KG
GP
2016
8897

Dillon Danis

Dillon Danis
W
Injury
Copa Podio
77KG
3RD
2016
10162

John Combs

John Combs
W
Pts: 4x0
Copa Podio
86KG
GP
2016
10169

Claudio Calasans

Claudio Calasans
W
Pts: 2x0
Copa Podio
86KG
GP
2016
10176

Danilo Borovic

W
Pts: 4x0
Copa Podio
86KG
GP
2016
10735

Charles Tavares

W
Bow and arrow
Manaus Open
76KG
F
2016
10768

Gabriel Lucas

Gabriel Lucas
W
Pts: 4x0
Copa Podio
105KG
RR
2016
11806

Diogo Fernandes

W
Submission
Manaus Nat. Pro
85KG
R1
2017
11810

Luiz Galdez

W
Choke
Manaus Nat. Pro
85KG
4F
2017
11813

Manuel Ribamar

Manuel Ribamar
W
Points
Manaus Nat. Pro
85KG
SF
2017
11815

Jaime Canuto

Jaime Canuto
W
Points
Manaus Nat. Pro
85KG
F
2017
11884

H. Marques

W
Pts: 0x0, Adv
Copa Podio
77KG
RR
2017
11889

Pedro Paquito

D
---
Copa Podio
77KG
RR
2017
11896

Renato Canuto

Renato Canuto
W
Pts: 4x2
Copa Podio
77KG
RR
2017
11905

Delson Heleno

Delson Heleno
W
Pts: 0x0, Adv
Copa Podio
77KG
3RD
2017
12601

Paulo Roberto

W
Choke
WP BR Qualifier
85KG
R1
2017
16644

Charles Oliveira

Charles Oliveira
W
Pts: 2x0
Copa Podio
76KG
SPF
2018
17988

Marcio Palheta

W
N/A
Manaus Open
88KG
SF
2018
17989

Moises Cavalcante

W
N/A
Manaus Open
88KG
F
2018
22922

Guitano Mione

W
Points
Copa Podio
82KG
SPF
2019
Diego Borges vs Claudio Calasans (2011)

Diego Borges vs Eduardo Portugues