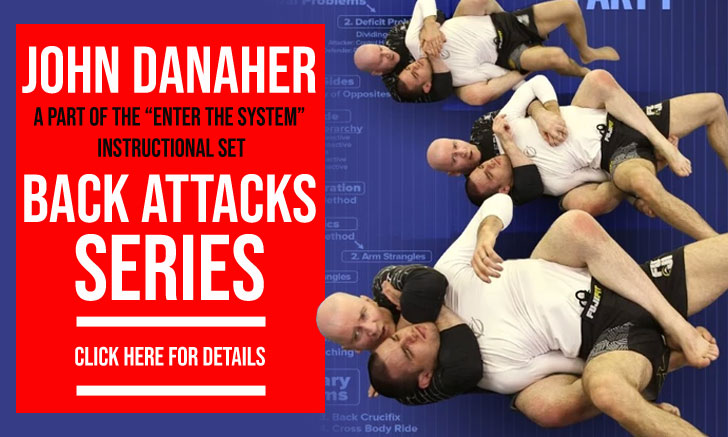 Dominique Bell is a Brazilian jiu-jitsu black belt under André Galvão and a member of the Atos Jiu-Jitsu team. Formerly a member of the US Army, Dom Bell broke out as one of BJJ's hottest prospects in 2015, a reputation made evident after his gold medal at the International Brazilian Jiu-Jitsu Federation (IBJJF) World Championship that year, as a purple belt. He would later solidify that status with several high-profile wins in the sport.
Dominique Bell Jiu-Jitsu
Full Name: Dominique L. Bell
Nickname: Bell is often called "Dom" (short for Dominique) and uses the Dubious Dom tag on social media, one he started using during his early teens as his gamer tag on Xbox Live.
Lineage: C. Gracie > R. Gracie > Osvaldo Alves > Luis Dagmar > André Galvão> Dominique Bell
Main Achievements:
1st Place IBJJF Indianapolis Open (2021)
1st Place IBJJF Las Vegas Open (2019)
1st Place IBJJF San Diego Open (2019)
1st Place IBJJF Denver Open (2018 / 2019*)
2nd Place IBJJF Pan Championship (2020)
Main Achievements (Colored Belts):
1st Place IBJJF World Championship (2015 purple)
1st Place IBJJF World No-Gi Championship (2016 brown)
1st Place IBJJF European Open (2017/2018 brown)
1st Place IBJJF Asian Open (2016** brown)
1st Place IBJJF British Nationals (2018** brown)
1st Place UAEJJF Grand Slam, LA (2017 brown)
1st Place IBJJF Los Angeles BJJ Pro (2016 brown)
2nd Place IBJJF World No-Gi Championship (2017 brown)
2nd Place IBJJF Pan Championship (2017 brown)
3rd Place IBJJF World Championship (2018 brown)
3rd Place IBJJF Pan Championship (2015 purple, 2018** brown)
3rd Place IBJJF European Open (2017* brown)
Favorite Position/Technique: Well Rounded
Weight Division: Meio Pesado (88,30 kg / 195.0 lbs)
Team/Association: Atos JJ
Dominique Bell Biography
Dominique Bell was born on November 19, 1990, in Pompano Beach, Florida United States of America, growing up in Fort Myers (FL).
Unlike the majority of high-level grapplers in jiu-jitsu's modern-day circuit, Bell was not into sports as a child, spending most of his spare time drawing and playing video games. After his 18th birthday, Dom felt the need to do something meaningful with his life but being of a low-income family, his options were limited. The more sensible choice was to join the military and pay for college that way. His interest in athletic activities only picked up during his 5 years of service.
It was while serving at the Army's Heidelberg base in Germany that Dominique learned about jiu-jitsu. His whole martial arts experience up until that point summed up with a few boxing classes at the age of 16, which Bell described in a BJJ Heroes interview (2018): "I think I was about 16, and I trained it [boxing] for maybe a year or so with my two brothers. But it wasn't like real training. We would just sign up for a trial month at different gyms, then when the month ran out we would try to find another one (laughs). We used to box other kids a lot in our neighborhoods too, just for fun".
As aforementioned Bell discovered jiu-jitsu in 2011 in his army base through a regiment cook named John, who was a brown belt in BJJ. John coached Dominique and two other soldiers at the camp's recreation center, and it was he who helped Bell find his passion for grappling. Training under John, and another coach named Sebastian, Dominique Bell quickly climbed jiu-jitsu's belt system, reaching the rank of purple belt in less than two years.
Once Dominique left the military he was completely submerged in grappling culture and knew this was a discipline he wanted to focus on fully. Using the savings he had accumulated during his service, Bell moved to San Diego, California, to train at André Galvão's academy; Atos Headquarters, one of the most prestigious gyms in the world.
It was André who graded Dominique with his brown (8 months after joining Atos) and black belts, the latter of which being awarded in a ceremony that took on October 15, 2018.
Dominique Bell Grappling Record
32 WINS
BY POINTS


BY ADVANTAGES




BY SUBMISSION




BY DECISION




BY PENALTIES




BY DQ



17 SUBMISSIONS WINS
#5AD3D1
Arm in Ezekiel
12
2
#d1212a
Choke from back
12
2
9 LOSSES
BY POINTS


BY ADVANTAGES




BY SUBMISSION




BY DECISION




BY PENALTIES




BY DQ



0 SUBMISSION LOSSES
Dominique Bell Fight History
ID
Opponent
W/L
Method
Competition
Weight
Stage
Year
18390

Marcio Andre

Marcio Andre
L
Points
Denver Open
ABS
SF
2018
19548

Murilo Santana

Murilo Santana
L
Pts: 2x0
Pan American
88KG
8F
2019
19910

Horlando Monteiro

Horlando Monteiro
L
Adv
San Jose Open
94KG
F
2019
19922

Victor Silverio

Victor Silverio
L
Referee Decision
San Jose Open
ABS
SF
2019
20594

Leandro Lo

Leandro Lo
L
Pts: 17x0
World Champ.
94KG
R2
2019
23000

Felipe Mauricio

L
Pts: 0x0, Adv
European Open
94KG
R1
2020
24050

Gustavo Batista

Gustavo Batista
L
Pts: 9x0
Pan American
94KG
F
2020
27128

Andre Porfirio

Andre Porfirio
L
Referee Decision
Charleston SO
94KG
F
2021
27478

Gabriel Almeida

Gabriel Almeida
L
Referee Decision
F2W 183
83KG
SPF
2021
18383

Phillip Lietz

W
Submission
Denver Open
88KG
SF
2018
18385

Daniel Hampton

W
Submission
Denver Open
88KG
F
2018
18387

Alex Huddleston

W
Points
Denver Open
ABS
4F
2018
18920

Nathan Santos

W
Adv
Austin W. Open
88KG
SF
2019
18922

Roberto Alencar

Roberto Alencar
W
Adv
Austin W. Open
88KG
F
2019
19907

Esdras Barbosa

W
Submission
San Jose Open
94KG
4F
2019
19917

Fabricio Machado

W
Pts: 8x0
San Jose Open
ABS
R1
2019
19920

Kim Terra

Kim Terra
W
Pts: 8x4
San Jose Open
ABS
4F
2019
20365

Arnaldo Maidana

Arnaldo Maidana
W
Pts: 4x2
San Diego Open
94KG
SF
2019
20366

Gustavo Andrade

W
Arm in Ezekiel
San Diego Open
94KG
F
2019
20372

Nick Greene

W
Pts: 7x0
San Diego Open
ABS
4F
2019
20374

Takahito Yoshioka

W
Armbar
San Diego Open
ABS
SF
2019
20418

Yann Cathalat

W
Choke from back
Denver Open
ABS
4F
2019
20420

N/A

W
Arm in Ezekiel
Denver Open
ABS
SF
2019
20591

Paulo Agrizzo

W
Pts: 0x0, Adv
World Champ.
94KG
R1
2019
21347

Diogo Nascimento

W
Choke from back
Las Vegas Open
94KG
4F
2019
21348

Alvaro Oliveiro

W
Pts: 2x0
Las Vegas Open
94KG
SF
2019
21350

Fellipe Trovo

Fellipe Trovo
W
Pts: 4x2
Las Vegas Open
94KG
F
2019
23337

Tanner Wesgram

W
Pts: 46x0
Portland Open
94KG
F
2020
24043

Nathan Mendelsohn

Nathan Mendelsohn
W
Pts: 0x0, Adv
Pan American
94KG
R1
2020
24045

Rafael Vasconcelos

Rafael Vasconcelos
W
Pts: 2x0
Pan American
94KG
4F
2020
24048

Horlando Monteiro

Horlando Monteiro
W
Armbar
Pan American
94KG
SF
2020
24127

Diego Herzog

W
Triangle
Foley Open
94KG
F
2020
24131

Chris Engle

W
Clock choke
Foley Open
ABS
4F
2020
24133

Wellington Dias

Wellington Dias
W
Triangle
Foley Open
ABS
SF
2020
26112

Saar Shemesh

W
Cross choke
Indianapolis Open
94KG
SF
2021
26113

Mackenzie Ace

W
Manoplata
Indianapolis Open
94KG
F
2021
26114

Ancelmo Santos

W
Armbar
Indianapolis Open
ABS
4F
2021
26117

Saar Shemesh

W
Submission
Indianapolis Open
ABS
SF
2021
26119

Almog Britsch

W
Cross choke
Indianapolis Open
ABS
F
2021
26346

Andre Porfirio

Andre Porfirio
W
Pts: 0x0, Adv
Atlanta Open
94KG
F
2021
27126

C. Passarrello

W
Pts: 8x0
Charleston SO
94KG
SF
2021
Dom Bell Brown Belt Highlight